Meet Beeple, the man who went from drawing crude sketches to creating the most expensive single NFT artwork ever sold and becoming the second highest-selling digital artist in the world, next to Pak. 
Who knew that sheer determination and consistency could thrust a digital artist into becoming one of the most respected and wealthiest figures in the art world? By now, you've probably heard of him or his works, but his decade-and-a-half journey started with nothing. He appears to be very critical of himself and even calls his artworks "crap", most of which barely sold for a thousand dollars in print.
But everything changed when he entered the non-fungible token (NFT) world, which propelled his net worth into the tens of millions and grabbed headlines across the top media outlets worldwide. His success wasn't an overnight one but a result of daily battles with self-improvement, discouragements, and a thirst for new learning.
Who is Beeple? 
Beeple, whose real name is Michael Joseph Winkelmann, is an American digital artist widely known for selling his NFT artwork, "Everydays: the First 5000 Days", for $69 million on March 21, 2021, at Christie's auction house. 
Apart from being a digital artist, he is also an animator and graphic designer whose works center primarily on political and social issues. He also uses pop culture icons as his characters to reinforce his messages. 
Beeple learned about NFTs through Pak, an anonymous digital artist and cryptocurrency investor who has successfully sold a series of blockchain artworks called "The Merge", which is currently the world's most expensive NFT collection sold in one sitting, for $91.8 million in December 2021. Pak's artworks have a combined value of roughly $356M, double that of Beeple.
How Beeple Makes Art
Beeple started on sketches, Adobe After Effects, and Adobe Illustrator during the early days of his "Everydays" artwork journey. He soon migrated to more advanced media such as MAXON Cinema 4D and OTOY Octane Render to enhance his digital artworks.
Maxon Cinema 4D is an advanced 3D/4D software for rendering, animating, and modeling digital creations and is used chiefly by visual artists and augmented/virtual reality (AR/VR) game developers. Meanwhile, Octane Render is a powerful graphics processing unit (GPU) render engine that uses machine learning to create visual outputs. 
His flexibility in using different media allowed him to create evolving and eye-catching digital masterpieces, garnering millions of fans worldwide. 
Beeple's Foray into NFTs
In his early ventures in blockchain tech, Beeple tested the waters by launching artworks at Nifty Gateway. One such artwork rolled out in October 2020, an NFT creation titled" Politics is Bullshit," with 100 copies sold for $1 each. In March 2021, these $1 NFTs had fetched $600,000 and are now on OpenSea with prices ranging from 189 to 340 ETH (equivalent to up to roughly $580,000 as of August 2022). 
In December 2020, he released another collection called "The Complete MF Collection," which features giant Nintendo characters with monstrous themes and fetched $777,777.
What is "Everydays: The First 5,000 Days"? 
"Everydays: The First 5,000 Days" is an NFT collage of Beeple's artworks composed of daily creations he started in 2007. It also serves as a visual evolution of his art media, which began from crude sketches that later progressed into immersive 3D and 4D pieces, even photorealistic works.
Throughout the more than 5,000 days he spent creating the mega collage, Beeple has explored various areas, including drawing, photography, and computer modeling, which created a wide variety in his outputs. He became so "religious" with his journey that he made it a point to upload new artwork every day, even before midnight arrived. 
Beeple's primary reason for starting his "Everydays" project was to enhance his artistic skills, which he believes is achievable by creating artworks every day. Through "Everydays," he believes he can overcome his fear of starting (and finishing) a project. That tireless effort has more than paid off considering that the price of "Everydays" made it so that he was earning roughly $14,000 per day while doing the work, with him none the wiser at the time.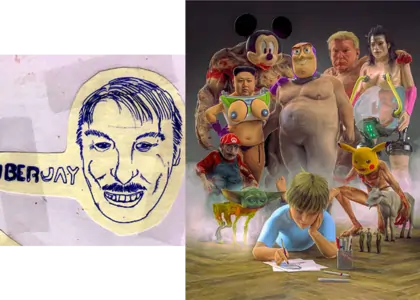 His inspiration to start this journey came from Tom Judd, a renowned artist whose main art media include collage, photography, and painting. Judd did the same project of creating new art daily, which Beeple found to be a great idea to improve his skills. 
He admits that not every artwork he created was perfect, but making an effort to develop and post them every day was more than enough to hone his skills. Furthermore, he confessed that there are days when he's tempted to skip a day and break his "everyday oath." But looking back at his straight record since 2007 gave him the momentum to make one after another for his millions of followers. 
But while Beeple has already created stunning outputs from his current tools, he plans to use new software in the future, including Ableton Live, Maya, and Zbrush, to bring new visuals to his artworks. 
Who Purchased Beeple's "Everydays"? 
The auction of Beeple's "Everyday: The First 5,000 Days" at Christie's resulted in a bidding frenzy that was ultimately won by Vignesh Sundaresan, also known as "MetaKovan," the owner of Metapurse, a Singapore-based NFT fund.
Sundaresan, who paid 42,329 ETH (roughly $69M at the time) for the artwork, is also a blockchain entrepreneur, cryptocurrency investor, and Y-Combinator alumnus. 
While his purchase made "Everydays" the most expensive single NFT artwork in the world, its resale value remains to be seen. 
After all, the sale price and hype of an NFT artwork isn't a guarantee that it can fetch a high resale value, just like what happened with Jack Dorsey's first tweet, which was purchased for $2.9 million and merely got a $6,200 bid during the resale. The owner, a blockchain businessman named Sina Estavi, called off the bidding and refused to sell the NFT without a satisfying bid.
Another factor that might affect "Everyday's" future price is Beeple's alleged transition into traditional arts, which may decrease his prominence in the NFT world. 
With that being said, this might not be an issue for the Singaporean web3 entrepreneur considering that he has no plans of selling it anytime soon. More importantly, he believes that the collage was more than digital art, calling it a "piece of history", which could take on a life of its own and evolve into "thousands of other things."
How Beeple Became the Most Famous NFT Artist
The growing popularity of NFTs, the global publicity created by the premier auction house Christie's, and the $69 million sale of the "Everydays" artwork are the three critical factors that led to Beeple's global popularity. 
But all these things wouldn't be possible if not for his relentless consistency in producing artworks and showcasing his artistic talent literally every single day. His consistent postings of various artworks on Instagram every day since 2007 enabled him to amass millions of followers who were already accustomed to his talent (and political stance). 
Even after his "Everydays" sale, Beeple has remained consistent with his daily art postings and continuously entertains his large fanbase worldwide. The loyal following he has created is arguably the most important foundation of his fame and the reason for his NFT journey's successes, from the experimental stage to the mainstream ones. 
Moreover, he has a presence on some of the largest social media networks, with sizable followings on each platform: Instagram (2.5 million followers), Twitter (700,000), Facebook (600,000), and YouTube (63,000). 
Furthermore, his NFT venture came at the right time as the industry was booming, and the interest in speculative assets was at a near all-time high. In fact, a year after the sale of his "Everydays" collage, the NFT market further grew into a $40 billion industry!
What is Beeple's Net Worth? 
Beeple has an estimated net worth of $50 million, with the biggest chunk coming from selling his "Everydays" NFT proceeds. 
Other NFT sales that boosted his net worth include the" Crossroad," "Ocean Front," "Politics is Bullshit," and "The Complete MF Collection."  The list includes the "Human One," a digital artwork and sculpture which sold for $29 million; currently the fourth most expensive NFT in the world. 
Reducing NFT's Climate Impact 
Beeple is rather mindful of the environmental impacts of NFTs (especially Ethereum NFTs) and plans to purchase carbon offset for all his creations to achieve a "net positive," which indicates that a business is willing to give back monetary donations or benefits which exceed the value it has gained from the global economy and natural world. 
Last March 2021, Beeple participated in Nifty Gateway's "Carbon Drop," a special event that auctioned eight carbon-negative NFTs from different artists, whose artworks centered around Earth and climate change.
The proceeds have gone to Open Earth, a U.S-based non-profit organization (NGO) that aims to monitor countries' progress on the 'Paris Agreement", a global initiative to combat climate change. Beeple's NFT entry, "Ocean Front," was sold for $6 million there. 
---
Join our newsletter as we build a community of AI and web3 pioneers.
The next 3-5 years is when new industry titans will emerge, and we want you to be one of them.
Benefits include:
Receive updates on the most significant trends
Receive crucial insights that will help you stay ahead in the tech world
The chance to be part of our OG community, which will have exclusive membership perks