Metaverse schmetaverase. We've all heard of the term by now. It is a hypothetical new phase of the Internet as a single immersive virtual universe that serves as an extension of the physical world. And while a lot of the attempts that came before it (hello Second Life) didn't really pan out, many technologists swear that it is inevitable. And with titans like Meta (Facebook) going all-in, many players in various industries such as gaming, fashion, sports, blockchain, etc., are getting into virtual worlds to help build infrastructure and expand into this new domainless territory.
And with expansion comes risks, which is why brands should make an effort to understand the budding industry before making a move. The advantage of expanding into the metaverse is that your company most likely won't need to relocate or set up shop in a new area since virtual environments can be accessed from anywhere with internet.
The key to knowing the right moves is by talking to investors and making connections with companies and DAOs (decentralized autonomous organizations) that currently have a presence in the metaverse.
Why Should Brands Enter the Metaverse?
The number one reason why brands enter the metaverse is to boost their most important asset: brand awareness. The pioneering industry offers a level of attention and community engagement that is mostly unrivaled in other sectors, enabling companies to take advantage of the exuberance generated from its vision of a 3D immersive virtual world that currently exists only in sci-fi movies and novels. It comes as no surprise to see many companies, especially from the fashion and entertainment industries, making moves toward the metaverse.
Nike may be one of the classic footwear brands, but it needs to connect with the new generation of athletes if it wants to stay relevant in the future. Its foray began with a co-launch with Roblox in 2019 on Nike Air Max Day, which has blossomed into a full-blown partnership for the development of Nikeland on Roblox's gaming platform.
Nikeland is a virtual world modeled after the shoe company's real-life headquarters, featuring buildings, as well as fields and stadiums for players to compete in various online mini-games such as dodgeball and tag. Nike's entry created buzz both in the web3 space and the gaming industry, which helps younger audiences fall in love with the brand. By introducing digital shoes and other wearables in its 3D showroom, it presents an opportunity to tease future products, allow kids to co-design footwear, and create a testing ground for the company in this ever-growing digital age.
Balenciaga took a slightly less cumbersome approach. Instead of building its own 3D environment, it partnered with gaming/metaverse company Fortnite to create a line of authentic Balenciaga skins that can be purchased by gamers for their Fortnite avatars. Not only did it bring added revenue for the century-old luxury fashion house, but it also showcased its brand to the game's 80 million active player base.
Note that this nascent technology is not limited to wearables, as we've seen brands like Coca-Cola, Hyundai, Wendy's, Samsung, etc. that achieved success in their early entrance into the metaverse.
Furthermore, these examples only scratch the surface. We don't really know how big this could get, which is why Meta is diving deep early on despite admitting that VR/AR devices are a decade away from replacing our smartphones.
Determine if the Metaverse is Right for You Today
While many believe that the metaverse will encompass everything at some point, that future is far away. The reality is that you need to time your entry depending on your audience demographic. Fashion, gaming, and entertainment brands are no-brainers. If your customers consist mostly of young people, there is a good chance that a virtual space might be your next frontier. And perhaps you should do it sooner rather than later if you hope to stay ahead.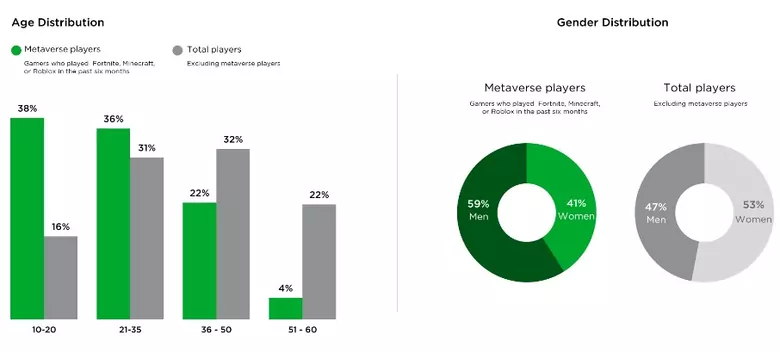 Brands that serve baby boomers, on the other hand, may or may not be suitable to venture into the metaverse today. This is because old-timers aren't as keen to try out new technologies and the notion of dwelling in virtual worlds might not be that alluring for them. Say, if you're a board member at Ace Hardware, you might be better off advising your team to stay on the sidelines for now. This, however, needs to be taken on a case-by-case basis, especially if you're in an industry that loves attention.
Strategize Your Entry
Planning your move before diving in will help you prepare in managing the risks and rewards accordingly as you venture into this super unpredictable space. Remember, not all brands that made their move came out victorious. Multi-billion dollar gaming company Ubisoft makes an interesting cautionary tale when it dropped the Ubisoft Quartz non-fungible token (NFT) collection for its already unsuccessful game, Ghost Recon Breakpoint. The result? Barely $800 in secondary sales on the Objkt marketplace.
Making the right moves initially could spell the difference between successfully making an impact on web3 and utter failure, or worse, you get community backlash (like Ubisoft did). This is why you should first ask your marketing department or agency team to look into applications in the metaverse that fit your brand or accelerate your long-term goals. Then, you need to formulate a strategy on how you should make a first appearance and when.
While virtual reality is still early, it might not be a good idea to go all in yet, especially if you're already an established brand. In fact, a more cautious approach like the Balenciaga-Fortnite partnership is probably more commendable. An alliance with a more experienced metaverse project or company allows you to dip your toes in the water while studying the industry as it evolves, giving you more leeway to go bigger or pivot accordingly.
Many NFT projects, especially the good ones, are dying to partner with IRL brands so this shouldn't be too hard. If that fails, there are tons of metaverse consulting firms you could approach to ease your entry into virtual worlds.
Launch an NFT Collection (But Do it Right)
NFT is one the foundations of the metaverse, enabling the creation of digital assets that are scarce (as hard as it is to believe). You could create digital clothes, wearables, avatars, accessories, and virtually anything that represents your brand. And you could even blend them with your physical products to give them added digital value. In fact, if you're in the luxury brand niche, you'd massively benefit from the psychology of scarcity and limited editions that appear to fuel the NFT craze.
You also need to be very mindful of your actions when you go down this route. Some of the brands that came before have managed to only extract value from the NFT space, leaving the community rather skeptical of traditional brands. Floyd Mayweather himself had allegedly abandoned two NFT projects so his third one didn't even sell out. Therefore, you need to properly communicate your intentions first and seek to bring value to the web3 community before you launch any collection.
Look into the most successful NFT projects like Bored Ape Yacht Club, VeeFriends, DeGods, Okay Bears. Depending on your brand's prestige, you might even be able to hire some of them as consultants. If there is only one takeaway you can get from this section, it would be to learn from those who actually made it work. Most of the branding and marketing experts outside the web3 sphere of blockchain technology think that the NFT space works the same way as in traditional settings, and they'd be in for a rude awakening once they find out it isn't.
Acquire Metaverse Projects
Alternatively, you could buy up already established metaverse companies or projects if you have the resources. This enables brands to instantly gain metaverse assets, and more importantly, a talented team of developers and creators. RTFKT is a web3-native fashion company pioneering the next generation of virtual sneakers powered by NFTs, blockchain, and augmented reality (AR). It only made sense that Nike had to acquire it.
While Nike is the world's leading developer of footwear, virtual sneakers are new territories even for the $33B multinational company. Acquiring expertise from a startup enables the extension of its digital footprint and capabilities as they delve into the metaverse.
Conclusion
Not every company that leveraged the Internet in the late 90s became prosperous. In fact, the Dot com bust wiped out so many Internet stocks shortly after, but those that made it through (Amazon, Google, IBM, etc.) came out on top, to some degree. This is why we emphasize making the right moves into the metaverse, not simply making a "metaverse" department or launching an NFT collection haphazardly.
Web3 is not a space for extracting value. It is a layer of innovation that is about to bring forth the next iteration of the internet. If you don't execute well, things might turn out just as bad or worse than not getting into it at all.
Create relationships with the right people, bring value to their communities, then leverage those relationships to thrive in this new digital age.
---
Join our newsletter as we build a community of AI and web3 pioneers.
The next 3-5 years is when new industry titans will emerge, and we want you to be one of them.
Benefits include:
Receive updates on the most significant trends
Receive crucial insights that will help you stay ahead in the tech world
The chance to be part of our OG community, which will have exclusive membership perks