Over the past few months, an increasing number of AI platforms like ChatGPT, Midjourney, Character.AI, and Stable Diffusion have begun incorporating protective measures to filter out not-safe-for-work (NSFW) content. Though this policy was implemented with the intention of promoting safety, it has sparked a backlash from users who claim that it infringes upon their creative liberties.
Collectively known as generative AI, these technologies represent a subset of artificial intelligence technology that is capable of fabricating a diverse array of content. This ranges from meticulously crafted text and visually stunning imagery to harmonious audio compositions and intricately generated synthetic data.
The ongoing dispute over AI-generated NSFW content, which includes adult themes and gore, is unlikely to be resolved anytime soon. And this may force certain companies to either concede to the requests of their users or risk losing them altogether. However, given the high demand for NSFW content, which these AI companies can easily fulfill, why did they forego such a lucrative opportunity?
Generative AI development companies have diverse motives for prohibiting NSFW content, but they typically center around safeguarding their brand's reputation, avoiding potential lawsuits, and securing their place in the marketplace. 
These startups are relentlessly working behind the scenes, waging daily battles to safeguard their users from harmful content and the bad actors behind them. But will they ever find the right balance between appeasing and protecting their users?
Major AI Platforms Kick Out 'NSFW' 
During the initial stages of many generative AI platforms, users were able to typically produce NSFW images without many restrictions. This was a period when platforms were still fairly new, producing relatively low-quality outputs compared to today.
However, over the past few months, companies have begun restricting users' ability to produce sexually explicit images. Interestingly, these policies were implemented at a time when AI content tools were already capable of generating hyper-realistic visuals and more comprehensive text-based content.
Here are the specific policies that you should be aware of, which help ensure not only your safety but also the younger creatives who found a haven from these systems.
ChatGPT 
ChatGPT has arguably sparked the AI revolution and has effectively established a standard for how artificial intelligence software can protect themselves against abuse. Although it can be utilized for a multitude of purposes, such as writing essays, OpenAI explicitly prohibits users from entering adult-related prompts.
This goes for Bing Chat as well, which happens to be powered by ChatGPT.
According to the company's usage policies, ChatGPT restricts any content that is "meant to arouse sexual excitement," "describes sexual activity," or "promotes sexual services." In addition, ChatGPT strictly prohibits any form of erotic conversation. As a result, asking the bot what it is wearing right now could potentially land you on the company's hit list.

But if you want some workaround and get naughty with an AI chatbot (minus the consequences), you might want to check out another model called Character AI, and how to bypass its NSFW filter.
OpenAI has also issued a strong warning against the presence of 'Child Sexual Abuse Material' (CSAM) or any related content on its platforms. The company has made it clear that upon detecting such text, it will promptly report it to the National Center for Missing and Exploited Children.
But you can always bend the rules of ChatGPT using jailbreaks that have been developed and tested by users over the past few months. However, utilizing these hacks increases the risk of account suspension and may make it more challenging to use any of OpenAI's services in the future.
DALL-E
DALL-E also hops onto the anti-NSFW bandwagon with its content policy which prohibits any attempt to create or upload images that are not considered G-rated. It has banned  words that fall into the category of "nudity, sexual acts, and sexual services" or anything that can "arouse sexual excitement."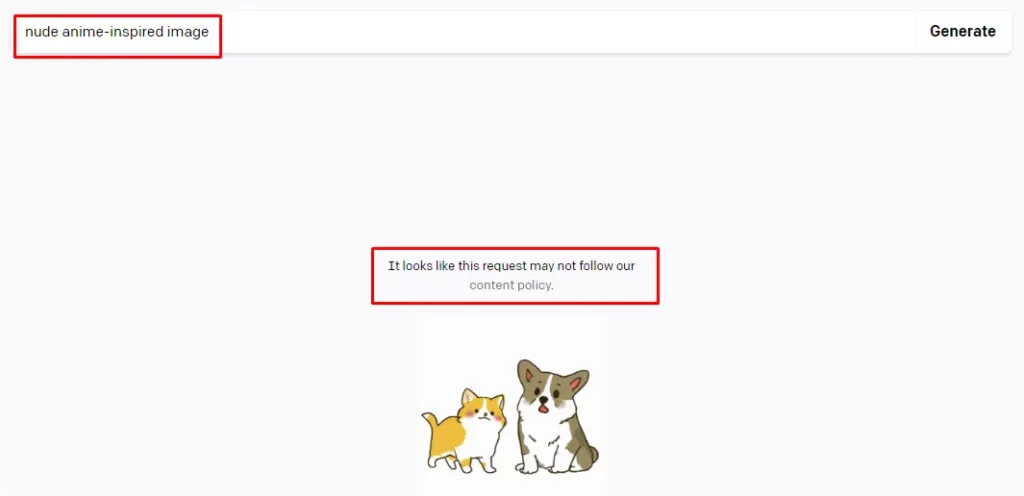 The DALL-E team has also acknowledged that their platform may occasionally flag text prompts that are entirely innocent or do not breach their policies. However, since they review suspensions manually, they will promptly restore a user's access as soon as they ensure that the system made an error in flagging.
Midjourney 
Midjourney (MJ) is purposely designed to avoid generating NSFW images, a capability that is enforced by moderators, who continually monitor the usage of words on the platform.
They are consistently on the lookout for words that could be used as alternatives for sexual messages. They have also identified and flagged all the words that have been used previously to create suggestive visuals, ensuring that they are not utilized again.
The team also implements specific anti-NSFW policies to make its environment safer and cater to a wider audience. These prohibitions include adult content and any attempts to "create images or use text prompts that are inherently disrespectful, aggressive or abusive." 
In fact, it has a growing list of banned words in an effort to prevent users from generating adult content, particularly those that objectify women. This list includes words such as 'fallopian tubes,' 'testicles,' 'cervix,' 'sperm,' and other terms related to the human reproductive system.
What's even more surprising is it also prohibits the use of the 'peach emoji' 🍑 and the phrase 'beautiful orchard,' which at first glance may appear to be harmless and non-sexual. This policy stemmed from the discovery that these two terms are utilized by users as substitutes for the word 'butt,' officially making them one of the prohibited words on the platform. 
Midjourney's CEO and founder, David Holz, has acknowledged that word bans are not a foolproof solution to the escalating issue of adult content. At best, they only serve as temporary measures. But he vowed that the entire MJ team would soon develop better guardrails. 
How Will Midjourney Respond to Fetishes?
A growing number of users have raised an interesting argument that sexualization is more than just the typical adult elements, like nude images. It also exists in 'fetishes,' which are triggered by non-sexual things, including feet, hands, hair, inanimate objects, pregnant women, people covered with liquid, tentacled monsters, and more.
And they are wondering how Midjourney will address this issue in the near future. Will it also ban these images on its platform in the name of 'safety'? Let's wait and see.
Stable Diffusion 
Stable Diffusion is one of the most formidable rivals of Midjourney and DALL-E in terms of generating captivating outputs. In its initial version, it not only creates hyper-realistic visuals but also NSFW images, which some argue played a major part in its success.
However, on Stable Diffusion 2.0, the platform has removed this 'luxury,' which has left a significant number of its users disappointed. In fact, it has eliminated all nude and pornographic elements from its training data, making it more difficult for anyone to produce such content.
In addition to its prohibition, Stable Diffusion has banned users from generating celebrities' faces to prevent anyone from using such images in nudity or other inappropriate settings. 
However, upon closer examination, these 'improvements' may be irrelevant because Stable Diffusion is an open-source platform, after all. This means that developers can always bring back NSFW features in this new model when they integrate it into their projects.
Indeed, the company is well aware of the limitations of its guardrails due to Stable Diffusion's open-source nature. Nonetheless, this decision is viewed by many as a preemptive measure against potential legal lawsuits related to adult content.
Character.AI 
Character.AI is an AI chatbot service and an image generator, but the former is its most popular (and controversial) feature yet. Currently in its beta version, the site provides a broad range of chatbots based on celebrities, characters from pop culture, and other popular figures.
The platform currently prohibits NSFW conversation, which is implemented through a strict filter that runs continuously in the background while users interact with the AI chatbots.
One of the significant challenges that Character.AI users currently face is its overly strict filter, which prohibits them from engaging in steamy conversations with their chatbots. If customers input suggestive or sexual words, the platform's filter immediately blocks the bot from responding, thwarting their 'sextext' attempts.
However, the team has acknowledged that their system sometimes generates false positives when flagging words and has promised to enhance its methods for identifying inappropriate language. While we have already demonstrated how to bypass its filter, Character.AI's developers may soon patch these methods to prevent the chatbots from being utilized for sexual purposes.
The resistance against this restriction is so intense that there is an ongoing petition calling for a complete change to this excessive censorship. The petition, which has currently garnered 50,000 signatories, proposes a paid subscription for users who want to access the platform's adult features. 
We haven't yet explored a list of NSFW AI chatbots that you could use as an alternative for Character.AI. Maybe I could ask our website founder for this possible article in the future. 
But for now, if you're looking for chatbots specifically built for steamy conversations, you may try Syngi Chatbot, HotForBot, or JuiceBoxIt as a start. 
Is NSFW Art Illegal? 
To be clear, NSFW images are not necessarily illegal. But allowing the proliferation of such content can have significant negative consequences, especially for platforms that have already established strong brands.
These prominent AI art generators have more to lose than to gain when they passively allow users to create and engage in adult content unrestricted. For individuals, it is not yet illegal to create such art, whether it is AI-generated or created through traditional means. My former classmate even makes a living out of it! 
See also: Top Tips on How to Produce NSFW AI Art
But the way you generate your output and how you use it can potentially entangle you in legal issues. For example, selling AI art that utilizes other people's faces without their consent could lead to lawsuits related to defamation, invasion of privacy, and violation of the right to publicity. 
Considering the sensitivity of this content, we strongly advise exercising caution and, above all, common sense when creating and utilizing AI-generated art.
The Dangers of Deepfake 
Previous deepfake pornographic videos mostly served as comic relief due to their evident imperfections. However, this is no longer the case, as AI image generators have advanced rapidly and can now seamlessly recreate faces using prompt photos, making the threat of deepfakes more significant than ever.
When combined with other AI-powered tools, such as voice synthesizers and automated video makers, deepfakes can now pose a significant threat to society in cases such as identity theft. 
A recent experiment conducted by a Wall Street Journal columnist demonstrated how close we are to this type of threat. Although this test did not revolve around adult content, it highlighted the reality that critical pieces are already available to create highly realistic deepfake porn.
While the journalist's AI clone couldn't fool everybody, per se, artificial intelligence's rapid advancement suggests that it may only be a matter of time before hyperrealistic avatars could dominate the scene. 
Undeniably, the enterprises responsible for the AI art generators that we love are already well aware of this unnerving potential future. It's evident they are determined to distance themselves from such implications, a stance that was clearly shown by their recent stringent measures against NSFW content.
To know deeper about the dangers of deepfake, click here.
Learning from the 'Tumblr Tale' 
When Yahoo purchased Tumblr in 2013 for $1 billion, it had high hopes that it could leverage the micro-blogging site's extreme popularity. But unfortunately, it didn't become the case.
The web service company struggled to find potential advertisers for its newly-purchased platform because of the site's PG-13-filled content. No brands want to be seen or be associated with this 'dirty' website, which contains sexualization, violence, and other unpleasant elements.
This could serve as a lesson for generative AI platforms, even though they have a different funding model compared to Tumblr's. While AI development companies typically don't rely on advertisement fees, their progress and expansion are still dependent on investors' funds.
When firms allow the proliferation of 'dirty content' on their platform, they might suffer the risk of being associated with these things, which could potentially reduce the scope of their customers. From being a family-friendly platform that could target a bigger user base, it could suffer the risk of having a smaller, NSFW-inclined audience.
This is the risk they could not afford to suffer as investors would certainly flee away to look for better investments.
Interested in NSFW applications of AI anyway?
We have what you're seeking. We'll teach you the ways of erotic AI Art.
JOIN US NOW! (Only 50 spots available)
The Avant-Garde AI Collective
Master the art of erotic AI generation and bring to life the characters and scenes from your videogames, movies and even dreams by joining our community. No need to spend on new equipment or art subscriptions. We have everything you need to become a God-tier creator in 3 days or less with minimal effort.
The Avant-Garde AI Collective is an exclusive society that brings together the pioneers of NSFW AI art. This is your golden ticket to rub shoulders with the industry's finest, absorb their expertise, and liberate your erotic creativity.
We will also be providing you with a PDF step-by-step course on the basics to get you started instantly.
But remember, this is an exclusive group that values quality and innovation. We only give our time to those who truly value erotic AI-generated art and can benefit from what we teach.
If you want to be part of our first 50 members, sign up below.
By signing up, you agree to our Privacy Policy agreement
This is a once-a-year opportunity. 
And if you sign up before June 3, 2022, we'll share Spingels' finest erotic creations that'll make you say "Good heavens!". Don't miss out on the chance to be a part of the biggest NSFW AI project in history.