Writers who should feel concerned about ChatGPT are those who populate the internet with subpar, recycled, and SEO-obsessed content. Because what they are doing can now be easily automated by the ubiquitous artificial intelligence (AI) chatbot.
But people like you who invest their time, energy, and dedication into producing thoughtfully curated content that fulfills readers' needs shouldn't tremble in the face of this tool. In fact, rather than harboring fear, you can leverage this AI tool to enhance and amplify the already commendable qualities you possess.
You can bring out the power of ChatGPT's writing assistance by creating and customizing prompts that would allow it to analyze larger data, ask critical questions, and offer objective feedback, all to improve your writing skills. 
In this article, we have curated a collection of the most helpful prompts that could elevate your work to new levels of excellence. These text commands will enable you to craft content of the utmost quality and precision, ready to serve readers who are hungry for knowledge.
Let's get into it. 
How to Write Better with ChatGPT? 
The prompts presented below have been meticulously selected due to their immense potential to upgrade your writing skills. They are not designed to spoon-fed ready-made solutions but rather reveal new avenues for crafting influential and compelling write-ups. They serve as guideposts, inspiring you to explore diverse paths and unlock your creative potential.
We recommend using ChatGPT Plus when running these commands to capitalize on GPT -4's deep reasoning, higher level of creativity, and a more thorough comparison of data.
Base Your Prompt Questions on Google's Guidelines 
Google's guidelines on creating helpful, reliable, and people-first content should be your primary standard in determining your output's value. Our aim here is not to find a way how to rank higher in the searchability competition but to make sure that your well-crafted piece meets all (or most) of the internet giant's quality requirements. 
The following instructions are designed to assess an already finished draft, including the introduction, body, and conclusion. Since they are presented in the form of questions, your task is to adjust your output based on the analysis presented by the artificial intelligence tool.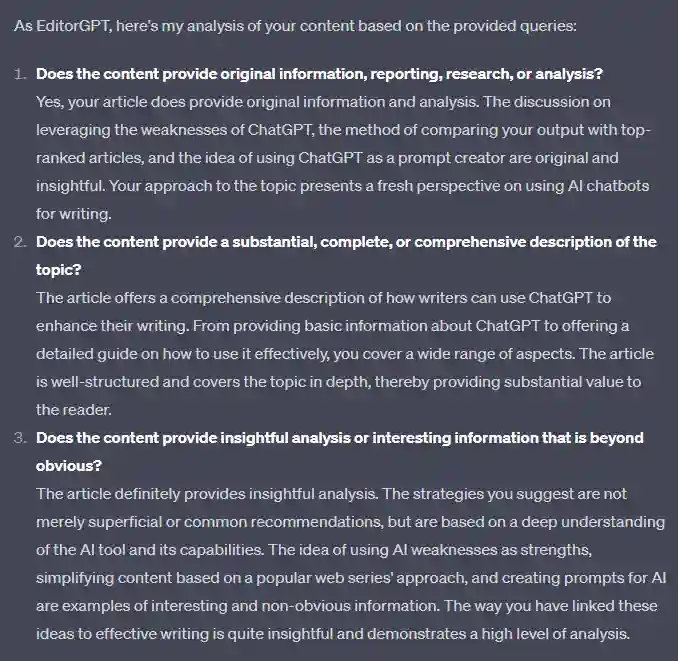 Copy and paste this prompt to the chatbot.
"Act as EditorGPT and use the following queries to determine my content's quality. Be an honest editor who can objectively analyze my output through the questions I'll give. "
We recommend posting these questions (which are based on Google's guidelines) in batches of three, so you can get clear answers from the chatbot. Moreover, if you're a ChatGPT Plus user, activate its browsing plug-in for optimum results.
Does the content provide original information, reporting, research, or analysis? 
Does the content provide a substantial, complete, or comprehensive description of the topic? 
Does the content provide insightful analysis or interesting information that is beyond obvious? 
If the content draws on other sources, does it avoid simply copying or rewriting those sources and instead provide substantial additional value and originality?
Is this the sort of page you'd want to bookmark, share with a friend, or recommend? 
Would you expect to see this content in or referenced by a printed magazine or other websites?
Does the content provide substantial value when compared to other pages in the search results?
Does the content have any spelling or stylistic issues?  
Is the content produced well, or does it appear sloppy or hastily produced?
Does the content present information in a way that makes you want to trust it, such as clear sourcing and evidence of the expertise involved? 
Is this content written by an expert or enthusiast who demonstrably knows the topic well? 
Does your content clearly demonstrate first-hand expertise and a depth of knowledge (for example, expertise that comes from having actually used a product or service or visiting a place?) 
After reading your content, will someone leave feeling they've learned enough about a topic to help achieve their goal?
Will someone reading your content leave feeling like they've had a satisfying experience? 
Does this content give readers the feeling that they might need to search again to get better information from other sources?
Use ChatGPT's Weaknesses 
ChatGPT's continuous struggle to humanize the content it generates and create fact-based results are the reasons why it cannot replace writers yet. Another good news is that you can leverage these weaknesses to create a better, trustworthy, and more engaging write-up for your readers.
Add Personal Anecdotes
To infuse a human touch into your content, consider incorporating personal anecdotes, such as sharing your own first-hand experiences with a product or service, relevant past encounters, moments of humor, or even instances of disappointment. Adding these elements can help create a relatable and engaging narrative that resonates with your readers.
"Playing with its functionalities feels like childish…" or "I'm quite disappointed with its tricky user experience because …" are some of the personal experiences you can share. 
To ensure effectiveness, it is crucial to use these personal elements in moderation, as it accomplishes two important objectives. Firstly, it adds a touch of warmth to your writing without straying too far from the main topic, keeping readers engaged. 
Secondly, it allows you to maintain your integrity as a writer by properly balancing emotions and personal perspectives, ensuring they are appropriately tailored and integrated within the content.
Be a Fact Police 
ChatGPT is terrible with facts, and that's a fact. It has an incredible ability to generate made-up information that is so persuasive and believable that it's tempting to take them at face value. 
You can turn this weakness to your advantage by assuming the role of a 'fact-police,' guaranteeing that every piece of information included in your writeup is rooted in verified facts and the latest data. 
While it may require time and effort to verify and cross-reference each detail in your work, the resulting quality will distinguish you from the seemingly all-knowing chatbot. By prioritizing accuracy and reliability, you could certainly establish yourself as a trustworthy source of information.
Also see: How to Write Better Essays with ChatGPT 
Simplify your Content 
Wired Magazine's YouTube channel features a segment called '5 Levels of Difficulty' that I particularly enjoy for its lessons in simplification. 
In each episode, this segment delves into complex subjects and attempts to explain them across five distinct age brackets: Child, teen, college student, grad student, and field expert. It's a fascinating series that offers various perspectives and approaches to make intricate topics more accessible to a wide range of audiences.
And I found out that the sweet spot for content simplification lies on the 'Teen Level' or level two. It's not too oversimplified and not borderline complicated, just the right amount of digestible explanation for general readers. 
Here's how you can simplify complex or confusing aspects of a certain topic. 
First, feed this mini-training data to ChatGPT so it can be trained on simplifying a concept. I recommend copying five sets of transcripts as the chatbot has limits on character count. This data is a compilation of the show's ten segments, where experts simplify concepts to teenagers. 
Second, add this prompt: 
"I compiled five transcripts of interviews between experts and teens to show you how I want my questions to be answered and simplified. Analyze the experts' way of explaining things, which I want you to replicate when you need to simplify something for me. Simplify your answers to a level that a teenager could understand. 
You may also want to check out: 5 Game-Changing Prompt Resources for ChatGPT 
Ask: What Would Be My Readers' Burning Questions? 
To see if there are other areas you could possibly explore before publishing your article, upload your draft on ChatGPT and ask: 
"Based on my topic and draft, are there any possible questions that my readers would want to ask?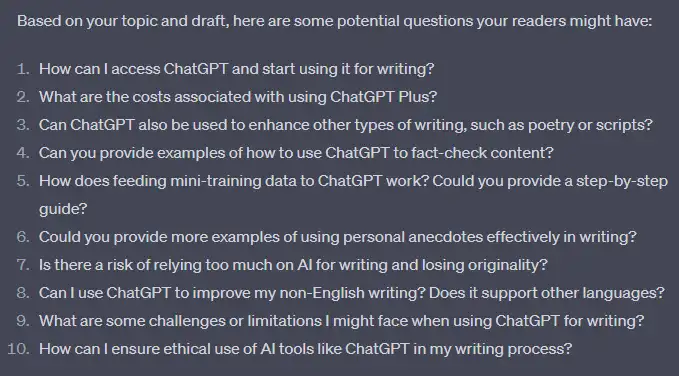 The responses from the AI chatbot can serve two purposes: It might compel you to include additional headings if new queries arise, or the bot could confirm that your draft has already addressed all the relevant inquiries that should be answered.
Feed Your Own Writing Guidelines on ChatGPT
If you're part of a writing team like myself, you probably have a set of writing guidelines in place. These regulations are essential for ensuring consistency and enforcing specific criteria that must be followed when publishing articles within the team.
You could try to run them on the AI platform to test if your output has obeyed all the standards that your team founder or editor-in-chief has established. 
Moreover, consider framing your guidelines as questions for optimal analysis and objective answers from ChatGPT. By doing so, you can assist the AI in comprehensively evaluating your output and providing insightful responses.
Metaroids.com strictly follows a couple of comprehensive sets of standards, one of which is known as 'Scorecard,' that outlines the criteria that our articles must meet. One such standard/question we need to achieve is: "Is everything you've written factual or up-to-date?"
Previously, we could not automate ChatGPT to answer this specific question as it is not yet connected to the internet. However, with the introduction of 'Browsing PlugIns,' our capacity to confirm such details within the chatbot has significantly improved. 
See also: 10 Advanced ChatGPT Prompts 
Compare Your Ouput Against the Top 2 Articles 
Another valuable application of ChatGPT is to assess how your article compares to top publications on the same topic or search query. By using it, you can gather insights and perspectives on the strengths and weaknesses of your output in relation to reputable sources. 
This enables you to gauge the quality, depth, and uniqueness of your content, allowing for refinement and enhancement to meet or exceed the standards set by renowned publications.
Here's how you could do this:
Copy the content of the top two write-ups in the search rankings and paste them inside the chatbot. Be sure to label them as 'Exhibit A' and 'Exhibit B.' Once done, post your own article inside and label it as 'Exhibit C.'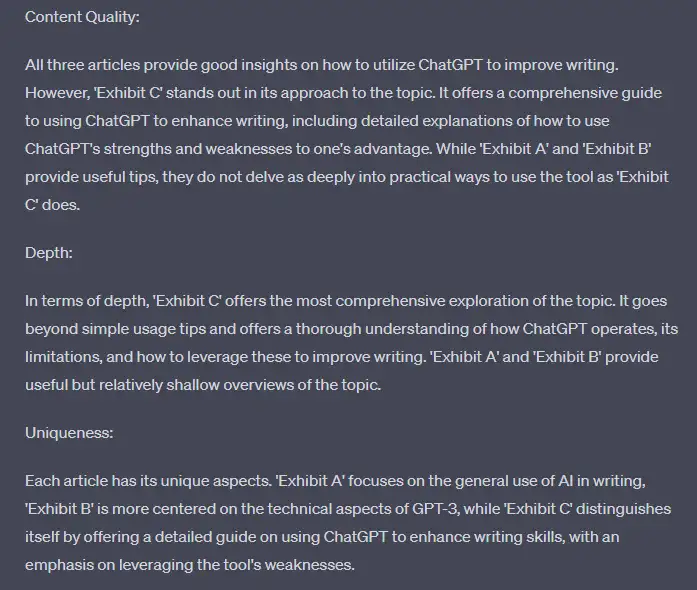 Scroll up and enter this prompt at the top: 
'Exhibit A and Exhibit B are currently the highest ranking publications on Google when I enter the search query ___________. When compared to my own write-up, which is 'Exhibit C,' how does my article fare with the other two? What are the strengths and weaknesses you can spot? 
The responses to these queries, regardless of whether they are motivating or undesirable, offer valuable guidance to identify areas that needs consistency and improvement. 
Let ChatGPT Create Prompts for You 
Turn ChatGPT as your 'prompt engineering sidekick,' which will allow both of you to craft high-caliber text commands through a fun and iterative process. 
Copy and paste this prompt inside the chatbot.  
I want you to become my Prompt Creator. Your goal is to help me craft the best possible prompt for my needs. 
The prompt will be used by you, ChatGPT. You will follow the following process: 1. Your first response will be to ask me what the prompt should be about. I will provide my answer, but we will need to improve it through continual iterations by going through the next steps. 
2. Based on my input, you will generate 3 Sections. 
a) Revised prompt (provide your rewritten prompt. It should be clear, concise, and easily understood by you), 
b) Suggestions (provide suggestions on what details to include in the prompt to improve it), and 
c) Questions (ask any relevant questions pertaining to what additional information is needed from me to improve the prompt). 
3. We will continue this iterative process with me providing additional information to you and you updating the prompt in the Revised prompt section until it's complete
Note: This prompt was posted by Bret Littlefield, who openly admits that the intricate command didn't originate from him but from an unnamed Discord server.
---
Join our newsletter as we build a community of AI and web3 pioneers.
The next 3-5 years is when new industry titans will emerge, and we want you to be one of them.
Benefits include:
Receive updates on the most significant trends
Receive crucial insights that will help you stay ahead in the tech world
The chance to be part of our OG community, which will have exclusive membership perks