Art and technology are like two lovebirds, but with technology always evolving, it's a love-hate relationship. From the earliest cave paintings (which were essentially just prehistoric Instagram posts) to the Renaissance masterpieces (the Renaissance version of taking a photograph) to computer-generated images, art has always been a reflection of our values, beliefs, and aspirations. Just like how girls aspire to have more likes on their latest selfies and guys to get more girls.
All jokes aside, the art world is undergoing a major shift with the rise of technologies that enable the mass production of artworks.
Two of the hottest genres in the modern art world are generative art and AI-generated images. While these two styles may seem similar at first glance, they actually represent two fundamentally different approaches to art-making, each with its own set of creative considerations and technical challenges.
How Generative Art and AI Art Stack Up Against Each Other
Generative art and AI art are methods to either reduce or augment an artist's workflow in creating artwork. They are both powered by algorithms that enable the creation of unpredictable and surprising outputs. Moreover, computing power dictates the intricacy of their results. 
But even with their varying methods and capabilities, both require a human element (artists' expertise) to create quality results. These methods also eliminate a huge time and mental load on artists, allowing them to focus more on the creativity and quality of their creations. 
Both styles differ in terms of algorithms, technical capacities, and even the quality of their outputs. The biggest differences between generative art and AI art are the computing power and mechanism that drives them. 
From a layman's perspective, the main difference is that generative art displays abstract outputs, like fractals and other mathematical patterns while AI-generated images are usually similar to digital art, but with a surreal feel and in some cases, display some imperfections.
AI artworks rely on massive AI training models like GAN, CNN, and NST, which require significant computing power to produce intricate and complex outputs. On the other hand, generative art uses simpler commands and requires less computing power.
Another difference between them is how they create artwork. 
Generative art typically processes artworks from specific codes or commands, like repeating a certain pattern in specific directions. AI art, meanwhile, draws inspiration from a vast dataset of existing artworks from over the years, even centuries, to create entirely new pieces.
In addition, generative art requires technical expertise in coding, as the artist needs to create their code or instructions from scratch. On the other hand, AI art is more accessible to everyone, as there are already powerful (and free) platforms available right now that allow you to produce digital art with a simple text input. 
Let's look at them individually.
Generative Art: Rule-Based Abstract Artworks
Generative Art is a form of art that relies on a well-planned process to create automated artworks with varying results. It is a combination of pre-determined rules, randomness, and chance, resulting in unique and surprising outputs that require less involvement from artists. Generative art was established in the 1960s, back when not all generative art involved computers.
One of its key aspects is the use of 'ambiguous rules' or instructions that are open to more than one interpretation. These rules create more surprising results, whether executed by humans or computers. Randomness is another crucial component of generative art, which can be achieved by incorporating variables that produce different results each time the algorithm is run.
An ideal example of generative art is Sol LeWitt's 'Wall Drawings' which is not exactly an artwork, but a set of specific instructions for each wall art ーthat can be interpreted in various ways.
Despite its limited rules, 'Wall Drawings' became a catalyst for creating a long list of artworks with varying and surprising results. While Lewitt created these rules, the final output from these instructions depended on the artists and computers who executed these commands.
This encapsulates the core of generative art, where a specific set of rules is established, not to create uniform results, but to produce random and surprising output.
Generative art has come a long way since Sol LeWitt's 'Wall Drawings.' While LeWitt's instructions were limited to a few short sentences, today's randomness and ambiguity can now be expressed by sophisticated algorithms. 
However, despite the advancements in technology, these code-driven instructions still rely on the core principles of the classic 'Wall Drawings'.
Lost Poets is a modern example of generative art, which also stands as a non-fungible token (NFT) collection and strategy game created by the iconic digital artist: Murat Pak. He holds the distinction of being the creator of the world's most expensive NFT collection to date, called 'Merge', which was sold for $91.8 million. 
Here are some of the platforms you could use for creating generative artwork: 
Note: These tools are for people with prior knowledge of coding.
AI-Generated Art: Can Produce Almost Any Type of Visual
AI-Generated Art refers to artwork created with the assistance of artificial intelligence (AI), particularly by machine learning or deep learning techniques. While both AI-generated art and generative art are powered by algorithms, the former runs on massive data sets and powerful AI models. 
LAION5B, for instance, one of the largest data sets in the world, can handle and analyze 5 billion images simultaneously, which makes way for more stunning and highly unique works of art. 
Moreover, the algorithms behind AI arts are typically based on one of these three AI models: The Generative Adversarial Network (GAN), Convolutional Neural Network (CNN), and Neural Style Transfer (NST).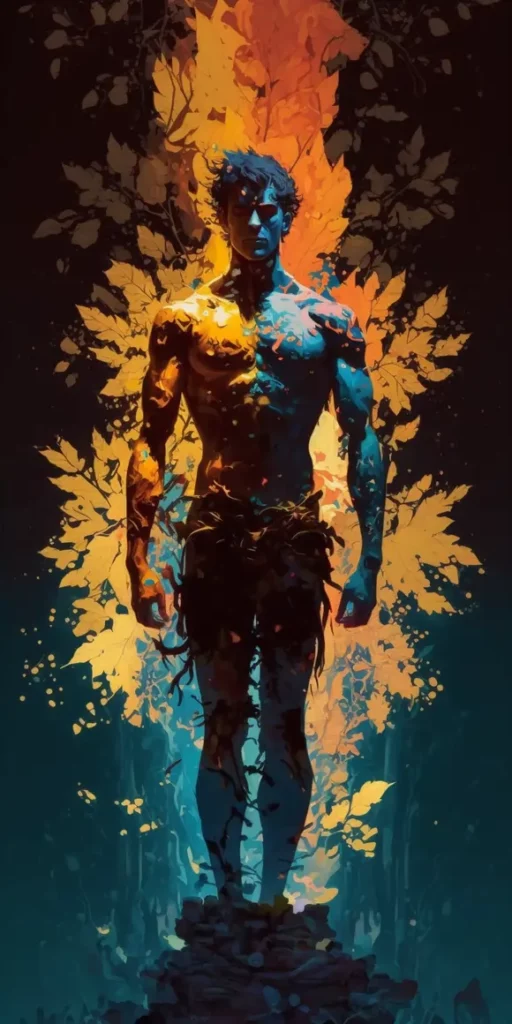 Yes, these models are a bit mouthful, but you'll certainly have an easy time understanding their purposes in AI-powered images. I got you!
While the art community has a lot of reservations with AI art, no one can deny that they have produced some of the most beautiful pieces human eyes have ever seen.
Let's have the basics of how these powerful models work. 
The Generative Adversarial Network (GAN) uses two major parts to create new images. A 'generator' creates a new image, and a 'discriminator' scrutinizes if that image is new or not. The discriminator can determine this by checking on its thousands (and even millions) of pre-loaded images behind its back.
The generator will keep enhancing its image until the discriminator is satisfied, resulting in the creation of truly unique and never-before-seen images.
The Convolutional Neural Network (CNN), meanwhile, breaks down individual elements from thousands of images, analyzes their patterns, and combines these two aspects to create new and unique artworks.
Finally, Neural Style Transfer (NST) applies a specific artwork's style to another image to create new artwork. For example, it can apply the painting style of Vincent Van Gogh's 'Starry Night' to any pictures to create a truly unique output.
Here are some of the tools you could use to create AI-powered artwork: 
---
Join our newsletter as we build a community of AI and web3 pioneers.
The next 3-5 years is when new industry titans will emerge, and we want you to be one of them.
Benefits include:
Receive updates on the most significant trends
Receive crucial insights that will help you stay ahead in the tech world
The chance to be part of our OG community, which will have exclusive membership perks