Are you ready to surf the decentralized web?
Have you ever tried searching blockchain domains like vitalik.eth or kyber.crypto on your browser and then get something like this?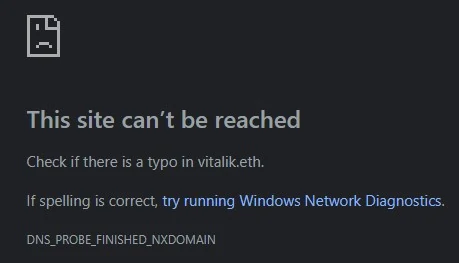 If the answer yes, or if you get another type of error, chances are that everything is working fine and you're just doing it wrong. This article aims to guide you through the different ways to access various types of crypto domains in different browsers.
Blockchain domains attract millions of users worldwide as a timely solution and an emerging technology in the web3 space. Its primary function is to match domain names to complex crypto wallet addresses. Thus, users do not have to remember lengthy alphanumeric labels to reach either websites or people but utilize easy-to-read identifiers like metaroids.eth (as opposed to 0xf116238Eg1a7391C18c3a8dCL2q558EdB2b3DgFP).   
Replacing web addresses with domain names may not provide a wow factor when hearing it for the first time, but remember that is only one aspect of blockchain domains, which have many other use cases across the web3 ecosystem.
People can use blockchain domains as their identity, which can conveniently be used to log into decentralized applications and platforms, and perhaps even the metaverse one day.
We can even build unstoppable websites with crypto domain names, freeing them from the control of governing bodies since they are built as NFT assets, meaning they're yours forever.
Regardless of the reason people use blockchain domains, it has the potential to grow into the Internet of the future in the next few years. But you probably already know that, you smart cookie. Otherwise, you wouldn't be studying how to use a technology that is roughly three to four years too early for global adoption. But carry on because this could pay dividends in the future.
Surfing Blockchain-Based Websites
Visiting websites is easy because of the Domain Name System (DNS), mapping names to numerical labels called IP addresses. With DNS, people only need to type a domain name (e.g., metaroids.com) as it automatically reroutes to an IP address (e.g., 50.87.171.53). A similar concept is applied to the web3 space, enabling users to utilize simplified domains instead of long addresses.
There are multiple protocols that are currently developing blockchain naming systems, but for now, let's focus on domains registered on Ethereum Name Service (ENS) and Unstoppable Domains, both of which run on Ethereum and Polygon, respectively, since they represent pretty much most of the market anyway. But for future references, there are many small builders developing their own domain registries for other blockchains like Solana, Cardano, and more.
As of 2022, blockchain-based websites have a limited reach, making them dependent on custom resolvers for broader access since most browsers don't support blockchain naming systems. Resolvers contain data, which a computer connects to get the necessary identifier, directing a user to the webpage.
For instance, Firefox cannot access .crypto domains, hence, users need to add a Resolver that could fetch proper data when typing, for instance, dtube.crypto in the URL search field. Although blockchain resolvers help people surf blockchain-based websites, it still has a long way to go to hit mainstream adoption.
This is why most browsers can't easily connect to crypto domains without a Resolver. This will likely change soon, but for now, let's work with what is doable.
How to Access .crypto Domains
A .crypto domain is provided by naming service provider Unstoppable Domains, and can be accessed in a variety of ways, depending on your browser.
If you're using either Unstoppable Browser, Brave, or Opera as your browser, then you don't need to do anything since they automatically support .crypto domains. However, if you use Chrome or other browsers, you need to follow the individual guides below.
How to Access .eth Domains
A .eth domain is part of the ENS system, and can be accessed by browsers that support Ethereum-based domains or by adding certain characters to their URLs.
For instance, you can access .eth domains automatically on Opera and Brave. However, if you want to use Chrome and other common browsers, you'd need to add a ".link" or a ".limo" after the URL so it will be resolved. For instance, instead of typing vitalik.eth, you need to input "vitalik.eth.limo".
How to Access .sol Domains
Coming Soon
Accessing Blockchain Domains on Various Browsers
Blockchain domains are not normally searchable to most common browsers. You need to either add certain characters or do a puny bit of tinkering in order to view crypto-powered websites.
Note that the topics will not cover browser extensions as they are currently not working when we tried them (as of August 2022). Furthermore, the examples are only limited to domains provided by either ENS and Unstoppable Domains since they currently represent roughly 98% of the blockchain naming service market, based on really rough estimates.
How to Connect to Blockchain Domains with Chrome
Chrome does not natively support .eth websites, but there is a way for you to access them. When searching, add a ".limo" or ".link" after the ENS domain (e.g., vitalik.eth.limo). It will automatically direct you to the webpage you are trying to reach.
On the other hand, you will need to tweak your browser when accessing Unstoppable Domain names. Go to the settings menu of Chrome, represented by three dots. Click on privacy and security. Tap security and scroll down to the advanced section. Finally, copy and paste the following on the empty bar: https://resolver.unstoppable.io/dns-query.
Note that after customizing Chrome, you can access UD websites as you please.
How to Connect to Crypto Domains with Firefox
Similar to Chrome, Firefox is also NOT an Ethereum-enabled browser. Therefore, you can't access .eth websites automatically. You need to add a ".limo" or ".link" to whatever ENS domain you're searching for. For instance, instead of searching "vitalik.eth", you need to use "vitalik.eth.limo".
Alternatively, Firefox has specific requirements to reach websites with Unstoppable Domain names. Simply pen the application menu, represented by three lines. Head to network settings, and enable DNS over HTTPS. Select custom and paste https://resolver.unstoppable.io/dns-query on the bar. Do not forget to save it.
How to Connect to Blockchain Domains with Edge
You cannot directly access ENS domains on Edge, so attaching ".limo" or ".link" will be useful to reach the exact web address. As stated in previous examples, try searching "vitalik.eth.limo" on Edge and you'll most likely be able to access vitalik.eth.
If you want to explore other blockchain-based websites beyond .eth, you can do so by customizing your Edge settings. Go to the browser's setting menu, represented by the three dots. Find Security and scroll down to the advanced section. Paste this as the custom provider: https://resolver.unstoppable.io/dns-query.
How to Connect to NFT Domains with Opera
Opera natively supports decentralized websites, enabling users to search them by blockchain domains. For ENS, typing .eth names will automatically resolve to websites (e.g., vitalik.eth). The same is true for Unstoppable Domains.
How to Connect to Blockchain Domains with Brave
Brave is another browser that resolves blockchain domains by default. You can input .eth and Unstoppable Domain websites on your search bar without adding or applying changes. 
The Unstoppable Browser
The Unstoppable Browser is a gateway to the blockchain web, giving users access to peer-to-peer networks. It is built on Chromium, making the project publicly available but safer due to its decentralized nature. 
Users can access blockchain top-level domain websites in the Unstoppable Browser, which also supports a decentralized file system called the Interplanetary File System (IPFS). Through this, people can view sites hosted on the distributed web in just a few clicks. 
Additionally, .crypto domains are working fine when searching websites on the browser. However, using other identifiers like .eth calls for further improvement since they are currently not accessible. Could it be because ENS is the competitor of Unstoppable Domains? Maybe, but who knows.
---
Join our newsletter as we build a community of AI and web3 pioneers.
The next 3-5 years is when new industry titans will emerge, and we want you to be one of them.
Benefits include:
Receive updates on the most significant trends
Receive crucial insights that will help you stay ahead in the tech world
The chance to be part of our OG community, which will have exclusive membership perks