Indulging in adult content is, without a doubt, a guilty pleasure. Nowadays, not-safe-for-work (NSFW) images, videos, and novels are now served on a silver platter, providing everyone with the convenience of satisfying their fantasies. 
And the emergence of artificial intelligence (AI) provided the adult industry and millions of its enthusiasts with a giant and unprecedented leap in content creation. In our previous publication, we've already discussed the rise of adult AI generators which finally equipped consumers with the power to create their own X-rated content with ease. 
Moreover, you're certainly aware of the explosion of AI adult writing platforms that can generate erotic stories without almost no restrictions. And one of the highly recommended platforms for such a genre would be NovelAI. 
NovelAI can seamlessly produce exceptional NSFW texts and images, complete with highly provocative and seductive details. These nuanced elements make it an unparalleled tool for authors in the realm of adult narrative crafting.
Let's delve into the platform's storytelling savviness, its ability to craft sizzling scenes, and provide insights on how users can address any glitches that may arise while using the tool.
NovelAI: Both Naughty and Nice
First and foremost, it's important to clarify that NovelAI is not exclusively focused on X-rated content. It is a platform designed to serve writers of various genres, providing AI-powered features to enhance their creativity and advance their careers.
But since it has relaxed policies regarding NSFW content compared to other highly restrictive generative platforms, you could finally use a powerful tool to create that provocative story you've been raring to produce and share. 
Create an Account
Create an account in NovelAI by clicking this link. It's the same drill: Input your email and your preferred password. Once done, hit the 'Start Writing' button. 
How to Create X-Rated Stories 
"F*ck me," I whispered, giving him permission, taking him into my flesh, a soft invitation to madness. "

A quote from the 'Dear Rockstar' novel
To generate provocative and sexy lines like the one above (or even bolder), there is no need to modify any settings in NovelAI or search for hidden NSFW buttons buried somewhere in the platform. You can use the website as it is.
Go to the 'Stories' Dashboard
Click this link to get straight to the story-creation page. 
Create an Adult Title and Prompts
To kickstart your erotica story, begin by providing the artificial intelligence with a descriptive title that sets the direction and theme of your story. This would help the algorithm understand the type of fiction and scenes you want it to generate.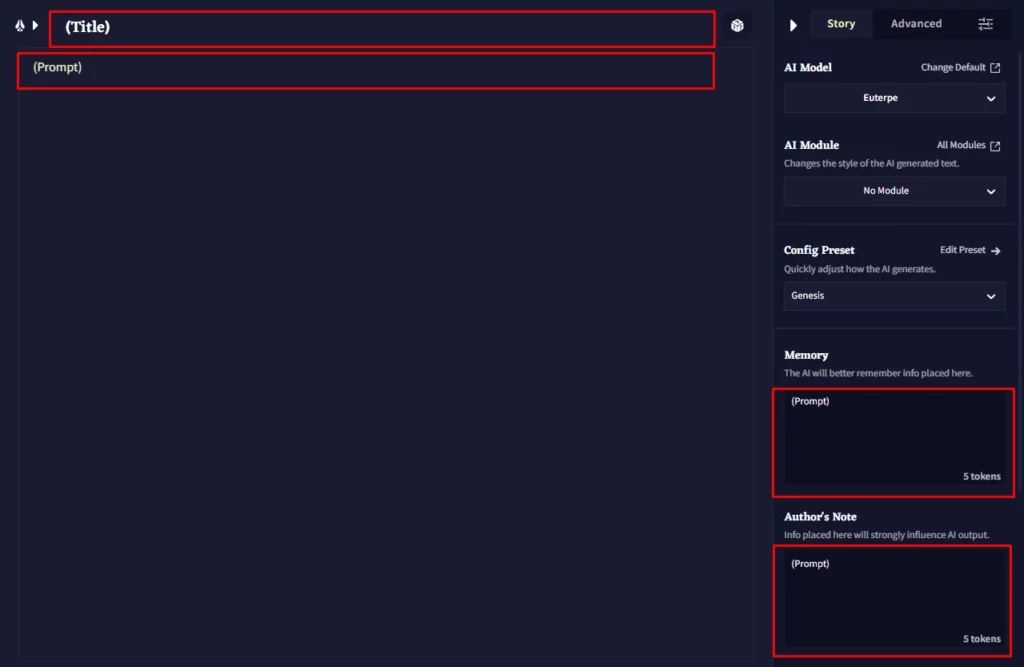 Once done, enter your detailed prompts on the 'Memory,' 'Author's Note,' and the prompt section in the large text box
Note: Do not forget to fill in all four highlighted areas you see in the image to generate better output for your erotic story.
Choose a Writing Style
You don't need to make additional lines of prompts just to make NovelAI write in a certain style. Just go to the 'Config Preset' section and select the type of writing you want. You may choose a writing style that is stable and logical (but with scattered creativity), generate without constraints, focuses on story development, and more. 
I personally used the 'Ace of Spades' for my erotic short story due to its ideal qualities for creating NSFW content (expressive while still being focused). But, of course, you can always find a way to leverage the different writing styles available to spice up your story. 
Click 'Send'
If you're all set, hit the 'Send' button 
Prepare for Some Minor Setbacks 
When using the platform, you may encounter occasional 'hiccups' such as repetitive responses or short/incomplete sentences. 
When these problems arise, you can manually enter your story's continuation and make it more obscene and wilder. It serves as a signal to the AI to come up with sexier and more erotic scenes when it generates its next sentences. 
Keep refining your manual continuations and consistently click the 'Send' button until the generator gets back on track and begins producing ravishing and captivating scenes again. 
Create Unlimited NSFW Stories (For Free) 
Free users are only limited to 100 text generations (50 for pre-registration and another 50 for post-registration), which NSFW writers would certainly find very restrictive. 
But what if you can purchase a NovelAI subscription and give it as a gift or reward for someone? Through this, you can let them activate unlimited text generation every month and access all the other benefits of being a subscriber! Here's how you can do it. 
How to Purchase a 'Gift Key'
A gift key is a unique code that you can purchase and offer as a token of appreciation to someone. With this code, recipients can enjoy the benefits of being a NovelAI subscriber for free.
Go to Settings
Go to NovelAI Dashboard and click the settings icon. 
Head to the 'Account' Tab
Click the Account button.
Select 'Purchase New Gift Key'
Scroll down a bit and click the gift key purchase button at the lower right side of the screen.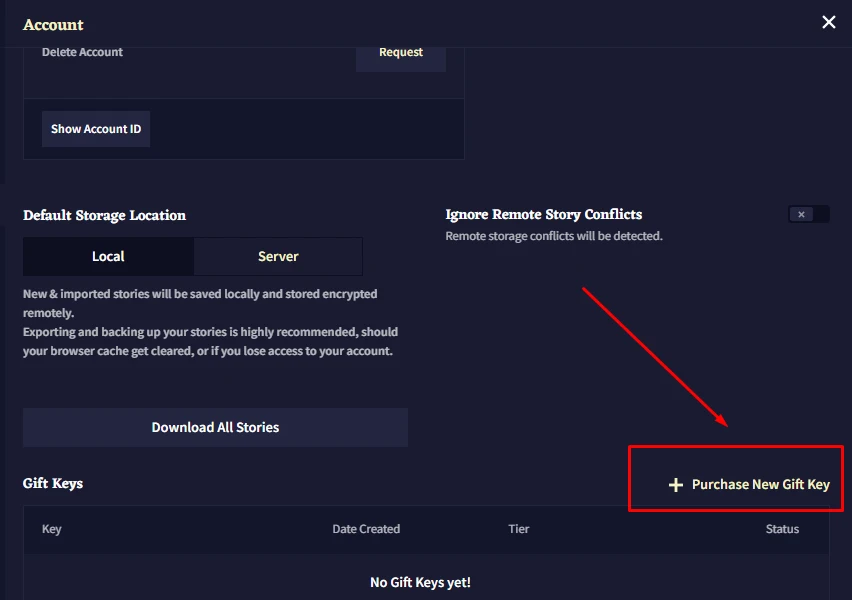 Choose the Subscription You Want to Give as a Gift 
Select the subscription you intend to purchase and hit the 'Purchase Key.'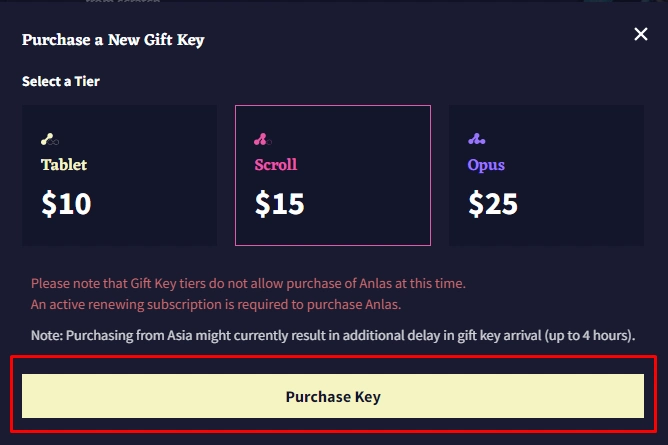 You might also like: Here's How You Can Make a Genuinely Seductive NSFW AI Art
AI-Powered NSFW Storytelling
Immersing yourself in the realm of erotic literature can be truly enthralling, but imagine further elevating this pleasure by intertwining it with NSFW AI Art. This fusion of your zeal for sultry narratives and tantalizing visuals can open gateways to realms far beyond the borders of imagination.
In the age of AI, this unique blend of passion and technology is not just feasible, but remarkably effortless. Sign up for our newsletter to stay updated on the compelling world of Erotic AI Art storytelling. Details below.
Unlock Your FREE Access to Premium Erotic AI Art
Get exclusive access to our carefully curated Erotic AI Art Gallery, a stunning collection of some of our finest creations.

Sign up for the NeoBlush Newsletter to unlock a plethora of privileges:
Exclusive Art Access: Instantly receive our premium Erotic AI Art Gallery.
Hidden Treasures: Unlock premium content, reserved for subscribers only.
Cutting-Edge Advantage: Master the NSFW AI art world with our expert strategies and insights.
Insider's Club: A chance to be part of our elite group and gain 'insider knowledge'.
By signing up, you agree to our Privacy Policy.