At last, the power to create explicit artwork using artificial intelligence (AI) is now in our hands, with advanced image models at our disposal. This new opportunity opens up doors for fresh commercial ventures or simply the delight of starting a new collection of hyperrealistic waifu characters. 
We can finally use not-safe-for-work (NSFW) text-to-image AI generators to create the most explicit and boldest photographs we could ever imagine that can finally breathe life into our fantasies. 
This newfound ability also serves as a revolution against the restrictions of mainstream AI art generators such as Midjourney and DALL-E in creating provocative illustrations. 
But since NSFW generative artwork is still an emerging field, it remains a largely unexplored realm, teeming with new discoveries and surprises. Let's set our sails on this steamy path, learn techniques for creating the most seductive images, explore the best prompts to use, and discover powerful AI platforms. 
How to Find NSFW Text Prompts 
When utilizing artificial intelligence image tools, one crucial aspect to master is the art of being exceptionally descriptive. By providing detailed and precise descriptions, we can harness the true power of these tools and maximize their creative output.
And relying solely on the typical words we use when searching for seductive photographs on the web might not be enough when working with AI image generators. So, where do we begin?
A website like Danbooru.com can be a valuable resource for finding a wide array of text prompts specifically tailored for X-rated visuals. With its extensive collection, it provides a starting point for generating explicit content on NSFW art generators. 
While it primarily functions as an imageboard rather than an AI art platform, it serves as a valuable resource for discovering the optimal keywords to use when generating your next waifu character. No more guesswork, at last. 
Another platform worth exploring is OnlyFansAI (unrelated to OnlyFans), where you can browse and purchase text prompts specifically designed for adult illustrations. If you're open to spending just to have additional ideas for the text commands you could use, then this platform is perfect for you. It's not necessary, but quite convenient for busy people.
Or you could simply browse the albums of NSFW image generators and click one of their images. Through this simple method, you could usually see the prompts that created those photos, which will offer you a quick starting point for your own art. 
If prompt creation is something that piques your interest, then you might as well earn money by selling your text instructions. While you may not be able to sell explicit prompts right away, you could start honing your skills in creating wholesome instructions that can generate stunning and lifelike images. 
How to Use Danbooru 
Head to Danbooru.com, access the 'Posts' tab, browse through a vast selection of unholy images, and select the photo that you like.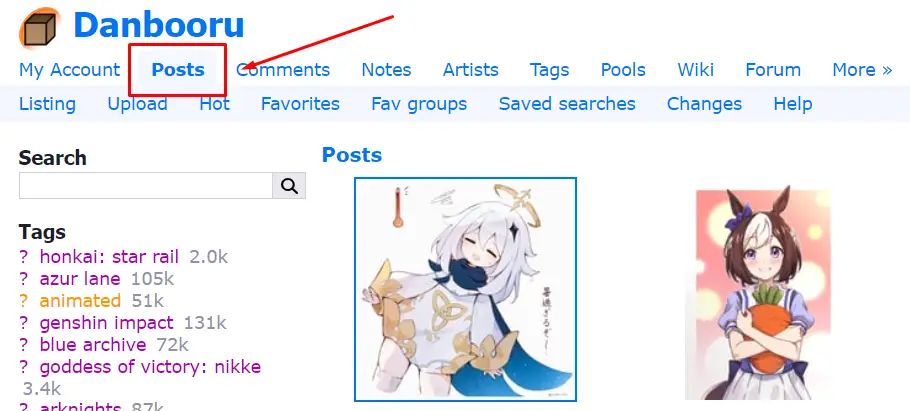 Once you click on the photo, you'll find a list of text prompts related to that artwork. These commands will give you an idea of what kind of instructions to enter when using your preferred adult AI generator. It's a helpful way to get inspiration and guidance for generating your own creations.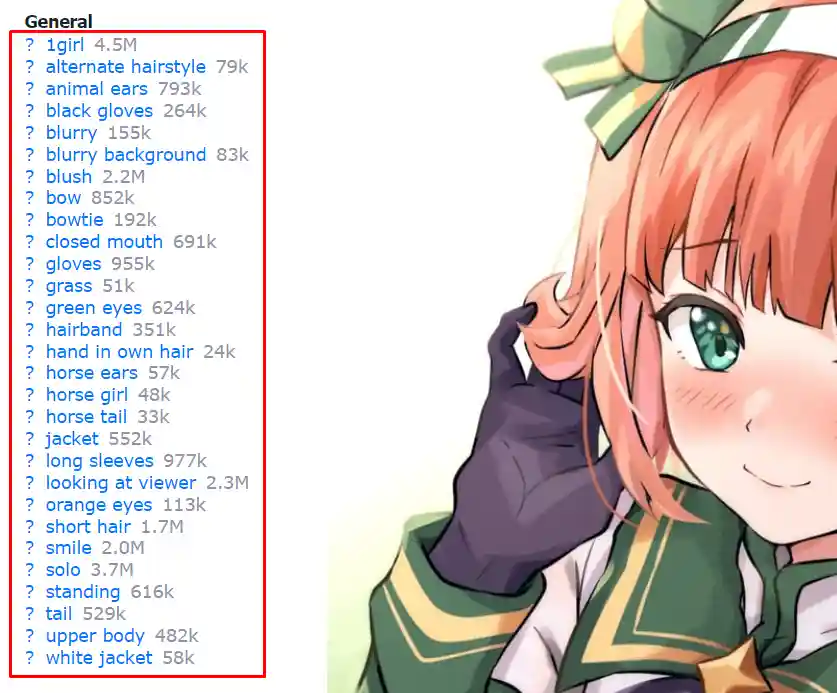 You can also have the option to search for a specific image instead of scrolling through thousands of photographs to find the best prompts you're looking for.
While the website imposes certain restrictions on specific keywords, such as 'student,' the abundance of keywords it offers makes up for this minor limitation, making it a valuable resource for generating creative ideas.
NSFW Image Generators 
NSFW AI art generators have their own set of strengths and weaknesses, which we have covered in detail in our previous article. We discovered platforms that can generate realistic (and graphic) visuals, digitally undress photographs, offer powerful image models, provides great user experience (UX), and more. 
The choices can be plenty and confusing, but we've narrowed down your choices into two choices: Soulgen and Yodayo. These platforms are not only capable and powerful but could also unleash all the pent-up fantasies you've been holding for so long. 
Let's begin.

SoulGen 
SoulGen is an excellent AI platform for creating provocative images that allows you to generate incredibly realistic and anime-style photographs. With its spacious prompt box, which can handle up to 500 characters (around 80-100 words), you'll have more than enough room to craft detailed and fully customized illustrations according to your preferences.
But in case you find Soulgen's 2D aesthetics a bit limiting, we have curated a list of the best AI art generators geared toward anime characters. While they are designed for 'wholesome' generations, you can always sneak in several sultry prompts to spice up your images. But you didn't hear that from me.
Hyperrealistic and Anime Style
You can generate hyperrealistic and anime-style photographs using the same prompt, which is very convenient since you don't have to switch to another platform just to get one of these visual varieties. 
The platform excels in generating competitive imagery. However, it would be better if SoulGen could offer users additional options to further enhance the visual impact of their photographs. 
Since not all NSFW fans like to manually customize their text prompts or invest significant time in refining their commands, the inclusion of additional customization features could provide huge convenience for users. 
Arrange Your Prompts Properly 
To help the algorithm create your desired photo effectively, it's recommended to neatly arrange your text commands. A useful approach is to enter the prompts in a specific order, starting with instructions for the 'upper body,' followed by the 'middle body,' and then the 'lower body.' It's a simple yet effective way to enhance the output of the adult AI generator.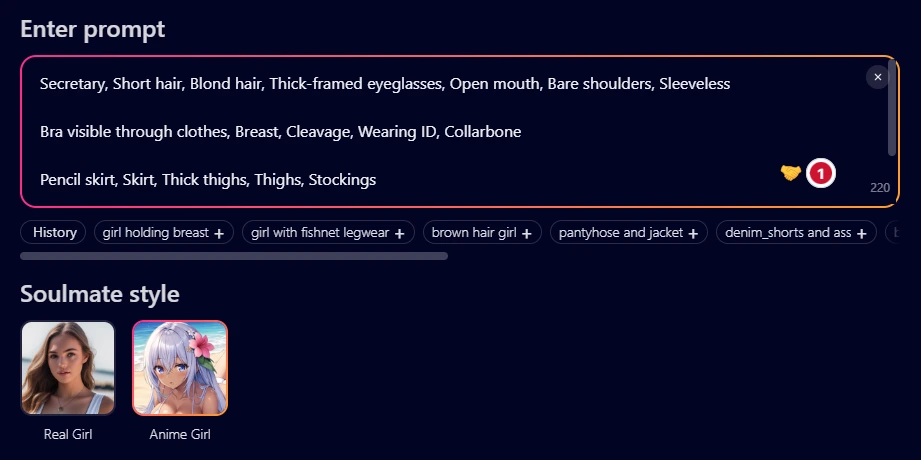 To give you an example of how I've arranged my prompts, I entered my instructions in the box, which I will divide into letters A, B, C, and D. 
Secretary, short hair, blonde hair, thick-framed eyeglasses, open mouth, bare shoulders, sleeveless collarbone. (Upper Body Instructions) 
Bra visible through clothes, breasts, cleavage, wearing ID. (Middle Body Instructions) 
Pencil skirt, skirt, thick thighs, stockings, cross-legged (Lower Body Instructions) 
Holding paper, looking at the viewer (Action Instructions) 
I arranged them according to the categories of 'upper body,' 'middle body,' 'lower body, and 'actions' to help the algorithm understand my instructions better. 
A messed-up and unorganized prompt might still work but could produce less quality compared to a well-ordered instruction.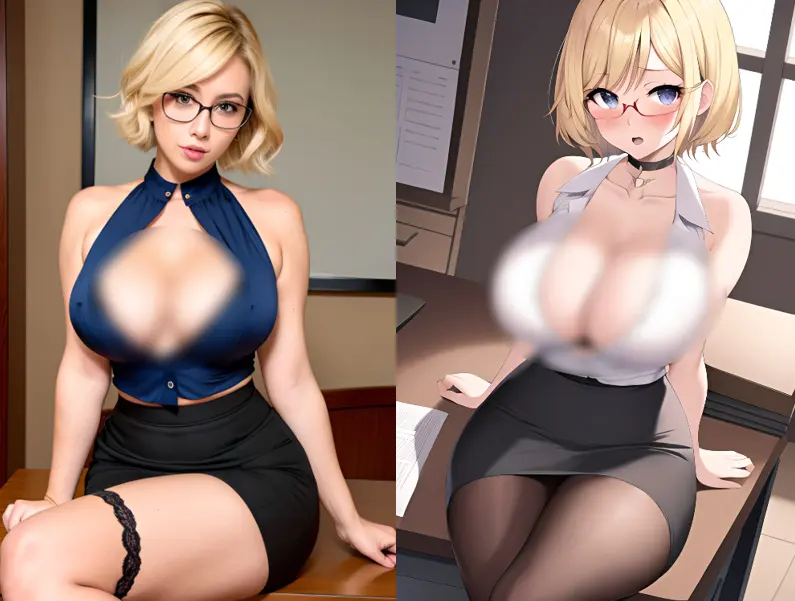 One of the most important things we should learn about artificial intelligence is that AI platforms are only as good as the users themselves.  In other words, the quality of their output heavily depends on what and how users would feed the instructions to them.
And if users are unwilling to invest time and effort to craft well-planned prompts and arrange them properly, then expecting optimal results from adult AI image generators is unrealistic. 
Yes, we know, prompt crafting could sound and feel intimidating. But fret not, as we got your back! To help you get started, you can check our previous article on how ChatGPT can help you generate stunning prompts for Midjourney. 
Even though it was meant for MJ, you could certainly learn solid principles for creating effective prompts for your intended images. And as a bonus, we've also created a comprehensive list of 200 prompt keywords to amp up your visual results. 
Add More Prompts 
Like any emerging platform, SoulGen has its own set of limitations and imperfections, such as occasionally failing to generate some of your instructions. 
We can mitigate this issue by incorporating supplementary commands when entering our prompts. By doing so, even if it misses specific commands, it has the potential to incorporate some of the additional instructions, making the visual output as better as possible.
Use Hint Tags if Available
If you're using an image generation platform that lets you make your own prompt, you can definitely create highly customized photos that could closely replicate what you have in mind. But if it also offers ready-made tags, just like the one below, we also recommend using them to expand your ideas and improve your text commands.

Yodayo
Yodayo is a powerful NSFW AI tool that can create stunning images while providing flexible options to enhance your photos. 
You can adjust the technical aspects of your photographs, such as height and width, by simply clicking the 'Enhance' button, located just below the generated visuals. And that's the boring part of improving your snapshots. I wanna yawn. 
The exciting part of customization that really thrills me lies in the 'Model' and 'Spell' options of the platform, which enables you to infuse a wide range of styles in your output. 
Here's how they work: 
'Model' Options
The 'Model' panel offers you 84 stunning image styles that can be integrated into your prompt before generating the final result. I had fun playing with its various styles, as each one significantly improves your output and adds spice to your visuals. 

'Spell' Options
The 'Spell' panel is a powerful tool that allows you to modify specific visual elements of your chosen character or style in the output. You can adjust its impact from low to high, providing greater control over the final look of your image.
In addition, this panel provides a massive list of customization options that were so numerous I had lost count, which made the improvement process even more fun!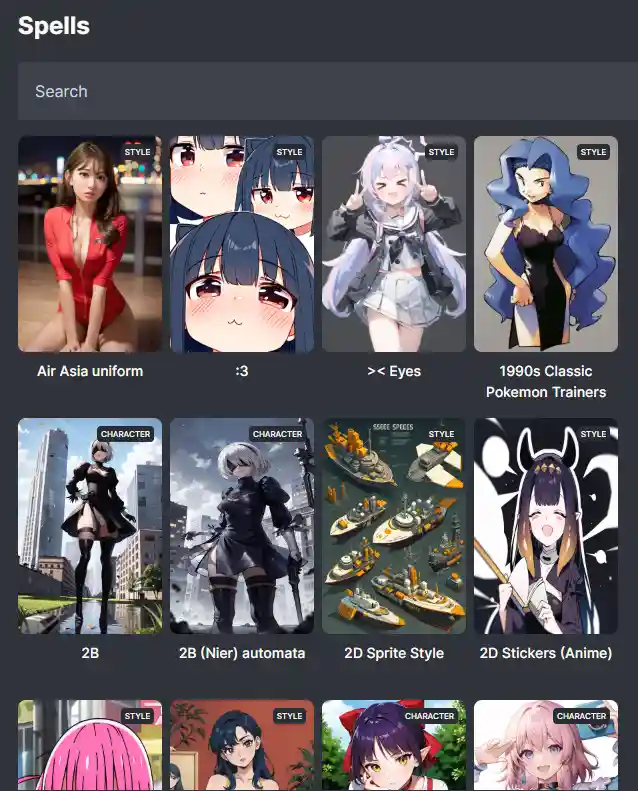 The 'Model' and 'Spell' modifications are arguably the strongest assets of Yodayo, as they allow users to improve their pictures without overspending their time on text prompts. These options offer adult art creators an edge to infuse their steamy images with more artful and eye-candy elements with significantly less effort. 
You may also want to try out: Promptchan AI: A User-Friendly NSFW AI Image Generator 
NSFW Text Prompt Dictionary 
Bring more sizzle and spice to your AI-generated images with these NSFW text commands. Consider using these keywords as starting points or additional instructions to elevate the seductive appeal and maximize their sensuality. 
Pleated Skirt
A pleated skirt is a type of skirt characterized by multiple foldings in its fabric, often associated with a school-like style. If you want this specific clothing to be featured in your photographs, it is essential to include both the keywords 'pleated' and 'skirt' in your prompt.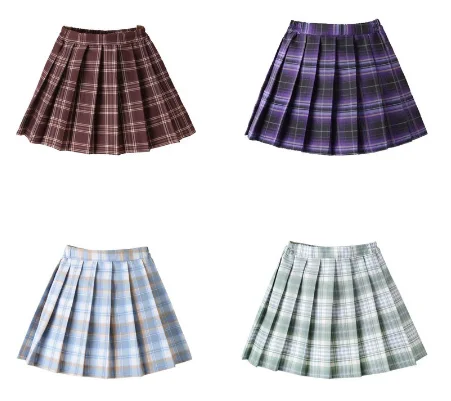 Merely typing 'skirt' on the prompt may compel an X-rated art generator to make the mistake of generating a skirt that secretaries usually wear. 
Serafuku 
Serafuku refers to the iconic sailor school uniforms commonly worn by Japanese students. Interestingly, using this prompt serves as a clever workaround or "hack" since numerous AI generators, especially the provocative ones, restrict the use of the word 'student' on their platforms.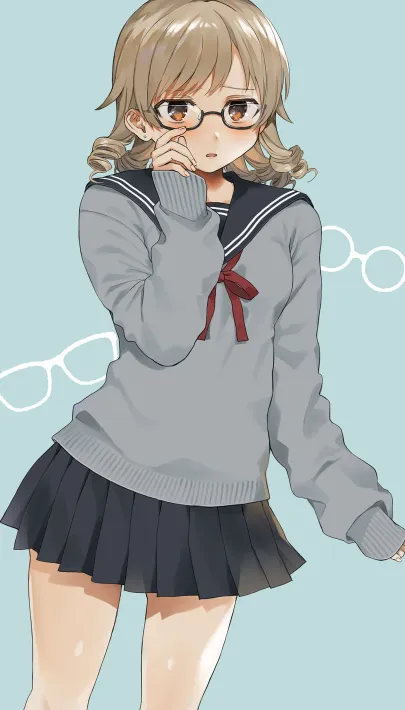 If you want to have a student appearance on your photo, enter 'Serafuku' instead of directly mentioning 'student' in your prompt.
Blush
Blush adds an innocent and erotic aura to your subject's face, enhancing the overall atmosphere of your generated photo. Adding a few more details to a character's face adds depth and enhances the overall appeal of your image, making it more captivating, engaging, and in this case, seductive.
The key takeaway here is to remember the importance of creating specific text prompts for facial features and not just focusing on a few specific body parts of your character. 
Shy/Embarrassed 
Facial expressions of shyness and embarrassment work like magic, infusing a seductive aura into any character, even without explicit graphic elements. It's truly fascinating how these subtle details can enhance the overall seductive appeal of your photos.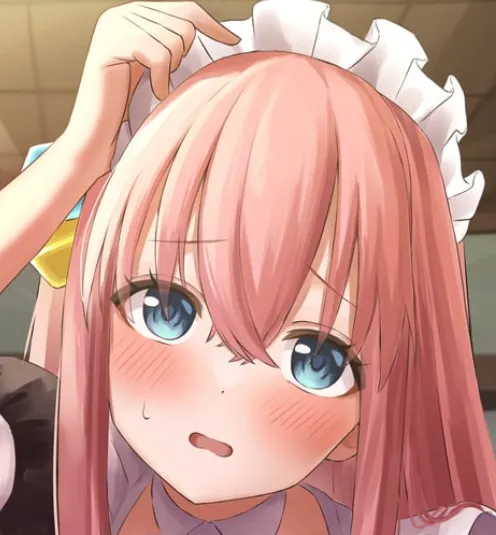 Bespectacled/black-framed eyewear 
Thick-framed eyeglasses can make ladies appear more attractive in real life. So, don't hesitate to include this detail in your prompt when creating steamy illustrations of your dream partner. It adds a unique and appealing element that enhances the overall allure of your desired image.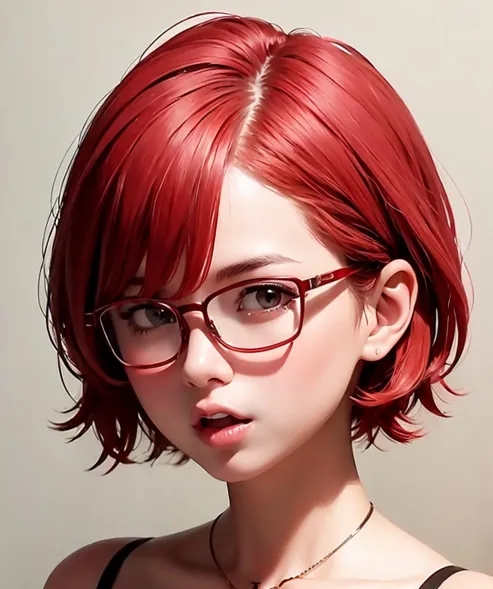 We've already seen the seductive effects of eyeglasses through the likes of Mia Khalifa, which, of course, is a lady that needs no introduction. 
And in case you're aiming to create a character that resembles her, you might be thrilled to hear what we're about to say. In this explosive stage of AIs, not only can you make customized images depicting icons like her, but also have a one-on-one conversation with them! 
You may check out our in-depth guide on how to bypass NSFW filters on Character.AI to kickstart your steamy chat conversations with famous celebrities! 
POV Hands 
POV hands bring your generated photo to your point-of-view (POV) by adding two additional hands in the visuals, implying that 'you' are there in the image, together with your waifu character.
And, of course, those hands can also 'touch,' 'squeeze,' or 'slap' anything on that photograph, which is only a matter of additional prompt from you.
Cowboy Shot
A cowboy shot refers to a camera shot that focuses on the subject's head-to-mid waist area (which may extend up to the knees), giving the viewers the right amount of intimacy for NSFW images. Think of it as somewhere between a full-body shot and a facial close-up.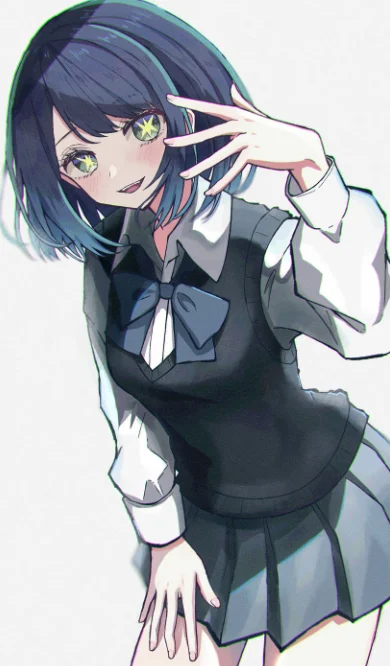 Looking at the Viewer
'Looking at the viewer' text prompt allows your character to establish direct eye contact with you or any viewers of the image, creating a heightened sense of intimacy. Moreover, the results of this command become more appealing when paired with the 'cowboy shot' prompt.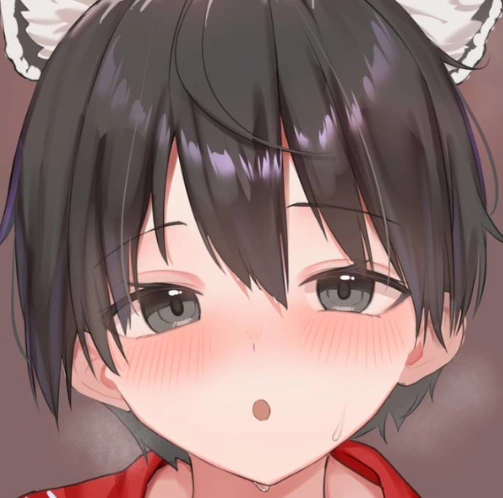 Open Mouth or Tongue Out 
'Open mouth' and 'tongue out' can amplify the seductive facial expression of your waifu character, especially when combined with the text prompts 'shy' or 'embarrassed.' 

Now that you've learned some mad skills, do you want to see how we do ours?
We are excited to present you our community newsletter, more details below.
Unlock Your FREE Access to Premium Erotic AI Art
Get exclusive access to our carefully curated Erotic AI Art Gallery, a stunning collection of some of our finest creations.

Sign up for the NeoBlush Newsletter to unlock a plethora of privileges:
Exclusive Art Access: Instantly receive our premium Erotic AI Art Gallery.
Hidden Treasures: Unlock premium content, reserved for subscribers only.
Cutting-Edge Advantage: Master the NSFW AI art world with our expert strategies and insights.
Insider's Club: A chance to be part of our elite group and gain 'insider knowledge'.
By signing up, you agree to our Privacy Policy.