The gig economy and the concept of side hustles have become the hip new trend in today's bustling digital landscape. With the increasing accessibility of the internet and the rise of artificial intelligence, people are finding new and innovative ways to generate additional income outside of their regular jobs. 
A tool that has captured the attention of aspiring entrepreneurs is ChatGPT , a powerful language model developed by OpenAI.
ChatGPT can be your reliable side hustle advisor, but it is important to exercise caution while using its recommendations. While the AI chatbot can be an incredibly helpful resource and provide valuable insights, it is still a machine-learning model and not a human expert.
ChatGPT's trustworthiness as a side job advisor lies in its ability to generate ideas, offer suggestions, and provide information based on patterns and data it has been trained on. It can help you brainstorm potential niches, develop marketing strategies, and provide general guidance on various aspects of starting a side hustle.
But hold your horses before envisioning yourself sipping piña coladas on a beach while an AI bot does all the work. Let's take a closer look at how this digital tool can affect your extra income plans. 
How to Determine the Right Side Hustle for You [With ChatGPT's Help]
When it comes to starting a side hustle, one size does not fit all. Your ideal supplementary source of income should be a reflection of your unique talents, skills, passions, and circumstances. Not to worry, ChatGPT, can help.
With its exceptional ability to understand and respond to human language, this AI tool can help you navigate the labyrinth of options and uncover the perfect extra hustle that aligns with who you are and what you want to achieve.
To harness the full potential of the chatbot and determine the right part-time gig for you, it is essential to provide it with relevant information about yourself. 
So, let's dive into the crucial information you should consider sharing:
Natural Talents and Skills
Start by reflecting on your inherent abilities. What activities come naturally to you? Are you a gifted writer, a savvy problem solver, or a creative thinker? Identifying your natural talents will help ChatGPT suggest part-time ventures that leverage your innate abilities.
Consider the skills you have acquired over the years, whether through formal education, work experience, or personal projects. Are you a coding whiz, a social media maven, or a master of organization? Your acquired skills can open up a world of extra gig opportunities tailored to your expertise.
Your Area of Interest
Think about the things that light a fire within you. Whether it's photography, fitness, cooking, or fashion, sharing your passions with this generative AI tool will enable it to uncover hustles that merge your interests with income-generating potential.
Personality Traits and Preferences
Are you the life of the party or the master of solitude? Do you thrive in chaos or prefer the calm of a Zen garden? Let ChatGPT in on your personality secrets. Your unique traits will shape the recommendations it provides, ensuring that you're in your element while chasing those entrepreneurial dreams.
Your Current Financial Status and Savings
Money talks, right? Be honest about your current financial situation. Allow your AI assistant know how much dough you can dedicate to your side adventures.
It'll consider your financial status and offer tips that won't break the piggy bank. Remember, the more personalized and accurate your prompts are, the more helpful the results will be.
5 Side Hustles You Can Start Using ChatGPT
Still not sure how to begin? Here are five side hustles you can start today with the help of ChatGPT. Remember, while this tool can provide guidance and suggestions, you should combine its insights with your creativity, research, and real-world knowledge.
Building a successful source of extra income requires consistent effort, adaptability, and a touch of entrepreneurial spirit. 
Building a Website
Gone are the days when you need to learn lines of code to build a website. Now this intelligent AI bot can assist you in building a full website by offering guidance on various aspects such as choosing a domain name, selecting a website builder, and optimizing your site for search engines. 
It can also provide you with step-by-step instructions, suggest website templates, and even offer insights on effective content organization.
With ChatGPT's assistance, you can create a professional and engaging website that showcases your products, services, or personal brand. You can also charge clients a fee to build websites for them. 
Editors Note: ChatGPT's current abilities in programming language remain unreliable and it's best to assign this task to experts with prior knowledge of building codes for websites.
Starting a Dropshipping Business
Dropshipping involves selling products online without the need for inventory management or order fulfillment. This AI tool can help you with market research, identifying profitable niches, and selecting the right products to sell. 
It can also guide you through the process of setting up an e-commerce platform, integrating payment gateways, and developing a marketing strategy.
Selling Writing Services (e.g., Blog Writing and Resume Writing)
ChatGPT can be an excellent companion for content writing. Whether you want to start a blog or offer resume writing services, it can provide you with ideas for blog topics, assist in crafting engaging articles and give you inputs for optimizing content for search engine rankings. 
You can also explore other forms of the writing field like resume writing. This AI bot can help you tailor resumes to specific job positions, provide formatting suggestions, and even offer industry-specific keywords to enhance your client's chances of landing their dream jobs.
See also: How to Write Essays With ChatGPT Step by Step
Become an Email Marketer
Every business owner understands that email marketing is a powerful tool for connecting with potential customers and nurturing relationships. With the help of ChatGPT, you can offer email marketing services to clients for a fee. 
This valuable tool can provide you with insights into creating effective email marketing campaigns that would impress your clients. It can help you write compelling email copy, design engaging newsletters, and provide tips on segmenting your client's audience for targeted messaging. 
Creating Profitable Videos (For Youtube, TikTok, etc.)
If you're interested in creating videos for platforms like YouTube, ChatGPT can be useful for generating video scripts. You can utilize its powers to assist you in brainstorming ideas for engaging videos, and scripting.
Moreover, the smart chatbot can provide pointers on video formats, and best practices for optimizing and monetization. With consistency, you can grow an audience interested in your content and make money off ads, endorsements, and brand collaborations. *ka-ching*
Case Study: Creating a Sidehustle From Scratch With ChatGPT
The internet is abuzz with success stories and testimonials from people who have leveraged ChatGPT's capabilities to uncover lucrative opportunities and make their entrepreneurial dreams a reality.
Social media platforms have been flooded with viral posts highlighting the ways in which the bot has revolutionized the process of starting the perfect extra gig. To put this to the test we would be creating a side hustle of our own from scratch with the assistance of ChatGPT. 
Disclaimer. The advice and guidance provided in this case study are for the purpose of a demonstration only. Metaroids (this website) bears no liability resulting from the implementation of any information provided.
Step 1: Ask ChatGPT For Recommendations Within Your Budget
To begin, we would ask the AI chatbot for side hustle ideas based on the budget we have created for the purpose of this simulation. 
Prompt: You are an entrepreneurial adviser. Considering I have a $200 budget, what are some side hustle suggestions I can start to make extra money? 
Step 2: Pick One of The Listed Ideas
For this experiment, we would be picking option no.6, which is creating a YouTube channel. Starting a channel can be profitable due to the various monetization opportunities available. 
The platform's massive user base and global reach make it a lucrative platform for creators. By building a substantial following and producing engaging videos, you can generate income through sponsorships and plenty of other means.
Step 3: Pick a Niche For the YouTube Channel 
If you have a personal topic of interest in mind, this part's already cut out for you. If not, then we can ask ChatGPT for some profitable niche ideas. 
Step 4: Pick a Name For The New Channel
We chose the food and cooking niche. To narrow it down more, our hypothetical channel would be all about vegan cooking recipes. ChatGPT can help us with catchy name ideas for this new channel. 
Step 5: Generate Video Ideas
Now it's time to generate some video ideas surrounding our niche.  
Step 6: Create a Content Plan and a Script For Your Video
After we've got a list of potential topics, create your content calendar to keep things organized. You can choose the frequency of your post, and select whether it will be once a week, daily, or a couple of times monthly. 
And of course, you'll need a well-written script for each video, and luckily the smart chatbot can help you with this task Let's ask it to create a video script for a recipe tutorial on how to make a vegan burger. Yum!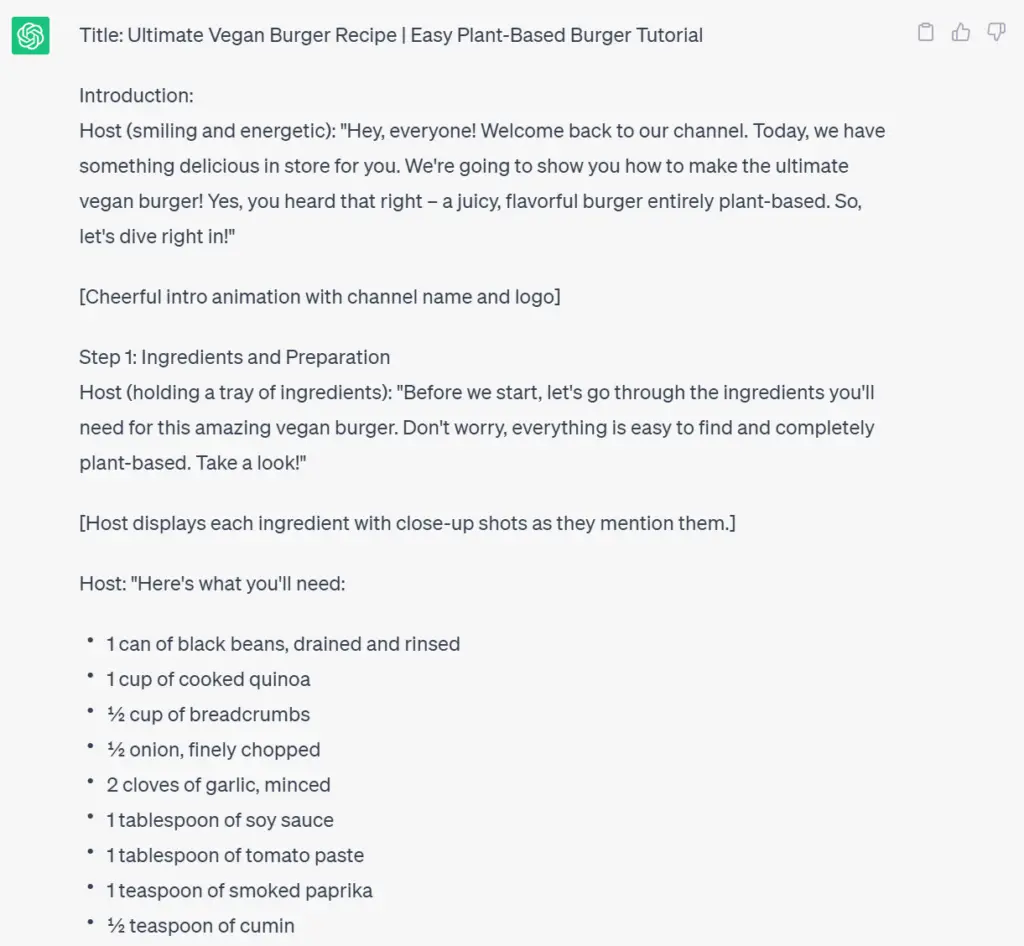 Step 7: Post and Repeat The Process
Voila! Now all the hard work is done, all we have to do is shoot our videos using the script, upload, rinse, and repeat the process. Note that apart from having a well-crafted script, several factors contribute to the success and monetization of a YouTube channel. 
These include consistency in uploading content, building a loyal audience through engagement and community interaction, optimizing video titles, descriptions, and tags for searchability, etc. 
Additionally, understanding and catering to the target audience's preferences are crucial for us to start seeing cash flow from this side hustle. 
To Wrap Up
Leveraging the power of ChatGPT can be a game-changer when it comes to starting a new side hustle. Whether you're seeking guidance on choosing a profitable niche or looking for advice on marketing strategies, it can also provide valuable insights.
So, don't hesitate to tap into the entrepreneurial prowess of this generative chatbot as you embark on your journey toward financial independence.
---
Join our newsletter as we build a community of AI and web3 pioneers.
The next 3-5 years is when new industry titans will emerge, and we want you to be one of them.
Benefits include:
Receive updates on the most significant trends
Receive crucial insights that will help you stay ahead in the tech world
The chance to be part of our OG community, which will have exclusive membership perks