Martian is a non-custodial wallet on the Aptos blockchain that allows users to create multiple accounts for different purposes, buy and send cryptocurrencies, stake APT tokens, store NFTs, and connect to decentralized applications (dApps).
It comes with a simple yet organized design for users to easily navigate the wallet. For instance, all activities related to managing coins and tokens (e.g., transferring cryptos) are located in the home tab, while others have designated areas. 
You can even browse various applications and emerging NFT collections directly in your wallet. 
Now let's dive into the ways to use the Aptos-based wallet, starting with how to create an account, send and receive payments, stake $APT, and more.
How to Use Martian Wallet
Like most web-based wallets, Martian can work by accomplishing two main steps: downloading the application and creating an account. Sounds simple, right?
Users don't need to be tech-savvy to begin. Just follow the step-by-step guide below to have your first Martian wallet:
Download Martian
The first step to owning a Martian wallet is downloading the application on its official website; click the given link for easier access. Upon reaching the portal, tap Download on the upper-right corner of your screen.
It currently supports Chrome, but mobile users can access it on iOS soon. Don't also forget to add it up as an extension. Once done, you're now ready to move to the next step. 
How to Create a Martian Wallet
A Martian wallet is a must-have when exploring the Aptos blockchain. Don't worry; you're only a few steps away. Once ready, our guide below awaits you:
Launch the Martian Application

Martian hides under your extensions, which looks like a puzzle piece icon on your browser. Click it to launch the application. Alternatively, pin it for easier access.
Martian greets you with a warm welcome while presenting two options: Create a New Wallet and I already have a Wallet (for importing seed phrases). Since it's your first time, choose Create a New Wallet unless you want to access an old account.
Make a Strong Password
Martian wallet requires you to create a password, as it's important for your asset's security. Type it on the two empty bars, and don't forget to tick the box beside Terms of Service and Privacy Policy after reviewing them.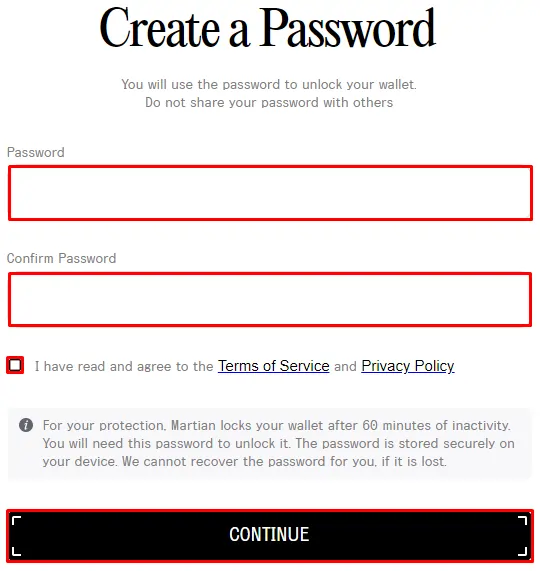 It's also worth noting that your password is your sole responsibility. Please keep it as safe as possible and never share it with other users.
Secure your Recovery Phrase
Your recovery phrase is more important than your password since it allows you to access your wallet regardless of the device you use, while a password merely lets you unlock your wallet on a given device.
Your Martian wallet will generate a 12-word recovery phrase. You can copy it to your clipboard and save it on your computer. However, it doesn't guarantee 100% safety. Alternatively, we recommend memorizing it so no one can know the words but you. 
Once done, click Continue to proceed.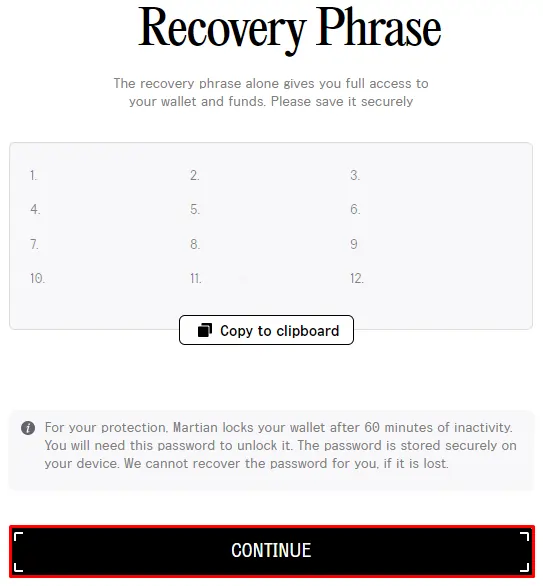 The next page lets you set up notifications to receive updates on important details about Martian, Aptos, Topaz (NFT marketplace), and other upcoming applications. Tap Continue to finish.
Congrats! You can now explore the Aptos blockchain with your Martian wallet.
How to Send a Transaction
Using your Martian wallet, you can send APT to any supported wallets across the Aptos blockchain. But you need to have enough funds (the amount you'll transfer plus network fees) on your account, as well as the receiver's public address. 
Once ready, open your Martian wallet. The homepage displays the funds in your wallet. In order to transfer them to another user, you have to click the Send button.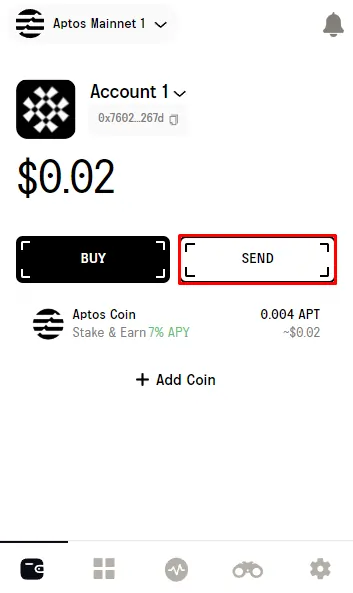 The next step is to select crypto; we'll choose APT in this example. Your balance will immediately load, allowing you to determine how much you can send. 
Don't also forget to paste your receiver's address (or domain name). Your wallet can detect whether the public address or .apt name is valid. Hence, be sure to double-check your input. Proceed by clicking Preview.
The next page provides your transaction summary, where you'll see the amount, receiver's address (or domain name), corresponding fee, and total. Once satisfied, hit Confirm and Send.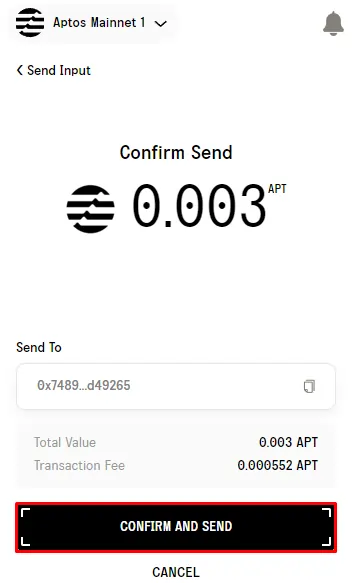 Wait for a while until the transaction is complete. It will instantly deduct the crypto amount you've sent from your total balance. You can check it out under your Activity tab or through the Aptos Explorer.
How to Stake APT on Martian
Staking on Aptos requires running a validator node with at least 1 million $APT. Most users don't have that much, but you're in luck since Tortuga Finance allows you to do liquid staking with your $APT.
Liquid staking is a similar scheme to normal staking, except it doesn't require a lot of $APT and you won't need to run your own node. But the best part is your coins will not be locked, and the whole process is seamless.
Liquid staking APT is supported on Martian wallet, allowing you to earn passive rewards. The process involves delegating your asset to validators and receiving tAPT (liquid staking token version of APT) in return, which you can use around the decentralized finance (DeFi) ecosystem.
To begin, open your Martian wallet and go to the home tab. You'll see the staking option under the Buy and Send buttons, which we highlighted below. Click it to move to the next page.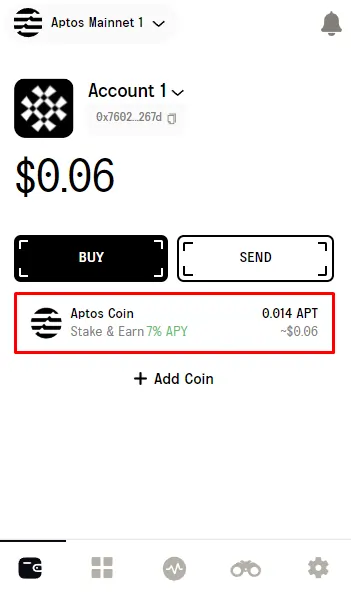 Now, it's time to input how much APT you're willing to stake. Note that the minimum amount is 0.01 APT; you can't proceed if it's lower.
The page also contains other details, such as your wallet balance and the tAPT amount you'll be receiving. Click Preview Stake to proceed.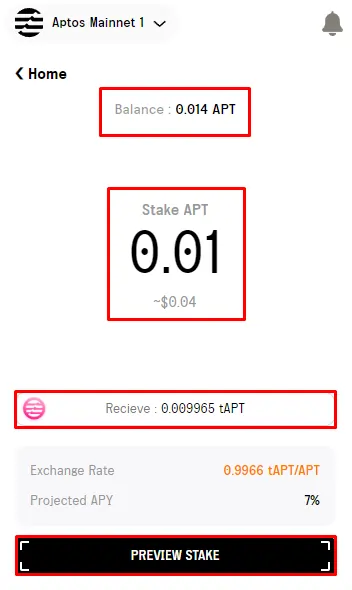 If you decide to continue staking after reviewing all the details, you'll immediately get tAPT based on its equivalent APT amount delegated. 
Success! You've now staked your APT via Martian wallet. On top of earning passive income, you're free to use your tAPT in other yield-generating schemes. To check your transaction, click the View Transaction on Explorer link.
How to Unstake
You can also unstake your APT on the official Tortuga Finance website, but the claiming process will most probably be available in 30 days or less, depending on when you unstaked. There's a ticket you should claim to receive your APT.
Alternatively, you can instantly trade your tAPT to APT on a decentralized exchange (DEX), but you'll probably get less than you normally would.
---
Join our newsletter as we build a community of AI and web3 pioneers.
The next 3-5 years is when new industry titans will emerge, and we want you to be one of them.
Benefits include:
Receive updates on the most significant trends
Receive crucial insights that will help you stay ahead in the tech world
The chance to be part of our OG community, which will have exclusive membership perks