As the demand for Tezos decentralized applications (dapps) increases, users are looking to find a suitable web3 wallet that they can use seamlessly to connect to its blockchain ecosystem. Temple Wallet is one of the leading wallets in Tezos, used by hundreds of thousands of users.
This guide serves as your full resource on how to create a Temple wallet, how to put funds in it, how to use it on dApps, and everything else. Think of it as your Temple wallet bible.
What is Temple Wallet? 
Temple Wallet is a browser-based cryptocurrency wallet that provides direct access to the Tezos ecosystem, allowing users to send and receive XTZ and FA2 tokens, purchase or trade NFTs, and participate in DeFi platforms. Temple allows the creation and importation of multiple accounts, which is beneficial for users who want separate wallets for various platforms.
Built for DeFi and NFT degens, the wallet can smoothly connect to all Tezos marketplaces, decentralized exchanges, and other web3 platforms. 
And to make the signup process as smooth as possible, the wallet eliminates burdensome registration, KYC, and account verification requirements. All you need to do is install the browser wallet, create a password and keep your seed phrase safe. 
The wallet is available as a browser extension on Google Chrome, Mozilla Firefox, and more. 
Built-In DEX 
Temple Wallet has a built-in DEX that allows users to seamlessly swap Tez or Tezos-based tokens. See our How to Swap section for a step-by-step guide.
Native Staking Support 
The beauty of Temple is that it allows you to stake XTZ natively in the app. You don't have to use a third-party platform. For a step-by-step guide, see our Tezos Staking section.
Native NFT Display 
You can also view your favorite collectibles or other non-fungible tokens (NFTs) in the wallet app. All you need to do is click on the app, then head over to the Collectibles tab. You should be able to view your NFTs there.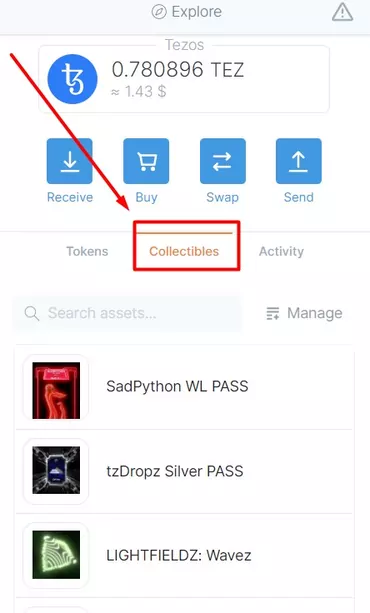 Note that you can buy Tezos NFTs on Objkt.
How To Use Temple Wallet 
Temple is simple and easy to use. Here is a step-by-step guide on how to use the Tezos wallet. Note that you will need to download the wallet app and deposit some tez in it before you can execute transactions. For every transaction, you need to pay a small fee to the Tezos network to support the stakers.
Download Temple 
Head over to Temple's website and download the version that supports your browser. In this example, we shall download Temple for Chrome on the Web Store. Click Add to Chrome then Add Extension.
After the app is installed in your browser, proceed to the next section to create a wallet.
How to Create a Temple Wallet 
Creating a wallet will require a few steps.
1. Run the browser app
After installation, click on the browser app, which will direct you to the Temple webpage. Click Create a New Wallet.
2. Create a password 
Be sure to follow security best practices when it comes to passwords. Don't use the same one you use for other accounts or wallets. After inputting your password, click the Accept Terms checkbox and select Create.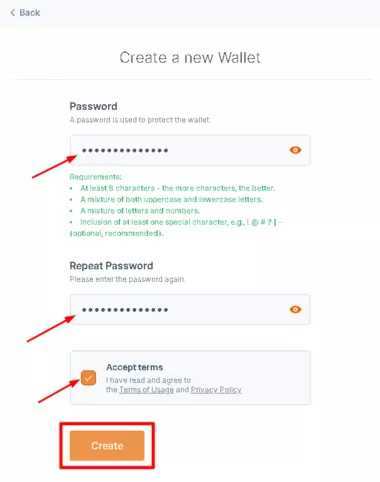 3. Open the protected box 
In this box, you will see your seed phrase. You need to write it down and secure it somewhere nobody else knows. A seed phrase is extremely important as it is the only thing that could recover your account in case something happens to your device.
I would highly recommend you memorize it, but if you don't have the time, it's okay as most people don't; but it would be a lot more secure that way. Alternatively, you may store it digitally on different devices, but I highly recommend you encrypt each copy.
Once done, click the checkbox and the Continue button. 
4. Complete the missing seed phrase
This step verifies if you've really checked your seed phrase. Make sure to place the missing words in order. Once done, click Finish. 
And that's it. Your wallet is now set up. Next, it's time to deposit some XTZ in it.
How to Add Tezos (XTZ) To Temple 
There are two ways to buy Tezos to top up your Temple wallet: with crypto or with a card. Here are the steps:
Click Buy on the app.
Buy XTZ
If you want to buy XTZ with crypto, choose Exolix. 
If you want to buy XTZ using a debit or credit card, select MoonPay.
How to Swap Tokens on Temple Wallet
Here is the process on how to trade FA2 tokens on Temple Wallet. 
Click the Swap button on the Temple app. 
Enter the token you want to exchange and receive
Choose your preferred DEX route. 
Select your slippage tolerance
Lower slippage is better, but higher is less likely to fail. If your transaction fails after, simply raise the slippage tolerance.
Note: Adjusting the slippage is important to increase the chances of a successful transaction, but we need to warn you that the transaction price can differ from the set percentage's display. 
Finalize the Swap
 Click on the Swap button to finalize everything.
After that, the wallet will likely ask you to confirm the transaction, then it should be processed. Wait for a minute for the transaction to complete and you should receive your new token.
Is Temple Wallet Safe?
Temple is the leading wallet for Tezos, being used by 160,000 users and counting, which speaks volumes about its security. After all, it is a non-custodial wallet, where the private keys, passwords, and seed phases never leave your device. Temple's code was also audited by security firm Least Authority, but that happened way back in September 2020.
With that being said, you still need to adhere to security best practices in order to avoid falling prey to scammers, who may find a way to access the funds in your wallet through sophisticated means. Therefore, we always recommend that you:
Physically record your recovery phrase and store them somewhere safe.
Never share your private keys with anyone (and I mean anyone!)
Avoid clicking links or opening files from shady sources, whether on email or social media (a very common occurrence).
Spread funds across multiple wallets, especially if you have large holdings.
Use a burner wallet first when connecting with applications or web pages for the first time.
Integrate your Phantom with a hardware wallet if you have the budget to buy one.
Temple Supported Coins and Tokens
Temple supports XTZ, as well as all tokens built on the FA1.2 and FA2 standards, which are typically tokens that run on the Tezos blockchain.
How to Stake (Bake) Tez With Temple Wallet
Delegation is simply another term for staking, as you will need to delegate or temporarily hand over your tokens to a preferred baker who will manage these assets to generate income. 
Here are the steps on how you can stake tokens on Temple. 
Log in to Temple
First, you need to log in to your wallet app in your browser. Then click the Delegate button beside your Tez, which will direct you to the appropriate tab. Click it.
Specify the amount to be staked 
Choose a baker
A baker is Tezos's version of a validator, to whom you need to delegate your XTZ. Type the baker's domain name on the provided box or choose from the list provided. 
Set the commission
Commissions are called Additional Fees, which can help expedite the process if you set them higher.
Note: The wallet provides four levels of commissions: 'Minimal' which costs 0.0001 TEZ, 'Fast' (0.00015 TEZ), 'Rocket' (0.0002 TEZ), and 'Custom', which allows you to customize your additional fees. 
Delegate
After entering all the necessary details, click Delegate then Confirm. Once the process is done, it will immediately display the staking updates. 
How to Connect Temple with Ledger 
Click this link for a detailed step-by-step on how to set up a Ledger device and the Ledger Live app. 
Using Ledger Live, download the Tezos Network app on your Ledger wallet. Full details are on this link. 
Open Temple Wallet from your browser.
On the top-right side of your wallet, click your wallet's icon, and select 'Connect Ledger' from the drop-down box. 
A full-screen page will open. Customize your wallet by choosing a preferred name. Once done, click "Add Ledger Account"   
Link your Ledger device to the computer and open the Tezos application. 
Your Temple wallet is now linked to the Ledger device. You can now securely interact online with the high-level protection that Ledger provides.
---
Join our newsletter as we build a community of AI and web3 pioneers.
The next 3-5 years is when new industry titans will emerge, and we want you to be one of them.
Benefits include:
Receive updates on the most significant trends
Receive crucial insights that will help you stay ahead in the tech world
The chance to be part of our OG community, which will have exclusive membership perks