Midjourney is an AI tool that leads to the door of limitless creativity, transforming human imagination into visual art. Only this time, we'll unlock it not with words but with IMAGES. Yes, you've read that right! 
An image can be used as a prompt on Midjourney, serving as a reference to the art it will generate. All you have to do is combine them with different photos, texts, and other elements; you name it. You can even get more creative outputs with a bit of thinking outside the box.
Don't worry; it'll be an easy task.
This guide will walk you through three Midjourney tricks for creating next-level AI-generated art using images. Ready? Come and let's explore them. 
Trick #1: Image Combinations
Midjourney allows you to upload two or more pictures that'll serve as a reference for the AI in creating a new output. Note that the result will have similar attributes to the sources but won't look exactly like the subjects in your photographs.
Log In to Discord
Midjourney currently runs on Discord, meaning you must create an account first. Once you have it, visit the official channel of Midjourney by clicking Join the Beta or Sign In.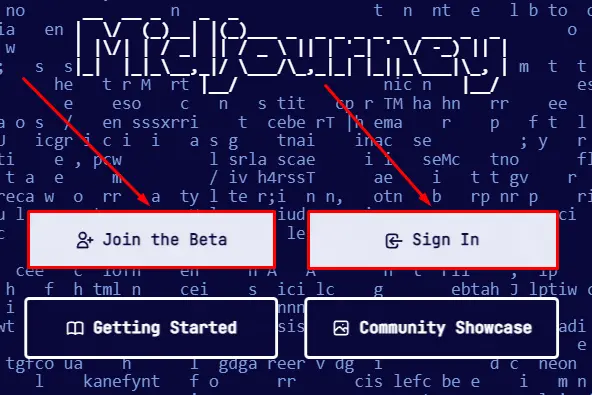 Wait for a while until the page directs to the channel. You're free to navigate, but if you want to try generating images immediately, enter any available Newcomer Rooms.
Upload the Pictures
You can upload your images by dragging and dropping them to one of the Newcomer Rooms channels on Midjourney. The AI also allows you to use free photos from other websites, but they have to be in JPGs or GIFs, as these are the only formats it can read. Don't forget to hit Enter.
Once uploaded, click the picture and press the Open in Browser button on the lower left. It's one of the ways to get the image URL, which you'll use as a prompt. Make sure to copy the link.
Generate a Brand New Image
Now that you have the image URLs, head to the empty bar and paste them. Remember to put a space (not a comma) between the links to avoid getting invalid output. Here's what I received from combining two photographs I took. 
The resulting pictures can either be predictable or surprising, depending on the complexity of the inputs. It's also possible for the AI to generate an output that doesn't match your standards, but there are some ways to improve and make them more unique, one of which is adding text to the URL prompts covered in the next section.
Trick #2: Photograph, Illustration, and Text Prompt Combo
Do you want to see how photography and illustration work together? If it's a yes, then this trick is for you. But this time, let's give them more life by adding a text prompt that aims to improve the AI art according to (or beyond) your imagination. Here's how:
Connect to Discord
Activating your Discord account is always the first step to accessing Midjourney. Once connected, find its official server that has a yacht-looking logo. Lastly, pick any newbie room to begin generating AI images.
Choose the Right Prompts
In this example, I first had a concept in my mind, which will become the basis for choosing suitable prompts. Ideally, I'd love to look at how the sea dances with the clouds during the sunset.
Tip: You can use AI text generators like ChatGPT to brainstorm ideas. We've even covered some advanced prompts to supercharge your ChatGPT game, which you can apply when planning for an AI art concept in Midjourney.
From the concept, I used my original shot and a free abstract illustration as inputs to Midjourney. You already know that these two subjects will serve as the AI's reference. But to bring out more emotions from the output, let's combine the appropriate text prompts.
Create the AI Image
After getting the image URLs, I typed the words: sea::2, clouds::2, –no photograph. The "::2" gives weight to your subjects, making them more noticeable. On the other hand, "–no photograph" is an anti-prompt, which provides the AI with instructions on what to exclude.
Thus, the resulting images looked like these:
As you can see, Midjourney brought life to my imagination, making the sea and clouds dance together. However, note that some concepts may go through trial and error. If that's the case, it'll be best to reevaluate the image or text prompts.
Trick #3: Blending Shapes and Subjects
Midjourney can undoubtedly generate a lot of cool things, including compositions and balance to the AI art with the help of shapes. Can't wait to find out?
Let's explore the steps below:
Prepare the Image Prompts
In this guide, I used an empty frame as a reference to shape and created an AI art that'll serve as the subject. These two images will be my input for the next step.
Blend the Images
To blend images in Midjourney, type /blend instead of the usual /imagine. But this will only work for up to five photos. If you want to use more than the minimum input, then /imagine will do. 
You also don't have to get the links of your inputs; drag and drop them on the channel, and the AI will immediately combine them in roughly a few seconds. And here's how the blended photos turned out:
Add Text Prompts
This step is optional. But if the blended images need more enhancements, upload them on the Discord channel and get its link.
Once done, type /imagine on chat and add details on how you want its outcome. For instance, I used the image URL and the text prompt: cute little monster beside a portal to the world of food, summer day, summer fruits::2, happy vibe. 
Here are the variations:
Additional Tip: You can ask Midjourney to give you the result via private message. Right-click your mouse on top of the image, then react with an envelope.
Midjourney can undoubtedly transform text and image prompts to greater heights. But it may sometimes fall short of expectations, as it's still changing and improving. Who knows what incredible advancements it can bring? Now, the only thing left is going forth and letting your imagination run wild with Midjourney.
You might also like: AI and Art: Opening Doors to New Realms of Creativity
---
Join our newsletter as we build a community of AI and web3 pioneers.
The next 3-5 years is when new industry titans will emerge, and we want you to be one of them.
Benefits include:
Receive updates on the most significant trends
Receive crucial insights that will help you stay ahead in web3
Access whitelist spots of the most hyped NFT drops
The chance to be part of our OG community, which will have exclusive membership perks
By signing up, you agree to our
Privacy Policy
agreement.