The first ever non-fungible tokens (NFTs) came into existence when pioneering digital artist Kevin McCoy introduced his Quantum piece, an octagonal-shaped art in a pixelated image, in 2014. But the new asset class only became popular in 2021 amid the crypto bull run. Since then, the evolution of NFTs has been unstoppable, inspiring multiple artists, brands, and organizations to experiment with new ways to interact with their fans, audience, and customers.
But in the middle of the craze, one of the most important topics emerged: COPYRIGHT LAW.
UPDATE: Included Galaxy Digital's criticisms on the current status quo of IP license agreements.
The law, in general, should be treated as an ally as its primary goal is to protect creators' intellectual property (IP) rights, but it also requires NFT enthusiasts to be responsible enough to know what exactly these digital assets entail. Most people think that holding an NFT grants them full ownership rights, but that's not the case for all.
Problems may arise when one fails to understand copyright, especially in the web3 space, where it happens to be more complicated than usual.   
The Concept of NFTs and Blockchain
NFTs are non-interchangeable assets having unique identification codes that make them different from one another. They are composed of data pieces that exist on a blockchain, where transaction records are kept publicly available.
Like other technologies, blockchain has its limitations too, one of which is the difficulty in storing large files like images, gifs, or videos used in NFTs. This is because unlike centralized servers, blockchains broadcast data to thousands of validators across the globe to verify all transactions. Therefore, new mechanisms like IPFS, Arweave, and NFT.storage have been designed to allow NFTs to be linked to certain media, such as artworks or audio files, instead of storing the actual files on a blockchain.
In this sense, it would appear that if you buy an NFT, you're not really purchasing a digital asset but a link that points to it. Looking closely at the idea of ownership while understanding NFTs and blockchain reveal a more logical way to grasp the concept of how the Copyright law fits into this space. But first, it would be essential to know the difference between on-chain and off-chain assets.
On-Chain and Off-Chain Assets
On-chain simply means it exists within the blockchain while off-chain implies that something is outside a blockchain.
NFTs have on-chain information that is stored in their metadata, where its details are found, including the link to their artwork or other media/asset. They utilize smart contracts, which are programs that execute automatically when certain conditions are met. In short, on-chain NFTs live and breathe on a blockchain. On the other hand, off-chain NFTs are not stored within a blockchain but somewhere else.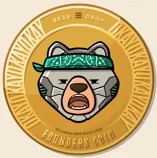 It's important to note that many NFTs have both on-chain and off-chain assets that are tied together. For example, the Okay Bears project released 10,000 Founders Coins NFTs to its community. Remarkably, each NFT is backed by a physical Numatic gold coin counterpart that is redeemable. So how would this work?
Basically, each Founders Coin comes in both digital and physical form. One exists on a blockchain as a digital asset, the other is stored in some vault somewhere. And they are bound via a legal connection that most lawyers call "tethering". While it might seem ambiguous, there are actually three assets involved here:
the on-chain NFT (Founders Coin),
the off-chain asset (physical gold coin), and
the full legal rights to the physical gold.
If the project follows the required legal procedures, the connection of on-chain NFT to the off-chain asset will be valid. Therefore, the owner will have the right to control it accordingly. In theory, this setup should work, but some legal experts doubt that tethering could truly hold up in court if push comes to shove. 
Furthermore, laws also vary by state. We're still in the early days of web3's world domination, so many areas will probably need more time to catch up to the technology. However, this doesn't mean that there aren't ways to pull this off today. You just need to be more creative.
In Okay Bears' case, it ensures that three assets remain inseparably linked by creating a mechanism that requires burning a Founders Coin NFT in order to redeem its physical gold counterpart. This works because once a Founders Coin is burned, it is automatically removed from circulation, thereby preventing users from selling an NFT that isn't backed by its weight in gold. Thus, it is technically linked, not just "tethered".
How Does Copyright Work?
NFT art may be new to the public, but Copyright law applies to them in the same way as traditional art. When an artist creates original artwork, they automatically acquire its copyright. The exclusive rights include the ability to:
reproduce the materials,
prepare derivative works, and
distribute copies.
Therefore, a copyright owner can create NFTs that closely resemble or look exactly the same as their existing artwork; and these new pieces are known as derivatives.
To better understand NFT copyright, let us illustrate it through some examples below:
Person A took a photograph and sold a copy to Person B. The following are their rights:
| | |
| --- | --- |
| Person A | Person B |
| Make more copies | Owns a physical copy of the photo |
| Approve derivative works | |
If Person B wants to make a film from Person A's photograph, he will need A's permission. Two options are available: buy the copyright from Person A or ask him for a license.
When Person B buys the copyright from Person A, there will be a transfer of ownership. Thus, Person B obtains all the exclusive rights that Person A has.
| | |
| --- | --- |
| Person A | Person B |
| | Make more copies |
| | Approve derivative works |
On the other hand, if Person B chose to acquire a license, he would get specific rights, but Person A still keeps the copyright.
| | |
| --- | --- |
| Person A | Person B |
| Make more copies | Use the photograph in the film |
| Approve derivative works | |
The same concept applies to other creative works; purchasing an art piece from a seller does not mean the copyright is transferred automatically to the buyer. Instead, the artist keeps the copyright and can legally make copies out of it or approve derivative works while the buyer only owns the piece.
A separate agreement is needed if one of the parties wants to proceed with the transfer of ownership. But by and large, Option 3 is typically the choice of many NFT creators and artists because it enables fans to create 'fan art' or derivates, which may strengthen the overall brand (for NFT collections). Furthermore, users who create derivative art are legally bound to not sell their NFTs, otherwise, they'd have to forfeit their rights to recreate them.
Related: What to Do if Someone Steals Your Art and Sells it as an NFT
The Challenge with NFTs and Copyright Law
It is crucial for NFT holders to review what type of license has been granted to them, as these things vary per project. If you look into the Terms and Conditions of Bored Ape Yacht Club (BAYC), it appears that the copyright is automatically transferred along with an NFT purchase; if an owner sells the NFT, the copyright should automatically transfer to the new owner, right? At least, that's what Yuga Labs (BAYC founders) intends to achieve.

But copyright law requires a written agreement with the owner's signature to make the transfer of ownership valid. BAYC'S terms and conditions follow this rule because a digital signature (in Yuga's case, a blockchain-based signature) holds up in court.
However, Galaxy Digital released a recent report that indicates BAYC, along with other prominent NFT projects like Moonbirds and Azuki, actually have flawed license agreements that might not be legally binding. Note that this is an ongoing issue and we're still waiting for solutions as these projects continue experimenting with IP.
Now, here's where it becomes tricky.
Remember that a smart contract is a computer program that simply executes a process according to its encoded instructions. If person A buys an NFT from person B, the smart contract automatically transfers the ownership capabilities of the asset from person B to A. The transaction will be approved and as far as the blockchain is concerned, person A now holds the keys that control the NFT.
But the blockchain and copyright law aren't easy to reconcile. In this case, Person B might argue that the legal agreement does not apply because Person A did not interact with him, but with a smart contract. While Yuga Labs explicitly states that whoever owns the NFT owns the full rights to it, convincing governments that "code is law" might become a challenge. This doesn't mean that it's not doable.
Some projects like RTFKT take a different approach to transfer ownership—licenses. In this method, parties do not need to make signed documents. Owners can keep their copyright ownership while providing buyers with a permit that gives them legal rights to use NFTs in certain ways.
NFT creators should not only focus on projects but also consider the content of their terms and conditions, ensuring that their market understands how copyright law works in the metaverse.
Can NFTs be Copyrighted?
In theory, NFTs can be linked to a legal right, and two things are involved in this case: the right to make copies and derivative works and the right to own a copy of the original piece. NFTs can have these rights, but they can also be separated into Copyright and Copy.
Take Larva Labs' CryptoPunks, one of the OG projects, as an example. In 2017, the company launched the CryptoPunks V1 collection composed of 10,000 NFTs. However, a glitch in the smart contract enabled holders to withdraw their payments after purchasing the assets.
After Larva Labs discovered the problem, they quickly disassociated from the project and dropped another collection called CryptoPunks V2. However, CryptoPunks V1 returned to the market as a community-backed project with only a small change in color compared to CryptoPunks V2. This is a violation of copyright that led Larva Labs to take action.
In the example, Larva Labs has a copyright that allows it to reproduce the copies of CryptoPunks and approve derivative works. On the other hand, the community only has copy NFTs and does not have the right to use them differently.
Note that the transfer of copyright is not the same as the transfer of a copy. The community can only produce CryptoPunks V1 if their copy NFTs have a copyright element, or it can be considered an infringement.
Can You Make An NFT Out of Copyrighted Material?
Legally, no you cannot unless the owner of the copyrighted material explicitly allows you to use their IP.
The digital space mainly comprises copyright owners who create NFTs, but some non-copyright owners do the same. As more people focus on NFTs, they become careful about making pieces out of copyrighted material.
There can be instances when an owner may validly obtain a copy of the copyrighted piece and make an artwork out of it. The created NFT can only be considered non-infringing when the non-copyright owner has a license from the original owner or if it is used within the exception of the law. Therefore, a non-copyright creator violates the law unless the digital asset has an innovative meaning or expression that follows its fair use.
Conclusion
The world is shifting towards a web3 future where blockchain technology will significantly change how people manage their IP rights. At the end of the day, laws will need to adapt to the changing landscape of the Internet as NFTs become more prevalent in daily life
But until then, creators might need to do the dirty work of working with governments to bridge the gap between NFTs and copyright law. As pioneers, they should be responsible for ensuring that the IP rights of their NFTs are legally sound so buyers won't encounter problems later on.
---
Join our newsletter as we build a community of AI and web3 pioneers.
The next 3-5 years is when new industry titans will emerge, and we want you to be one of them.
Benefits include:
Receive updates on the most significant trends
Receive crucial insights that will help you stay ahead in the tech world
The chance to be part of our OG community, which will have exclusive membership perks