The Tezos ecosystem has attracted countless artists, creators, and developers thanks to its low fees and negligible carbon footprint, earning the support of environmentalists, people who usually scorn anything crypto-related. In fact, Tezos non-fungible tokens (NFTs) are in a league of their own, not in terms of size, but in quality, boasting some of the most visually appealing artworks to date.
If you're looking to buy Tezos NFTs, then we highly recommend the most notable marketplace in the network: Objkt. It is simple to use, but if you're new to crypto, it might look a little overwhelming,which is why this article was created.
This guide aims to help onboard users to the marketplace by showing them how to launch their own NFT project, buy from others, resell their bought NFTs, and many more.
What is Objkt?
Objkt is the first and largest NFT marketplace on Tezos, which allows users to buy, sell, or auction NFTs, or even launch their own collection. As an FA2 marketplace, it also supports tokens minted from custom smart contracts and brings in tokens from other NFT platforms like Kalamint and Hic Et Nunc (HEN). 
Its homepage displays the top pieces in various parameters, such as Hot Collections, Top Sales of the Day, Top Sellers of the Day, Ongoing Auctions, Hidden Gems, and many more. This makes it easy for users to sort through the countless number of artworks displayed, on top of the search filters provided.
Logging In (Wallet Needed)
In order to log into Objkt, you need to create a wallet that is supported by the Tezos network. The leading Tezos web3 wallet is currently Temple Wallet. If you don't have it yet, click on the link for the download and setup instructions, then get back here.
Once you have the wallet, all you need to do is view the top-right section of Objkt's homepage and click sync.

A number of wallet choices should pop up, pick Temple or whatever wallet you have. After clicking, your Temple Wallet will be prompted, be sure to click Connect. Once that's done, your wallet should be connected.
Collections 
An NFT collection is a type of digital collection that consists of a limited number of individual NFTs created by an artist or group of artists. Objkt's collection page showcases the latest and most popular collections in its marketplace.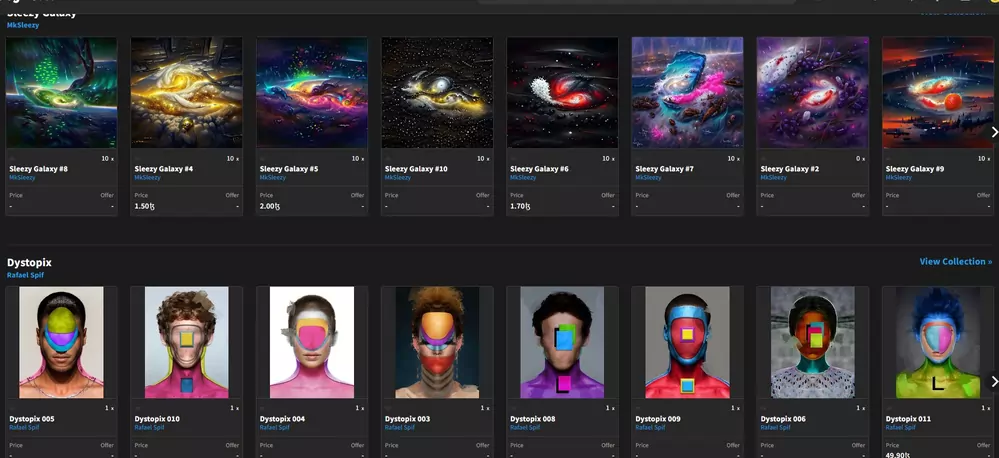 If you're new to Tezos NFTs, this is a good place to start finding the best projects to buy or get involved with. If you want to know the step-by-step process of buying on Objkt, see our How to Buy section.
As always, be sure to do your own research before spending anything.
Auction Features 
Objkt supports two types of auctions: the English Auction and the Dutch Auction, to cater to different bidding preferences. 
English Auction 
The English Auction picks the highest offer, as the bidding process ends when the selected duration is over. But if ever someone bids within the last 10 minutes, the bidding clock will automatically reset and provide everyone with a fresh remaining time of 10 minutes. This auction can be canceled at any time by the creator as long as no bids have been placed yet. 
Dutch Auction 
The Dutch Auction, also known as the "price drop" auction, linearly lowers the price of an NFT within a fixed time frame. Once a bidder hits the buy button to "catch" his preferred price while the NFT's cost lowers down, the auction officially ends. 
The NFT creator can cancel the auction at any time after the bidding clock is over or before the digital asset is purchased. 
Duplication Policy 
Duplicate minting is one of the violations that users can commit in the Objkt platform. In other words, you cannot mint art pieces you didn't create, even if minor changes were made. Users are only allowed to mint NFTs they didn't create if the original owner allows it, which they need to prove first. 
Users may mint NFTs that have already been minted on other platforms, but they need to clearly indicate in the description that other editions exist. 
How to Create a Collection 
An NFT artist with multiple digital art creations has the option to create a dedicated collection for each type of NFT they have. For instance, the Tezzardz collection consists of 4,200 individual Tezzard NFTs while other collections could go as high as 10K. As a creator, you have the leeway to decide the number for your collection.
Note that deploying a contract for each collection will cost one XTZ, which will cover the storage and gas fees required by Objkt. Furthermore, be sure you already have a Tezos wallet before doing this, otherwise, see our Temple Wallet guide then get back here.
Click on your wallet profile, and click the Create button on the drop-down box. 

Click the Collection tab
Upload an image for your NFT collection, which must be less than 1 MB 
Name your collection
Select the type of collection from the drop-down box.  
Create a short and precise description of the collection.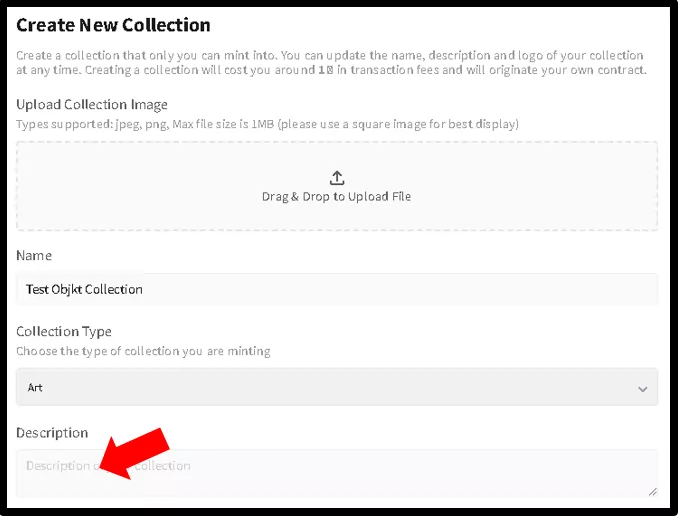 After that's done, click Create, which will prompt your wallet to confirm. As stated earlier, the marketplace charges 1 tez for creating the collection. After that's done, your collection should be live in a few minutes.
Furthermore, if you see an error message: "something went wrong", please don't try several times without making sure the first transaction didn't work! Otherwise, you will end up with several collections, you will need to hide the duplicates, and it will cost you some gas fees.
How to Mint Your NFTs on Objkt 
Before you can mint on Objkt, you are required to create an NFT collection first, and it's also the reason why it was placed first. If you don't have a collection, please see the previous section. Once you do, proceed here.
Create a new token

Click the "Token" tab and fill up all the required information. 
Note: When assigning your token to a specific collection, bear in mind that once you approve this process, it cannot be undone. The only way to reassign your token to a new collection is to burn and mint it again, which translates to additional work and expenses.
Choose your co-creators (if any)
You also have the option to choose and invite another co-creator for your NFT collection, and if you're being invited, here's a detailed instruction on how to accept it. The collection will only appear on the invitee's profile and show him/her as one of the co-creators after the token has been minted. 
Choose a license
The next step you must do is to select your preferred license. In the drop-down box, you can see a "No license/ All rights reserved" option, which means that NFT buyers are prohibited from remixing your creation and selling it afterward. To know more about the other types of licenses available, click this link to view them all and choose the best option for your NFT collection. 
Finalize other details
Next, specify the number of copies that can be minted from each of your NFTs.
Select the "+" sign to add co-founders and anyone you want to include to receive a specific amount of royalties from the sale. 
Click the "Mint" button and approve the transaction on your wallet 
Note that for every transaction you do in the marketplace, there is a network fee, which is usually a small amount (below $0.1), to be paid to stakers of the Tezos blockchain.
If you want to mint in batches, see the next section.
How to Batch Mint 
For minting a large number of NFTs, you can use an external batch minting tool which can be accessed on this link. Take note that even if this tool works most of the time, use it with caution and do your own research first before using it on your digital assets. 
Again, be sure that you have Temple or another supported wallet with enough XTZ.
Click Batch Mint (objkt.com)
Next, select the collection and the license
Upload files 
Provide all the necessary information 
Click the "Mint" button
How to Buy NFTs on Objkt
Before you begin your Objkt shopping spree, be sure to have a web3 wallet that is supported by the Tezos blockchain. If not, see our Temple Wallet guide to learn how to download and set up a wallet, as well as put funds in it.
Connect to Objkt
First, you need to head over to objkt.com and sync your wallet to the platform. Click sync → Temple Wallet.

Your Temple Wallet should prompt you to either connect or sign a transaction to log in. Be sure to approve.
Choose a Collection
Now it's time to choose a collection. If you don't have a collection in mind, I'd recommend you explore the website and find the top collections. Look at the different NFT pieces of each collection; find something that catches your eye. Furthermore, do some research on each project and determine what their goals are, and whether or not you think they can deliver.
Otherwise, if you already have a collection in mind, you can simply search for it on the search bar.
Choose an NFT
After you've chosen a collection, it's time to get to the fun part: choosing which piece to buy. As an example, let's say I want to buy a piece from the Neonz collection. On that page, you'll see various filters, such as Latest Mints, Recently Sold, or Recently Listed.
Click on any of the view all links, which will direct you to the full list of the collection. Here you'll find more advanced search filters, which will help you find the perfect piece.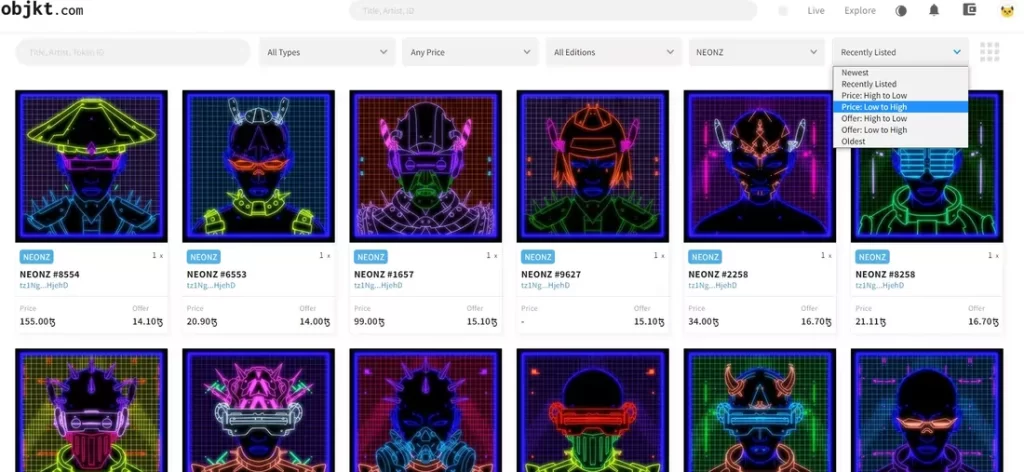 As you can see from above, you can filter the NFTs in a specific collection according to price range. For instance, if I only want to buy pieces worth between 5-25 XTZ, I'll just have to click Any price → 5-25 and it'll filter out NFTs outside that price range.
I can also change the ordering of the NFTs according to Recently Listed, Price, Offer (price offered by low-ballers), etc. If you want to buy the cheapest, I recommend you set it at Price: Low to High so you can buy the cheapest in the collection. But note that rarer pieces might be sold at a higher price.
Buy your chosen NFT
Once you have chosen an NFT, it's time to complete your purchase. In this example, let's say I've chosen Neonz #7277. Therefore, I'm going to click on it, which will direct me to its details page.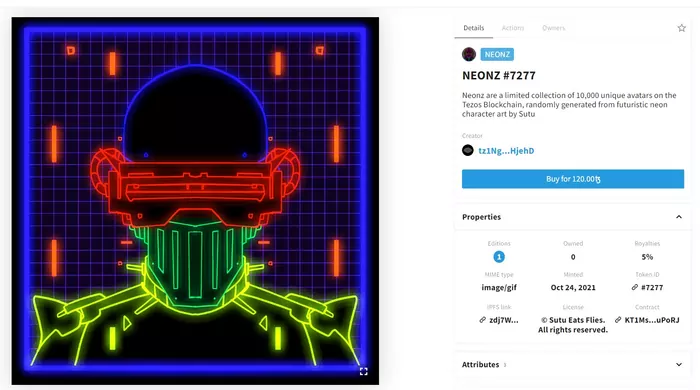 At this point, you need to click Buy for [Amount]. Make sure your wallet is still connected. If everything is working correctly, your wallet should be prompted. See the image below.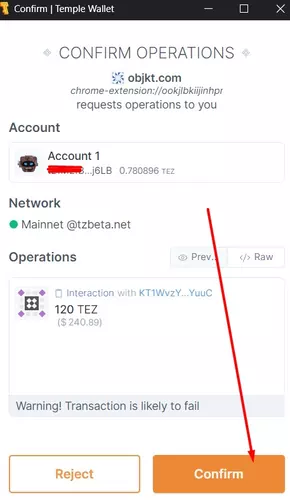 Click Confirm. A few confirmations should take place on the blockchain, and you should receive your NFT in a few seconds to a minute.
How to Sell (or List) NFTs on Objkt 
If you have a Tezos NFT that you wish to sell, you can list them on the Objkt platform, which likely has the highest number of users on the network. Just remember to have at least 0.2 tez in the wallet before starting any transaction since you'd need to also pay for storage fees.
Connect your Wallet to Objkt
Go over to the website and log in via your wallet by clicking on the sync button on the top-right.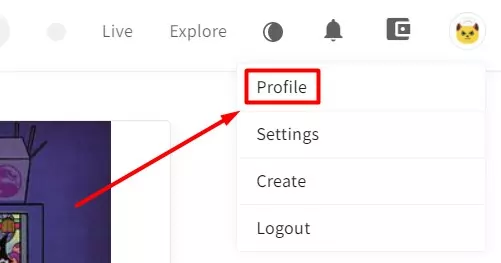 Once synced, click Profile, which should direct you to your profile page.
Choose which NFT to list
Head over to the Owned tab to view the NFTs in your wallet account.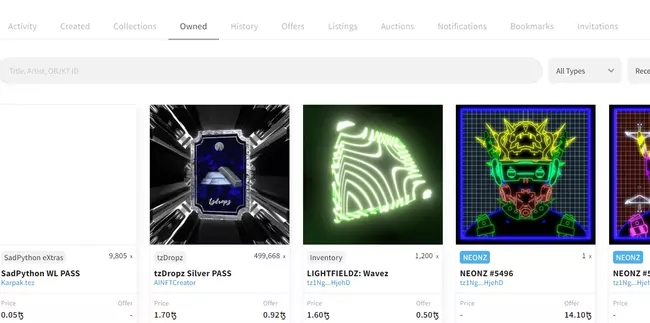 Once you've chosen an NFT, click on it.
List your NFT
After clicking the NFT, you should be directed to the details page. Click on the Actions tab.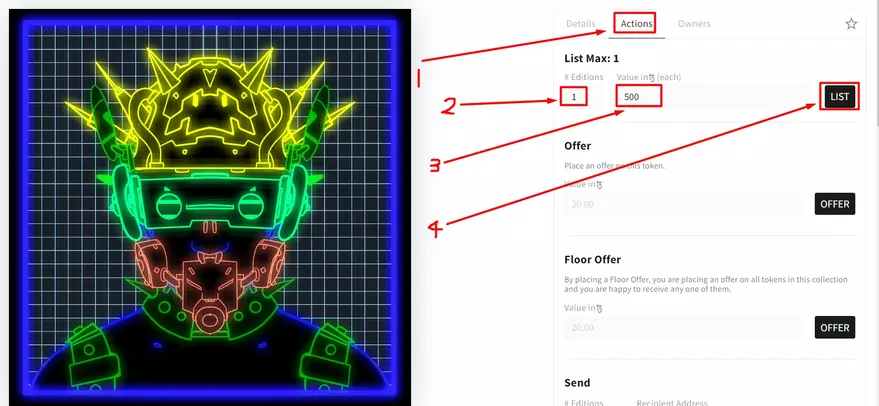 Fill out the necessary details in the List section, such as the # of editions and Value. For the most part, you can only list one edition anyway so just indicate 1. The Value field indicates at what price in XTZ you're willing to sell that NFT. In this example, I want to sell my Neonz for 500 tez.
After filling out everything, click List. Your wallet should be prompted to confirm. Click it.
---
Join our newsletter as we build a community of AI and web3 pioneers.
The next 3-5 years is when new industry titans will emerge, and we want you to be one of them.
Benefits include:
Receive updates on the most significant trends
Receive crucial insights that will help you stay ahead in the tech world
The chance to be part of our OG community, which will have exclusive membership perks