Paras has one of the most active communities in the NEAR ecosystem thanks to the fact that it is the go-to marketplace for buying, selling, and minting non-fungible tokens (NFTs).
What started out as a decentralized social media platform quickly turned into a full-blown marketplace after the founders realized the steady growth of Ethereum NFTs, which proved that there was a lot of demand.
Fast forward to the present, we now have one of the fastest and most easy-to-use marketplaces in all of crypto, running on the NEAR blockchain.
What is Paras?
Paras is an NFT marketplace on the NEAR protocol that supports the buying, selling, and minting of digital collectibles. Baseball cards? NBA cards? Pokemon cards? Think of the platform as a revival of a trading card marketplace only this time, in NFT form.
The Paras marketplace is a place where artists can upload their collection, buyers can purchase NFTs, and NFT holders can trade collectibles through bidding wars. The platform is home to hundreds of collections that can be bought and sold with $NEAR coin.
Paras aims to produce and develop exclusive intellectual properties (IPs) to give better utility and use cases for digital assets on its platform.
Paras Token ($PARAS)
$PARAS is the native token of the Paras marketplace and ecosystem that functions as a utility and governance token. It runs on the NEAR Protocol, and is tradeable across multiple centralized and decentralized exchanges (DEXs).
The Paras token has three major use cases for holders.
Exclusive Deals: There are deals that can be exclusively accessed by PARAS token holders.
DAO Governance: Token holders are part of the governing ecosystem involving artist whitelisting, feature updates, and parameter changes to community grants.
Staking: You can stake your $PARAS tokens and earn a certain amount in interest, depending on the APR.
It is important to note that $PARAS tokens are not used to purchase a Paras-listed NFT as the marketplace only accepts $NEAR coins.
PARAS Tokenomics
The Paras token was distributed into six segments and is mostly owned by the community with reserves, team funds, IDOs, investors, and airdrops making up the smaller part of the token.
1.50% – Airdrop
5.00% – Initial DEX Offering (IDO) via Skyward Financing
12.50% – Token reserves
15.00% – Team (vested over 36-months)
15.00% – Investors
51.00% – Distributed to the community through marketplace and liquidity mining
Getting Started with Paras
The Paras marketplace allows you to conduct all sorts of NFT transactions involving the NEAR network. Whether you want to create your own NFT or collection, buy someone else's, or list an NFT that you've bought, we got everything covered for you.
But first, you need to get a wallet that supports tokens on NEAR. We highly recommend NEAR Wallet for that. Click the link and set it up if you don't have yet.
After setting up a wallet, you'll also need to put funds in it, especially $NEAR coins since you'll need to pay for transaction fees.
Once done, you can proceed to the next sections. If you are an artist that wants to create an NFT, you need to verify your Paras ID first. If you want to buy or list an NFT, proceed to the buying (or selling) sections, respectively.
How Can I verify My Paras ID?
If you're an artist who wants to sell your works on Paras, you definitely need to get verified as non-verified artists' NFTs do not appear on the "market" feed. The whole process take 3-4 days to complete, but you don't need to do much on your end.
Paras has updated its verification process to make it easier for its team to verify artists. Once you're verified, you get to sport the 'Verified Creator' status in the marketplace.
Note that there are limited slots open every week for Verified Creator status, so in times of great demand, you might have to wait a little bit for your turn.
1. Connect to Paras
Head over to the Paras website and connect your NEAR Wallet by clicking on the top-right section of the page. Ensure that it is funded.
2. Fill Up the Form
Fill up and submit the Paras artist verification form.
As stated earlier, there will be limited slots available per week.
3. Wait for the Announcement
Wait for the Paras announcement every Tue and Fri 3 PM UTC (subject to change).
How to Mint Your Own NFTs on Paras
As long as your account is verified, minting NFTs on the Paras NFT marketplace has never been easier. In just a few steps, you'll be able to mint a standalone NFT, or better yet, launch your very own collection on the digital collectibles marketplace.
1) Connect to Paras
Head over to the Paras website and connect your NEAR Wallet by clicking on the top-right section of the page. Ensure that it is funded.
2) Create a Card
Go to your profile on the top-right segment of your website, open it, and click on Create Card, then choose Create New Collection.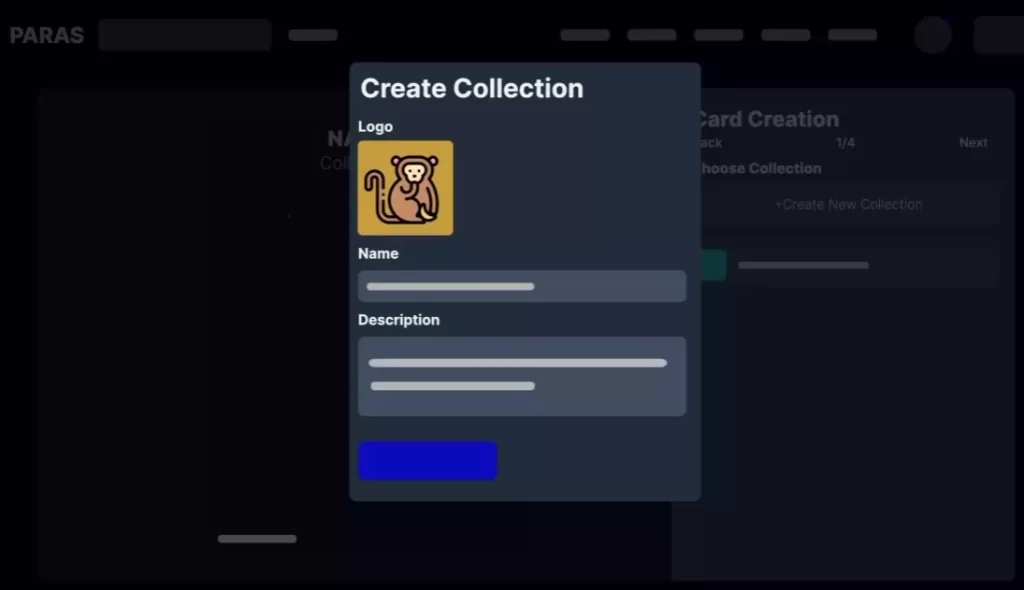 3. Upload Collection Information
Upload a logo, name, and description for your new collection and confirm it.
4. Create Your Card
Select your new collection, and upload your artwork while filling up the card's name, description, number of copies you want, and attributes. And then confirm and input the royalties and price.
5. Confirm
View your data, confirm it on your wallet, and enjoy your collection.
How Do I Buy NFTs on Paras?
Purchasing your first NFT on the Paras marketplace is really easy. Buyers get to choose whether to pay asking price or place an offer to see if the seller will bite at a lower price. Don't lowball too much (hehe!)
1. Connect to Paras
Connect your crypto wallet to the Paras website and view the Market to look for the NFTs you might be interested in.
2. Choose an NFT
You can search in the Top Collections, Featured Collections, Live Auctions. You are also able to search a specific NFT on the search field on the top of the page.
3. Choose How You Want to Buy
Choose whether you want to Buy Now and pay the asking price, or Place an Offer to make a bid. If you choose to Buy Now, the ownership of the NFT will be transferred instantly, while placing an offer depends highly on whether the seller is willing to accept your offer.
If you don't want to buy at the asking price, click on More, select Place an offer, input how much NEAR you want to pay for the NFT, and click on Confirm to place your bid. You'll have to wait for/if your bid is accepted before you can own the NFT.
How to Sell or List an NFT on Paras
If you've bought a NEAR-based NFT and want to sell it for some reason, the process is simple and quick, but not as straightforward as it should be.
Note that this isn't the same as selling an NFT that you created as an artist. This is for the flippers who want to sell an NFT from another collection.
1) Connect to Paras
Go over to the Paras website and connect your NEAR Wallet by clicking on the top-right section of the page. Then click My Profile, which is found in the same section.
2) Choose an NFT to List
Make sure that you are in the Collectibles tab, where you'll find the NFTs stored in your wallet. Choose which NFT you want to list.
Once you've made a decision, click on the Update Listing button below your chosen NFT.
3) List Your NFT
Lastly, you need to set the price of your NFT. You will also see the royalty percentage, which will be deducted from your sale, as well the listing and storage fees.
Once you've reviewed everything, click Update Listing again. Your wallet should be prompted to confirm. Click on it and voila! Your NFT is listed. Now it's time to wait if someone bites.
Note that if you sell too high above the floor price, it might not get sold for a while or ever. Rarity also matters in determining the value of collectible, so keep that in mind when setting the price.
---
Join our newsletter as we build a community of AI and web3 pioneers.
The next 3-5 years is when new industry titans will emerge, and we want you to be one of them.
Benefits include:
Receive updates on the most significant trends
Receive crucial insights that will help you stay ahead in the tech world
The chance to be part of our OG community, which will have exclusive membership perks