Are you ready for the coming of the metaverse?
While the concept of a 3D immersive virtual world sounds a lot more like science fiction than reality, most of the world's biggest organizations have either modified their business models or made a full pivot in preparation for this future. The fact that your search led you here indicates that there is a chance that you want to be a pioneer in the next technological revolution.
We have spent countless hours scouring the web to compile the most relevant, legitimate, and up-to-date metaverse statistics, which will be updated periodically. Little did we know that fact-checking and verification are the most time-consuming tasks, but we did them religiously.
We hope you find value in this statistic compilation. Think of it as your metaverse bible.
Key Metaverse Statistics in 2022
The market cap of Web 2.0 metaverse companies is $14.8 trillion
The global AR, VR, and MR market is worth $30.7B in 2022
Meta (Facebook) spent over $10B on its metaverse division in 2021
Around 500 companies are building the metaverse now
Microsoft is the world's biggest metaverse company in 2022
25% of people will spend an hour per day minimum in the metaverse by 2026
The metaverse market will hit between $8T and $13T by 2030
All Stats
I. Metaverse Market Size: Current and Future Projections
The market cap of Web 2.0 metaverse companies is $14.8 trillion
Traditional web2 companies, including Meta, Nvidia, and Roblox, still make up most of the new sector with a combined market cap of nearly $15T in 2021, dwarfing web3 metaverse companies ($30 billion market cap) by a factor of 493. Even gaming and eSports ($1.98T) can't hold a candle to them.
As valuable as market cap data are, they shouldn't be the only indicator to look at as companies are usually valued by many multiples of their yearly revenue, which may make them seem more prominent than their actual cashflows. It's important to look at the revenue as well.
Global metaverse revenue hits $47.48 billion in 2022
The metaverse market size stood at $47.48 in 2022, up by 22% from 2021. According to Statista, it is expected to surge to $678.80B in revenue by 2030 by conservative measurements. But other sources are much more optimistic.
Bloomberg predicts the metaverse market to be worth $800B by 2024
After analyzing data points of Bloomberg, Newzoo, IDC, PWC, and Two Circles, it appears that the global revenue from metaverse companies could hit $800B by 2024, more than half of which will likely come from game developers and gaming hardware manufacturers, while the rest will be earned via live entertainment and social media platforms.
The metaverse market will hit between $8T and $13T by 2030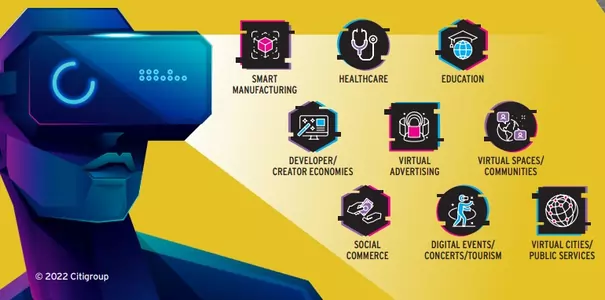 Citi sees the metaverse as the "next generation of the Internet" that would combine both physical and digital spaces, adding that it will not be pure a "Virtual Reality world". It estimates that the total addressable market for this new economy will grow between $8T and $13T by 2030.
JP Morgan's projection is more conservative, estimating over $1 trillion in yearly revenue. It didn't post a timeframe.
II. Pioneers of the Metaverse
Around 500 companies are building the metaverse now
As of 2022, there are over 500 companies reported to be creating their own metaverses, according to Newzoo's report.
Microsoft is the world's biggest metaverse company in 2022
With a market cap of $1.9 trillion, Microsoft is the world's largest company that is pursuing metaverse-related business models (also the third-largest overall). The computer software and technology titan has officially marked its pivot after announcing its acquisition of legendary gaming company, Activision Blizzard. Other big companies include Nvidia and Unity; see top metaverse stocks.
But stocks and companies are so web2. What about web3; the purported future powerhouse of the metaverse?
a16z has the world's largest web3 fund worth $7.6B
Andreesen Horrowitz's entire web3 holdings add up to $7.6 billion after launching its largest ever $4.5B fund in May 2022, which it intends to deploy on crypto startups and other related ventures.
Nike is one of the most active brands pursuing the metaverse
When it came to the metaverse, Nike just did it. First, it partnered with Roblox to launch a metaverse gaming platform called Nikeland. Then it filed seven trademark applications in preparation for selling branded digital sneakers and apparel.
Furthermore, it acquired a promising virtual sneaker company called RTFKT. And it appears that this is only the beginning for the shoe titan.
Snoop Dogg and Paris Hilton are the two biggest celebrities doing big things in the metaverse
There are several dozen superstars exploring the metaverse as we speak, but not all of them are as involved as the headlines make them out to be. But Snoop Dogg actually bought virtual real estate on The Sandbox and recreated his real-life villa there. He also partnered with the metaverse platform to launch his own collection of avatars. Snoop is also a proud Bored Ape owner, and seldom holds concerts exclusively for the BAYC community, together with fellow holder, Eminem.
Paris, meanwhile, crowned herself the "Queen of the Metaverse" a few months after launching Paris World, her own metaverse built on the Roblox platform, which she describes as "a virtual oasis of fun, possibility and, of course, #sliving" (her combination of "slaying" and "living my best life"). But unlike most celebrities, she didn't just hop on the web bandwagon, as her debut into the industry goes as far back as 2015 when she partnered with Animoca Brands to launch a line of digital wearables.
Metaverse gamers are 59% male while 38% are aged 10-20
According to Newzoo, 59% of metaverse players are male while 41% are female. Moreover, 38% of the metaverse gamers are aged 10-20, while 36% are aged 21-35. Lastly, 26% are aged 36-60.
III. Metaverse Asset Sales
MetaMetric Solutions data indicates that over $501 million was spent on virtual land in 2021. The same firm also projects a 100% growth this year, possibly reaching $1B in land sales. Note that these figures only came from four blockchain-based metaverses: The Sandbox, Decentraland, Cryptovoxels, and Somnium.
The biggest single purchase of virtual land is $5M
Yet the biggest single purchase of digital plots of land was on a lesser-known metaverse called TCG World, where financial publishing firm Curzio Research spent a whopping $5M.
"Everydays: The First 5000 Days" by Beeple is the most expensive digital art sold, fetching $69M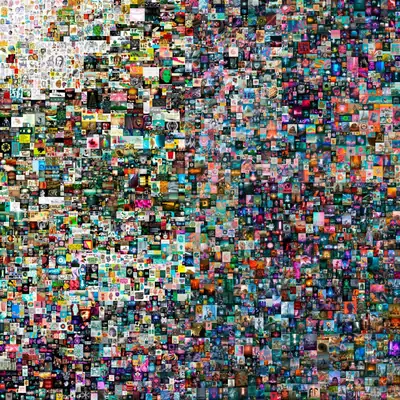 The "Everydays: The First 5000 Days" is a mosaic collage of the first 5,000 artworks made by American artist Mike Winkelmann (aka Beeple), which was auctioned at Christie's last March 2021. This also marked the first major auction house sale of purely digital artwork.
But this is 1-of-1 art. What about non-fungible token (NFT) collections?
CryptoPunks is the top-selling NFT collection of all time
With nearly 956,000 ETH in secondary sales as of July 2022, CryptoPunks is the highest-selling NFT collection of all time, followed by BAYC (636,800 ETH) and MAYC (432,367 ETH). Interestingly, all three collections are owned by one company: Yuga Labs.
A digital Gucci bag sold for $4,115, surpassing its physical item's actual price. 
When the Italian House held its virtual Gucci Garden exhibition in May 2021, its digital Gucci bag fetched $4,115 while its current real-life counterpart is only priced at $2,980.
IV. Metaverse Hardware
As of 2022, the hardware segment accounted for the largest market share in the global metaverse market. This consists of companies that manufacture consumer hardware like augmented reality and virtual reality (AR/VR) headsets, extended reality hardware, displays, sensors, cameras, tracking systems, etc.
It also appears that AR will be more dominant than VR due to three aspects: accessibility, cost, and safety.
AR and VR headgear shipments will reach 26 million units annually by 2023
AR and VR devices to be shipped worldwide are expected to reach 14.19 million units in 2022, up from 9.86 million in 2021. In 2023, they are projected to sell over 26 million units per year, nearly doubling its 2022 numbers.
There are roughly 165.6M VR and AR users in the US in 2022
Out of the projected 165.6M VR/AR users this year, AR accounts for the majority share of around 101.6M users while VR only accounts for 64M. This is thanks to the accessibility of AR features in mobile phones.
This number is expected to slightly increase in 2023.
VR and AR users in the US are projected to grow to 176M in 2023
AR users will still hold the majority, projected to reach 110.1M while VR users will merely be at 65.9M.
There are 1.4 billion AR users worldwide as of 2022
Statista data indicates that there will be 1.4 billion users of AR devices, which includes not only AR wearables but also mobile phones with AR capabilities. This is expected to increase to 1.73B by 2024.
️The global AR, VR, and MR market is worth $30.7B in 2022
Note that mixed reality (MR) is just a fancy term for the combination of AR and physical spaces. As of 2022, the global AR, VR, and MR industry is worth $30.7B. This is expected to increase rapidly in the next 5 years as advanced metaverses develop.
️The global AR, VR, and MR market is projected to reach $252.16B by 2028
There is a major statistical error circulating in different blogs that state that the AR/VR/MR market will rise to $300 billion by 2024. If you look at the numbers long enough, you can tell it is a ridiculous error, considering that it suggests that the metaverse hardware market should grow by 877% in less than 2 years, which is quite unprecedented. But even Forbes reported the same error.
The real data can be found on Statista, which the Forbes article linked to, surprisingly, yet they didn't verify the numbers well enough.
V. Metaverse Outlook
There are 50,000 users of web3 virtual worlds
Grayscale's study published last November 2021 indicates that there are roughly over 43K users of metaverse virtual worlds, which is up by 10x since the start of 2020. Still, not a lot when compared with other web3 and web2 platforms.
It appears web3 worlds are still in their early innings, but if current growth rates are able to maintain their trajectory, this emerging market segment has the potential to become mainstream in the next few years.
71% of global executives believe that the metaverse will have a positive impact on their businesses
According to Accenture's Tech Vision 2022 report, 71% of global executives state that the metaverse can positively affect their organizations, 42% of which believe that it will be a breakthrough. About 28% think that the metaverse will have little to no impact at all.
74% of US adults are joining or considering joining the metaverse
41% of respondents that were interested in the metaverse stated that being able to experience things they couldn't do in physical reality is their primary motivation.
16% of US adults "strongly agree" that life would be more fun in the metaverse than in real life
According to Insider Intelligence's January 2022 "The Metaverse" report, 16% of US adults strongly agree while 21% of them somewhat agree that life in the metaverse would be more fun than real life. Moreover, 27% of them agree that the metaverse will become as popular as traditional social media platforms.
25% of people will spend an hour per day minimum in the metaverse by 2026
"By 2026, 25% of people will spend at least one hour a day in the metaverse for work, shopping, education, social and/or entertainment," according to Gartner, Inc.
It also states that by then, 30% of organizations across the globe will have products and services for the metaverse.
️In a poll of 1000 respondents, 52% said they would join the metaverse for work possibilities.
While 52% of the 1000 respondents want to join the metaverse for work-related opportunities, 48% of them are also looking forward to art and live entertainment. Moreover, 44% are in it for money investments, 40% are also interested in education, and 32% are excited about socializing and online dating.
Surprisingly, only 29% are in it for gaming. This goes to show that the metaverses has many interests beyond videogames.
More than one of four consumers worldwide are interested in attending virtual concerts
A February 2022 survey revealed that 28% of global respondents were extremely interested in attending virtual concerts. Travis Scott's metaverse concert on Fortnite in July 2020 garnered a whopping 45 million viewers.
VI. Meta Platforms Statistics
Meta Platforms (previously Facebook) is likely to be one of the most impactful companies for the metaverse considering its large market share and influence, coupled with its complete pivot as a social metaverse company. However, the next few years is more likely to be an uphill battle for Meta, especially when many communities in the web3 space generally don't favor the social giant nor its vision of a centralized company-controlled virtual environment. And they're not the only ones.
68% of US adult are uninterested in Meta's vision of the metaverse
54% of US adults find Mark Zuckerberg unfavorable
Meta will also create 10,000 jobs in the EU over the next five years
Meta (Facebook) spent over $10B on its metaverse division in 2021
Conclusion
Those are the best metaverse statistics we could find. We will revisit this blog in early 2023. Share to spread awareness.
---
Join our newsletter as we build a community of AI and web3 pioneers.
The next 3-5 years is when new industry titans will emerge, and we want you to be one of them.
Benefits include:
Receive updates on the most significant trends
Receive crucial insights that will help you stay ahead in the tech world
The chance to be part of our OG community, which will have exclusive membership perks