Have you ever seen an NFT project launch a new collection with upgraded art?
Chances are, you might be seeing some form of the so-called 'mutations' in NFTs. But what are they exactly?
The concept was championed by Yuga Labs through the release of the Mutant Ape Yacht Club. And from there, other projects began replicating the process in their collections. However, most of them didn't really pan out. But the ones that did, made history in NFT.
What is an NFT Mutation?
An NFT Mutation is an on-chain gamification process that updates the existing image, attributes, and metadata of an NFT for various reasons, such as showcasing an upgraded artwork, creating opportunities to reward holders, or enabling the onboarding of new users to a community.
The method varies from project to project, but essentially, the idea is that a PFP NFT (such as Bored Ape and Degen Dojo) can consume an auxiliary NFT, which is typically a consumable virtual item like a drink, serum, or another type of substance (it depends on the lore, really). Then, after the PFP NFT consumes the auxiliary, it will 'mutate', and the auxiliary usually gets burned.
While this is the common setup being practiced, it is only scratching the surface as new projects are currently exploring ways to innovate mutation mechanisms. Over time, new types of mutations will likely be introduced by up-and-coming collections. The only limit is human creativity and imagination.
NFT Projects with Mutations
For now, let's explore some of the projects that have done mutations successfully.
Mutant Ape Yacht Club
The Bored Ape Yacht Club (BAYC) became the supreme NFT community in the Ethereum blockchain, at least in net worth, having sold out in one night. While there are collections that sell out in mere seconds, it needs to be noted that the ape project launched in April 2021, back when NFTs weren't really much of a 'thing'. Furthermore, it championed the concept of mutations in NFTs.
Over a short span of time, the valuations of Bored Apes soared, having reached a floor price of $200,000. Four months after BAYC launch, the founders (Yuga Labs) decided to create a new-generation collection in order to onboard new users who want to join the "club" but are priced out of BAYC, as well as reward its existing holders.
The process started with an airdrop of "mutant serums" to all Bored Ape holders. This serum happens to be an NFT, which can be 'consumed' to create a new NFT — a mutated version of the consuming Bored Ape. This whole process was free and holders only had to pay for gas. While 10K serums were airdropped, another set of 10K Mutant Apes was sold to the public in a Dutch Auction at a price of 3 ETH, which was roughly $9.5K at the time.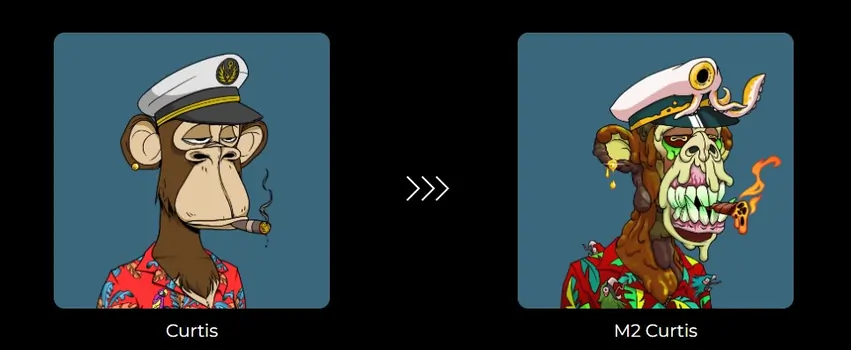 DeGods
DeGods took a different approach to NFT mutations, having realized early on that the Solana space, where it launched, didn't have the same amount of capital as the OG Ethereum community. Therefore, creating a new-gen collection didn't make sense to the team since it would only dilute the value of each DeGod NFT due to an increase in supply coupled with a lack of buyers.
Instead, the team implemented a new mechanism that allows holders to mutate (transcend) their DeGods into a DeadGod by paying 1000 $DUST tokens, the project's ecosystem token. Well, actually they need the auxiliary NFT known as Stardust, which costs 1000 $DUST.
Holders were incentivized to mutate their NFTs since doing so would increase their $DUST staking rewards substantially.
Mutations aren't permanent since holders will have the ability to switch between their DeGods and DeadGods at any time, but they have to pay a certain amount of $DUST. Furthermore, transcending does not affect rarity since the traits from DeGods to DeadGods are exact one-to-one matches.
Cets on Creck
Cets on Creck is another NFT project on Solana that has one of the most hyped mutations. Not much information has been revealed yet, other than the fact that it might have something to do with 'drinking' a certain compound called e-KLEM, which are auxiliary NFTs similar to the serum in MAYC.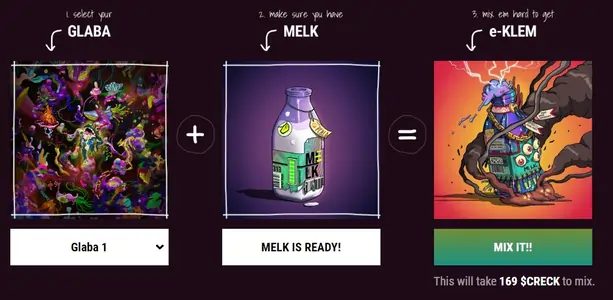 However, there are rumors that the Enlightened Cets will be a new collection, following BAYC's model. One thing is certain, though. The new artwork is so much cooler than the original CoC collection. But don't take my word for it.
Mutations Vs New-Gen Collection
Before we conclude, it's important that you understand that not all second-generation or new-gen collections are mutations. Founders are also known to release multiple NFT collections over time. For instance, Catalina Whale Mixer has spawned Bubblegoose Ballers, which is a totally separate intellectual property.
The key difference is that in a mutation, the traits are typically 'enhanced', not made totally different. DeadGods are still DeGods, just more… dead. Moonbird Oddities, on the other hand, are not mutations of Moonbirds.
Conclusion
It's interesting to imagine what type of 'mutations' will come in the future. We can expect some of the thriving PFP collections today to potentially upgrade their art to remain competitive.
---
Join our newsletter as we build a community of AI and web3 pioneers.
The next 3-5 years is when new industry titans will emerge, and we want you to be one of them.
Benefits include:
Receive updates on the most significant trends
Receive crucial insights that will help you stay ahead in the tech world
The chance to be part of our OG community, which will have exclusive membership perks