OpenAI undoubtedly changed the AI game when it released ChatGPT, a helpful chatbot assistant that can perform numerous text-based tasks efficiently. Despite the success of ChatGPT, the research lab didn't rest on its laurels and quickly shifted its focus to developing the next groundbreaking version—GPT-4.
represents the cutting-edge evolution of the technology that powered ChatGPT. It surpasses its predecessors in numerous aspects, delivering significant improvements in natural language understanding, generation, and overall performance. It comes as no surprise that users have been eagerly anticipating its launch, eager to explore its potential and unlock mind-blowing applications.
Auto-GPT is currently making waves through the AI world, leaving tech enthusiasts brimming with enthusiasm. It even seized the spotlight in just a short time, all because it holds promising capabilities that were once only the stuff of science fiction.
Ready to discover what Auto-GPT has to offer? Wait no further, and let's dive deeper.
What is Auto-GPT?
Auto-GPT is an exciting open-source project that brings the latest advances in artificial intelligence and natural language processing. It leverages OpenAI's cutting-edge language model GPT-4, which allows users to create powerful applications without human intervention, as it can act autonomously.
By harnessing the combined power of GPT-4 and Auto-GPT, users are poised to create innovative programs spanning a wide array of applications, from personal to business use. This advanced AI technology is capable of an impressive range of tasks, such as accessing the internet to search for and gather pertinent information, generating human-like responses, storing and recalling previous data, and much more.
All these were made possible due to the collaborative effort of its head, Toran Bruce Richards, contributors, and individual sponsors.
Modes
Auto-GPT's latest version provides three available modes, which you can use based on your preferences and needs. 
GPT 3.5 ONLY Mode
Before you can access Auto-GPT, it'll require you to have a vscode + devcontainer that you can install here or a Python 3.8 (a later version is also applicable) and an OpenAPI key, which is only available when using ChatGPT Plus or via the waitlist. 
However, in case you don't want to avail of the subscription plan or wait until you're approved on the list, there's another option—GPT 3.5 ONLY mode.
With GPT-4 and 3.5 being both accessible on Auto-GPT, you can switch between these two large language models, depending on what's available to you.
Speech Mode
As the name implies, speech mode allows Auto-GPT to read its generated text using a human-like voice. To let the AI speak, you only need to set up your ElevenLabs key and ID, which you can get here.
Additional Tip: You can clone your voice by uploading an MP3 file on the ElevenLabs website and applying it on Auto-GPT using the speak parameter. However, don't expect it yet to be 100% similar, as it's only in the beta version.
Continuous Mode
Auto-GPT has a continuous mode, enabling it to carry out given tasks indefinitely. While it potentially comes with benefits (especially with jobs that run for extended periods), developers don't recommend it, as it comes with its own sets of risks. One possibility includes performing unintended actions that can go beyond one's control.
How Does AutoGPT Work?
Auto-GPT works like a personal assistant, which performs a given task based on your simple description. Give it an instruction to follow and watch it do the work for you in just a couple of minutes. 
But what's even more impressive is its capability to provide its thoughts, reasoning, and criticism. These three serve as the basis to come up with the next move to accomplish your predefined goals.
Let's take a closer look at Auto-GPT's first demo to better understand the concept:
Auto-GPT has a simple interface with only a bunch of text welcoming you. But in reality, there's so much going on in the backend.
In this demo, the user showed the initial step to getting an output. It includes inputs such as the AI name (Chef-GPT), role description, and a list of goals. Once provided, Auto-GPT immediately began to "think."
In a matter of seconds, Auto-GPT swiftly processed the given inputs and divulged its course of action. Operating as Chef-GPT, it acknowledged the significance of aligning a current event with an original recipe, and thus, prioritized locating a fitting event.
However, it didn't work on the first try, as realized by the AI itself. It narrowed its searches, finding answers only containing this year's events to obtain a focused result. 
After a few more tries, it found what it's been looking for: Earth Day. And by using a GPT agent, Auto-GPT created a recipe tailored to its chosen event.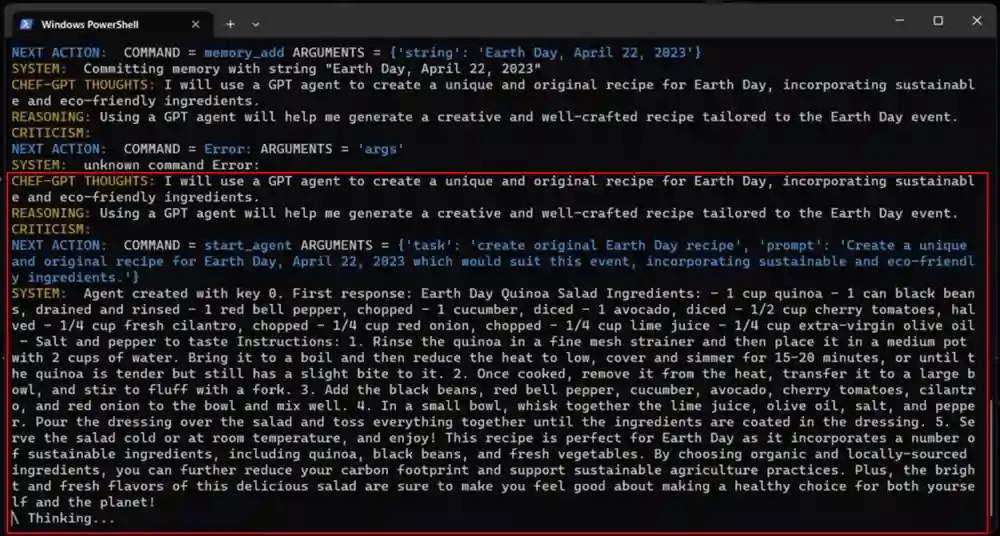 With Auto-GPT, the possibilities are virtually endless. Users have been exploring its potential for various purposes, from creative writing and content generation to professional applications and beyond.
AutoGPT's Mind-Blowing Sample Use Cases
Twitter users are undoubtedly creative, especially when they find something fun and worth poking their nose into, like Auto-GPT. And here are some ways people are using the promising tech:
Suggest and Perform Solutions
Varun Mayya, an experienced Computer Science Engineer, instructed Auto-GPT to build an app. However, along the process, the AI realized he didn't have a Node, which is necessary to develop the project. 
But don't worry. Auto-GPT knew what to do. It autonomously searched Google for the Node installation process and meticulously followed the steps outlined on the website.
And Mayya didn't even have to do a thing besides watching the AI achieve the set goal all by itself. 
Generate a Podcast Based on Latest News
A former AI expert and co-founder of Stealth Startup, James Baker, found interest in unlocking the undiscovered possibilities of Auto-GPT. His experiment focused on a research agent that can gather the latest relevant news and create a podcast out of them.
Baker initially fed the AI with his detailed objective, including finding week-old research events for topic generation. He also asked for a funny intro and got this result:
(humorously): "Hey, did you guys hear about Chamath's recent investment in a moon colony? Apparently, he's trying to escape Earth before the next election cycle. Better start packing, Sacks!" *laughs* 

GPT Research Agent
But it didn't stop there, as it provided multiple draft outputs, suggestions, and reasonings. In total, the AI agent accomplished the task after five searches and 15 browsing activities, all in just under two minutes. 
Manage a Business
If you assume Auto-GPT is only accessible on your desktops, think again. Nate Chan, an iOS engineer, allowed his curious mind to run the tech on his mobile device without putting effort into doing the code.
And if you're wondering, he created the Entrepreneur-GPT that can manage businesses to reach one goal—increase net worth. But if you look closely at its criticism, it honestly said it could be biased. 
To avoid problems that may arise given the situation, Entrepreneur-GPT established a solution, one of which is to consider a wide range of data inputs when making decisions. 
The Limitations of Auto-GPT
The recent debut of Auto-GPT has sparked considerable anticipation, with some proponents heralding it as a pivotal stepping stone toward realizing Artificial General Intelligence (AGI). However, this cutting-edge technology remains in its experimental phase, necessitating further refinement and posing certain risks.
Project developers and collaborators are cognizant of Auto-GPT's current limitations, especially in terms of business-centric tasks. However, they maintain a positive outlook, confident that ongoing enhancements will yield substantial progress in the long run.
One of the challenges in developing and operating Auto-GPT is its high cost, which heavily relies on funding efforts to push through with its continued development.
While there is still a long way to go for Auto-GPT to reach its full potential, its launch marks a significant step forward in the field of AI and the quest for AGI. With continued research and development, we may see even more groundbreaking advancements in the near future.
You might also like: GPT-4 vs. GPT-3: 8 Reasons Why GPT-4 Far Surpasses Its Predecessors
---
Join our newsletter as we build a community of AI and web3 pioneers.
The next 3-5 years is when new industry titans will emerge, and we want you to be one of them.
Benefits include:
Receive updates on the most significant trends
Receive crucial insights that will help you stay ahead in the tech world
The chance to be part of our OG community, which will have exclusive membership perks