Degenerate Ape Academy (DAA) is a Solana-based NFT collection of 10,000 3D apes representing diverse personalities through their creative outfit combinations and facial expressions. The project launched on August 14, 2021, marking a new milestone for the Solana NFT space.
Each NFT in the collection has nine traits: background, clothing, eyewear, fur or skin, generation, head, mouth, sequence, and teeth. Although each degen apes are unique, every trait follows a hierarchy system that serves as the basis for their overall rarity ranking.
Additionally, every degen ape lives in the Dingus Forest, which is a part of the greater DAA universe (Degeniverse); as everyone knows, they must keep swinging to dominate and reach greater heights.
The DAA community also welcomes degen who wants to ape in, but there's a strict requirement: you must own at least one of the smoothest-brained ape students and enroll them in the academy. Please don't get confused; this only means you should buy a DAA NFT on its official marketplace or third-party platforms, like Magic Eden, Solanart, etc.
Who is the Team Behind Degenerate Ape Academy?
The Degenerate Laboratories Inc. created one of Solana's OG projects — the Degenerate Ape Academy. It has 12 core members assigned in different areas according to their expertise. They use degen ape PFPs and web3 names that closely represent them.
Monoliff is the founder and creative director of Degen Apes, primarily responsible for the artwork of all collections in the Degeniverse. Sea_Eoh was later added as head of the team to take the ecosystem to the next level. Other members include Dev Lock, the CTO; Crasskitty, the Product Lead; Veritas, the Lead Developer; and more.
Degeniverse Expansion
The Degenerate Apes aren't the only inhabitants of the Dingus Forest; there were two more: the Degenerate Trash Pandas and the Degenerate Drop Bears. There's no doubt that DAA's success inspired the birth of these projects. Since then, their home has expanded to become the so-called Degeniverse.
However, they are not only meant to swing, treasure trash, and stay high; they co-exist to bring value to both the Degeniverse brand and the Solana ecosystem through the help of the Degen DAOO, the all-encompassing decentralized organization that oversees all its collections. Together, the community strives to achieve new and more significant pursuits.
Custom Degenerate Ape Academy (Honorary Apes)
Degenerate Ape Academy never forgets its most significant contributors, which inspired the team to launch an honorary set of NFTs called the Custom Degenerate Ape Academy. 
The collection has a total of 69 legacy students, but the team has yet to reveal them entirely. We only know that each has brought a large SOL amount to the project; they're true degens indeed.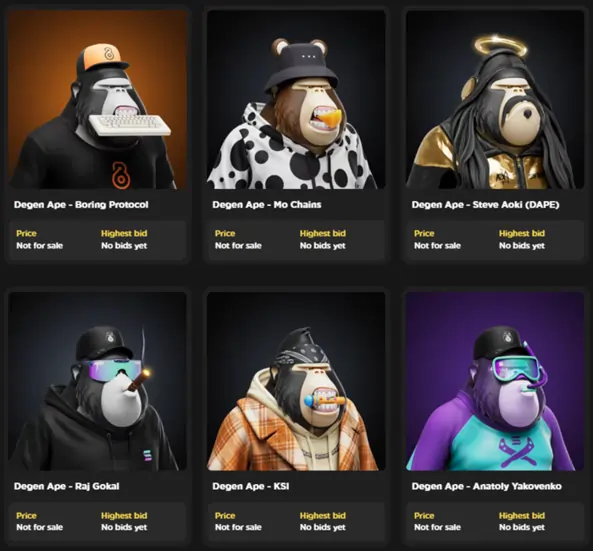 Every custom ape contains at least one trait that portrays its identity. For instance, Degen Ape Phantom (given to Phantom Wallet) has a Phantom Crown and Glasses while Degen Ape Raj Gokal (Solana co-founder) wears the Solana Hoodie and Ape Vipers. 
The Custom DAA NFTs are an ideal way of promoting a web3 identity, especially if you're one of the legacy students portrayed in the collection. Even Solana Sensei, a well-known collector, was given a PFP that matched his branding style, which he has used primarily on Twitter for a long time.
Exiled Apes
The Exiled Apes is a collection of 518 NFTs, having a resemblance to Degenerate Ape Academy, as they were originally a part of it. Each of them also wears unique styles in different concepts.
While the Exiled Apes are considered a part of DAA's history, it isn't a canonized collection in the Degeniverse. Only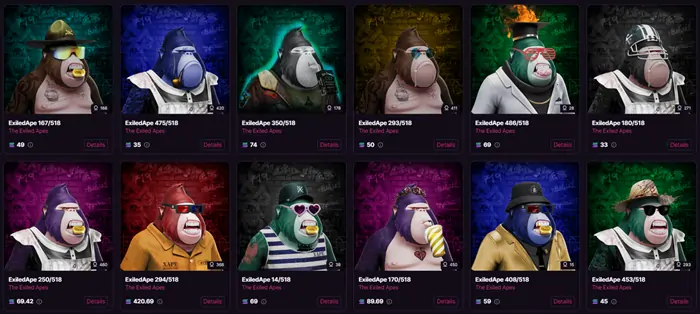 However, the team was caught up with heavy traffic issues during the initial mint. Some lucky degens were able to pass through the process and got one out of three results:
Full Apes came with complete metadata and image;
Ghost Apes have metadata but no image; and 
Blank or Null Apes are NFTs without metadata and image. 
Although the DAA team decided to generate a new collection, the Exiled Apes holders found a solution to the problem: Quantum Entangler. This new smart contract ties the original token to the new one, bringing them back to life.  
What Makes Degenerate Ape Academy Historical?
The early days of the Degenerate Ape Academy were not as chill as most people would expect; in fact, it was full of challenges. However, DAA took it as a valuable lesson, allowing itself to become a part of Solana and NFT history.
Solana saw the possibility of onboarding millions of crypto enthusiasts through NFTs, which pushed the team to create a platform in a matter of weeks. However, Metaplex (Solana's NFT protocol) had limitations in launching numerous digital assets.
The original DAA collection proceeded with its minting event but failed due to congestion. This led the Solana developers to build the Metaplex Candy Machine, a program for minting NFTs.
The solution allowed DAA to meet thousands of minting demands, selling out in a few minutes. Its successful relaunch helped Solana gain a strong position in this space up to the current day.
The rise of the two projects also helped the NFT space see large purchases. At the same time, the Degen Ape #7225 was sold at 5,980 Sol, marking Solana's first million-dollar sale. 
---
Join our newsletter as we build a community of AI and web3 pioneers.
The next 3-5 years is when new industry titans will emerge, and we want you to be one of them.
Benefits include:
Receive updates on the most significant trends
Receive crucial insights that will help you stay ahead in the tech world
The chance to be part of our OG community, which will have exclusive membership perks