Most bluechip non-fungible token (NFT) collections are usually animal avatars, but not DeGods. As humanoid Gods, they have carved their own path and made themselves known through the good vibes and innovations they have contributed to the Solana NFT space. And today, they are poised to become the gods of the Solana metaverse, as planned.
DeGods didn't start out as a hype project. It sold out during mint but its growth was rather gradual and not every experiment it did had turned out favorable. But somehow, the team and community managed to stay relevant, then suddenly started thriving at a more rapid rate, and things were never the same since.
What is DeGods?
DeGods is an NFT brand on the Solana blockchain powered by a deflationary collection of 10,000 DeGods and the DUST Protocol ecosystem.
Owning a DeGod will give you exclusive access to the DeDAO, including the DeGods Discord community, consisting of some of the top whales, alpha callers (analysts), and builders in the Solana ecosystem and beyond. In fact, the DeAlpha team alone has a proven track record of sharing top alpha (good investment leaks).
DeGod holders will also earn $DUST daily. The DeDAO will continuously create utilities for $DUST as it builds the DeGods ecosystem and partners with other Solana projects. Soon, $DUST will be integrated into other major projects, including play-to-earn (P2E) games, casino or betting platforms, marketplaces, etc.
As the core of the DeGods project, on top of being the genesis collection, DeGod NFTS will likely grow in value and bring the highest rewards compared to other DeDAO assets over time.
While there were exactly 10,000 DeGods initially, the total number in circulation is now lower due to the burning mechanism, which makes it deflationary. This is because holders can burn a DeGod to earn $DUST. The amount of $DUST earned follows the formula:
$DUST Quantity = 1000 + (# of Remaining DeGods – Rarity Ranking).
What Makes DeGods Great?
The DeDAO team is led by FrankDeGods, one of the most charismatic and down-to-earth project runners in the Solana NFT space, who now has a cult-like following. And the team appears to be extremely competent in delivering value, with an emphasis on growth. This can be seen in the level of influence it commands in the NFT space, having intrigued even NFT degens from the Ethereum community.
Another aspect that sets the DeDAO apart from most NFT devs is its inclination to experiment on novel methods despite looming odds of failure standing in its way. The 33.3% you see in many DeGods holders' Twitter names is a tribute to the Paper Hands Bitch Tax (PHBT), one of its early experiments where a 33.3% tax was imposed on sellers who sold below the floor price. In the end, it became clear that the experiment won't pan out so it had to be abolished, but the 33.3% remains in their minds as a symbol of what they have, and what they can overcome.
In such a short period, DeGods was able to launch one of the sickest artworks of its time, the DeadGods mutation, an NFT utility token that is relatively stable, an alpha app, an online store, and many more.
DeGods also empowers its community to pursue their own entrepreneurial aspirations and use the IP of the collection.
Their Discord also has some of the most sought-after alpha groups, where top degens share investment advice on other projects.
What is DUST Protocol?
DUST Protocol is the fuel that powers the entire DeGods ecosystem through $DUST, a Solana-based (SPL) token, which can be generated by either staking a DeGod or burning it. $DUST is intended to have no economic value, per se, but it will have a wide array of utilities not only within DeGods but also in other projects across the Solana ecosystem.
The existing utilities of $DUST include:
Enable a DeGod to transcend (mutate) into a DeadGod.
Participate in DeDAO raffles and auctions for exclusive whitelist spots, NFTs held in the vault, and others (see DUST Store).
The token will have a maximum supply of 33,300,000 and will undergo three halving periods, each of which will reduce the emissions (AKA the staking rewards of holders) by 50%.
What is DeadGods?
DeadGods are the mutated versions of DeGods, having their artworks enhanced while retaining exactly the same traits so rarity is unaffected. You can acquire a DeadGod by either buying it from secondary marketplaces or transcending your DeGod.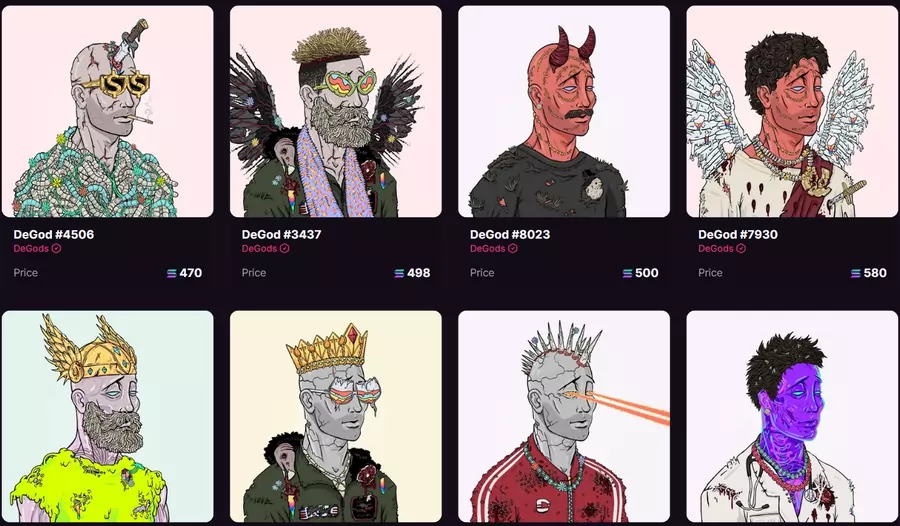 In order for your DeGod to transcend, you'll also need some $DUST. Initially, only 1000 $DUST was required to transcend a DeGod, but over time, this number is set to increase. Check the DeadGods website for the updated pricing.
Note that your DeGod and DeadGod are one and the same. After transcending, you can switch versions as you please for a specific amount of $DUST. Furthermore, a DeadGod cannot be burned.
How to Turn Your DeGod into a DeadGod
Before you begin, make sure you have at least one DeGod and enough $DUST in your wallet.
Head over to the DeadGods portal
Connect Your Wallet
Click Transcend
Staking DeGods and DeadGods
Regardless of rarity, all staked DeGods generate 10 $DUST per day while staked DeadGods produce thrice that (30 $DUST per day). Over time, this might change due to the $DUST halving and other reasons, but what will remain the same is the fact that DeadGods will always generate more tokens.
BIG3 Basketball Team
The DeDAO announced its purchase of Killer 3s, a BIG3 professional basketball team for roughly $625,000 on April 28, 2022. This is expected to bring more awareness to the DeGods brand by having its logo attached to the team's official jersey as they play on broadcasts. The acquisition will also empower DeGods holders to build independent revenue streams through this intellectual property.
BIG3 is a 3-on-3 basketball league founded by Ice Cube.
Conclusion
When it comes down to it, DeGods became a winner simply because it had an excellent team and community. The team not only has the competence to rise to the top, but also the drive to continue its path, and the humility that prevents it from falling from grace.
Safe to say, DeGods has raised the bar for NFT projects.
---
Join our newsletter as we build a community of AI and web3 pioneers.
The next 3-5 years is when new industry titans will emerge, and we want you to be one of them.
Benefits include:
Receive updates on the most significant trends
Receive crucial insights that will help you stay ahead in the tech world
The chance to be part of our OG community, which will have exclusive membership perks