Dogami is the most anticipated blockchain game in the entire Tezos ecosystem if trading volume is our main indicator. Imagine being able to adopt a virtual dog powered by AI technology that you can interact with through an augmented reality (AR) app on your mobile device.
You can train and personalize your dog, breed them with others, as well as compete in challenges to earn $DOGA tokens across the Petaverse: an all-new amplified gaming experience that essentially blends the powers of nostalgia and community.
What is Dogami?
Dogami is a play-to-earn (P2E) game and a non-fungible token (NFT) collection composed of 8,000 adorable virtual dogs. Dogami lets players nurture, train, and develop their digital pets in a virtual world called Petaverse.
Dubbed as the "first mass-market NFT AR mobile game", it combines blockchain gaming, pet ownership, and finance under one platform to bring real entertainment and monetary benefits to players.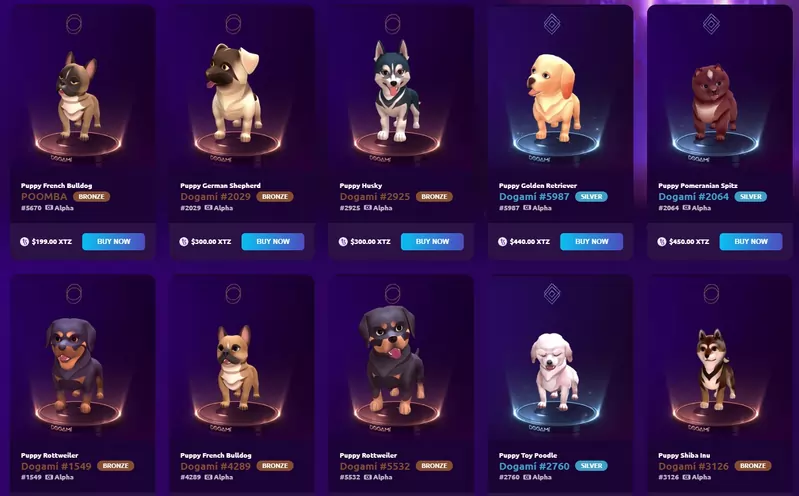 Tamagotchi and Nintendogs players might find the game nostalgic as it focuses on adopting, raising, and developing a virtual pet. Pokemon Go players may also be familiar with the game mechanics, as they are able to interact with their dogs in an AR environment. 
Dogami also has plenty of earning opportunities, including nurturing and breeding virtual dogs, offering dog sitting services to other pet owners, participating in mini-games, and more. Holders can also glam up their virtual pets with cute accessories, which are also NFTs, in order to give them a more personalized look. Furthermore, owners can also name their dogs, which costs a specific amount of $DOGA tokens.
Besides its innovative concept and growing user base, Dogami is also winning on the investment side. Last year, it was able to raise $6 million from Ubisoft and Animoca Brands, the big guns of the gaming and web3 gaming industries, respectively. And in 2022, the Tezos Foundation infused an additional $500,000 for the rising AR game. 
Rich Lore and Origin
Aside from its gameplay and ecosystem, another exciting aspect of the game is its rich lore, created by Bryan J.L Glass, who has also worked for Marvel and DC Comics. Among his successful comic book creations, are Thor: First Thunder and Valkyrie. 
Dogami comes from the words "Dog" and "Origami," the famous Japanese paper-folding art that creates stunning creatures from a single piece of paper. The fusion of these names reflects the game's aim of allowing players to make (or fold) the life they desire for their dogs. Furthermore, the Tezos blockchain is an ideal platform as players can benefit directly from its low fees, high-level security, and as a bonus, low carbon footprint. 
How the Dogami P2E Game Works
Three Phases 
Dogami pets will go through three stages called "Puppy," "Adult," and "Spirit", which players can unlock through specific achievements and Bond Level points. In the "Puppy" stage, players will start by teaching their 3D pets special tricks, made more fun by AR features. 
The "Adult' stage, meanwhile, brings more activities and earning ventures, including multiplayer mini-games and DOGAMI Olympics. Players can also bring their pets for daily physical walks to earn rewards by linking their health app to the Dogami mobile application. Plus, they can choose a "specialized career track" for their dogs by enrolling them in training activities.
In the "Spirit Phase", owners can purchase lands in the Petaverse; but only dogs who have completed at least one career track and maximized their breed count can unlock this level. 
Breeding 
Breeding is a significant part of the Dogami P2E game as it expands the possibilities for the dogs, the players, and the entire Petaverse. The game has more than 300 breeds of virtual dogs, and while it sounds plenty, it will further grow in the following stages of the game. 
Select and multiple cross-breeding will bring forth new breeds of dogs, powered by artificial intelligence (AI) and advanced algorithms. Like in real life, Adult Stage and above dogs are the only ones that can breed. Each breed will bring a mildly different user experience for players, which, aside from being exciting, closely mimics canine lovers' real-life experiences. 
Earning Opportunities 
Players can earn in every stage of the game, giving them plenty of opportunities to accumulate tokens. In the "Puppy" phase, there's Dogami Day Care, where NFT owners can lend their puppies to players interested in taking care of their pets. 
In the "Adult" Phase, the Dogami Academy allows players to lend their dogs to a specialized trainer to develop their canines' skills. Pet owners can serve as trainers once they have finished at least one career track. In other words, whether gamers intend to bring their dogs under training or plan to train other canines, there will always be earning opportunities for them. 
DOGA Token 
$DOGA is the utility and governance token of the Petaverse, enabling players to purchase virtual items or stake them to earn passive income. It also serves as a token representation of the energy generated by the dog-owner relationship. One of the most important tasks of a dog master is to spend $DOGA on their virtual pets to strengthen their bond and enhance their stats. For instance, naming your pet will help increase your bond, which can be done via $DOGA.
$DOGA is the only "key" to enter the Petaverse, as the game requires a minimum amount of tokens to access the entire offerings of the immersive digital world. Players can use DOGA to purchase digital assets, including new Dogami pets, accessories, digital wardrobes, badges, in-game features, and even tickets to exclusive concerts. 
The token also equips players with voting power on the Dogami decentralized autonomous organization (DAO). Through DOGA, gamers can vote on important decisions regarding new parameters, features, and upgrades within the ecosystem. 
Holders can also stake their $DOGA to gain liquidity provider (LP) tokens, valuable NFTs, and access to exclusive offerings. But most importantly, they can earn more $DOGA simply from their stake. Note that the token can be bought and sold on centralized and decentralized exchanges (DEXs).
Dogami Lands on The Sandbox 
Guess who's been busy digging in the sand? In a move to further expand its reach and offer players a more immersive experience, Dogami has partnered with The Sandbox by purchasing a premium 3×3 Estate S-LAND. Through this purchase, Sandbox finally has a pet-oriented community in its ever-expanding metaverse. Moreover, Dogami holders now have an 'extension' universe where they can explore with their pets and participate in social activities. 
What's even more exciting is that owners can also hunt for easter eggs and valuable hidden secrets regarding the Dogami project. And since the virtual canines will automatically turn into voxel dogs in this alternative universe, owners may also purchase "pixelized" accessories for their pets. 
How to Buy Dogami
You can purchase Dogami NFTs directly in the Dogami Marketplace, or on Tezos-powered NFT marketplaces like Objkt. Note that you'll need to set up a web3 wallet that supports the Tezos blockchain. We recommend Temple Wallet.
---
Join our newsletter as we build a community of AI and web3 pioneers.
The next 3-5 years is when new industry titans will emerge, and we want you to be one of them.
Benefits include:
Receive updates on the most significant trends
Receive crucial insights that will help you stay ahead in the tech world
The chance to be part of our OG community, which will have exclusive membership perks