Metaverse shmetaverse. Mainstream media keeps talking about this magical place where anything is possible, but not everybody is sold on the idea of living in a digital world and staying in their rooms forever. If only there was a way to connect to the digital world without giving up real life.
Oh wait, there is. That's why Meta Homes' vision for the metaverse is augmented reality (AR).
While the majority of blockchain projects are doubling down on gaming, Meta Homes has taken the road less traveled. It has been silently building for months and couldn't care less about hype, unlike other non-fungible token (NFT) projects. One user called it web3's best-kept secret.
Let's see what Meta Homes is really about.
What is Meta Homes?
Meta Homes is a movement, neo-futurist brand, and ecosystem of web3 residences for virtual users and NFTs that leverages AR technology powered by accessible hardware (smartphones) to ultimately create a metaverse that blends physical and digital realities, one piece at a time. Meta Homes aims to allow its holders to manifest the 'sense of space' around them by enabling life-sized projections of their virtual homes in the real world.
It is an NFT project that launched on Solana, aiming to revolutionize metaverse design starting with its Gen-1 collection, moving towards the commercial Meta Studios, and many more to come.
The project also provides a convenient portal to a virtual space that allows members to tap into art displays for commercial and personal use.
Besides its unique design, Meta Homes sets itself apart from other metaverse projects by focusing on AR, allowing its NFT holders to interact with virtual real estate in the physical world by using only a smartphone.
The Meta Home Gen 1 Collection
The Meta Homes Gen-1 is an NFT collection that consists of 1,000 non-generative and artistically-tailored AR-powered homes with a large selection of themes, ranging from Japanese to American, running on the Solana blockchain. This is the foundation of the Meta Homes ecosystem, where everything began.

Each home is a unique combination of different 'traits', such as vibe, class, theme, tree, courtyard, plants, hobby, and bed, in order to cater to different aesthetic tastes. For instance, the vibe trait determines the color palette used in each home, while the stuff inside depends on the hobby 'trait'.
There are homes suitable for individuals that enjoy meditation and minimalism, sports enthusiasts who want to play real tennis or basketball, party people who love late-night gatherings, and everything in between. Similar to IRL real estate, each Meta Home NFT can be described as spacious, captivating, refined, and visually soothing overall.
Note that you can stake your Meta Home NFT. See our How to Earn $BUCKS section.
Augmented Reality (AR)
Big money is pursuing AR, from Apple to Meta, from Amazon to Snap. Yet most NFT/metaverse projects are so fixated with gaming and VR that the AR sector is a bit underserved.
Meta Homes has doubled down on AR technology, rejecting the notion that the metaverse should get us hooked in the virtual world. In fact, the team promises that none of their products will ever force anyone to wear clunky hardware like VR goggles.
Instead, you can access the Meta Homes products via a smartphone.
Imagine walking inside your virtual home in an open field in the real world, exploring the different rooms, admiring the NFT artworks framed on your wall, as well as the different designs and furniture around you.
See the demo made by Choppsueyy below (more in the Tweet's comments)
You can download the Meta Homes app on Android and iPhone (coming soon).
Meta Homies Gallery
The Meta Homie's Gallery is a collection of memories depicted in 1000 frames that serves as a mutual space; a timestamp of the project's presence on web3. The 1,000 frames also correspond to the number Meta Homes in existence, meaning holders will receive one frame for every Meta Home NFT they have.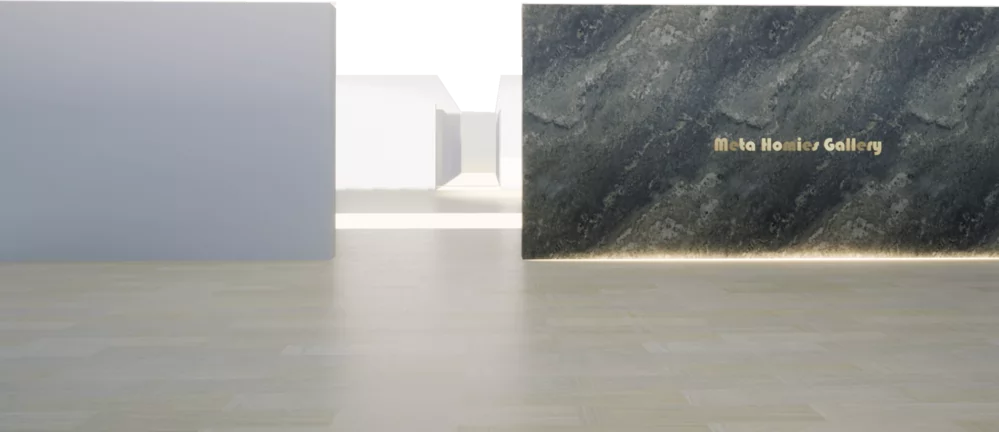 Think of the Gallery as an ever-changing digital collage of the Meta Homies, where any holder can upload a picture, not necessarily an NFT, of anything and share it exclusively with the community. Note that only Homies (those who own a home) can view the Gallery.
Meta Homes Shop
Once live, Homies will be able to buy exclusive merch and tech wearables.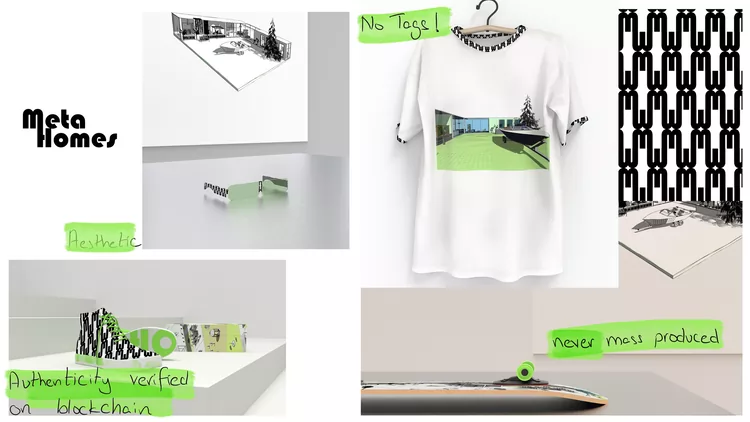 Meta City
The forthcoming metaverse of the project.
What Makes Meta Homes Great?
Meta Homes is different because its intention is not to provide an escape from reality but to enhance it with technology. Thanks to AR, the project has leveraged one of the core needs of humanity: an abode, in a digital sense. Imagine a creative space where you can appreciate art and culture, and hang out with your friends all via your smartphone.
But Meta Homes is just the beginning. With access to the metaverse in your pocket, the project plans to expand its ecosystem from owning pods on the Meta Studio to later bringing everything together in Meta City, the project's far destination.
Members of the Meta Homes team also hold experience in critical fields like skyscraper design and have worked with esteemed companies like Google and SpaceX. Aside from its artistic approach, the project is also scalable with AR technology, which should allow them to move further into the metaverse with its upcoming iterations.
The door is open, homes are for sale, and it only takes an NFT and a phone to enter the metaverse. Nothing else.
As for the design and art, they speak for themselves. All it takes is for you to visit the Meta Homes website and you'll find out exactly what I'm talking about.
Meta Bucks ($BUCKS)
Meta Bucks ($BUCKS) is Meta Homes' native token with multiple utilities across its web3 ecosystem. Furthermore, you can use it to purchase real tangible products in the project's marketplace when live.
Coin Profile:
Supply: 69,000,000
Team Reserve: 0
Starting Supply: 0
$BUCKS Utility
Make purchases from the Meta Homes marketplace.
The economy within Meta City will use $BUCKS.
2.0 files designed within Meta Homes can be customized to fit the AR world.
Halving
1st halving: 60 days after staking launch
2nd halving: 120 days after staking launch
3rd halving: 180 days after staking launch
How to Earn $BUCKS
Staking your Meta Home: generates 30 $BUCKS/day
Staking Your Meta Studio: generates 15 $BUCKS/day
Claim from Homies that contribute to the Meta Homes Ecosystem that HomiesDAO recognizes
How to Get $BUCKS from HomiesDAO
Create blogs
Members that bring valid partnerships to fruition
Members that contribute to the Discord Community
What is Meta Studios
Meta Studios is a web3 platform designed for commercial use, allowing users to connect to an AR environment where they can display their designs. It is a decentralized economy that caters to Homies, artists, photographers, filmmakers, fashion designers, car enthusiasts, and AR/tech enthusiasts.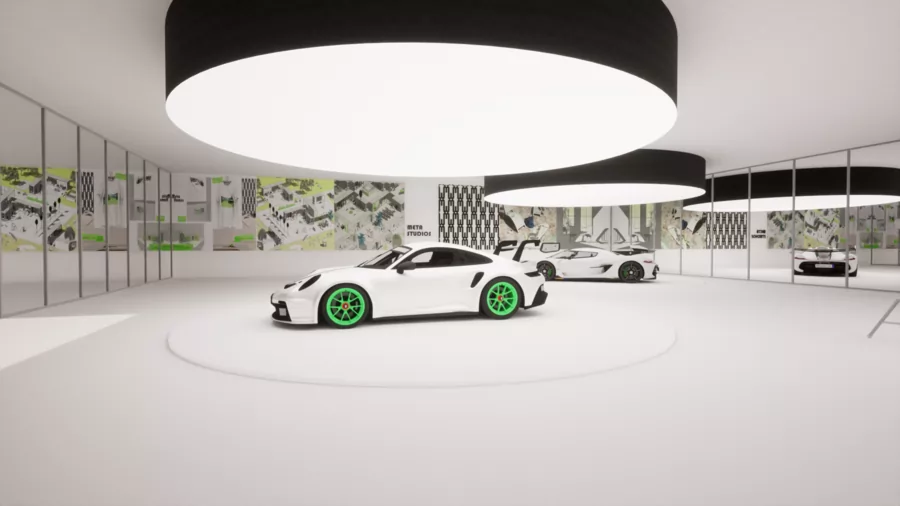 Owning a Studio will also give you access to the project's marketplace filled with products not sold elsewhere.
This will be a new NFT collection, with a supply of around 4K-6K, that is set to launch on the 25th of June, 2022
Homies PFP
The Homies PFP is a planned NFT collection for the Meta Homes owners designed to be used as profile pictures for social media and the metaverse.
We are becoming a multi-planetary species for the first time in recorded history. Will you borrow an identity based on previous socio-cultural texts or create one?

Meta Homes team
Who is Behind Meta Homes? The Meta Homes Team
The Meta Homes team sees web3 as not merely a playground for speculation, flexing, and playing games, but a movement that rejects centralized governance and monopolies on user data. They collectively live on a low-key mantra, 'keep building, do not seek attention,' which is a breath of fresh air in an industry that heavily encourages hype.
The semi-doxxed team's sole purpose is to build a web3 brand and ecosystem that upholds its own values, as well as that of its community.
MADEGUY (aesthetics) – experience in skyscraper design
METABIZNESS (partnership) – ex-Google Product Manager
STRXTREEMZ (business) – experience in SaaS and member of a "top-notch gaming clan in the mid-2000s"
METAQUEEN (operation) – fired and rehired by SpaceX Team Management
How to Buy a Meta Home
Ensure You Phantom Wallet
If you don't have Phantom yet, follow the instructions here to set it up.
Go to Magic Eden
You can buy a Meta Home on the project's Magic Eden page. You can choose from the listed NFTs available.
Buy a Meta Home
Once you've chosen an NFT, simply click on it. Make sure your Phantom is connected; if not, click on Connect Wallet, then buy it.
Conclusion
Meta Homes just keeps building tirelessly while rolling out products every now and then. The team has shown its design prowess to the world, and they are nothing to scoff at. Personally, the challenge it currently has lies in getting more eyes on its products since the team doesn't care much about hype, which makes it difficult to generate buzz as an NFT project.
Will the team be able to find a way to increase demand for its products? Stay tuned.
---
Join our newsletter as we build a community of AI and web3 pioneers.
The next 3-5 years is when new industry titans will emerge, and we want you to be one of them.
Benefits include:
Receive updates on the most significant trends
Receive crucial insights that will help you stay ahead in the tech world
The chance to be part of our OG community, which will have exclusive membership perks