Nike is pushing the boundaries of sports into the digital realm so it could serve the next generation of players because, let's be real, the digital world is becoming more and more prominent in daily life.
The world continuously pursues a complete change that encourages every industry to adapt, and sports is no exception. As one of the well-established sportswear companies, it has already taken its step in this new transformation through NIKELAND in the Roblox metaverse.
Although it has already gained 19.6 million visits since its launch in 2021, the sports apparel giant aims to take things up a notch by building virtual products and experiences that could literally change the game for sports in the web3 space. NIKELAND is ground zero to that goal.
What is NIKELAND?
NIKELAND is a virtual playground that boasts a life-sized replica of Nike's real-world headquarters, where players can explore, customize their avatars, play games, and build friendships in the metaverse.
The partnership between Nike and Roblox allowed the community to discover two distinct worlds: sports and gaming, which have been merged and cultivated into a lifestyle. Athletes and gaming enthusiasts can participate in this immersive next-generation 3D space, enabling them to share experiences: play sports, build connections, wear virtual apparel, and do all sorts of cool stuff online. 
NIKELAND ensures that the virtual environment has the right building blocks that allow for a seamless collaborative experience for all its digital citizens. Additionally, it encourages its community to step up to the game and become creators themselves, so they can build the future of sports in the metaverse. This puts Nike in a convenient position to power what could possibly be a new frontier for sports.
What Can You Find on NIKELAND?
NIKELAND comprises six areas: The Lobby, Basketball, Football (Soccer), Showroom, NPRL, and My Playground. Each location allows players to perform different types of activities, ranging from sports to virtual shopping, swimming, etc.
Sports fans can compete with other players in various sports games like basketball and soccer. There are also other types of recreational games like Floor is Lava, so the virtual world is not limited to active sports.
Skillful players can also unlock items by gaining XP and activating power-ups that can "buff up" their avatars and potentially dominate in games. The activities will come with rewards, and players could score goals to obtain as many of them as possible. Note that the items may not instantly show in the inventory, so check them after a few hours. 
The Lobby
The lobby allows the community to hang out with other members, visit the store, and familiarize themselves with the game through the info center. The shop contains numerous items ranging from sports equipment to decorations, which players can buy to design their personal Yard within the realm.
There are also sections where your avatar can simply chill and socialize with others after roaming around the vast world all day. 
Basketball and Football Areas
Players can head to the basketball area to play a game with exciting twists. This is not your typical basketball setup. You'd have to play it to understand.
Top scorers will have their profiles featured on the leaderboards, including shot streak, all-time wins, and daily wins. So if you are up to the challenge, you could literally have your name displayed for the world to see. Not that there are millions watching those scores at any given time, but you never know what the future holds. This could end up becoming a really big deal depending on how "the metaverse" plays out in the coming years.
The soccer game follows the same essence as the basketball game: a traditional sport mixed with powerups and lots of jumping (or bouncing; whatever you call it). While we don't necessarily know if these types of games will take off, Nike can always improve them as they go. As long as there is progress, we can expect virtual sports experiences like these to become better over time.
The Showroom
The showroom displays Nike's virtual items such as shoes, clothing, and accessories. Every mannequin wears different styles that allow the company to showcase its branded wearables. You can actually purchase any of these items. Some of them even come with physical counterparts that will be mailed to you.
But the main highlights of this area are the famous most sought-after kicks in a variety of sports, including the ACG Mountain Fly, Lebron 19 Low Magic Fruity PEBBLES, Mercurial Superfly 8, and a whole lot more.
My Playground
NIKELAND has empty spaces called "Yards" (now called My Playground) where players can build games by purchasing items and decorations in the lobby. If you are a creator who is passionate about sports and the metaverse, then the platform's gaming toolkit is definitely for you to experiment.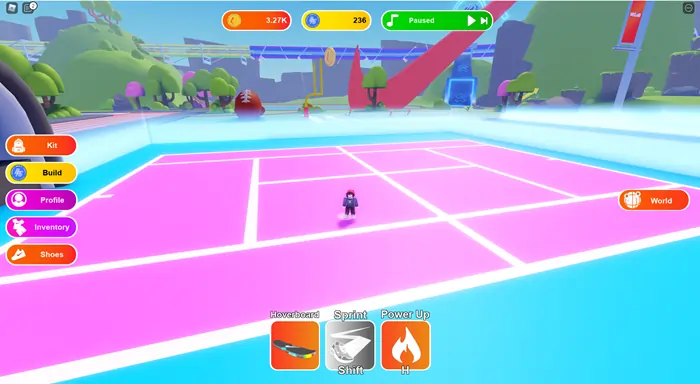 And who knows, you might be able to build the next best thing in virtual sports. Remember that unlike in the physical world, the metaverse has no limits. And some of the games in the playground should serve as your proof of concept.
Nike Play Research Lab (NPRL)
The NPRL is Nike's innovation zone. Seriously. They have a real-life version of this area sitting at a building called "House of Innovation". In NIKELAND, however, you'll only find records of the top scorers in different aspects: coins gained, time played, yard play sessions, and yard likes. It also shows the corresponding figures to beat. 
What Should You Do Here?
Well, we're still very early and Nike is still experimenting on its metaverse so we have yet to see its most vibrant period. But, there are tons of perks to being early in a huge undertaking like this. NIKELAND is providing tons of free items and opportunities to earn coins just by exploration and playing. We believe that this era won't last very long as the metaverse creeps into society and digital "stuff" becomes more valuable.
The best thing you could do right now? ACQUIRE ALL POSSIBLE FREE ITEMS AND COINS!
As you explore and play games, you'll stumble upon loads of free items and coins, which can be collected. Note that you can either stack up these coins or use them to buy digital items like wearables to customize your avatar, building tools for your playground, and a whole lot more. Be sure to do as many activities as you can, especially when Nike holds an event, which will be jam-packed with freebies.
Beginners can easily get lost in NIKELAND, but thankfully, there is a map that can conveniently teleport you to different areas. Those who want to travel around can walk, sprint, or use a hoverboard.
Bonus tip: Don't skip the waters. You'll find many hidden coins there. Don't worry, you won't drown.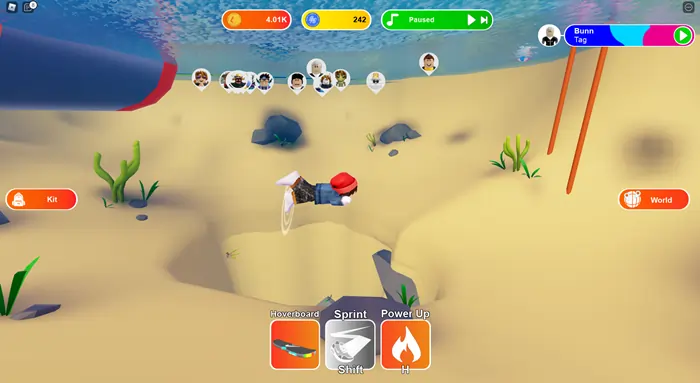 Players can do many other leisures like climbing various peaks, playing all kinds of sports and recreational games, and bonding with fellow players. When everything gets tiring and you simply want to relax (virtually), you can even take a break and sit by the beach to enjoy the surroundings. It might not be physical, but that doesn't make it any less real to you and other players.
How to Play
Are you ready to enter the NIKELAND metaverse? You will be able to do that in a few minutes by following these steps:
Go to Roblox and create an account.  
After logging in, visit the NIKELAND experience and click on the play button. 
Wait for the pop-up window to show containing the information that Roblox has been installed. 
NIKELAND will automatically open. 
You can begin roaming around NIKELAND as soon as it initializes. There are numerous quests you can take, which will earn you rewards like the Nike Fury Headband. You can equip items by clicking "Kit" on the left side of the screen and going directly to the inventory.
This is far from Nike's only foray into web3 and the metaverse. In fact, it is considered one of the most active brands in the metaverse due to its purchase of virtual sneaker tech startup: RTFKT, and other endeavors.
---
Join our newsletter as we build a community of AI and web3 pioneers.
The next 3-5 years is when new industry titans will emerge, and we want you to be one of them.
Benefits include:
Receive updates on the most significant trends
Receive crucial insights that will help you stay ahead in the tech world
The chance to be part of our OG community, which will have exclusive membership perks