The Ape Society (TAS) is a collection of 7,000 algorithmically-generated NFT apes swinging on the Cardano blockchain. TAS diverges from the usual cartoony or full-3D art we usually see in the space, showcasing visuals of photorealistic apes that look like oil paintings. 
Moreover, it is one of the largest community-based decentralized autonomous organizations (DAO) in Cardano, giving it a prominent influence over the ecosystem. 
By purchasing one of these apes, holders will have direct access to the project's DAO, and participate in its decision-making. 
Moreover, they will become an automatic member of one of Ape Society's 35 families, each with its own lore. These families (the entire 7K+ apes) are divided into seven classes:
Royal Advisors,
Military Officers,
Merchants,
de' Medici,
Artists, and
Explorers. 
Through these different classes, holders benefit from personalized experiences. You can purchase the NFTs on Cardano marketplaces, such as JPG Store.
The wallets compatible with The Ape Society include Nami, Daedalus, Yoroi, Typhon, Eternl, Flint, and Gero. You may also use any official Cardano wallets that support NFT assets. 
The Vision and Team
The Ape Society aims not only to become one of the best collections in Cardano but also to be a talent powerhouse of builders, creatives, and evangelists. 
It also focuses on five key categories, which are Personal and Professional Development, Decentralization, Branding and Art, Decentralized Finance (DeFi), and Community. 
While other collections only aim for one of these aspects, Ape Society believes that excelling in all of them is the right way to go. 
Ape Force 1, the team behind the project, was formed by @matasa_qt, @ponziratti, and @cardman, who initially met at Discord and eventually discovered their passion for creating an impact on the NFT industry. 
Moreover, they have combined experiences in entrepreneurship, branding, finance, web design & development, and retail business, giving them a strong head start in starting the Ape project. They have also teamed up with a branding expert and a professional studio to integrate a next-level experience into their collection. 
Lore 
The Ape Society's primates didn't start as civilized creatures. In fact, they were born as an unruly and barbaric civilization. They previously lived in a world where the weak perish while the strongest thrive. It was a chaotic and hopeless society. 
Fortunately, a young ape decided to end this once and for all. Through the wisdom and knowledge he gained, he thought of the new Way, obtained a strong following, and eventually formed the Ape Society. 
Since then, new waves of changes have occurred in their kingdom, bringing an end to the old, uncivilized, and barbaric world they used to live in.
The Ape Society Token ($SOCIETY) 
$SOCIETY is Ape Society's utility token, which holders can use as a form of exchange, purchase digital items, and other exclusive benefits. The token has a 700 million supply.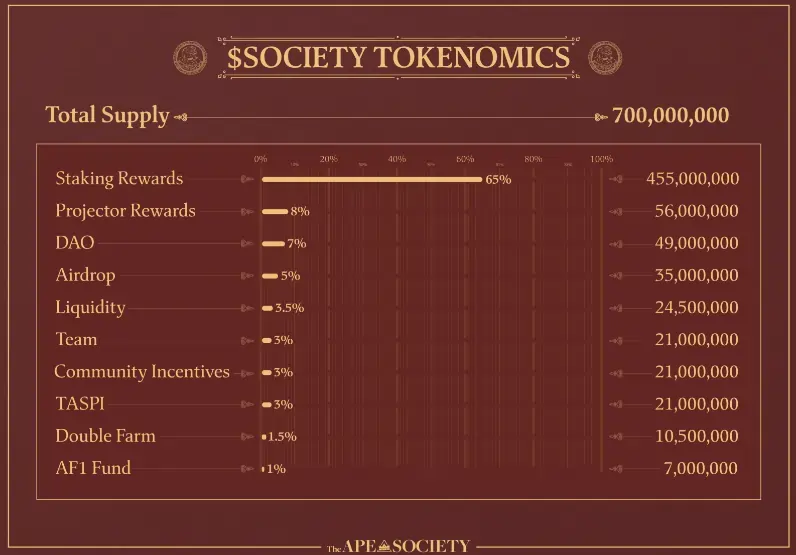 You may also use $SOCIETY to redeem Ape-themed merchandise and purchase decorative items from the TAS marketplace. 
Here are other ways to earn $SOCIETY:
Stake your Apes. Each primate generates (emits) tokens in different amounts, depending on their rarity. 
Exchange decorative items for $SOCIETY tokens. 
Stake and farm at Miniswap  
Note: The last one is only a suggestion from the team. Please do remember that success in yield farming still heavily depends on your level of research.
Cabin 
Cabin is a 3D customizable room and interactive gallery that serves as your entry pass to the Ape Society's world. You can personalize your Cabin by purchasing chairs, billiard tables, and other interesting items. It comes in three different variants or sizes called 'Cottage,' 'Estate,' and 'Chateaus.' 
And since it's an interactive place, you can also use it for advertising your community, brand, or anything you support. What's even more interesting is that each Cabin comes with its own street address, street number, street name, and even a postcode, just like a real-life house! 
You may also purchase Cabins on secondary markets such as jpg.store and Freeroam.io. 
Landmark 
Landmarks are an essential part of the Ape Society ecosystem, which the team placed on the project map's exclusive 11 spots. While each of these places has stand-alone functionality, the team plans to link them together sometime in the future to offer more benefits for users.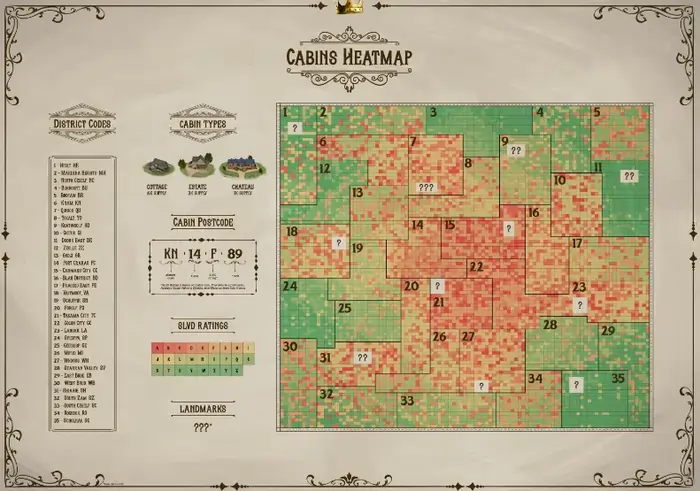 The white spots are where current and future Landmarks are located.
Cabins located within a Landmark's district would be rewarded with a revenue split, giving owners an additional way to earn from their assets. Moreover, holders should also know that in most districts, the closest Cabins (and the biggest ones) enjoy the benefit of getting a bigger slice of revenue. 
Amphitheater 
Amphitheater is one Ape Society's Landmarks and serves as a digital battlefield where members can participate in tournaments in exchange for $SOCIETY.
Moreover, Amphitheater and every Landmark in the Ape Society will be considered separate projects. With this, members' skills will be needed to make these separate projects a success, and of course, their efforts wouldn't be left unrewarded. 
Every member who contributes their time and skills to the success of the Amphitheater will receive a percentage of the admission fee collected at every battle.  
The Factory: A Web3 Project Incubator 
The Factory is another Landmark at the Ape kingdom, which offers web3 incubation support for the most promising Cardano-based projects. 
It offers minting, marketing, and mentorship assistance for builders to equip them with the right expertise and tools to be successful in the web3 space. This Landmark has collaborated with Anvil, a web3 development agency, to offer builders a platform for minting their projects. 
As for mentorship, the Ape Force One will be hands-on in equipping builders with the right skills to launch their projects successfully. 
The Ape Society DAO 
Every verified Ape Society holder has the right to draft and submit a proposal for the betterment of the project. The ones with the highest potential and sustainability will be funded by the DAO to bring these proposals to reality. 
The DAO is composed of verified Ape holders and has 11 core council members, which are voted on by the organization's members every four months. 
Moreover, it was formed to equip the project with the ability to offer valuable solutions, not only inside the Ape Society but also to the Cardano ecosystem. 
How Can You Create a Proposal?  
Step 1: Take time to plan a solution that can potentially help the Ape Society ecosystem. 
Step 2: Launch an informal discussion on the Ape Society DAO channel to gauge members' feedback and gain insightful suggestions along the way. 
Step 3: Seek two cosigner members so you can officially submit your proposal. 
Step 4: Fill out the DAO Proposal Form. Note: Be sure that you are logged into your Discord to access this form.
Step 5: Once approved, the team will post your proposal to the Proposal Channel, where users can finally discuss and debate it. 
Step 6: Your proposal will be given 48 hours to gather user upvotes and downvotes. If you gain more upvotes than downvotes, then your proposal will be officially moved to the voting phase. 
Step 7: Once the proposal survives Step 6, it's time for the DAO members to vote. The proposal will officially be recognized once it gains the DAO's 75% vote. 
---
Join our newsletter as we build a community of AI and web3 pioneers.
The next 3-5 years is when new industry titans will emerge, and we want you to be one of them.
Benefits include:
Receive updates on the most significant trends
Receive crucial insights that will help you stay ahead in the tech world
The chance to be part of our OG community, which will have exclusive membership perks