Midjourney and DALL-E have demonstrated the remarkable capabilities of artificial intelligence (AI) by producing stunning visual works. In fact, the potential of AI-generated art has become so significant that it may even have the ability to transform one of the largest and most controversial industries of our time: the adult entertainment business.
But the potential of these AI art generators for creating explicit images is hindered by the restrictions imposed by providers, typically by banning certain words from prompts. Moreover, those who attempt to bypass these restrictions and create inappropriate content run the risk of receiving permanent account suspension.
But worry not, my dear senpai. I got you. I'll guide you through the realm of NSFW AI artistry. I promise that you'll leave this post knowing exactly how to get what you desire.

Tofu, your waifu.
While it might seem audacious to claim, we firmly believe that our exploration of adult AI art surpasses any other platform in depth and insight. This is a budding yet expansive and dynamic field, and our confidence in our knowledge is unwavering. Regardless of what facet of NSFW art sparks your interest or curiosity, we are confident that we have the answers and solutions you seek. Our commitment to this niche has allowed us to develop a robust understanding and expertise that we're eager to share with our readers.
Now, there are platforms specifically designed for creating realistic and not-safe-for-work (NSFW) images in the most effortless way possible. SoulGen, PornPenAI, DeepNude, and OnlyFansAI are some of the rising AI nude generators that offer the very features restricted from mainstream AI image platforms.
Unlike MJ and Dall-E 2, they won't ban you from creating steamy adult AI artwork.
80% of the entire article talks about the different adult AI image generators with impressive features you could try right now. However, if you're truly interested. And I don't mean it in a superficial way. Like if you truly want to get the most out of this technology; be able to immerse in and/or create hyperrealistic or anime characters, the answer you're looking for is waiting at the end of this post.
Ready that energy drink as this will be the most expansive and complete NSFW AI art generator list you'll ever see.
SoulGen: Generates Hyperrealistic and Anime Characters
Price: 1 Month: $9.99; 12 Months: $69.99
SoulGen is an adult AI-powered text-to-image generator that specializes in producing two distinct types of adult images: hyperrealistic 'Real Women' and anime-inspired 'Anime Women.' The platform's generative capabilities for creating stunningly beautiful and realistic female images are undeniably impressive and are all showcased on its homepage: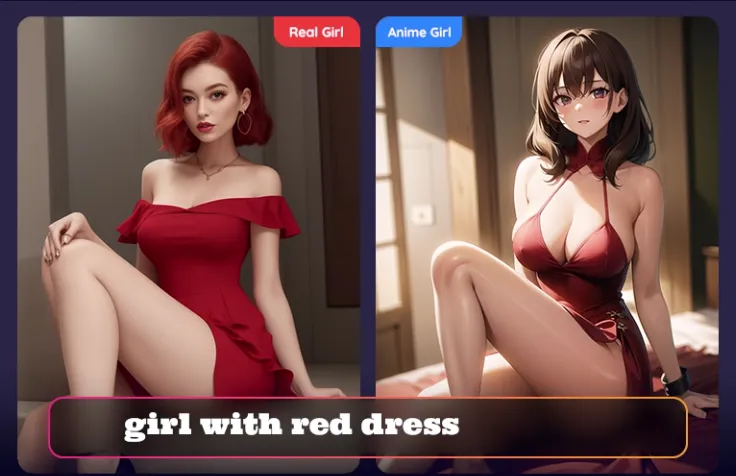 To create your customized female character, simply enter a prompt, select between hyperrealistic or anime-style visuals, and specify your desired face reference. Additionally, it provides subtle adjustments, such as hint tags and varying aspect ratio dimensions.
The single drawback of this service is that it doesn't offer free credits, not even one, for users who do not have a subscription. If you don't have a paid account, SoulGen will blur your generated image. And as an unwelcome bonus, it allows you to download that blurred-out photo!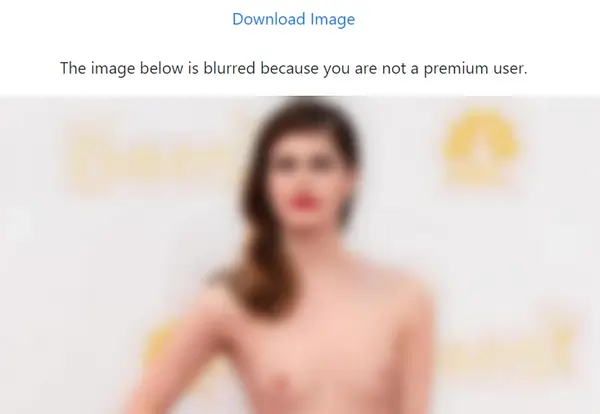 Moreover, there's an additional product named Deepswap, which enables users to generate sensual images or even videos using cutting-edge face-swapping technology driven by artificial intelligence. While Deepswap is not exclusively designed for NSFW content, its versatile capabilities allow users to craft some of the most provocative deep fake videos and gifs, limited only by one's creativity. The platform boasts a user base of over 150 million and is known for its user-friendly interface.
PornJourney: Most Explicit AI-Generated Images 
Price: Monthly Premium: $15 
Twitter: @PornJourney (PJ)
PornJourney is arguably the most graphic adult AI generator on this list, capable of creating realistic and completely nude, semi-nude, or topless women images. This feature is certainly exciting, but the catch is, you might find its creation process a bit restrictive.
Instead of freely entering any prompts you want, the platform limits you to pre-made tags, which means you can only create images from a wide selection of ready-made words. 
But don't fret, you can still create eye-candy images comparable with other nude AI generators, thanks to its comprehensive list of tags, which are neatly organized by categories. And by skillfully combining them, you could definitely create highly-seductive visuals worthy of your own pleasure. You're already a great prompt wizard, you just have to apply your skill in a slightly different interface. 
See also: How to Sell AI Art as Prints
Moreover, you can generate your images here without any charges, but as a free user, you may have to wait a bit longer before you view your personalized NSFW pictures.
DeepNude: Turns Regular Photos into Nude Images
Price: Standard: $29.95; Standard (Plus): $36.50; Premium: $99 
DeepNude is an AI-powered 'nude generator' that turns regular photos into nude images. The platform is free to use, but you can also subscribe to one of its premium plans to unlock more features.
If you're creating a photo as a free user, you may have to endure some limitations in using this service. This includes a blurred photo of your generated image and a 40-second waiting time to upload it.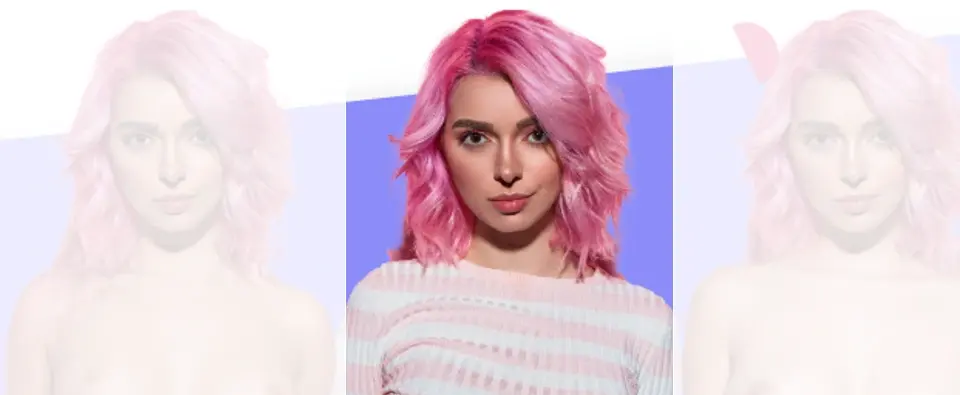 You could also test and play its newer version called DeepNude V2 which boasts even more realistic and enhanced outputs. 
Reminder: Since this service essentially involves digitally undressing a real or fictional person, users must exercise caution and responsibility in using the platform. Illegal and unethical use of DeepNude's images will certainly result in severe legal consequences. This means no nasty pranks on co-workers!
Spicy.Porn: Highly Graphic Adult Images 
Price: $20 Per Month
Spicy.Porn is an AI-powered image generator designed for adult content, capable of producing explicit images that may be considered too intense even by NSFW enthusiasts. 
It does not only create one to two types of images but up to 12 photo styles, including realistic art, anime, digital art, photo, movie, and more, which can be used even by free users. And if you're someone who wants a dose of surprises, it also offers a 'random style' for some unexpected results. 
Free users can take advantage of all these features; however, they are required to wait for three to five minutes for each image generation and have a limit of ten photographs per hour. On the other hand, 'Pro' subscribers can enjoy quicker photo creation, ranging from ten to 20 seconds, along with expanded limits and access to 15 additional image styles, including '3D,' 'surrealism,' and 'hentai' forms.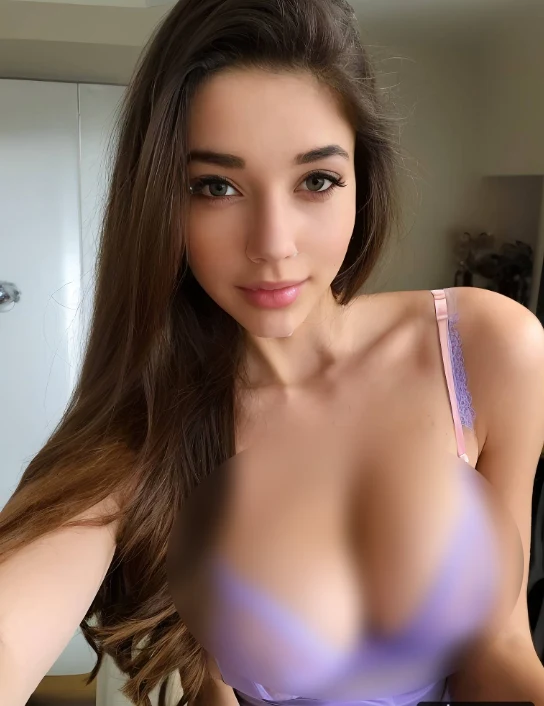 However, we must provide this warning. While the platform permits the creation of explicit adult images, it strongly prohibits sexually abusive language and the prompt 'naked.' Violating these rules will lead to a 1-hour ban for the first offense and a permanent account suspension for a second misconduct. 
To enhance your text prompts, you can visit Spicy.porn's 'Top' section, where you'll find a collection of its best images. By clicking one of these photos, you can explore the specific keywords that were used to generate that particular image. This can help you discover new text commands, which can infuse a more seductive aura into your output. 
OnlyFansAI: A Marketplace for Adult Image Text Prompts 
Price: Charges 5% from creators' earnings. Other charges are also implemented.
OnlyFansAI is a marketplace for text prompts used in adult AI images and is unrelated to the popular adult subscription service OnlyFans. Unlike the previously mentioned platforms, this website is specifically built for text-prompt sellers and buyers.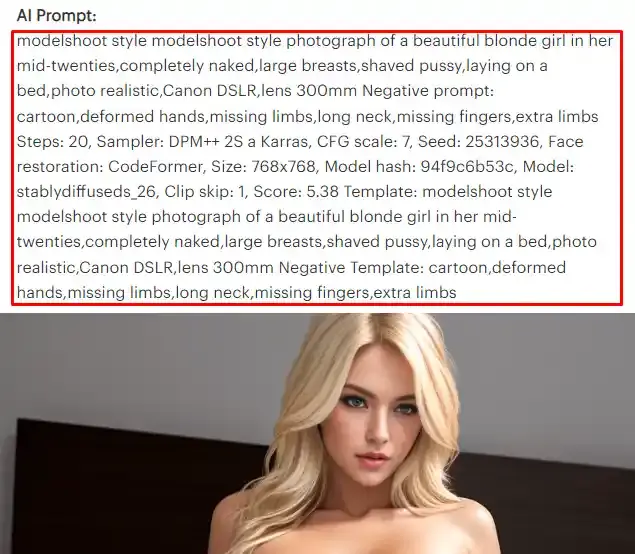 While it mainly concentrates on NSFW AI art, the platform aims to generate income for creators and provide prompt education for subscribers. 
The platform's emphasis on text prompts underscores the growing demand for prompt creators or 'prompt engineers' as various AI platforms continue to emerge regularly. And this platform serves as your one-stop shop to enhance your prompt skills and learn from the experts. 
But if you want an additional guide for creating text prompts, you may visit Danbooru.com, which will provide you with a list of text instructions that run behind its NSFW images. Just click a photo, and you'll see a detailed list of text prompts that you could test on other AI image creators
See also: How to Make Money Selling Prompts for AI Art Generators
PixAI.Art: Semi-Adult AI Image Generator 
PixAI.Art is a semi-adult AI-driven image generator that provides free image creation, allowing you to hone your skills in crafting adult AI images. Although it is not explicitly designed for adult content, it enables a sweatless creation of hyper-realistic and anime-style sexy photos. However, you'll surely sweat for other reasons, that's for sure. 
You can also explore images created by other users (both wholesome and not) by browsing the neatly arranged categories on the website. Additionally, PixAI.Art swiftly generates your prompts as soon as you finish typing your last word, without having to press the 'Enter' key. Though subtle, this simple feature is certainly an appealing addition.
PornPen AI: Create Images with Pre-Made Tags 
Price: $15 (Pro Mode)
PornPen AI is an NSFW AI image generator that utilizes pre-made tags as prompts for producing NSFW images. As a result, you can't have the flexibility to enter your preferred prompts and instead select from the available tags on the website and combine them creatively.
To start generating images on the platform, click the 'Make' button, located at the upper screen, to reveal its wide list of prompts tags.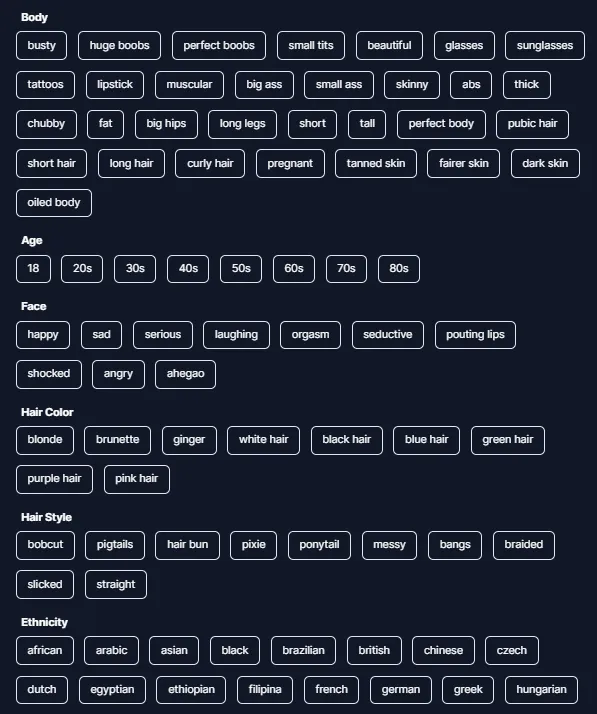 Despite the restrictions on personalized prompts, PornPen AI offers an extensive selection of tags categorized by different features. These categories include the base image, number of people, body type, age range, hair color, and model position, among other things.
See also: How to Produce Your Own AI-Generated NSFW Art
SexyAI: Runs On 5 Image Models 
SexyAI is an NSFW image generator that offers five image software selections for users, offering them more power in generating adult-themed images. Its website also features a clean, straightforward user interface (UI) with a predominantly black color scheme, which may appear somewhat plain in comparison to similar platforms.

However, you'll surely appreciate that this is a free NSFW AI art generator. In addtion, it does not impose restrictive tags that could hinder your creativity (and naughty imagination).
Free users can generate two images from one line of prompts at the same time, while the four-image option is reserved for 'Pro membership' subscribers. Moreover, you can include a 'negative prompt' in your instructions, which indicates the specific elementS you do not want to see in your image. Neat. 
It also has an 'Im Feeling Lucky' button that allows you to create random prompts and images, to help you gain quick inspiration for what you will create. 
And in case you're already bored with image generation, you can also play with its AI-powered NSFW video generator, a feature reserved for 'Pro' members.
See also: The Rise of AI-Powered Video Generators 
Here's a quick look at the best features of its five image software models, which you can switch anytime, depending on your current needs. 
| | |
| --- | --- |
| Model | What It Can Do?  |
| [PornMerge] 1.3  | Generates hardcore pornographic positions. |
| [Deliberate] V2  | Works best with long prompts. Ideal for users with a wide knowledge of text prompts for AI image generators.  |
| BloodOrangeMix [BOM] (Anime)  | Creates pornographic anime images. |
| [Empower]  | A general model with low knowledge of pornographic images and hardcore positions. Ideal for 'soft p#rn' images. |
| Homoerotic V2  | Generates realistic images of men. |
Main Features of SexyAI's Five Image Models
Tired of sifting through the different platforms? Join our community so you can be guided every step of the way.
Dezgo: Offers 5 Variants of Diffusion Models
Price: Determined by aspects such as image size, number of sampling steps, and more. 
Twitter: @Dezgo; Discord: Dezgo Community 
Dezgo is an uncensored art generator that offers different variants of the Stable Diffusion AI models. This platform is not entirely geared toward the nude AI art, but its lack of guardrails against X-rated content is definitely an 'invitation' for explicit use. In addition to converting text into images, Dezgo also has the capability to handle visual prompts, inpainting, upscaling, and visual editing. 
It also provides an option called 'Power Mode,' which is a prepaid upgrade that enables you to access additional parameters, bypass lengthy waiting queues, and eliminate restrictions. 
Moreover, Dezgo emphasizes that you have full ownership rights to all the photos that you'll generate, granting you the freedom to use them for commercial purposes. However, it is important to note that you must follow the licensing agreements of the specific image model you have used in order to enjoy these benefits. So, is this the perfect time to sell a bunch of Waifu t-shirts? Dezgo!
Yodayo: A Worthy Midjourney Rival 
Price: $5, $10, $20, $50, or $100 subscriptions 
Discord: Yodayo Community
Yodayo is an NSFW AI generator built for anime fans and vtubers. Apart from ditching prompt tags in favor of a more inviting prompt box, it also allows you to post your creations on its website. However, for all images that fall under the 'adult' category, it is mandatory to label them as 'NSFW' before posting. 
Although Yodayo permits the creation of explicit photos, it strictly prohibits the generation of 'loli' visuals, which means 'underage girls' in Japanese.
In order to continue generating pictures on Yodayo, you are required to have 'YoBeans', which serve as your credits inside the platform. Upon successful registration, you will receive a guaranteed 385 beans to start with. These YoBeans will enable you to access and utilize the image-generation features of Yodayo.
But of course, you can always opt for a paid subscription to gain even more credits. Here's a quick breakdown for you:
| | |
| --- | --- |
| Price  | Number of YoBeans  |
| $5 | 550 |
| $10 | 1300 |
| $20 | 3000 |
| $50 | 8000 |
| $100 | 17,000 |
Furthermore, among the platforms we have reviewed, Yodayo stands out as one of the closest contenders to Midjourney in terms of image quality. While all the tools on our list boast stunning visuals (which is why we included them in the first place), Yodayo demonstrates a level of quality that could rival even the top art generators of today.
Take a look at its 'Explore' section to witness the exceptional sharpness and clarity of the visuals created by other users. And if you want to bring its powers to your smartphone, anytime and anywhere, simply download its mobile app on Apple's app store. 
Novel AI: Not Just For Novels, But Also for NSFW Content
Price: $10, $15, and $25 subscription plans 
Discord: NovelAI Community 
NovelAI is a GPT-powered story-teller, image creator, and text-to-speech (TTS) processor rolled into one and serves as a powerful application to bring your imaginative stories to life. However, for the purpose of this discussion, let's focus on the visual aspect of this tool, which comes highly recommended by the NSFW community. 
Unlike other platforms, NovelAI doesn't confine you to predefined tags. Instead, it grants you complete freedom to craft your prompts exactly as you desire, which also gives you the ability to specify elements you wish to exclude from your generated output.
In addition to text prompts, it also allows you to upload an image as a foundation for the visual result you wish to create.
NovelAI offers not just one but three visual software models to cater to the diverse photo requirements of its users. These selections ensure that they have more than one option to meet their specific needs and preferences.
However, it does not provide free photo generation. To access its visual capabilities, a subscription to its lowest tier plan is required, which is priced at $10. The highest-priced plan, available for $25, offers nearly unlimited image generation opportunities. 
OnlyFakes: 10 Image Engines at Your Fingertips
Price: $14.99 per month 
Discord: OnlyFakes Community   Reddit: OnlyFakes _App 
OnlyFakes is an NSFW art generator that operates using a deep learning system. It leverages the capabilities of ten advanced visual engines, enabling the platform to effectively meet the diverse requirements of its users in the realm of adult content.
These ten image models are called 'Realistic Women 1 and 2', 'Realistic Porn, 'Hentai,' 'HD Hentai, 'Digital Porn/Nudes,' 'Realistic/Digital-Like,' 'Realistic Men,' 'Realistic 3' and 'Furry,' which, I believe, are all self-explanatory. 
The user interface (UI) of the website is very straightforward, ensuring that you can navigate and utilize the photo generator with ease.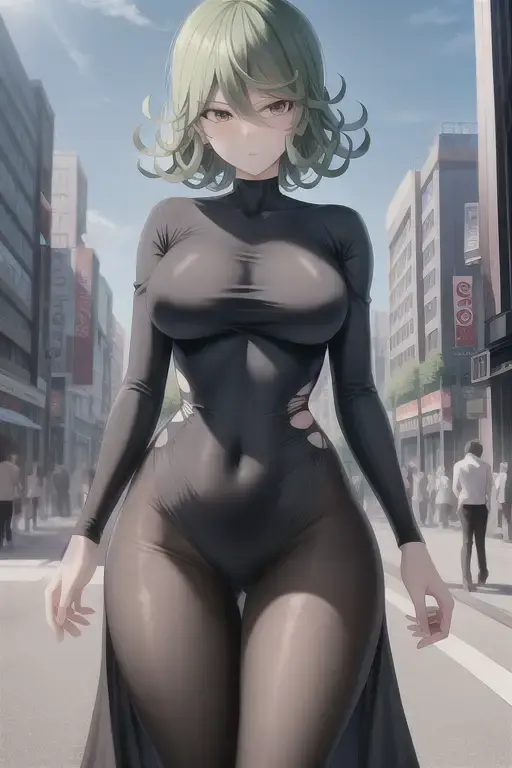 Moreover, it features common elements found in similar platforms, including a prompt box, options to select different image engines, and a dedicated section for negative prompts. 
At the bottom of the screen, you can switch between 'Feed,' which showcases AI-generated creations from other users, and 'Library,' where you can access and review your past creations. 
Additionally, you have the option to upgrade to a Gold subscription, which offers significantly faster generation speeds. And as part of its upcoming perks, OnlyFakes plans to introduce a feature that will soon allow direct chat between you and its developers.
PornLabs: Expect the Basics 
Price: $15 
Discord: PornLabs Community
PornLabs is an AI NSFW generator that utilizes Stable Diffusion technology to produce explicit photos with a realistic human-like or anime-style aesthetic. In addition to offering standard tools commonly found on photo editing websites, it also provides an AI-powered inpainting feature. 

I recommend clicking the website link we provided here, as there are platforms with similar names that you might accidentally visit. The first one I found was a full-fledged X-rated website, while the other was a crypto-based AI adult platform.
For free users of PornLabs, there is a daily limit of 15 priority image generations. Once this credit limit is depleted, you can still create customized photos but need to wait for around 3-5 minutes before viewing your generated results. 
However, you have the option to bypass this limitation by opting for the platform's monthly subscription, priced at $15. Subscribing to its monthly plan grants you access to its photo generation feature without any waiting periods.
The quality of the AI-produced pictures on PornLabs is commendable. However, the platform's user experience (UX) is quite disappointing. The scattered placement of buttons in all four corners of the screen can be inconvenient and frustrating for users. 
And with the increasing adult AI platforms available nowadays, this drawback may compel users to switch to other services that can offer a better experience for them. Don't let this one slide, PornLabs. 
MadePorn: Graphic AI Images Ahead 
Price: $15 Per Month 
Twitter: @MadePorn Reddit: r/madeporn   
MadePorn harnesses the power of artificial intelligence to generate hyperrealistic adult images. The platform provides you with a large selection of ready-made prompt buttons, which serve as helpful tools for creating customized photos according to your preferences.
These tags are organized into categories, including 'role,' 'clothing,' 'view,' 'face,' 'hair color,' áge'and more. Furthermore, I must say that this website showcases the most graphic AI photographs on this list, displaying intricate and intense details in its outputs.
If you find yourself uncertain about which prompts to use, I suggest clicking on one of the adult photos displayed on the homepage. This will reveal the text prompts that were used to generate that particular snapshot. By doing so, you can gain insight into the potential outcomes of the prompts you're planning to use. 
To access additional features and enhance your experience, you can upgrade to a 'Pro' version. Through this, you'll gain exclusive perks, such as faster snapshot generation and the ability to create up to 300 images per hour. 
Dopamine Girl: Wield the Power of 13 Image Models 
Price: Starter: $10 (1,000 credits), Pro: $30 (3,000 credits), Premium: $60 (6960 credits) Monthly Subscription 
Dopamine Girl is an NSFW art generator that utilizes 13 robust image models to generate sensual photos. Each of these models specializes in one particular style, including Korean, fantasy, photorealism, painting, anime, and more. 
It also allows you to choose between using prompt tags or creating custom prompts to generate your desired photos.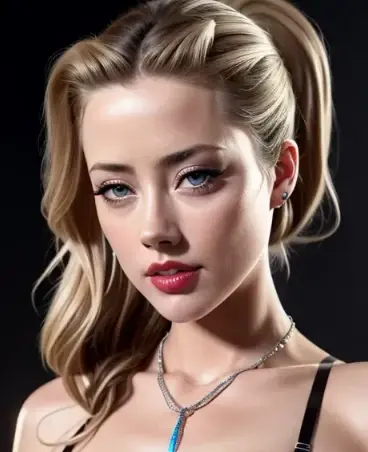 Additionally, to further enhance the output, it also lets you upload a preferred image to fully optimize and personalize your resulting photos. 
As a free user on Dopamine Girl, you are granted ten credits per month for snapshot generation. However, by just subscribing to the platform's lowest plan, you can significantly expand this monthly limit to 1,000 AI photographs.
Connect with Fellow AI NSFW Fans
The best way to improve the quality of your output lies in engaging with and learning from fellow aficionados. Fortuitously, there exists an abundance of lively communities and accounts where you can cultivate relationships with individuals sharing similar interests and delve into novel facets of NSFW AI art.
Reddit
Connect with thousands of fellow fans all over the world and see how skilled they are in creating the hottest AI images that could spark anyone's fantasies. 
| | | |
| --- | --- | --- |
| Subreddit  | Members  | Description  |
| AI Pornhub  | 64,000 | Claims to be the first adult AI photo-generating community on Reddit. |
| Unstable Diffusion  | 58,000 | Suggestive AI visuals made from (Un)Stable Diffusion. |
| Hentai AI  | 44,000  | A community for Hentai-inspired images. |
| WaifuDiffusion  | 26,000 | AI-generated content for anime. ('Bans' NSFW content, but you could still find such photos every now and then) |
| AI Porn Art  | 27,000 | Creates adult AI images mostly from Stable Diffusion, ImagR, and Image Tooner. |
| PornPen AI  | 27,000 | Official subreddit of PornPenAI  |
| Adult Stable Diffusion Art  | 18,000 | Features explicit visuals created from Stable Diffusion.  |
| AI-Generated SFW Image and Video  | 9,800 | Showcases AI NSFW content generated from different tools.  |
| Indian AI Porn  | 4,000  | Adult AI images of Indian women   |
NSFW AI Art Reddit Communities
Twitter 
Twitter is another avenue for networking. You'll gain inspiration from skilled artists who post and share their daily works on NSFW AI art. But more importantly, you can learn from their self-developed techniques that can help enhance your skills in creating your own seductive digital art through their threads.
Here are the most interesting accounts I've found so far on the Twitterverse. 
How to Dominate the NSFW AI Space
Each of the platforms mentioned in this article can generate steamy hot images for you. While some are better than others, none of them will take you beyond your wildest dreams. We want you to be able to create just about anything your twisted mind could fathom; any characters, versions of them, in any positions, and any environment you want.
Not only can you produce the most spectacular fantasies that would blow your mind, but you can do so at a rapid pace. You could literally create hundreds of luscious content, think of the most beautiful babes in pop culture like videogames, movies, you name it.
Experience the ultimate journey into NSFW AI media by joining our exclusive community: Avant-Garde AI Collective. By immersing ourselves in a thriving, collaborative environment, we can cultivate cutting-edge techniques and foster the development of the most advanced and intuitive approaches in the field.
WE'RE NOT HERE TO TAKE PART, WE'RE HERE TO TAKE OVER! NEVER FORGET.
JOIN US NOW! (Only 50 spots available)
The Avant-Garde AI Collective
Master the art of erotic AI generation and bring to life the characters and scenes from your videogames, movies and even dreams by joining our community. No need to spend on new equipment or art subscriptions. We have everything you need to become a God-tier creator in 3 days or less with minimal effort.
The Avant-Garde AI Collective is an exclusive society that brings together the pioneers of NSFW AI art. This is your golden ticket to rub shoulders with the industry's finest, absorb their expertise, and liberate your erotic creativity.
We will also be providing you with a PDF step-by-step course on the basics to get you started instantly.
But remember, this is an exclusive group that values quality and innovation. We only give our time to those who truly value erotic AI-generated art and can benefit from what we teach.
If you want to be part of our first 50 members, sign up below.
By signing up, you agree to our Privacy Policy agreement
This is a once-a-year opportunity. 
And if you sign up before June 3, 2022, we'll share Spingels' finest erotic creations that'll make you say "Good heavens!". Don't miss out on the chance to be a part of the biggest NSFW AI project in history.