We just can't get enough of anime content, can we? Thanks to the wonders of artificial intelligence (AI), we now have access to powerful and user-friendly tools that allow us to produce our very own visually breathtaking anime artwork! 
Through this new power, we can now imitate the art styles of legendary Japanese artists, create stunningly beautiful visuals in seconds, and transform any image into an anime masterpiece.
In this article, we will take a look at the AI-powered image generators specifically built for anime art styles and see how these tools could literally change the creator game forever. 
Midjourney 'Niji' 5 Mode: Cream of the Crop
Subscription Plans: Basic Plan ($10) — Standard Plan ($30) — Pro Plan ($60) 
Twitter: @Midjourney
Midjourney's 'Niji' 5 Mode is arguably the most advanced anime AI art generator for general users. It can now depict a more dramatic and abstract depiction of text prompts, which can significantly catapult the image quality of your photos.
Being more dramatic and abstract is a huge thing since MJ won't just literally follow your prompts word by word, but would also infuse its own elements, that is often within the theme of your commands.
It's almost like having a real-life art assistant with its own will and perspective, and not just a machine that merely takes orders from you.
However, one notable limitation of Midjourney's 'Niji' 5 Mode is its difficulty in accurately replicating the art styles from specific anime shows. This capability could have been a valuable addition to the functionality of this model.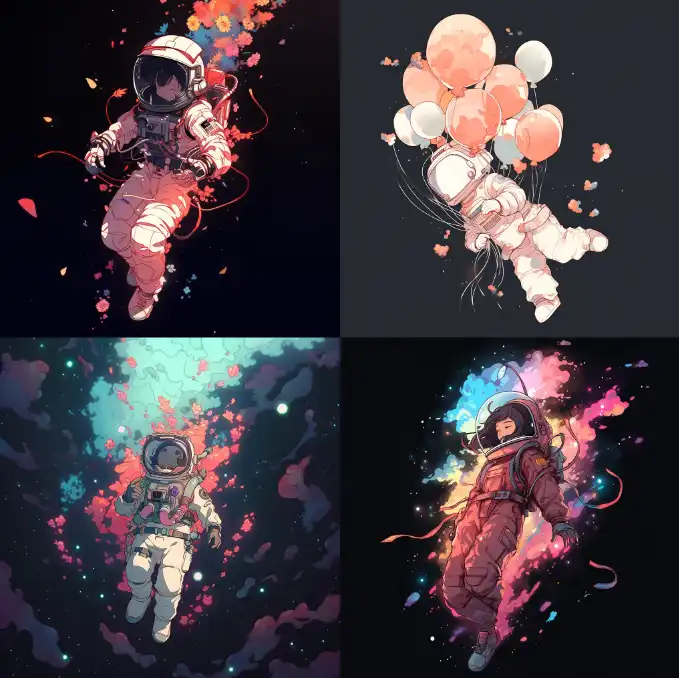 Despite our attempts to test 'Niji' 5 Mode's skills in recreating the aesthetics of anime shows known for their distinct art styles, including Spirited Away, Mononoke, and Mob Psycho 100, it consistently defaults to its signature MJ anime art.
While its signature style is undeniably captivating, the ability to closely imitate various anime art styles could have been a great feature for millions of its users. 
See also: How to Make Viral Images Using Midjourney 
Holara: Smart Anime Algorithm
Subscription Plans: Free — Pro ($10) —Ultimate ($25) 
Twitter: @Holara_AI 
Holara AI is an AI-powered art generator exclusively designed for anime images, and it is one of the few visual generators in this list that could closely rival Midjourney Niji mode's image quality.
This tool knows how to create faces and typical body gestures of anime characters, and other subtle elements found in this type of art, in a very appealing way. In fact, a simple short prompt such as "floating astronaut in space (anime-art style)" can already yield good results on this platform.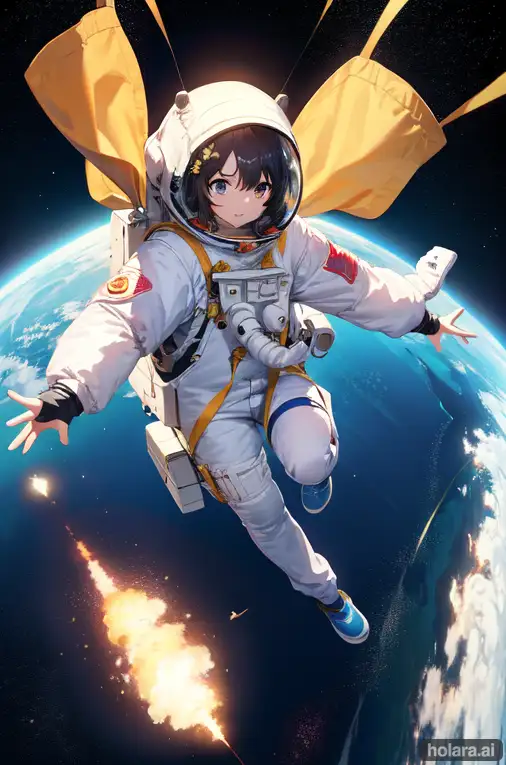 Moreover, it even added a heroic flying position on our floating astronaut (see image above) without us telling this instruction! And we take this as a sign of a well-trained and intelligent algorithm that knows how to reinterpret specific words (such as floating) in an anime setting. 
Instead of merely generating a literal floating astronaut, it applied the typical body gestures of flying anime characters to give the image a more anime look. 
Note: While Holara's image outputs are impressive, it is important to acknowledge that they may not always be flawless. And this is the reason why meticulously customizing your prompts and including negative prompts is extremely important before generating your image.
You May Also Want to See: 4 Ways to Make Money Selling AI Art 
Live 3D: Add Stunning Details with Ease
Subscription Plans: Free — Lite Suite ($3.99) — Plus Suite ($8.99) — Pro Suite ($99.9) 
Twitter: Live 3D 
Live 3D Anime AI Art Generator is part of the Live 3D.io platform, a VTuber-centered AI website that generates anime characters and avatars. We were surprised to see that this art generator packs a lot of punch when it comes to creating aesthetically appealing and detailed anime images. 
It can create stunning photos from simple prompts alone, without any tweaks to its settings. But if you want to boost your image quality, you can utilize its customization tools to create better visual outputs. 
You may want to avoid the 'Character Style' section since your goal here is to create wholesome images. Instead, head straight to the 'Visuals Styles' section and select the 'Detail' option before generating your image. This setting will help enhance your output by adding more details and depth to your generated image. 
You could also experiment with other options including '3D', 'Illustration', 'Maplestory Chibi', 'Colorful V1', and 'Colorful V2'. Each option uses LoRa or Low-Rank Adaption models to better improve your photos. 
Note: Free users may have to extend their patience on the tool's slow generation, which, according to our clock, can last more or less four minutes per generation. 
NijiJourney: An Anime-Focused Midjourney
Subscription Plans: (The Same as Midjourney)  Basic Plan ($10) — Standard Plan ($30) — Pro Plan ($60) 
Twitter: @Niji Journey 
NijiJourney is an AI-powered anime art generator developed by Midjourney in collaboration with Spellbrush, an AI illustration platform. It utilizes Niji 4 and 5 with similar settings to MJ, essentially offering a simplified (but still powerful) version of Midjourney's capabilities.
This tool is ideal if you want an anime-exclusive feed instead of mixed styles found in Midjourney, to gain a consistent source of inspiration from other users. As an added benefit, it also offers a more relaxed environment compared to MJ, sparing you from being overwhelmed by an excessive influx of generated images.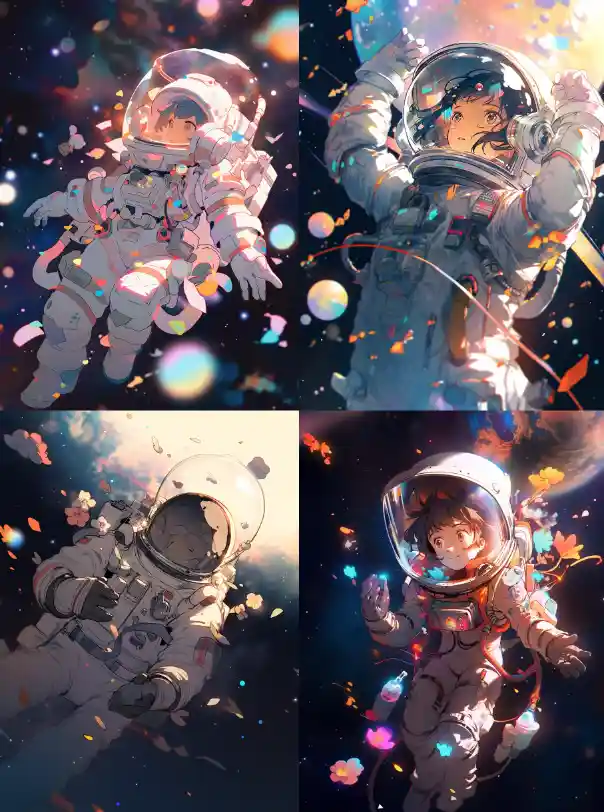 As expected, NijiJourney created superb anime-style images, with additional elements we didn't ask for (such as confetti and flowers) but definitely added beauty to the overall final results. 
Zimo AI: Mimic Legendary Artist's Art Styles
Subscription Plans: Free — Starter ($9.99) — Pro ($29) — Boss ($48) 
Twitter: ZMO.AI 
Zimo AI Anime Character Creator is a specialized anime art generator from the Zimo platform, which also provides various other image generation services.
One of the standout features that we like about this tool is its ability to imitate specific anime art styles, saving you from the challenging task of achieving this goal on your own.
It provides you with the option to replicate the art styles of legendary Japanese animators such as Makoto Shinkai and Hayao Miyazaki, allowing you to transform your images as if they were created by these legends themselves.
In order to test Zimo's anime artistic abilities, we used the prompt "Floating astronaut in space (anime-art style)," which we had previously used on other generators. 
First, we selected the 'Makoto Shinkai' option located in the 'Add Style' section, to test the platform's ability to closely replicate the renowned artist's distinctive style.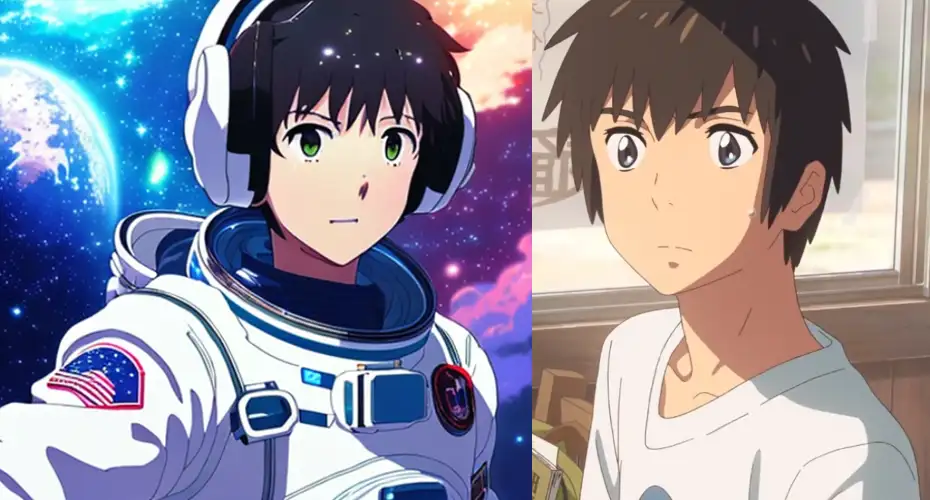 Indeed, it is evident that the platform is well-trained in Shinkai's artworks. In fact, it automatically incorporated the face of Taki Tachibana, a character from one of Shinkai's renowned animated films, "Your Name," onto our astronaut's face.
Next, we tried the 'Hayao Miyazaki' mode and applied it to the same prompt. For this one, the algorithm had a different approach. Instead of inserting one of the artist's famous characters as the face of its image, it had gone to a more subtle route by applying the signature cartoony art style of Miyazaki to the generated photo.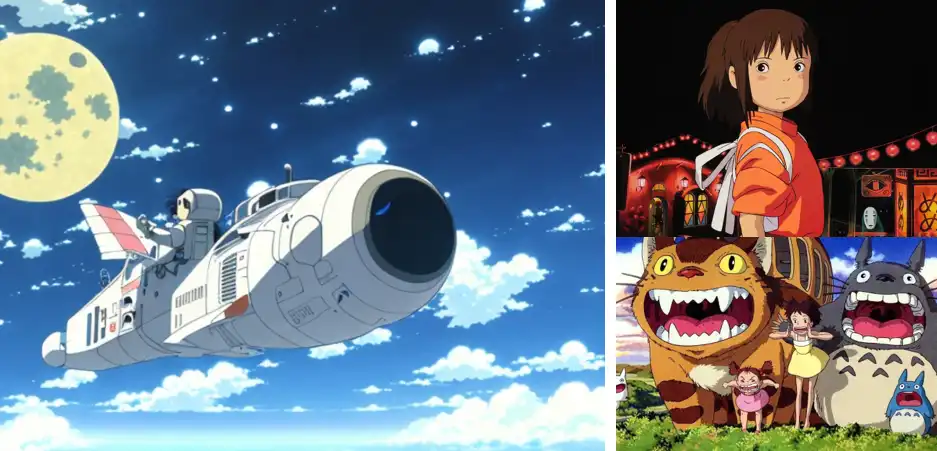 One key takeaway here is that the algorithm has plenty of ways to apply an artist's art style to its final images. But of course, it would still need your guidance through more detailed prompting to achieve the final results you really want to see. 
See Also: How to Sell Art on Print-On-Demand Platforms 
Drawever: Gorgeous Anime Recreation
Pricing: Free — 100 Credits ($10) — 220 Credits ($20) — 600 Credits ($48) 
Drawever is a photo-to-anime generator that converts any still images into anime art style. 
This tool can create decent anime recreation of anyone's face. But Instead of prioritizing highly intricate details, it directs its efforts on creating clean and aesthetically appealing images which has produced good results so far. 
To test its anime skills, we uploaded a still image of an American astronaut to see how this tool would recreate the photo.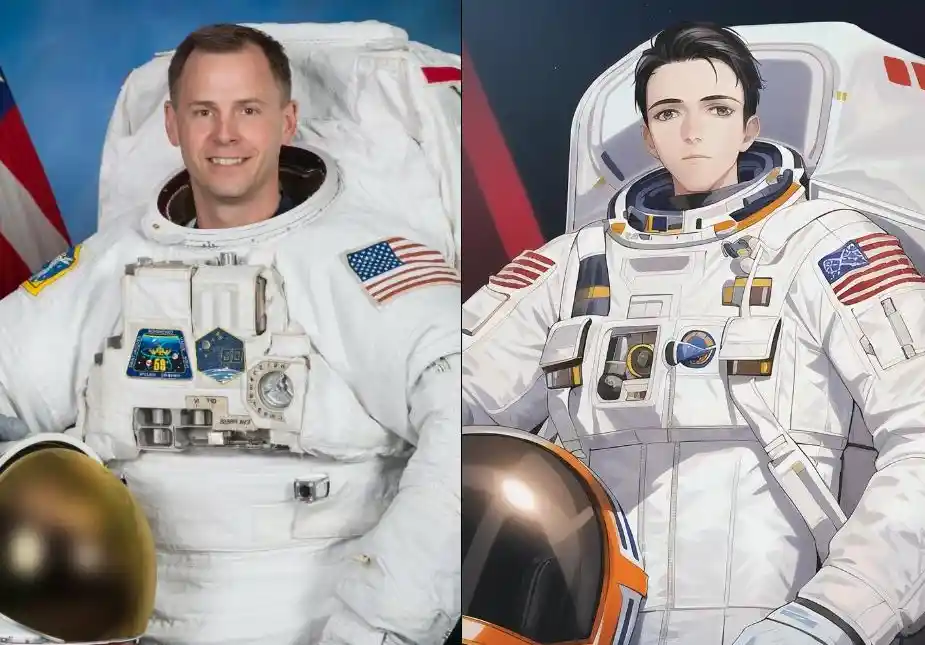 And Drawever does not disappoint. While it's not too detailed, it's not too bland either.
The photo may not possess an excessive level of detail, but it strikes a pleasing balance by incorporating essential anime elements and reproducing the image in the closest manner possible
Initially, we planned on converting a still image of a floating astronaut. However, we discovered that Drawever does not convert photos that lack visible faces. And this is the reason why it didn't process our previous image of an astronaut wearing a space helmet.
Note: Do not forget to verify Drawever's email message to get your free 30 credits. 
You may also want to read: 16 Innovative Use Cases of AI-Generated Art in 2023 
Fotor: Profile-Picture-Worthy Anime Images
Subscription Plans: Free — 100 Credits ($2.66) — 200 Credits ($2.99) 
Twitter: @Fotor20
Fotor: Photo to Anime is a dedicated service from the world-renowned editing platform that converts images into anime-style photos. While it can reproduce decent visuals, you may want to avoid using its 'Anime I and II' styles for creating anime versions of your photos.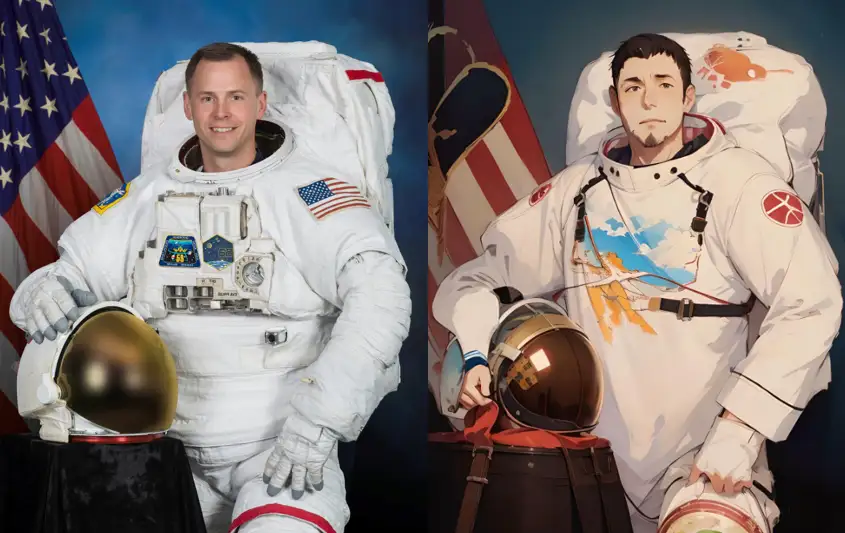 According to our tests, the images they can produce are, at best, just animated versions of a photo and not entirely based on anime's signature aesthetics. 
To get around this limitation, you may instead use the 'Illustration Art' option on the Style selections. Surprisingly (and ironically), it can produce images that are closer to anime aesthetics compared to 'Anime I and II' settings. And as a bonus, it is also better at processing photos that lack facial images. 
What You Need to Know About Anime AI Art Generators
There's so much to be shared about anime AI art generators, from their powerful underlying tech to our unique experiences with each platform. And having dedicated countless hours playing with these tools, we just can't help but share tons of things about them! 
But for now, we'll address some of the users' top questions on the web about these exciting art tools. 
Which Generator is Best for Producing Anime Art?
NijiJourney is the best platform for generating anime artwork as it is powered by Midjourney itself and made exclusively for anime visuals. The environment it provides allows users to focus on anime art alone without being distracted by various types of artwork flooding their feeds. 
What is the Most Popular Anime AI Image Generator?
Midjourney is currently the most popular anime AI image generator, thanks to its powerful Niji 4 and 5 models that can generate stunning artwork for this specific art type. 
What AI Allows You to Turn Pictures into Anime?
You can use Drawever or Fotor (Photo to Anime) for converting any still images into impressive anime visuals. It is recommended that you start with these tools since other services generate subpar outputs that are not even close to what they can produce. 
How Do You Generate AI Anime Art for FREE?
Holara, Zimo AI, Drawever, Fotor, and Live3D.io offers limited free credits which you can use to create gorgeous anime images at zero cost. 
---
Join our newsletter as we build a community of AI and web3 pioneers.
The next 3-5 years is when new industry titans will emerge, and we want you to be one of them.
Benefits include:
Receive updates on the most significant trends
Receive crucial insights that will help you stay ahead in the tech world
The chance to be part of our OG community, which will have exclusive membership perks