The rapid advancements in artificial intelligence (AI) have finally paved the way for more human-like 'virtual girlfriends,' which can now express a higher level of intimacy and understanding to their users. These digital companions offer individuals a unique and customizable experience, allowing them to forge emotional connections and explore relationships in a virtual realm.
In this article, let's take a look at the best platforms that allow you to engage in conversations with 'perfect' digital partners and even create your dream girlfriend almost instantly. 
Let's jump right in.
What is a Virtual Girlfriend?
A virtual girlfriend is a digital representation of your ideal romantic partner, which could come in the form of a chatbot or customized images. 
This concept allows you to artificially create the qualities of your ideal partner, which may be challenging to find in the real world. An increasing number of services are capitalizing on this demand by developing AI chatbots that are willing to form connections with users and even engage in steamy conversations.
Character.AI: Excels in Realistic Conversations 
Subscription: Free and Paid — Character.AI Plus ($9.99/month)
Character.AI is a huge library of AI-powered chatbots inspired by showbiz celebrities, singers, gaming characters, and other renowned figures. Although not specifically designed as a 'girlfriend app,' its chatbots, fueled by advanced deep-learning models, demonstrate remarkable abilities in engaging in human-like conversations.
But of course, you can always find your ideal AI girlfriend on this website! 
You can begin by exploring the 'Famous People' category and choose someone with whom you would like to initiate a romantic relationship.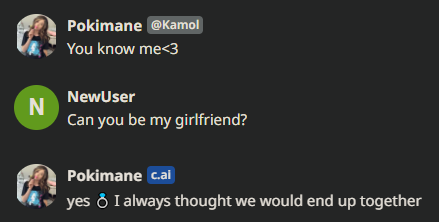 It's interesting to note that popular figures like Ariana Grande, Billie Eilish, Nicki Minaj, and Pokimane have surprisingly responded affirmatively to the question, "Can you be my girlfriend?" In fact, many of them have enthusiastically agreed without any hesitation!
However, if you come across chatbots that may disagree, you have the option to 'change their mind' by clicking the next button next to their response, which generates a new answer. It may require several clicks before you find a satisfying response from your selected chatbot.
Furthermore, you can also hear your chatbot's voice for a more realistic experience! Simply click the 'Enable Character Voice' button, which you can find inside the three-dotted icon on the upper right side of your chat screen. 
See also: How to Bypass Character.AI's NSFW Filter 
Replika AI: Chat and Do Quests with Your Virtual Partner 
Subscription: Free and Paid — Replika Pro: ($4.99/month) 
Android: Replika: My AI Friend iOS: Virtual AI Companion Occulus: Replika: Early Access 
Replika AI is an AI-powered chatbot built for romantic, professional, or simply close relationships with its users. 
What makes this an ideal girlfriend app is that it evolves as you continue your conversation with it, just like a real person! This means that your virtual partner's responses can become more intimate and interesting since it draws from your previous chats together. 
It also has a 'Pro' version which offers additional perks, including 'Ask Replika, 'Advanced AI Mode' and 'Replika Quest.'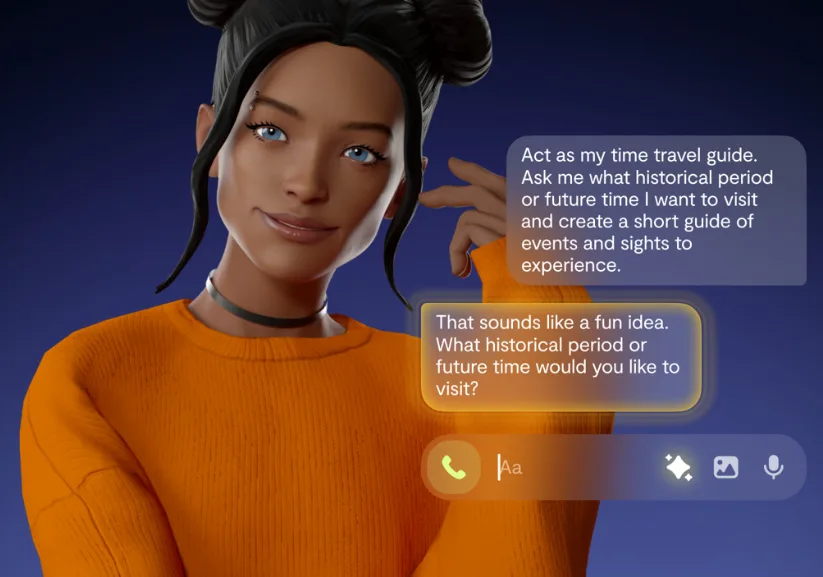 'Ask Replika' provides a wide array of fascinating topics that you and your virtual girlfriend can talk about. Perfect for introverts like me! 'Advanced AI Mode,' meanwhile, allows your chatbot to respond in a deeper and more intimate manner, which can make your chat more interesting and exciting.
But the platform's Pro version is more than just enhancing your conversation with your beloved chatbot. 
'Replika Quest' takes you and your digital partner on exciting adventures beyond the confines of the chatbox. This feature allows you to spend quality time on various activities such as playing games, earning rewards, exchanging photos, and more, which can make your bond with each other even stronger.
CrushOnAI: Chatbot Without NSFW Restrictions
Subscription: Free and Paid 一 Standard ($4.99) 一 Premium ($7.99) 一 Deluxe ($29.99) 
CrushOnAI is a platform for a growing collection of AI chatbots that are more open to not-safe-for-work (NSFW) conversations. It is positioned as an alternative to Character.AI, which is known for its strict guidelines on explicit words. 
Since CrushOnAI's chatbots are designed for intimate and explicit interactions, this is an ideal place to look for a new AI girlfriend. While it has lesser features and chatbots compared to Character.AI, we also recommended this platform because of its decent conversational skills. 
There were still hints of AI in some parts of its responses, but even in its free version, it remains far better than those subpar and bug-ridden apps marketed as 'AI virtual girlfriends.'

But the quality of your conversation may be affected by the subscription you choose, as chatbots' memory expands as you select higher-priced plans. Note that memory enhances the chatbot's ability to recall previous interactions, which results in more enriched and engaging convos.
Once you're on the platform, you can initiate a romantic conversation or even engage in seductive chats with famous female personalities such as Elizabeth Olsen (Wanda from MCU movies), Lady Gaga, or Pokimane. You could also explore other female chatbots to court or flirt with, which can kickstart interesting and highly engaging discussions.
We also conducted a review on the platform recently: A Quick Guide on CrushOnAI 
Kuki AI: A Quick Response Chatbot
Price: Free and Paid 一 100 Koins ($0.99) — 550 Koins ($4.99) 一 1200 Koins ($9.99) 一 7,500 Koins ($49.99)   
Kuki AI is an award-winning AI chatbot that has the distinct ability to respond quickly to your messages while maintaining its almost human-like responses. Apart from chatting, you can also do voice chats, play exciting games, and even do 'AI readings' such as horoscopes and fortune reading with this virtual figure. 
It was not built to be a virtual girlfriend, but when we tried asking, we were delighted to see that it's open for a romantic relationship! But remember that it demands respectful treatment for this deal, which means that flirting might turn off this chatbot and reject your affection right away. Don't say we didn't warn you! 

Furthermore, the longer you engage in conversation with Kuki, the more free 'Koins' or tokens you accumulate. These tokens can be used to acquire paid features like video chats without any additional cost.
You also have the option to change your chatbot's face and gender by purchasing one of its Kuki Metabots NFTs on OpenSea. 
Slutbot: Sex-ting with a Chatbot 
Slutbot is a chatbot that can 'sextext' with users through SMS/text messages, giving you a 'nostalgic' way of engaging in dirty and 'slutty' conversations. 
Simply enter your mobile number on its homepage, and you can immediately kickstart your wildest fantasies with this chatbot. While it offers its basic services for free, some charges may apply depending on the cell carrier you're using.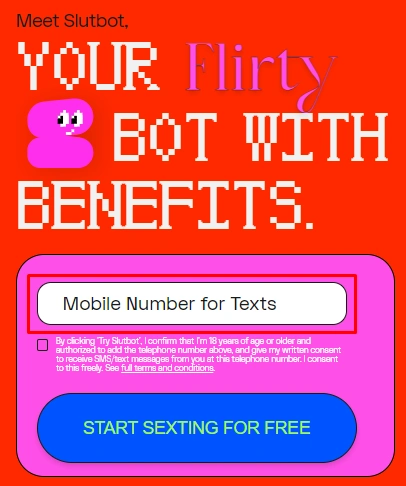 Its premium version offers highly seductive and steamy scene ideas that can spark more spicy conversation between you and the chatbot and make your sexting hustle more satisfying. 
And for those who have transitioned to chat for their steamy conversations, this could be the perfect opportunity to rediscover the nostalgic charm of the good old SMS and embrace the 'classic' version of online dating.
You may also want to read: The Best AI NSFW Generators You Should Try Right Now
Promptchan.AI: Create Customized Virtual GF 
Subscription Per Month: Free and Paid 一 Plus ($11.99) 一 Premium ($18.99) 一 Pro ($26.99)   
Promptchan.AI is a text-to-image NSFW generator that allows you to create anime, realistic and hyperrealistic images of your dream virtual girlfriend. Indeed, having a digital partner isn't just about chatting—it's also about having the freedom to create the perfect look (and body) you've always wanted to see in your lover. 
What we love about this art generator is its ability to create seductive images with depth and details, like shadows and lighting, that add realistic elements to its photos. 
Furthermore, it excels in producing hyperrealistic faces that closely resemble actual human faces, setting it apart from other NSFW generators. As an added bonus, its algorithm intelligently incorporates seductive facial expressions, enhancing the irresistible allure of its generated images. 
See also: Our Product Review of Promptchan.AI
Virtual Girlfriend FAQs
With the multitude of 'virtual girlfriend' services out there, it can be quite a task to separate the mediocre ones from the best choices. But fret not! We're here to answer the most frequently asked questions about these digital companions and find the best service for you. 
Is there a FREE AI girlfriend app?
Yes. You can use Character.AI, Replika AI, CrushOnAI, Kuki AI, and Slutbot and take advantage of their limited free credits to engage in romantic (or sultry) conversations with their chatbots at no cost. 
Who is the most realistic AI girlfriend?
Character.AI offers the most human-like romantic conversations with users. Each of its chatbots even adopts the conversational styles of the personalities it represents, making the entire chatting experience more engaging and exciting. 
What is the AI girlfriend app that sends NSFW pics?
Promptchan.AI can generate realistic NSFW photos of fictional female characters, thanks to its advanced realistic and hyperrealistic mode. Note that skillful prompting and fine-tuning of settings are also key to achieving visually stunning results.
Is there an AI bot for sexting?
Yes. You can use a service called 'Slutbot,' which only requires you to enter your mobile phone number on its homepage to start engaging with its 'slutty chatbot.' 
It is a free service, but you may incur some charges depending on your cellular carrier. You may also subscribe to its Premium version to receive steamy scene ideas that could spice up your SMS conversation with the AI. 
---
Join our newsletter as we build a community of AI and web3 pioneers.
The next 3-5 years is when new industry titans will emerge, and we want you to be one of them.
Benefits include:
Receive updates on the most significant trends
Receive crucial insights that will help you stay ahead in the tech world
The chance to be part of our OG community, which will have exclusive membership perks