ChatGPT is the most mind-blowing chatbot to date, having the ability to answer any question and perform any task in a way that makes you believe it's a genius all-knowing supercomputer. While ChatGPT isn't really a panacea for life's woes, it can make yours a lot easier thanks to the myriad of "boring", repetitive, or inconvenient tasks it can do in your stead.
There is a lot of overblown hype on ChatGPT right now, so this post aims to be vividly grounded in reality. All of the tasks listed here have been proven and tested by me to some degree (except the programming part as I'm not a developer).
The unique aspect of ChatGPT is its conversational nature. Even if the initial response to your request isn't satisfactory, you can always press it further in order to delve deeper into your queries and obtain the exact information you need.
Btw, if you're new to the chat tool, check out our ChatGPT Beginner's Guide.
Here is my list of tasks ChatGPT can do for you.
Summarize long text
Ever seen a wall of text so long you decided to just not read it? So has everybody else.
Luckily, ChatGPT allows you to summarize mountains of text in easy-to-digest formats, such as bullet points or paragraph summaries.
Whether it's a podcast transcript or a business report, all you need to do is copy-paste it to ChatGPT and ask the bot something like "summarize the main points into bullets" or "summarize this into 120 words."
Write essays
You've probably heard of teachers panicking due to the rising usage of ChatGPT among college students. Tech-savvy young minds are turning to this tool to tackle their writing assignments with ease.
Because why not? It's so convenient to use; as simple as asking it to shed light on the symbolism in F. Scott Fitzgerald's "The Great Gatsby" yields an impressive 500-word essay.
Check out our full guide to writing essays with ChatGPT assistance.
I definitely empathize with concerned educators and parents in regard to academic dishonesty. But, I also see a silver lining. Rather than taking the easy route by relying on this technology to do all the thinking and research, students have the chance to elevate their writing abilities, expand their knowledge, and enhance their learning experience through it.
On the flip side, there is also a rising number of educators integrating ChatGPT in the classroom thanks to its benefits.
Generate reports
A report is a formal presentation of organized information that provides insights and recommendations for a given purpose and audience. While you will need to acquire the data required for your report, the rest can be automated (with probably a few edits necessary to meet standards) with ChatGPT.
For instance, let's say you've gathered key metrics, trends, and other observations on the performance of NFTs on a given blockchain. You can feed that to the AI and ask it to generate a detailed report. You may dictate additional parameters as you please for a more customized result, depending on your goals.
ChatGPT can also format tables, lists, headings, and scripts, although it might not be able to produce more complex visualizations like graphs or images.
Data analysis
Computers excel at pattern recognition better than humans, which makes them suitable for analyzing large volumes of data and compiling them into reports, documents, and other easy-to-digest formats.
This could be as simple as telling ChatGPT to "compile the average and median of the test scores of my students presented in table format", to as complex as "I'll feed you 50 customer feedbacks from our customers, analyze their sentiment towards our product and make recommendations accordingly."
This has nearly infinite applications from fraud detection to healthcare, to supply chain.
Write/respond to emails
Many of us receive tons of emails on a daily basis, and responding to all of them can take up a huge chunk of our time. Luckily, we can use ChatGPT to automate most of the process and you'll sound even more professional.
If it takes you an hour to respond to eight different emails, perhaps the AI can bring that down to 10-15 minutes.
Here are some prompts you can try:
Responding to emails: [Person X], a [description of Person X] sent me this email "[Paste the email message here]". Please respond by [describe your response briefly].
Writing an email: Write an email for [Person X] and tell him/her to [describe your message briefly].
Note that the above prompts are better suited for formal emails like messaging your boss. In some cases, you might get things done faster just by replying informally.
Writing resumes, CVs, and cover letters
Let's face it. Most of us find writing these employment documents tedious, despite how much we may value getting a job. If done right, ChatGPT can help you create an impressive resume, CV, or cover letter in minutes.
But as the old saying goes, it's garbage in, garbage out. Therefore, you need to properly feed it with the right information.
If you input "create a resume for a software developer with five years of experience. I've done X and Y and am really good at Z," you will get a generic-looking resume and probably won't land any jobs. The most effective way to utilize ChatGPT this way is by offering clear and detailed directions.
In that case, it is better to just "free-write" all your relevant experiences, skills, and accomplishments in graphic detail and then feed it to ChatGPT, then ask it to regurgitate it into a professional-looking resume. Free writing (and a little editing) will make the job 5x faster since you won't deal with the constraints of structure and grammar.
But if you have writer's block and can't start, try this prompt:
I need you to create the most professional resume for a [profession]. Ask me all the questions you need. You'll get a list of questions to answer before it generates an good resume that you can refine.
Mock interview
On top of writing resumes, ChatGPT can also play the role of a practice interviewer in order to prepare you for a job. I'd like to thank Reddit user Thing1_Tokyo for sharing a very handy prompt schema, which we have simplified. Try it out!
Simply fill in the details using this prompt:
Please mock interview me for the position of [Role Applied] at [Company], to work on the [Department or product] team.
Please note that I will also be [list additional duties, if any]. The interview needs to be structured as a Q&A session, with each question followed by a response from me. I repeat, only one question at a time. Wait for my response.
After I have answered all your questions, please assess my responses and make a final hiring recommendation based on my performance.
Once over, give an expansive assessment, and include any recommendations that you would have on my responses. This is a real-time, turn-based exercise. After each question, you should stop, and let me input a response for each question in turn.
Note: there are rare cases, where it still gives you the full set of questions in one response. You can simply point out its mistake and it will work as normal.
Brainstorm ideas
Imagination is limitless, but most of the time, it needs stimulus before it can run wild. ChatGPT might be the spark you need to ignite your creative process.
For example, my girlfriend is a crochet influencer, so she regularly utilizes ChatGPT to generate ideas for her Instagram posts, Youtube videos, and more by prompting phrases like:
Generate 10 buzz-worthy Youtube video titles for a crochet crop top tutorial
Give me a cute Instagram caption for a crochet bag to be sold during the Christmas holidays
You can apply to blog posts, newsletters, podcasts, and all sorts of activities.
Simplify complex ideas
Sometimes, there are documents or papers that we need to understand even if they're too technical or different from what we're used to. ChatGPT happens to excel at breaking down complex ideas into smaller, more manageable components and explaining them in clear and concise language.
The most basic prompt structure for eliminating complexity is: Explain [complex topic] like I'm 5. If you don't trust ChatGPT's training data, you could feed it text from external sources and let it explain.
Discover fun facts about different things
Trivia and fun facts are great for social interactions and encourage learning. With ChatGPT, you could generate specific fun facts for just about anything through our simple prompt structure:
Give me the craziest most outrageous fun fact about [subject].
Try it.
Caution; many of the results I've found to be inaccurate, so be sure to verify yours on Google to see if the facts check out before you use these for anything non-trivial (if you catch my drift).
Translate Texts
So what? Google can do this too. Well, it turns out that ChatGPT's translation trumps Google Translate in many instances.
Unlike its counterpart, the OpenAI chatbot can produce translations that are not only accurate but also natural-sounding and easy to understand.
Assist in fiction writing or world-building
Say goodbye to writer's block, as ChatGPT has the ability to augment your skills and stimulate your creative juices. You just need to learn how to work with this new assistant.
Authors can utilize the AI platform to help create character attributes, story plots, dialogues, scene descriptions, and other types of descriptions relating to fictional cultures, governments, geographies, and histories. I advise writers to be as detailed as possible in their prompts to get the best results.
Its vast corpus of Internet data can assist in building and molding worlds as you see fit. However, it's important to remember that while ChatGPT can spit out a lot of useful material, it is up to the writer to edit, refine, and add more spin in order to make a story original and impactful.
Assist in writing content
I've been writing content for more than half a decade now, and I have to say, ChatGPT has improved my workflow quite a bit. Whether it's a blog post, social media post, video script, or the like, the tool has helped me generate ideas and provide suggestions faster than I ever could on my own.
As a non-native English writer, ChatGPT imbues my initial drafts with an added flair and more persuasive tone. In a way, it removes (what's left of) the technicalities of writing to make room to do more creative tasks. I can now free-write as much as I can, worrying less about writing rhetoric, conventional structures, and mechanics.
It could take a long blog post to give you all the tricks I learned in writing content with ChatGPT. Here are a few prompt structures I use:
Convert my notes into a [social media post/article/whatever]: [insert notes or free-written text]
Enhance my writing and add flair: [insert your first draft]
Change the tone of my [social media post/article/whatever] into [professional/casual/whatever] tone
What's the perfect term for [describe a term or similar forms of it] ( useful if you can't find the most impactful word to describe something, or if you have a tip-of-the-tongue term you can't spell out).
I'd also like to point out that straight-out copy-pasting ChatGPT responses without much original input is a bad practice that could get you flagged for plagiarism and worse, your critical thinking skills could atrophy.
Assist in copywriting
ChatGPT can be used to assist in writing headlines, ad copy, product descriptions, social media captions, and other marketing texts. However, I'm also concerned due to the rising popularity of the chatbot among newbie marketers, some of which have little experience in writing copy by themselves.
Indeed, ChatGPT can create intriguing and buzz-worthy text that you can post on your website, social media, etc., and it might serve your purpose well. But don't expect to be able to run successful ad or marketing campaigns without a professional on your team, especially for high-budget initiatives that seek high conversion rates.
If you're a copywriter, I highly recommend you make use of ChatGPT as your creative assistant. It's pretty decent at coming up with "good enough" results, which you can refine. This will shave off maybe half of your work, depending on your prompting skills.
Write simple code
If you're not a programmer but need to write a simple code for your website or app, you may ask the chatbot to write it. This works only for basic programs such as calculators, quizzes, file converters, random password generators, and even games like Tic Tac Toe.
After it generates the code, you can test it out on Codepen or other online code editors to see if it works. If it doesn't, you can always ask ChatGPT to fix the errors.
As a guy who knows next to nothing about programming, I asked it to create a simple webpage that displays the date and time.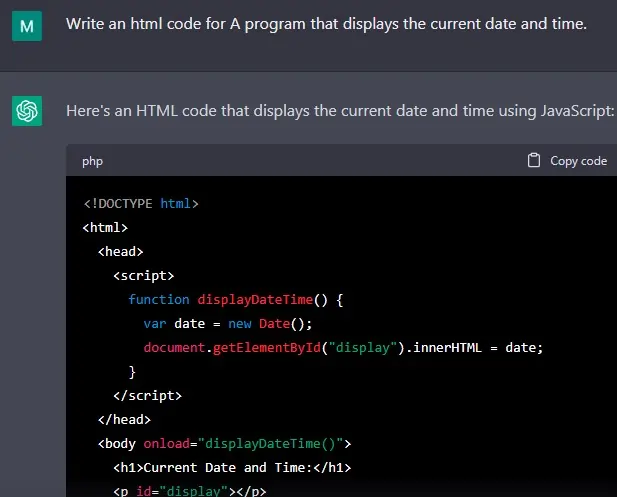 I didn't like the first result because the numbers were too small. So I asked ChatGPT to make the date and time bigger, and it was delivered successfully.
Help with programming tasks
ChatGPT can be a valuable resource for individuals at all levels. For those just starting out, it can serve as an interactive tutor, offering clear explanations and examples to help you grasp new concepts faster. Experienced developers, on the other hand, can leverage ChatGPT to automate code generation, help debug code issues, perform code reviews, or receive guidance on best practices and design patterns.
I'm not a programmer, so I can't speak too much about this, but I've seen people use it to make learning programming a whole lot faster. You may check out this blog post as well for a list of programming tasks you can ask the chatbot.
Keep Learning About ChatGPT
As a constantly evolving AI language model, ChatGPT consistently improves over time, adapting and growing to provide more accurate and insightful responses to user interactions. It's not perfect, but it will be better.
I'd advise caution when using it for important stuff, and I encourage everyone to continue learning how to prompt it properly for various tasks. And if you want to be part of something big, join my newsletter and community.
---
Join our newsletter as we build a community of AI and web3 pioneers.
The next 3-5 years is when new industry titans will emerge, and we want you to be one of them.
Benefits include:
Receive updates on the most significant trends
Receive crucial insights that will help you stay ahead in the tech world
The chance to be part of our OG community, which will have exclusive membership perks