Deep fakes have taken the online world by storm. Whether you are changing a movie's actor for your favorite superstar or even placing yourself in a scene of your favorite TV show, deep fakes allow you to create unique content that will certainly entertain your family and friends.
And the best thing is that, despite what you might think, creating a deep fake video is as easy as clicking a few buttons. But how exactly do you create a deep fake, and which deep fake online app should you use?
In this article, we will go over the best deep fake generators you can find online today and teach you everything you need to know about these AI-generated videos. Ready to start creating your first deep fake? Well, let's get started.
What Are Deep Fakes?
Have you ever come across a scene from your favorite movie where the lead actor's face has been replaced by someone else's? Or maybe you've seen a video of President Biden saying things he would not normally say. If so, you have seen a deep fake. But while regular deep fakes can be entertaining and fun, more serious ones, like the Biden deep fake, could be dangerous.
But How Do They Work? 
Deep fakes are created by artificial intelligence. The algorithm analyzes the target's face and superimposes it with the studied features of another person, matching the tiniest of movements and expressions between the two faces.
Luckily, you don't need to be a software engineer to use a deep fake generator. Here are the best (and easiest) deep fake apps you can use today:
Top 5 Deep Fake Apps Reviewed
1. Deepswap
Deepswap is one of the best and easiest deep fake online apps you can use through your browser. With just a few clicks (and without needing to install any software on their computers), users can create realistic deepfake videos. But that's not all.
Deepswap also lets users face swap their photos and even create gifs, all with excellent accuracy thanks to its top-of-the-line AI. The best thing is that you can use Deepswap without paying a single cent—albeit with some limitations: the free tier has watermarks and limits the length of deepfake video creation.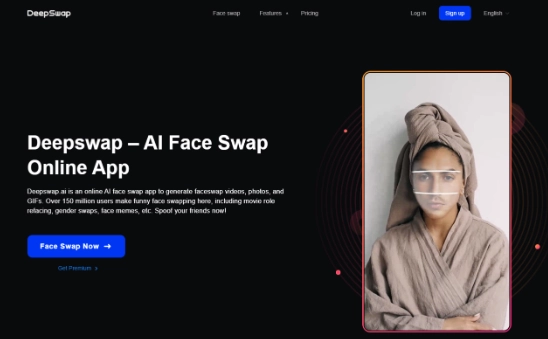 However, all of that can be eliminated by subscribing to Deepswap's premium tier. For just $4.99 per month, users can increase their video length, remove watermarks, and generate as much content as they please. 
In case you're interested in a yearly option, the deep fake website also offers a yearly subscription for just $49.99, which means you get a 50% discount for it.
2. FaceMagic
If you want to create deepfake videos on the go, then FaceMagic is the right deep fake maker for you. Available for both smartphones (iOS and Android) and computers, FaceMagic lets users create unique deep fake videos with just a few taps on their screen.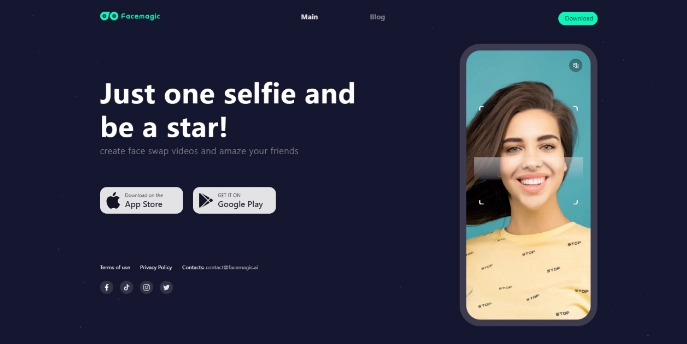 With this app, users can place themselves in the scenes of their favorite movies, face swap pictures, and even create unique gifs to use in social media apps.
Users can freely upload up to two pictures per day. Deep-fake AI video and gif creation requires a subscription, which we consider to be worth it if you want to surprise your social media followers with great deep-fake content.
3. SwapStream
Are you a streamer? Would you like to feature the hottest superstars in your streams? With SwapStream you can—kind of.
Although it doesn't invite movie stars into your house, this app lets you swap faces in real time while live streaming to any platform. This means that you can surprise your viewers by looking like Leonardo DiCaprio, Brad Pitt, and more.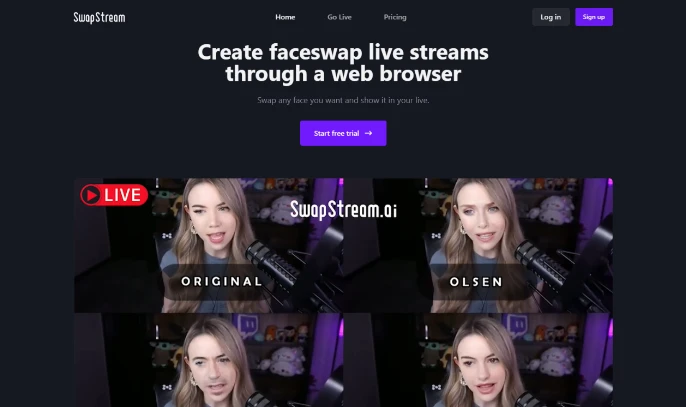 A single SwapStream account can be used between several different streaming platforms. Just connect your video source to the website, choose your favorite superstar, and use SwapStream's output as your video streaming source.
SwapStream is as easy as it gets when it comes to featuring famous people in your live streams—and the best thing is that this deep fake software requires no downloads at all.
4. FaceHub
FaceHub allows users to generate deep-faked images for free, although with heavy restrictions. To upload their own images (instead of using the provided ones), users need to subscribe to the premium tier.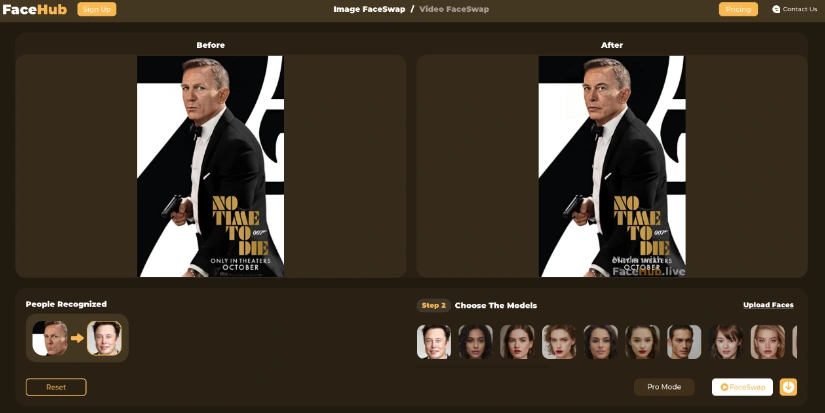 The website itself is also slow and has several bugs. If you can get this app to work, the free version works great. However, it can be a headache to do so.
5. Reface
If all you want to do is insert yourself into popular movie and TV show scenes, then Reface can be a good app for you. The app is limited, and some of its features are hidden behind a paywall, but it still works fine if you only want to generate an image or two.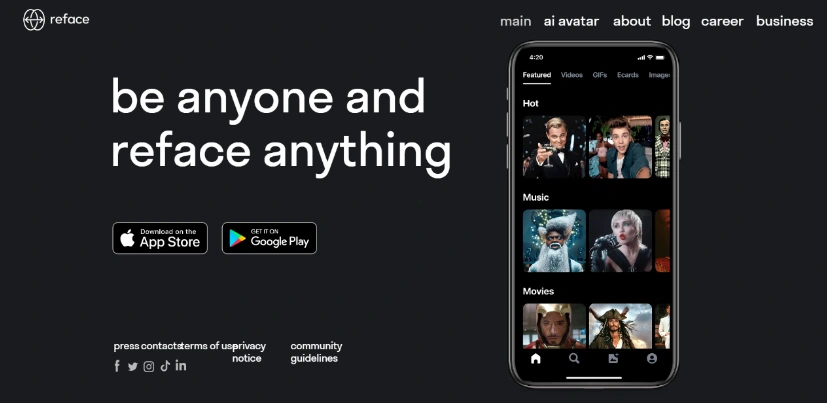 Frequently Asked Questions
What Is the Best Deep Fake App? 
First, you need to ask yourself what you want to get from a deep fake app, as our suggestions will change accordingly. 
If you want the best overall deep fake generator, then Deepswap is your best bet, as this app is very versatile and works great. If you're more interested in a deepfake maker you can use on the go, then FaceMagic is probably the right choice for you, as its smartphone app can be used anywhere.
If you are a live streamer and want to impress your viewers, then you should consider SwapStream.
What Are Some Examples of Deepfakes?
Deepfakes have been used to make presidents and other political figures say things they didn't really say. They have also been used to substitute actors in movies or even age down characters in certain movies.
Are Deepfakes Illegal? 
Although deep fakes are not illegal, they can be used for unethical things. We recommend using deep fakes only for entertainment purposes, as using them for nefarious reasons could become illegal in the future. 
Conclusion
Deep fake apps offer users fun and exciting ways of creating videos and more. Besides being great for social media, deep fakes can also be used to trick your friends into believing you were part of a movie or a TV show.
If you are looking for the best deep fake apps, we recommend Deepswap, FaceMagic and SwapStream, depending on your needs. 
Try them out and start creating your very own impressive deep fakes today! 
---
Join our newsletter as we build a community of AI and web3 pioneers.
The next 3-5 years is when new industry titans will emerge, and we want you to be one of them.
Benefits include:
Receive updates on the most significant trends
Receive crucial insights that will help you stay ahead in the tech world
The chance to be part of our OG community, which will have exclusive membership perks