Art has always pushed the boundaries of imagination and creativity, but in 2023, it's taking a giant leap forward with the power of AI. From generating majestic digital masterpieces to text-based photo editors, to AI-generated 3D models, the world is now beginning to see the value of AI art generators.
These systems excel in speed and cost efficiency; they provide a quick and budget-friendly solution to a wide range of creative tasks. However, it is your unique human touch and imagination that can elevate art to a high level, not the machine.
The goal is to form a symbiotic relationship with this technology in order to enhance our lives. And if you take things up a notch, you could dominate your market really quickly.
In this article, we shall explore the different applications of AI-generated visuals, including images, videos, icons, and other media.
Concept Art
One of the superpowers of generative AI is the ability to produce a large number of images in a short timeframe, which is why it is perfect for concept art.
It can take roughly a few hours to finish a rough sketch, while a more complex project concept could take anywhere from a few days to a couple of weeks. Whether it is an environment of a game, a visual representation of a movie character, or simply a design reference for a more significant project, speed matters a lot in the conceptualization phase.
If artists and designers can produce a range of concepts and styles almost instantly, they'll be empowered to delve into their imagination and model their ideas with greater dexterity. This saves, time, money, and other resources that could save a company or individual several thousands of dollars.
And you could ship quicker.
Digital Art
AI Art Generators are already being used to produce some of the most breathtaking works of art, whether it's through a text or image prompt, or an existing sketch or artwork. These programs have the capability to arm artists with an arsenal of tools for creating art with a high level of detail and complexity but in a less time-consuming way.
Artists can use AI to quickly generate a large number of potential designs, which they can then select from and modify as needed to create their final artwork. This enables them to create new work more efficiently.
In addition, AI-generated art can be used to create complex, intricate pieces that are difficult to create by hand, such as artworks that have multi-layered textile patterns merged from thousands of other patterns.
People who do this line of work are typically called AI artists, and the best of them are able to sell their work and make a living.
Comic Books or Graphic Novels
You've probably heard a lot of backlash from the comic community regarding the use of AI-generated images. While we do empathize with concerns regarding artistic integrity and job security for artists, the reality is that technological progress is inevitable, and ignoring it won't benefit anyone in the long run. In fact, we believe that generative AI can actually optimize the workflow of existing artists if their pride can stomach using it.
Gone are the days when creators need a creative team and a large budget.
As most probably know, stories can be written rather fast. The individual panels that make up a comic book, not so much. But AI has changed the game.
As a manga fan, I have seen how AI art can be used to create high-quality illustrations, covers, panels, and entire graphic novels with greater efficiency and speed. With SD, MJ, or other tools, you can make detailed and highly complex art that fits your style. And with a bit of skill, you can get consistent results.
There is, in fact, an underground movement of talented AI comic book creators you'll find on Facebook groups such as this one. I predict that in the next year or so, we will witness a new breed of comic book artists who have been waiting years for their chance to shine. Thanks to the power of AI art, they'll finally be able to bring their repressed visions to life in ways that were once impossible.
Logos and Icons
Creating logos and icons is an essential part of branding and design, and now more than ever, designers are turning to AI-generated art to streamline the process. Instead of paying $50-$100 to create a simple logo, you can let your virtual assistant do it or have at it yourself.
It's fun! And quite easy too. And you get to control the output. For instance, I tried to create a logo for a vintage coffee and this is what I got: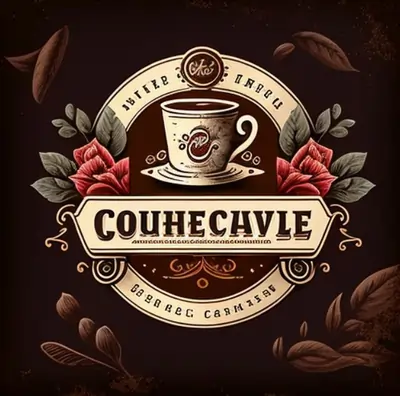 It took 30 seconds to come up with the prompt on Midjourney, now all that's left is to replace the gibberish letterings with something that fits my brand. And to be fair, I could have made this way better but didn't want to spend much time since this is only an example.
Enriching Personal Photos and Portraits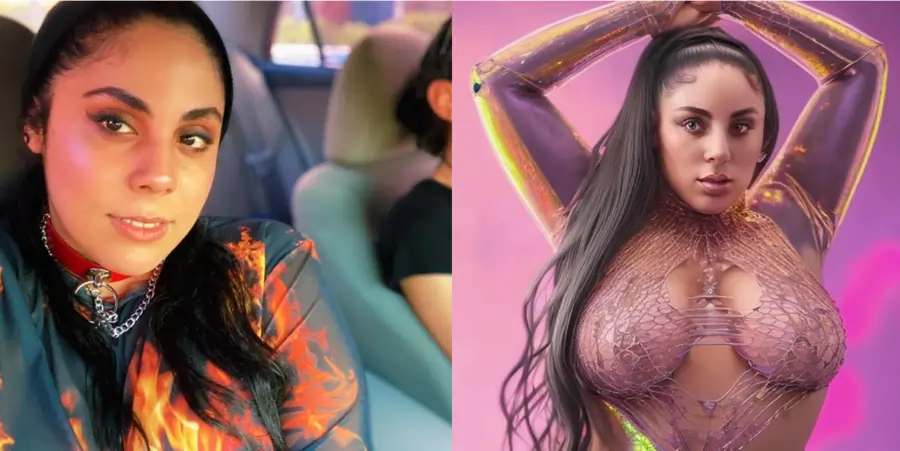 Have you ever wondered what you would look like as a cartoon character or superhero? Thanks to AI-powered photo editing tools, you can now create unique and personalized images that you can flex on social media or have fun showing to your friends. These tools utilize machine learning algorithms to generate images that are stylized or transformed according to your preferences.
Some of the most popular AI photo-editing apps include Lensa AI, Remini, Wonder, and a whole more. They enable you to explore different art styles and experiment with creative ways of expressing yourself visually.
Be prepared to transport your simple photographs into surreal portraits or amplify your visage with a few effortless clicks.
Photo Editing and Manipulation
Enhancing a selfie is a good start, but you can actually do a lot of complex editing and photo manipulation in an instant. There are tons of photo editing software that allow you to do image filtering, upscaling, restoration, color correction, background removal, and a whole lot more.
But learning Photoshop or Gimp may not be for everybody. And even if you already use them, you're better off using an AI-powered plugin that automates work that should be automated. But you can actually take things a step further by utilizing generative AI models that allow prompt-based photo editing, which is the ability to edit an image just by typing instructions.
It's easy as hell. I tried it on my old photo below. I tried removing a background, adding different backgrounds like a sea view or space, adding a mustache, etc. It works well 70% of the time in my experience.
The tool is called InstructPix2Pix, but you're bound to find others just like this over time.
Cover Art Design
Think about it, you're about to release a new book, album, or movie, and you want a cover that stands out from the rest, one that's eye-catching and memorable. But you're short on time and resources, and don't want to sacrifice quality for convenience. This is where AI art generators come in.
With generative AI, you can have stunning cover artwork in minutes, not days or weeks. All you have to do is provide a text description, image reference, or both. Art generators will then analyze your input and generate multiple (usually four) variations of output.
Once you've generated the perfect cover art, you can then add the necessary text, logos, labels, etc.
Design UX/UI
Have you tried designing a website or a social media page that looks dull or perhaps not user-friendly? I get it. An art block might have interfered again. Don't worry; it won't be a problem, as there's a way to unleash your creativity.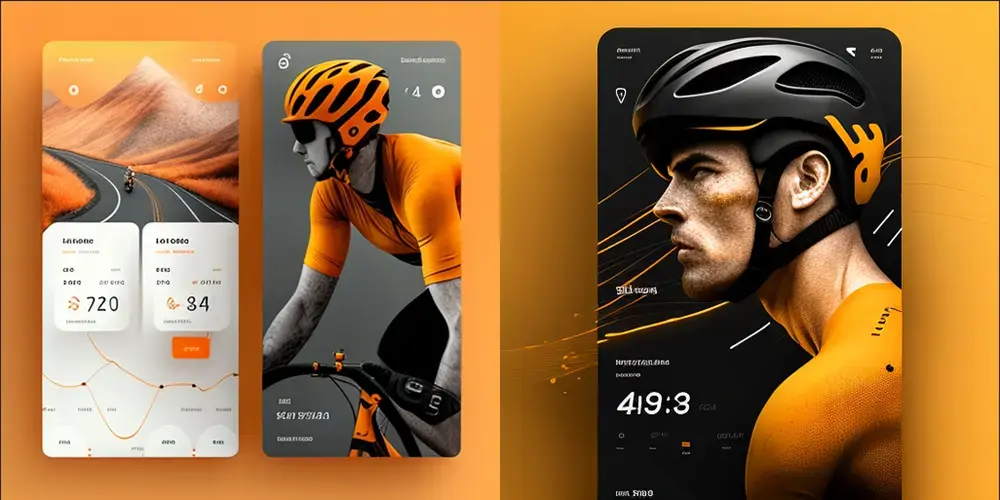 AI can help you generate designs using only a set of words and let it do its own magic. One of the popular tools that you can use is Midjourney. It allows anyone, regardless of experience, to design UI like a pro.
But as with other AI tools, you might encounter getting outputs that deviate from your vision. If so, you can use image prompts instead of text or a combination of both. 
Promotional and Marketing Assets
AI-generated art can be used to create unique and attention-grabbing promotional and marketing materials that stand out in a crowded marketplace. This includes graphics, animations, and videos, that are tailored to a brand's specific goals.
Thanks to the power of generative AI, organizations can cut costs and save time if they know how to utilize the technology appropriately.
Why? Think about it.
Maintaining a consistent visual identity across your company, organization, or personal project is crucial for creating a strong and recognizable brand. This not only helps build trust and loyalty with your audience, but also makes it easier to integrate artificial intelligence into your marketing strategy. AI excels at recognizing patterns, and a consistent brand identity provides a clear and cohesive dataset for the technology to work with.
And from there, you could produce infinite variations and personalizations tailored to different types of customers.
Fashion Design
Fashion is an industry that thrives on creativity, but also innovation, which is why designers are always on the lookout for something exciting and fresh; anything that pushes the boundaries of the craft. Incorporating AI-generated art into designs may seem like a far-fetched concept, but the truth is that it has already begun to make its mark on the fashion world, and its potential application is practically limitless.
When it comes to clothing and style, AI art generators can primarily be used for two things:
Design generation: AI art generators can help to generate new designs and predict future trends based on data analysis and machine learning. By inputting certain parameters and data points, you can create unique and innovative designs that would be difficult or impossible to produce by hand.
Customization and variation: AI art generators can also be used to customize and create variations of existing designs and trends. This can include creating personalized designs for special clients/customers, or using AI to modify existing designs in unique and interesting ways.
One of the pioneers of AI-powered fashion design is Fabian Stelzer, who appears to have had no prior experience in the craft before releasing a virtual collection of futuristic trends created via GPT-3 and Midjourney v4.
If you want to learn how to generate AI art with Midjourney in under 10 minutes, click here.
AI art generators shine when it comes to surreal fashion designs, such as Dronecore: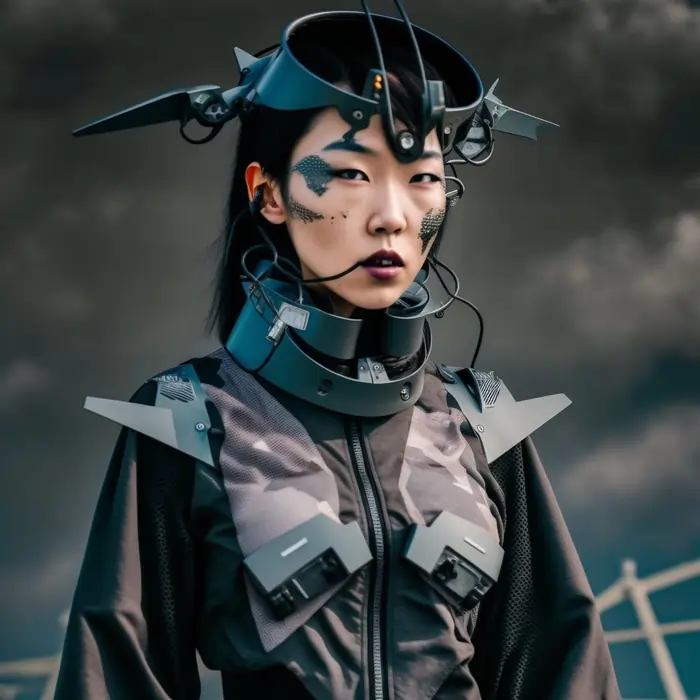 AI-generated images can also be used in more subtle ways, like creating custom color palettes for clothing lines, or generating designs for accessories like handbags and shoes, etc.
Animations
In a few years, you'll probably be able to create a full-length film with just a PC in your bedroom. But for 2023, we must settle for AI-generated animations first. Baby steps.
Most of the text-to-video and image-to-video models are unreleased, and to be honest, they're still a bit limited. But no matter how you, look at it, instant video generation is still an impressive feat, and the best has yet to come.
The most promising model so far appears to be Google's Imagen Video, which produces a 128-frames clip with 24 fps at a 1280×768 resolution (roughly five seconds).
As you can see, it's not quite there yet. But as soon as it launches, I can already think of a few applications for this, such creating memes, funny videos, and other types of short-form video content across TikTok, YouTube, Instagram, and Twitter. You could also use this for the creation of marketing materials.
Besides Imagen, we also have Meta's Make-A-Video system, which works very similarly.
Tattoo Design
Tattoos are a form of self-expression, therefore, should be completely unique according to your preference. AI allows you to bring to life your wildest imaginations so you can ink them on your skin, or sell your designs.
There are different types of tools that allow you to generate tattoo-worthy images. If you want it easy, you're better off with bespoke solutions like TattoosAI, which already have a set of parameters that you only need to fill up, such as the description, style, and color.
But you can also work with more sophisticated tools like Midjourney, Dall-E 2, or SD that have slight learning curves but offer more customization.
Game and Gaming Asset Design
While still in the early stages, AI art generators can now be used in the making of video games. Creating art assets for a video game can be a long and tedious process, from character designs to environments, to even the smallest details like textures and patterns.
With AI, instead of creating artwork from scratch every time, you can 'train' a model to learn a specific art style, character, or any related asset. This is done mostly via Stable Diffusion and is quite technical. However, you can use Midjourney since it's a lot more beginner-friendly.
In fact, there is already such a game on Steam called This Girl Does Not Exist, which is a dating and jigsaw puzzle game of some sort. According to one of the makers (a couple), using MJ allowed them to move quicker, and a lot of the work came from the voice-over and story.
That said, I still prefer to use a model that has better control, so Stable Diffusion is what I would recommend. In fact, you can create a custom farming game with it in just five days.
On a separate note, the founder of Scenario.gg also wrote a Twitter thread about the process of creating AI-generated game assets via SD:
Perhaps the most interesting aspect of AI is that it can quickly generate hundreds of unique assets, allowing game designers to experiment with different styles and designs without spending hours manually creating each one.
Generate 3D Models
Art can be so much fun to look at when in 3D style. It can bring you anywhere further than your imagination could take you thanks to its realistic feel. But there's a catch; 3D modeling is a difficult time-consuming process traditionally.
Thanks to AI, 3D model generation has become easier, allowing you to become efficient without sacrificing quality. You no longer have to deal with the manual creation of elements from scratch but only use a prompt to create a base and design on top of it.
One Twitter user named Packsod already showed how AI helps to generate 3D models, and there's only one word to describe it: breathtaking. 

According to the user, there are three tools used: Blender, Stable Diffusion, and Photoshop. This combination allowed her to do something extraordinary. But of course, AI is only here to assist and there's nothing that can beat pure talent.
Prototyping a Physical Product
Imagine building a physical prototype of a product you've researched for a long time. And in the middle of the tedious process, you had a change of heart about its design. Now, you have to do them all over again.
Not!
Digitize your product first, and simulate it before creating the actual product. Sounds more practical, right? This way, you won't be wasting time and resources. Feeling unsatisfied with your item design? Go ahead, and revise your prompt or apply changes to your polygon mesh. 
If you're comfortable with using text prompts as input to digitize your product, NVIDIA's Magic 3D can be your go-to AI tool. But if you're better with codes, CSM.ai is more likely to be suitable. Of course, these two are only a few of the many tools available.
Art Therapy
AI-generated art has undoubtedly been helpful to businesses, making us work more efficiently. But who would've thought that it could help alleviate emotional turmoil?
Some people were satisfied to work with AIs, as they created art that mirrors their feelings. One of them is Jenni Pasanen, a digital artist who discovered new realms of creativity and shares her new-found calling with AI art. 
Although she admitted her journey wasn't easy, she finally felt complete after years of finding what she was meant to be. 
The Bottomline
AI art generators are here to stay and add some tech-savvy flair to our lives! They represent a natural evolution in society and are poised to become a permanent fixture. While it's true that some artists may face challenges in the short term due to displacement, the key to thriving in this new landscape is to embrace the technology and learn how to work with it.
Going against it is not only ineffective but also puts artists at a disadvantage. With the open-source nature of these tools, their growth is inevitable. However, regulation can play a crucial role in ensuring that their impact on the art industry is positive and sustainable. By working together with technology, artists can continue to create, innovate, and thrive in the ever-evolving world of AI art.
---
Join our newsletter as we build a community of AI and web3 pioneers.
The next 3-5 years is when new industry titans will emerge, and we want you to be one of them.
Benefits include:
Receive updates on the most significant trends
Receive crucial insights that will help you stay ahead in the tech world
The chance to be part of our OG community, which will have exclusive membership perks