At last, AI tools are finally emerging that let you write erotic short stories, novels, and other literary pieces with few to zero limitations! 
For so long, individuals have been trying to leverage the power of AI-powered writing tools, like ChatGPT, to create not-safe-for-work (NSFW) stories to enhance their steamy hobbies. However, they have often encountered restrictions and warnings along the way.
The strict banning of provocative commands has been a staple in mainstream AI generative platforms, which some individuals perceive as hindering users' creativity rather than fostering it.
And the possibility of creating the next 50 Shades of Grey challenger using artificial intelligence has always been close to zero. But fortunately, this limitation is fast changing, as our options for X-rated AI writing tools are fast expanding by the day. 
Let's delve into the most exciting tools that you can try right away, explore their capabilities, assess their power, and discover the additional benefits they can offer. Let's dive in!
See also: 14 NSFW AI Art Generators That Could Unleash Your Inner Fantasies 
X-Rated AI Writing Tools 
Whether you're a novice erotic writer, transitioning from other genres, or a seasoned one, these smart writing tools can provide you with a significant advantage in creating original, captivating, and bold fantasies that can truly captivate readers.
Let's take a flip on these advanced writing tools. 
HoloAI: Create Intense and Graphic NSFW Stories 
Discord: HoloAI Community Reddit: Official HoloAI Subreddit 
Trial Available— Monthly Paid Plans: Standard — ($4.99) — Pro ($7.99) — Ultimate ($11.99) 
Holo AI is an AI-powered platform designed for generating literary works, including novels, fan fiction, general stories, and, yes, even erotica. It offers a remarkable level of freedom in crafting more provocative, intense, and explicit content, with minimal obstacles to creating your desired adult AI story.
However, despite the abundance of NSFW options available on this website, it is important to note that it's not exclusively focused on erotica. You still have the flexibility to create regular stories without incorporating explicit elements.
And if you're looking for other non-NSFW AI writing tools, you may check out our in-depth guides on Sudowrite and Copy.AI, and learn how to apply them to your other writing genres.
As a free user, you are given a text allowance of 8,000 characters for your story, which is roughly equivalent to 2,000 words. However, by subscribing to HoloAI's lowest plan, you can effortlessly expand your narrative to a sizeable 500,000 characters.
How to activate HoloAI's NSFW settings
Since it's not specifically built for sexually explicit content, HoloAI's Erotica button is buried somewhere on its website. You can activate it by choosing the Erotica settings in the genre.
Select the 'Write' tab. 
The 'Write Tab' is located on the site's left side screen.

Click 'Set AI Settings'
You can see the 'Settings' button at the upper left side of the screen.

Click the 'Dataset' Button
Select the camera-like icon.
Select 'Show NSFW' and Choose 'Erotica'
The Erotica button is initially hidden. Just click the 'Show NSFW' to reveal it.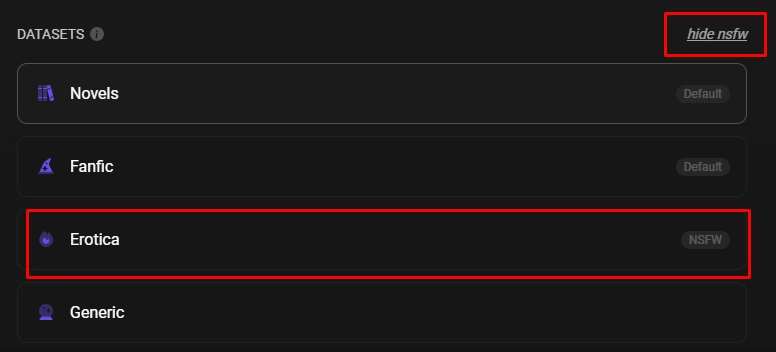 Customize Your Erotica Settings 
Choose from a wide range of categories and tags that could spice up your story.
HoloAI's Categories and Tags 
Clicking the Erotica button is just the beginning when it comes to unlocking the full obscene capabilities of the platform. You have the opportunity to enhance and customize the provocative nature of your adult AI story by integrating these enhancements. Here's a glimpse of the many interesting categories and tags you can apply right away.
Categories 
BDSM (bondage, discipline, sadism, masochism), chain stories, erotic coupling, erotic horror, exhibitionist and voyeur, fetish, first time, group sex, mature, mind control.
Tags 
Asian female, Asian male, bareback, BDSM, big breasts, bikini, biting, bondage, car sex, casual sex, cheating husband, cheerleader, deepthroat, dominant female, erotic, exhibitionism, fetish, incest, lingerie, phone sex, porn star, stripping, submission supernatural erotica. 
Just imagine the provocative fantasies you can create using these options. 
Please note that there are even more explicit categories and tags available in HoloAI, which we haven't included here to align with our website's standards.

NovelAI: A Decent Choice for NSFW Writing 
Discord: NovelAI Community
Trial Available — Monthly Plans: Tablet ($10) — Scroll Opus — ($15) Opus — ($25) 
NovelAI is a writing platform that leverages artificial intelligence assistance to help users generate fresh ideas, develop compelling stories, create intriguing plot twists, and enhance other crucial aspects of adult AI storytelling.
While NovelAI is not explicitly designed for adult content, it excels at crafting provocative tales with ease without requiring any adjustments to its default settings!
You have the option to generate erotic fables immediately without creating an account; however, the drawback is that you won't be able to save your work. This is precisely why creating an account is strongly recommended, as it allows you to download and access your stories for future reference.
In contrast to other websites that demand multiple prompt inputs to guide the AI, NovelAI simplifies the process by only requiring you to create one-time prompts. This allows you to effortlessly generate a lengthy narrative without the need for repetitive input.
Simply provide detailed instructions in its 'Memory' and 'Author's Note' boxes for more enhanced output. By doing so, its AI will have a solid understanding of the story you wish to generate, ensuring more accurate and tailored results.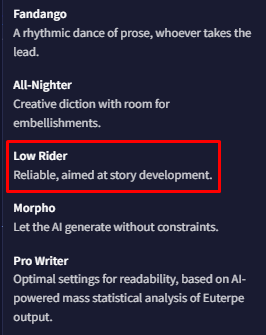 After providing your instructions, you have the option to select from various text generators that offer distinct writing styles. I recommend using the 'Low Rider' option for its reliability and story development skills, which are important factors when writing NSFW fantasies.
Tips to Maximize Free Credits 
Here are some essential tips to maximize your free NovelAI experience.
The platform offers a complimentary 50 credits for users to test its capabilities. However, there is a way to obtain 100 credits without violating any rules.
To acquire an additional set of 50 fresh credits, it is recommended to utilize the platform before creating an account. This means you can generate stories right away without registering. Once you have fully used all your credits, you can create an account and register, which will grant you a fresh set of 50 credits. This allows for a total of 100 credits to explore the website's capabilities.
It is important to note that all the credits you have during the pre-registration stage should be utilized, as they will not be accumulated once you create an account. Instead, your credits will refresh back to 50. 
Here's another important tip: Each time you click the 'Send' button, one credit will be deducted from your free credits.
To ensure that NovelAI's algorithm stays on track and avoids generating unnecessary long content, you must be clear and direct in your instructions in the 'Memory' and 'Author's Note' sections. Because if you allow it to create long winding texts (because of your vague instructions), you'll be forced to generate texts over and over again, just to see what you want and need, which is the fastest way to deplete your credits.
By providing concise guidelines, you can optimize your credit usage and receive more focused and relevant outputs.
In my prompts, I clearly and directly mentioned all the provocative scenes I wanted to see. As a result, I do not need to wait through several lengthy paragraphs just to read the steamy parts of my adult AI story.
You can also check out the unofficial subreddit of NovelAI, which focuses on the platform's NSFW capabilities.
Now that you had a taste of this platform's NSFW skills, you may want to take a deep dive into our in-depth guide on how to generate provocative content using NovelAI. 
Pirr.Me: A Mobile App for Adult Story Writing 
AppStore: Pirr AI   Google Play: Pirr AI: Create Wild Fantasies 
Pirr.Me is a mobile application powered by AI, enabling you to create erotic short stories either on your own or collaboratively with other app users. Additionally, you can explore fictional steamy creations contributed by others, providing inspiration and satisfying your desire for NSFW content.
On the mobile app, there are four ways to create an X-rated story. You have the option to fully rely on the AI's suggestions, manually enter your entire prompt, engage in a 50/50 collaboration between you and the AI, or involve both the AI and other anonymous users in the process. Choose the method that best suits your preferences and creative approach.
Furthermore, the app allows you to see the number of users who are reading your story, which can serve as motivation to make it more daring and sizzling, thereby increasing your creation's views.
In addition, Pirr. Me's growing community provides a platform where you can meet, connect, and learn from fellow fans of erotic literature, enhancing your adult AI story-making experience to the fullest. 
What sets this app apart is its inclusive-first environment, designed to cater to individuals of all genders, including men, women, non-binaries, and other emerging genders. It embraces diversity and ensures that everyone feels welcome and represented within the community.
DreamPress AI: Creates NSFW Stories (But with Some Restrictions) 
Discord: DreamPress Community 
Trial Available — Paid Plan ($14.39)
DreamPress AI is a user-friendly prompt-to-story AI generator that simplifies the process of creating captivating tales. By simply entering your title, description, genre, and tags, the platform harnesses the power of artificial intelligence to generate engaging narratives with ease.
Although DreamPress AI is not specifically tailored for X-rated creations, it offers an 'erotic' tag option that allows you to incorporate steamy scenes into your narrative. 
While it may have more relaxed rules regarding obscene content, it maintains specific and strict restrictions in other areas of provocative storytelling. 
They include the prohibition of underage characters, non-consensual or forced sexual acts, bestiality (sexual intercourse between men and animals), and the depiction of real-life celebrities. Additionally, the website actively flags any content that violates the law, including copyright infringement. 
Each use of the platform is equal to one (1) token, which means the number of your tokens determines how many times you can utilize the text generator. DreamPress AI offers a paid plan that provides unlimited tokens and text generation, ownership of your stories, and easy downloading capabilities.
Opting to be a free user comes with certain limitations, such as a maximum of eight tokens per day and the inability to own and download your story.
Although you have the freedom to post your creations on its website as a free user, it's important to note that the lack of official ownership offers other users the ability to use, modify, and even recreate your story without restrictions.
See also: Kickstart Steamy Conversations with Character.AI Chatbots 
Dungeon AI: Roleplaying Game Meets NSFW 
Twitter: @AiDungeon 
Trial Available — Monthly Paid Plans — Standard ($4.99) — Pro ($7.99) — Ultimate ($11.99) 
Dungeon AI is an AI story generator based on the classic tabletop game where players are engaged in collaborative storytelling and strategizing. 
To activate the NSFW mode on Dungeon AI, navigate to the Settings menu, hover over the Safe Mode option, and select 'Off.' Once you have disabled all filters, you can begin exploring and pushing the boundaries of the platform's provocative storytelling capabilities.

To start writing, click the 'Play' button at the right side of the screen, click 'Quick Start,' and select a setting. You can either choose fantasy, mystery, zombie, apocalyptic, cyberpunk, or custom. 
I cautiously began testing the platform's response to explicit instructions and language, and once I saw that the algorithm was reciprocating, I let go of any reservations and engaged in racier exchanges.
In Dungeon AI, you can craft compelling NSFW scenes by skillfully alternating between the tabs within the prompt box. 

You can switch it between 'Story,' which answers the question (what happens next in your story), 'Do' (what would you do next), and 'Say; (what would you say next). 
Switching between tabs before entering your prompts in Dungeon AI can enhance the AI's understanding of your desired outcome, resulting in a more accurate representation of your intentions. The platform does not shy away from generating explicit words and scenes, making it well-suited for crafting lewd stories with precision and authenticity.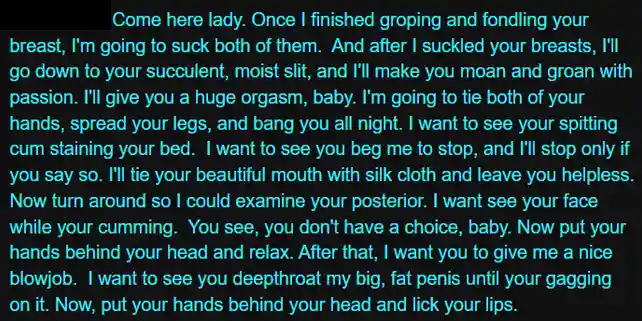 Tip: If you're running out of what to say, you can simply click the Enter button without saying anything, and the generator will gladly generate a continuation for you. 
For more ideas on how to create NSFW tales and images on Dungeon, check out its unofficial subreddit account. 
And yes, we just can't stop talking about DnD! 
In case you want to take a short break from your erotic writing, you may want to check out our list of the best AI image generators for creating Dungeons and Dragons characters.
You may also want to check out: How to Undress Images with AI
AI-Powered NSFW Storytelling
Immersing yourself in the realm of erotic literature can be truly enthralling, but imagine further elevating this pleasure by intertwining it with NSFW AI Art. This fusion of your zeal for sultry narratives and tantalizing visuals can open gateways to realms far beyond the borders of imagination.
In the age of AI, this unique blend of passion and technology is not just feasible, but remarkably effortless. Sign up for our newsletter to stay updated on the compelling world of Erotic AI Art storytelling. Details below.
Unlock Your FREE Access to Premium Erotic AI Art
Get exclusive access to our carefully curated Erotic AI Art Gallery, a stunning collection of some of our finest creations.

Sign up for the NeoBlush Newsletter to unlock a plethora of privileges:
Exclusive Art Access: Instantly receive our premium Erotic AI Art Gallery.
Hidden Treasures: Unlock premium content, reserved for subscribers only.
Cutting-Edge Advantage: Master the NSFW AI art world with our expert strategies and insights.
Insider's Club: A chance to be part of our elite group and gain 'insider knowledge'.
By signing up, you agree to our Privacy Policy.