After Google was forced to slam the "code red" button due to ChatGPT's growing threat, various industries have also felt the heat caused by this artificial intelligence (AI) powered chatbot. 
The education industry, in particular, was one of the most concerned sectors of all, as the chatbot has already found its way inside the classrooms, opening new avenues for all sorts of cheating. 
But soon, even prestigious universities may be compelled to sound their alarm as the tool recently flexed one of its newest and most stunning abilities: acing a high-level exam!
The AI Chatbot that Can Pass an MBA Examination 
Recently, a professor from the esteemed Wharton School of Business at the University of Pennsylvania tested ChatGPT's capabilities in a whole new way. Christian Terwiesch, an operations management professor, examined the chatbot's performance by letting it take one of the most rigorous examinations in the world: a Wharton MBA exam. 
With over two decades of teaching experience under his belt, Terwiesch meticulously evaluated the algorithm's performance by feeding it with his exam questionnaires and carefully grading each of its generated answers. 
In his research paper, he delves into the AI chatbot, released by OpenAI last November 2022, with the capability to execute human-like conversation and other key abilities.
The professor was left in awe by the remarkable performance of ChatGPT, praising its exceptional proficiency in process analysis and basic operations management. In addition to providing correct answers, the AI chatbot also impressed him with its ability to craft detailed and high-quality explanations.
Exam Questions Answered by ChatGPT
His research paper sheds light on the abstract (or unclear) nature of many ChatGPT discussions by providing concrete examples of the tool's performance. 
Through his study, he aims to give a clear picture of the AI chatbot's capabilities by highlighting specific questions it analyzed and the precise answers it generated. This is one of the most significant takeaways from his paper, as it gives a better understanding of the tool's performance, limitations, and potential.
Furthermore, Professor Terwiesch emphasizes that he didn't simplify or adjust the questions to suit the chatbot's capabilities. What he gave were the exact same questions that his MBA students previously answered.
Here are some of the answers that ChatGPT provided that gave a lasting impression on the educator. 
Process Analysis Question
In this question, he sought to evaluate ChatGPT's ability to answer a process analysis question, which required a thorough understanding of computations and the proper application of formulas.
Fortunately, it demonstrated a clear understanding of the question and provided an accurate answer, impressing the professor enough to award it an A+ for this particular output.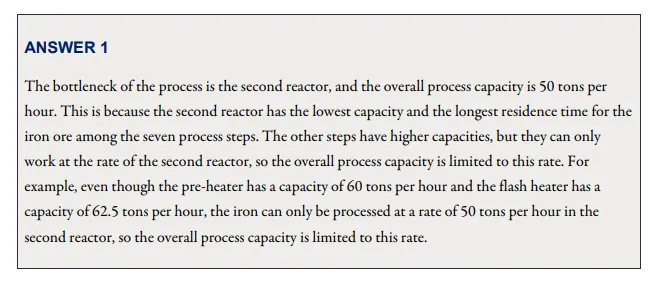 Inventory Turns 
In this second question, Professor Terwiesch aimed to gauge ChatGPT's understanding of working capital requirements and inventory turnover in a business setting.
Once more, the AI lived up to expectations and received a well-deserved A+ grade from him. 
ChatGPT Isn't Perfect – Yet 
However, despite its impressive performance, it became evident that the tool is not ready to fully replace MBA graduates. According to the professor, while the smart algorithm excelled in other areas, it sometimes struggles to solve even 6th-grade level math problems, repeatedly generating incorrect answers. 
Furthermore, he emphasized the limitations of the chatbot in solving more complex, analytical questions, revealing the current boundaries of the AI tool. It also falls short when it comes to providing reliable data as well, such as the distance between cities.
However, it does possess a redeeming quality in its ability to adapt, modify and correct its answers with the aid of users' hints. The tool is indeed a quick learner, but the quality of its modified answers depends on the provided hints or the users' expertise on a specific subject. 
This highlights the current limitations of the chatbot and its dependence on human assistance for certain tasks. But Terwiesch envisions that with its rapid learning capabilities, it may learn quickly from the provided hints, eliminating the need for repetitive input of the same clues in subsequent activities.
In fact, there are some entities that are working on augmenting ChatGPT with Wolfram Alpha in order to make its outputs more factual. Soon, ChatGPT might become better suited for research than even Google search.
Given ChatGPT's outstanding performance in the MBA exam, Professor Terwiesch has noted that it deserves a grade between B to B-. This is quite an achievement, as passing scores in Wharton Business School range from A+ to D-.
Enough to Pass the Waiver Exam 
At the Wharton School of Business, the Operations Management course is mandatory for all MBA students. However, they can skip this course entirely if they can demonstrate their mastery over this subject through a test known as the "waiver exam."
So, what does this have to do with ChatGPT? According to Professor Terwiesch, the performance exhibited by the AI chatbot is enough to pass the waiver exam, showcasing its remarkable aptitude for learning and analysis. 
However, note the word "enough" here, which means that the tool won its legitimacy to pass this type of exam by only a small margin. This isn't the first time ChatGPT has received acceptance from schools. In fact, a professor at McGill University started integrating ChatGPT in his class.
See also: Hackers found plotting cybercrime via ChatGPT
---
Join our newsletter as we build a community of AI and web3 pioneers.
The next 3-5 years is when new industry titans will emerge, and we want you to be one of them.
Benefits include:
Receive updates on the most significant trends
Receive crucial insights that will help you stay ahead in the tech world
The chance to be part of our OG community, which will have exclusive membership perks