It appears that coin flipping projects are on season on Solana right now, with countless gambling projects launching in the last week. The success of Degen Coin Flip (DCF) and Degen Fat Cats (DFC) has proven that there is high demand for coin flips and other iGaming projects in web3.
DCF essentially became a stepping stone for other projects to imitate, but the NFT community shows a divided sentiment about this matter: to make or break in this season.
Why Are Gambling Projects So Hot Right Now?
Firstly, gambling has always been a popular segment of the crypto industry, so it's no surprise that it somehow crept into web3. But more importantly, DCF, the OG coin flip platform on Solana, is also one of the most widely successful NFT projects of all time, and is unrivaled when it comes to coin flips.
Degen Coin Flip is a smart contract platform that allows users to have a 50-50 chance of either doubling their bets or losing them all, sort of like a coin toss. It turns out that the Solana community may have a lot of gamblers considering that DCF made over $90M in revenue, making them a market leader in coin flips on SOL.
In fact, its early minters have been paid back more than 100x their investment from the distributions alone. So how does DCF make money? It takes a 3.5% fee for using its smart contract. These fees are then distributed to holders of its 555 DCF NFTs.
For such a simple business model to reach this level of success, it can't be helped that others want to replicate it. But DCF, along with its new sub-collection: Degen Fat Cats, continues to dominate the space and the disparity between them and other coin flip projects is quit high.
The Rise of a Thousand Coin Flip Projects
Solana Coin Flip Season is here, and the long list of projects is still growing by the day, each of which offering some variation of DCF's double or nothing game, such as different tokens to bet, other perks or bonuses, etc. Interestingly, there appear to be too many coin flip NFTs on Magic Eden and very few of them can actually compare to DCF.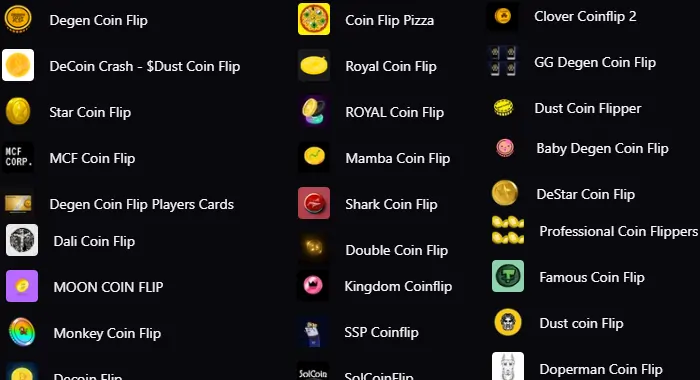 Solana's top emerging coin flip project is currently Dust CRASH & COINFLIP (which are now dead), reaching the top spot on Magic Eden's Popular Collections list. It brands itself as a DeGod-friendly project, sharing many holders from both collections. Dust Crash also shares 10% of its $DUST profits to the DeDAO, DeGod's DAO.
Dust CRASH continues to climb to the top by dominating numerous top ten lists, having reached a floor price of 13 SOL and a total trade volume of nearly 7K SOL in less than 2 days of launch. While it is still a far cry from DCF's achievements, it's doing better than almost every other new coin flip collection.
Monkey Coin Flip, a now-defunct startup project, also joined the new NFT gambling trend and provides a 90% revenue share for its holders. It supported four notable tokens: $DUST, $FORGE, $SCRAP, and $CRECK. The addition of other playable tokens is also in the roadmap. While its floor price is only 1.88 SOL, it's still trading above mint, which is more than we can say for roughly 90% of similar projects.
NFT Holders' Sentiment 
Most NFT holders are sharing their different ideas about the growing number of coin flip projects on Solana. The majority believes that they are only here for the short term and are unsustainable.
Cozy the Caller, a self-proclaimed analyst with over 114K Twitter followers, claims that he saw more than a hundred projects launch coin flip NFTs this week, sometimes 25 in a day. He also states that 99% of them have no future.
SOL Wizzy, a crypto enthusiast with more than 4k followers, shares that he did not participate in this gambling meta this season. He saw low potential in these projects, especially in the long-term, except for DCF.
I do think gambling projects do have some potential use cases for the Solana eco when done correctly and responsibly.

SOL Wizzy
Considering the number of projects that have launched and are about to launch, it's safe to say that the coin flip meta became saturated too quickly. The general sentiment is that most of them won't be here for long. However, there are still some degens who claim that there is still money to be made.
Whether that is worth the risk is up to individual investors.
---
Join our newsletter as we build a community of AI and web3 pioneers.
The next 3-5 years is when new industry titans will emerge, and we want you to be one of them.
Benefits include:
Receive updates on the most significant trends
Receive crucial insights that will help you stay ahead in the tech world
The chance to be part of our OG community, which will have exclusive membership perks