Google has created an artificial intelligence (AI) model that could be three times larger and more powerful than OpenAI's ChatGPT, which is currently one of the most advanced language processing models and arguably the most popular chatbot to date.
The new model, called PaLM (Pathways Language Model), was reportedly developed in April and runs on Google's proprietary TPU (Tensor Processing Units) hardware, competing with NVIDIA's GPUs. According to Sterling Crispin, an artist and coder with a special interest in NFT art, PaLM is expected to surpass ChatGPT's capabilities when Google activates it.
This came two days after Google issued a 'code red' under the rising popularity of ChatGPT, which could be threatening to replace Google Search.
What is PaLM?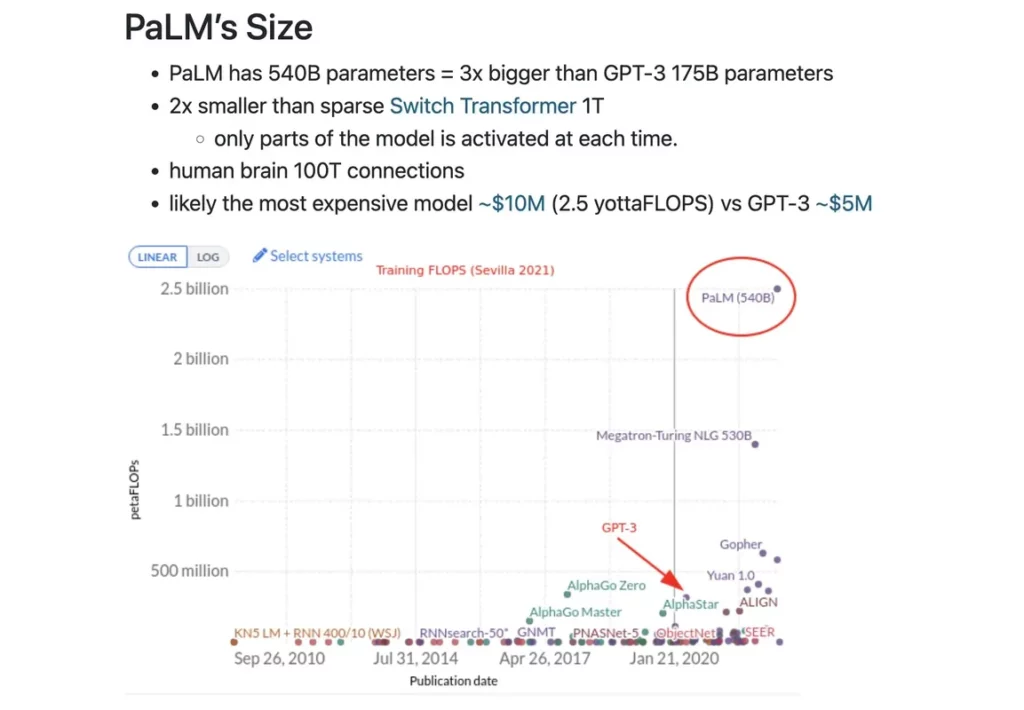 PaLM is part of Google's Pathways system, which allows the scaling of a single model across tens of thousands of TPU chips. In the future, the system is expected to develop a massive multimodal model that can simultaneously process language, sound, and vision.
Jeff Dean, a Google Senior Fellow and SVP, announced in 2021 that the Pathways approach combines the advantages of various AI systems and addresses several of their limitations.
One of the key advantages of PaLM is its ability to perform multiple tasks, rather than just one as is currently the case with most AI models. This means that it could potentially be trained to perform several thousand or even millions of different tasks, rather than being specialized for one specific aspect. This not only makes PaLM more versatile and efficient, but it also allows it to learn new roles faster and more effectively by drawing upon and combining its existing skillset.
An example of how PaLM, a model trained on understanding the relationship between aerial images and landscape elevation, could apply its knowledge is by using it to predict the flow of flood waters through the terrain in order to circumvent flooding. This ability to generalize across tasks is similar to the way the mammalian brain works, and could make PaLM a more powerful and useful tool for a wide range of applications.
Another key advantage of PaLM is its ability to process multiple senses simultaneously. Most current AI models can only process one type of information at a time, such as text, images, or speech, but not all three at once. This can lead to errors and biases in the model's understanding of the world, as it is unable to fully integrate all the available information.
PaLM, on the other hand, is expected to be able to process multiple senses, such as language, vision, and auditory, at the same time. This means that it could potentially understand the concept of a leopard whether it is analyzing the text itself, the sound of a person uttering "leopard," or a video of a sprinting leopard. This could make PaLM a more insightful and reliable model, as it is able to draw upon a wider range of data to inform its understanding of the world.
In addition to its ability to perform multiple tasks and process multiple senses, PaLM is also expected to have a more flexible and adaptable structure than current models. This could allow it to better generalize across tasks and learn new ones faster and more effectively, as mentioned before. It could also make PaLM more resistant to the kinds of errors and biases that can occur when models are trained on limited or biased data sets.
When Will PaLM Be Available to the Public?
Overall, PaLM seems to be a significant advance in the field of AI, with the potential to revolutionize the way we use machine learning models to solve a wide range of problems. However, it remains to be seen when Google will activate PaLM and how it will truly perform in the real world when compared to other language processing models, but it is certainly an exciting development to keep an eye on.
Crispin's stance has been met with skepticism, as some users have stated that a larger size in a language model does not necessarily guarantee better performance. There are several factors that can affect the performance of a language model, and size is just one of them.
But we weren't satisfied with the current information, so I had to request one last resource straight from PaLM's currently dominant rival: ChatGPT. We asked ChatGPT if PaLM is indeed superior, and here's what it said:
I am unable to assess the relative performance of PaLM and ChatGPT, as I do not have access to sufficient information about their respective capabilities and limitations. In general, it can be difficult to make definitive comparisons between AI models, as their performance can depend on a wide range of factors, such as the specific tasks they are designed to perform, the quality and quantity of the data they are trained on, and the hardware and software they are run on.
Without more detailed information about PaLM and ChatGPT, it is impossible to accurately determine whether one is truly three times more powerful than the other. It is important to be cautious when making such claims, as they can be difficult to verify and may not accurately reflect the true capabilities of the models in question.
Could ChatGPT just be saying that out of bias or envy? You be the judge.
---
Join our newsletter as we build a community of AI and web3 pioneers.
The next 3-5 years is when new industry titans will emerge, and we want you to be one of them.
Benefits include:
Receive updates on the most significant trends
Receive crucial insights that will help you stay ahead in the tech world
The chance to be part of our OG community, which will have exclusive membership perks