Nickelodeon's mother company, ViacomCBS, has partnered with the non-fungible token (NFT) solutions company Recur to bring two of its biggest brands into the metaverse: 'Hey Arnold' and 'The Rugrats' as NFT collections.
As of this writing, the Nickelodeon NFT collection currently ranks as the top collection in the OpenSea, with over $1.88M (1.2K ETH) in secondary market sales.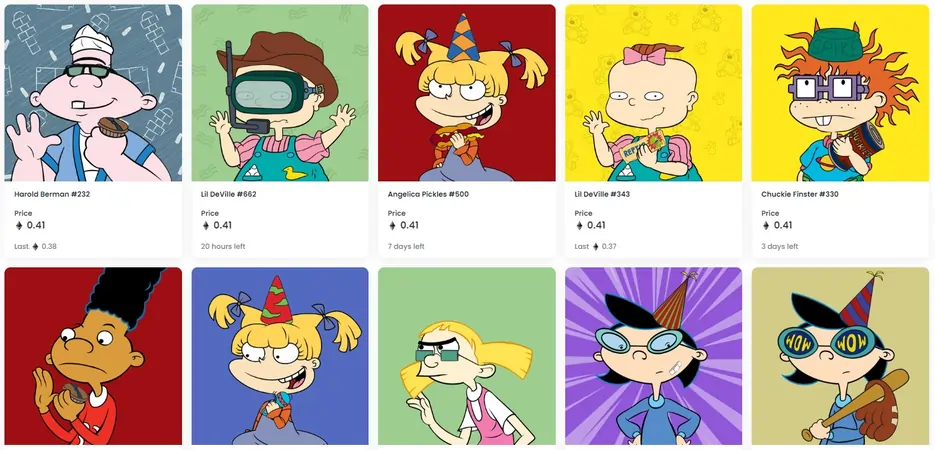 The so-called "football-head" has been a big part of the 90s' kids' life, dominating the boob tube every weekend or after school hours. And while one of Nickelodeon's most famous cartoons has long ended, Arnold and the gang have recently made a big comeback, only this time, it's on OpenSea.
Along with them are the equally famous 'The Rugrats' babies, who have also crawled their way into the world's biggest NFT marketplace. 
Nickelodeon's First NFT Collection 
The much-awaited drop happened last July 18 (for whitelisted participants) and July 19 (for all). The Nickelodeon NFT collection is filled with 10,000 world-renowned Rugrats and Hey Arnold characters, and was sold for $50 each. The team reserved half of the collection for the exclusive RECUR Pass holders, which also had the chance of purchasing new NFTs on the public sale. 
For the first time, the beloved Nickelodeon characters were reborn as algorithmically-generated characters, each sporting new traits of up to nine attributes, making them a great (and nostalgic) profile picture (PFP) for holders. 
An Instant Success!
Nickelodeon selected six icons from each cartoon to be the base characters for the brand new collection. Nick has selected iconic characters from 'The Rugrats' including Tommy and Angelica Pickles, Chuckie Finster, and Susie Carmicheal. As for 'Hey Arnold', Helga Pataki, Gerald Johanssen (and of course, Arnold Shortman) were some of the lucky ones selected in the slate. 
It has also launched a special 24-hour auction for its additional 12 new NFT characters, on top of its 10,000 digital asset collection. The highest bidder received special gifts including hand-drawn and physical artwork based on the purchased digital character and a free Nickelodeon NFT pack. 
The team has also reserved 500 packs of NFTs (which are not for sale) and will go to its marketing and community initiatives. In other words, those who have missed the mint, and may not yet be ready to purchase on secondary marketplaces, can still have a chance to acquire these valuable NFTs. 
As of this writing, the Nickelodeon NFT collection currently ranks as the top collection in the OpenSea, with over $750,000 in secondary market transactions. 
Slime: A Rare Element to Watch Out For
On July 20, 2022, Recur proudly announced that the entire Nickelodeon NFT collection has quickly achieved a sold-out status making way for the project's next phase: The use of Slime. Apart from Nickelodeon's hit cartoons, it has also become famous for its use of green, gooey Slime, especially on its annual Kids Choice Awards. 
And this iconic green Slime has splattered its way on Nick's new collection as a valuable and rare element that merges Hey Arnold and The Rugrats characters. Holders can redeem a Slime in exchange for one of their NFT characters, which will be slimed (burned) after the swap. 
The Slime is a separate collection of 5,000 NFTs, which holders can start redeeming on July 29th. Another interesting fact is that Nickelodeon NFT characters already possess a trait that determines how much Slime they are worth (handy when holders decided to exchange them for the gooey element). By collecting ten Slimes, holders can finally combine one Hey Arnold and one Rugrats character and create a rare and more valuable NFT
---
Join our newsletter as we build a community of AI and web3 pioneers.
The next 3-5 years is when new industry titans will emerge, and we want you to be one of them.
Benefits include:
Receive updates on the most significant trends
Receive crucial insights that will help you stay ahead in the tech world
The chance to be part of our OG community, which will have exclusive membership perks