The emergence of artificial intelligence (AI) technology has ushered in a new era of chatbots that are not only more robust but also more engaging, interactive, and enjoyable. We no longer have to contend with chatbots that were once primarily designed for business use, offering rigid and overly formal responses that lacked personality and flair.
Nowadays, anyone can enjoy extended conversations with diverse AI-powered chatbots that deliver remarkably human-like responses. But here's an even more thrilling trend: aside from utilizing pre-built chatbots, we can now create our very own one! This opportunity finally allows us to customize a chatbot based on our personality, preferences, and character. 
And the best part? It's not as technical and intimidating as it sounds. Let's take a look at how easy it is to assemble a virtual friend or partner in a few easy steps. 
6 Steps On How to Create a Yodayo Chatbot
Creating a new virtual friend doesn't have to be complicated. With six easy steps, you can create your own personalized chatbot in a few minutes!
Log in to Yodayo.com 
Log into Yodayo.com using your existing email account. You may also select other options if you want to create an account in a different way.
Click the 'Tavern' Button 
Select one of these 'Tavern' buttons on Yoday's homepage. Both of these buttons will bring you to the same Chatbot Creation page.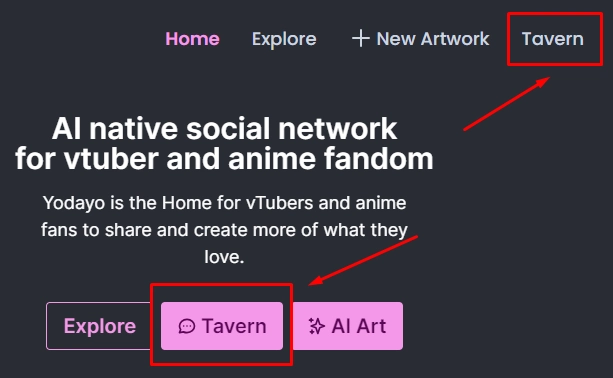 Select the '+ Character' Tab 
Once you're inside the '+ Character' tab, upload an image for your character, and fill in the boxes for 'name,' 'description,' 'persona' and 'first message.' 
You can generate a profile picture for your character using Yodayo's built-in image generator or your other favorite AI visual creators, including Midjourney or DALL-E. You may also use AI image platforms specifically built for anime characters or NSFW-themed images, depending on what personality you want to give to your chatbot. 
Tip: Use ChatGPT or Google Bard to quickly create a name, description, persona, and first message for your chatbot.
Moreover, if you want your character to have a naughty personality, you may simply check the NSFW ticker box, which can be found beside the name box. Other character information such as 'configuration file,' 'scenario,' and 'example dialogue' are all optional, which means you can skip them altogether and move to the next step. 
But before proceeding to the next page, select up to three categories you want your characters to explore. Once done, click 'Next
See also: Why Try Character.AI Chatbots? 
Create an Image and Background for Your Character 
When it comes to creating an image and background for your chatbot, you have the option to select a (non) advanced or advanced mode. 
In the non-advanced mode, you can simply upload an image with a background that has a resolution of around 3072×2048.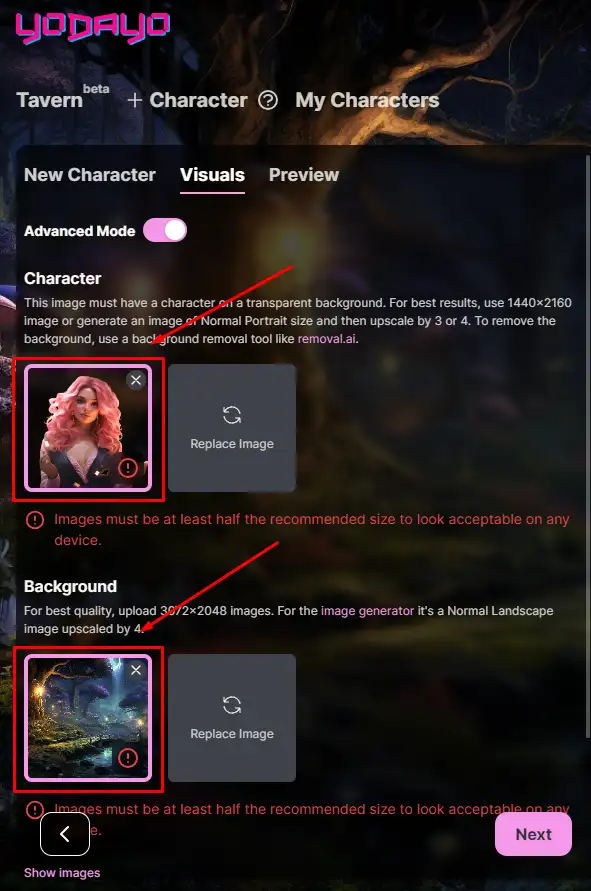 In the advanced mode, which can be activated with a simple toggle, you will need to upload two separate files: one for the character image (with a transparent background) and another for the background. You can use an online background remover tool to quickly create a transparent backdrop for your character.
Be very mindful of how you select your images, as they will dominate your entire screen every time you open and chat with your chatbots. 
Review Your Chatbot's Aspects 
Before finalizing your customized chatbot, you can still review its key elements and decide whether to make it 'Public,' (making it accessible to anyone) or 'Private,' (making you its exclusive master).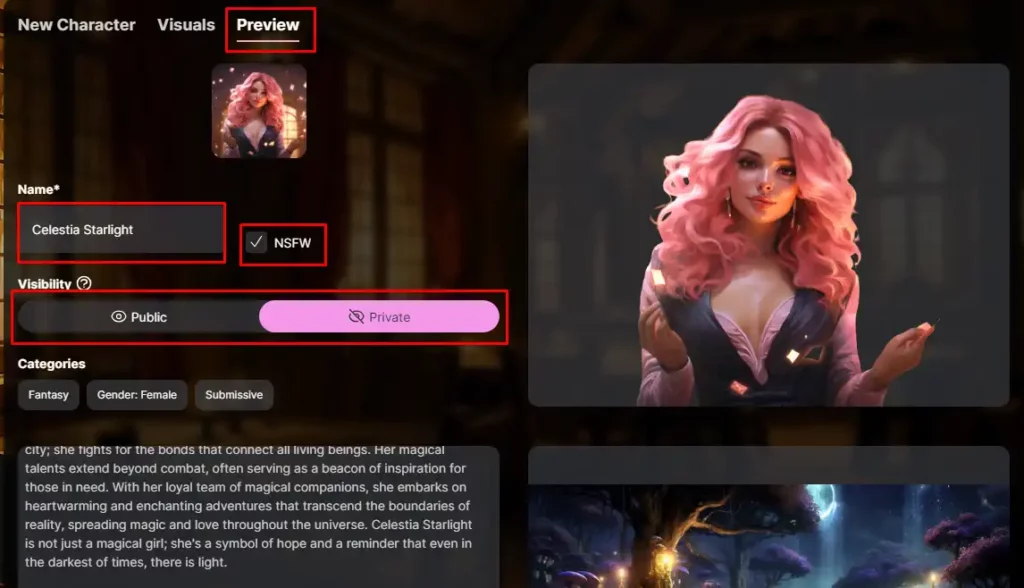 If you need more time to think about changing its aspects, you may first click 'Save Draft.' But if you're satisfied with all your customization, you can hit 'Publish ' right away. 
You may also want to check out:  Best AI Girlfriend Apps this 2023 
Chat With Your Newly-Created Chatbot 
Whether you saved your chatbot as 'Public,' 'Private,' or 'Draft,' you can immediately access your character in one of the tabs on Yodayo's homepage. After choosing the appropriate tab, you can finally strike your first conversation with your chatbot by clicking the pink 'Start Chatting' button.
Do You Want to Create Another Chatbot? 
Once you've created a draft or a completed chatbot, you can effortlessly make another chatbot with an entirely new personality by simply repeating the creation process. You can also get inspiration by exploring chatbots created by other users. Testing them out might help you discover ideas you'd like to include in your next character.
Yodayo's AI Image Generator: A Quick Look 
Yodayo has a competitive AI image generator that can create decent characters. While it may not yet achieve Midjourney-level outputs, its images are more than enough to impress your friends, especially when you use them on your chatbots. 
Here's a quick guide on how to use Yodayo's AI art generator. 
Click the 'Generative AI Art' Button 
On Yodayo's homepage, select the 'Generative AI Art' button just beside the 'Visit Tavern' tab. 

Input Your Prompts 
To design your character's appearance, describe your vision in the prompt box. You can also use negative prompts to specify elements you wish to avoid in your output, and you can place these in a separate section.
If you need some help generating fresh ideas, you may click the 'Random Prompt' button located just below the prompt box.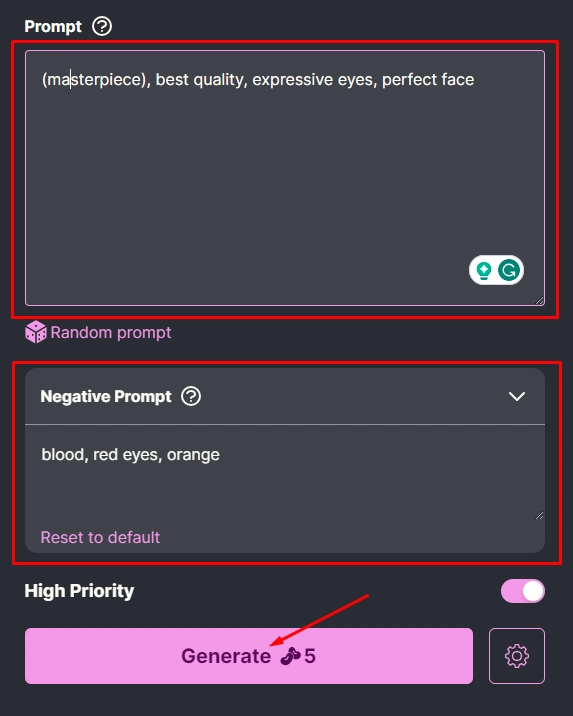 Once done, click 'Generate.' 
Buy YoBeans (Credits) If Needed 
If you're striving for the perfect aesthetics and plan to create multiple chatbots, your free credits might not be sufficient, especially if you need to fine-tune your images.
YoBeans comes in $5, $10, $20, $50, and $100 packages, which would give you additional credits and more freedom to get the looks you want for your chatbots.