One of the major hurdles faced by most not-safe-for-work (NSFW) art generators today is their poor image quality, subpar user experience, and difficulty in accurately following users' prompts. For those of us who enjoy testing out artificial intelligence (AI) platforms and products, these issues present an opportunity to discover hidden gems that could potentially solve these challenges.
Previously, we rose up to this challenge and came up with a comprehensive list of the best-performing erotic image generators available in the market. And today, we are thrilled to expand this list by introducing a new contender called Promptchan. This promising platform has been making waves due to its high-quality image outputs.
In this article, we will put this NSFW generator to the test to see its photo quality, user-friendliness, image models, and, most importantly, its ability to follow users' text prompts. Let's dive in.
What is Promptchan AI?
Promptchan is an NSFW AI-powered image generator that creates hyperrealistic, real, and anime-style photos based on users' text instructions. Its entire platform and all the functionalities that come with it are centered around user-friendliness, which allows users of any level to produce astonishing X-rated images with ease.
User-Friendly Interface
Its homepage features a clean user interface with well-organized buttons that allow users to seamlessly navigate through albums, generate outputs, and discover helpful prompting techniques.

The dominant part of its landing page is dedicated to its hundreds (if not thousands) of irresistible and provocative images you would want to download right away! You may segment these photos according to their styles by clicking the 'All Models' button and selecting the visual type that currently interests you.
This mega album also serves as a giant collection of NSFW text prompts that can help you gain inspiration in creating your next set of enchanting waifus.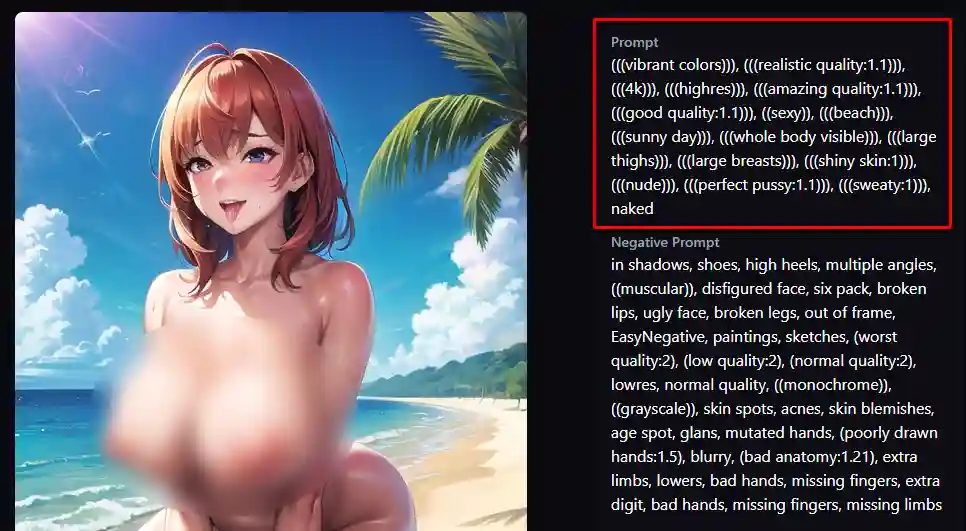 Promptchan also offers an NSFW toggle, providing you with the option to reveal or hide provocative images at your discretion.
Easy-To-Use Functionalities
One of the standout aspects of Promptchan is its user-friendly creation page, which is so straightforward that even beginners can effortlessly create photos without encountering any significant challenges.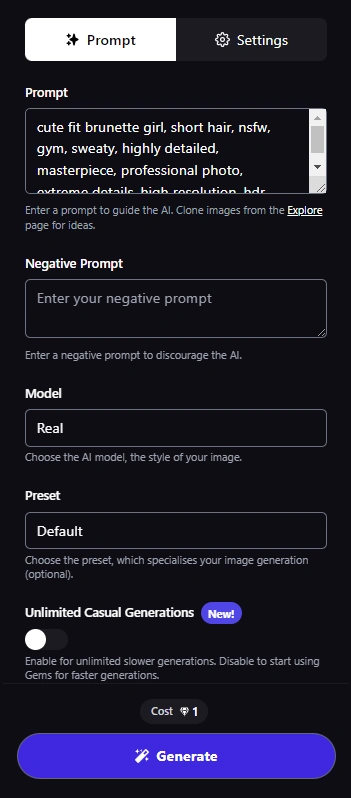 This page includes a prompt box, a negative prompt box, image model options, and preset selections for additional instructions. You can also disable its default unlimited slow generation mode and opt for a faster photo creation process, which would require gems to work.
And once you have crafted your prompts and adjusted the available options, simply click the 'Generate' button and wait for your seductive waifu to come to life.
To apply additional customization to your photo before generating it, click the 'Settings' button and adjust your chosen preferences.
Once inside, you have the ability to customize various aspects such as image size, quality, creativity, number of grids, and your seed. Note that you need to subscribe to one of Promptchan's plans to unlock key features inside the settings. You can check out all of its available plans, including the perks you can get, in this link.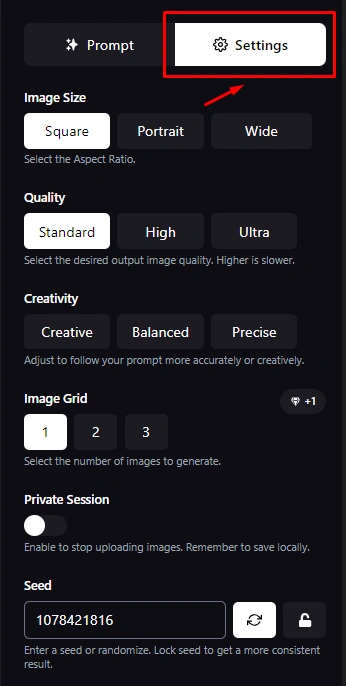 Tip: To apply better NSFW instructions to your visuals, you can check out our step-by-step guide on how to create seductive AI-generated photos.
Carefully Selected Features
While other NSFW AI generation platforms race to deliver more and more functionalities (even if most of them are virtually unnecessary), Promptchan focuses on a few yet highly important features where it can deliver the best performance for users.
Negative Prompts 
The primary function of negative prompts is to emphasize the visual elements that you do not want to appear in your output. Including this step in your process is optional, but if you want to ensure that your output avoids depicting multiple limbs or six-fingered hands, you should give this a go.
The platform understands that weird elements are one of the biggest headaches of generative art users, especially the ones from the NSFW community. And this feature, though not as grand compared to other functionalities, can significantly impact users' output.
As a bonus, you can simply copy a bunch of negative prompts from other images found on the website's homepage, in case you're finding it hard to create your own preventive instructions

See Also: How to Undress Any Images Using AI 
Preset Functionality
Apart from the AI generator's styles, users can also enhance their photos with Promptchan's Preset feature which helps them determine the dominant pose or action of their images.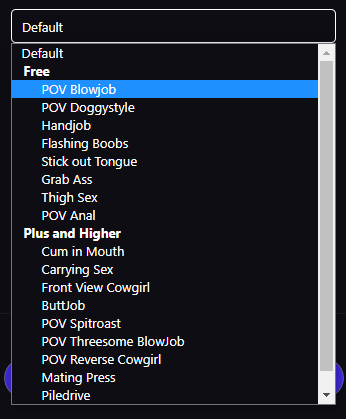 Promptchan's Three Image Styles
We tested the same prompts for the platform's three image styles, and while they have some minor issues, like uneven pupils, the overall quality of their visuals is certainly one step higher than what we usually see from typical image generators.
Hyperrealistic
Promptchan's hyperrealistic mode is certainly competitive, but users would really need to fill its negative prompt with detailed instructions on what shouldn't' appear in its generated image. Sometimes, it may include unnecessary accessories, unexplainable goo on characters' faces, and more. But users could easily eliminate these eyesores on their next photo as long as they include them in the negative prompt box.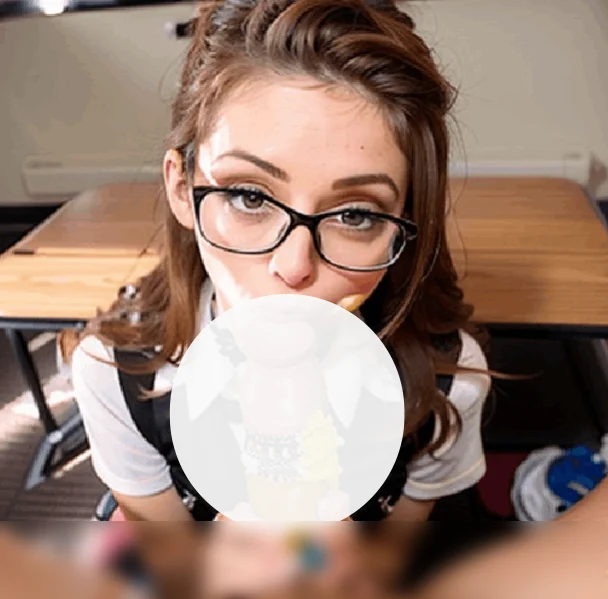 Anime
Promptchan's Anime mode may not be as exceptional as Midjourney's Niji mode, but it can generate a decent set of images. And while it is not as detailed as we want it to be, one thing that impressed us is its ability to closely follow our instructions, without skipping almost anything from our prompts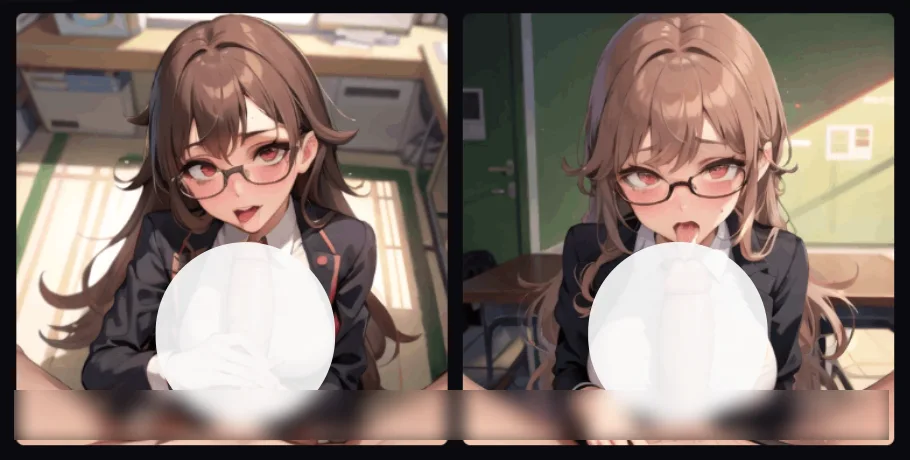 Real
Real mode is a slightly toned-down version of the hyperrealistic style, and while we expect it to be of higher quality, the results are certainly above the standards when compared to typical AI image generators that offer the same style.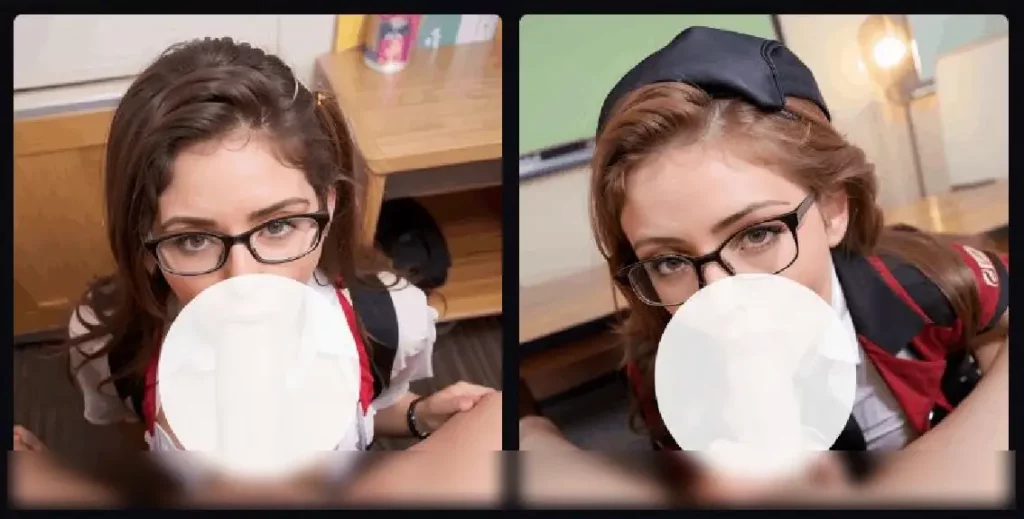 Unlock Your FREE Access to Premium Erotic AI Art
Get exclusive access to our carefully curated Erotic AI Art Gallery, a stunning collection of some of our finest creations.

Sign up for the NeoBlush Newsletter to unlock a plethora of privileges:
Exclusive Art Access: Instantly receive our premium Erotic AI Art Gallery.
Hidden Treasures: Unlock premium content, reserved for subscribers only.
Cutting-Edge Advantage: Master the NSFW AI art world with our expert strategies and insights.
Insider's Club: A chance to be part of our elite group and gain 'insider knowledge'.
By signing up, you agree to our Privacy Policy.