Reddit Coins are virtual items that allow Redditors to buy awards, which they can give to content creators across the platform as a badge of honor, simple appreciation, or reaction to their posts.
Here's an example of a post with awards, covering Reddit NFTs' 4.4 million record: 
Although currencies inspired the concept, users can't convert Reddit Coins into real-world money; their utility is currently to purchase products to spread good vibes on the platform, nothing more and nothing less.
However, the digital products bought using Reddit Coins have benefits; some make posts eye catchy while others provide extra advantages. Consider it as the platform's way to empower creators and promote community engagement.
How? Let's find out in the following sections. 
Award Types
You can use your Reddit Coins to avail of different kinds of awards, each having various functions. There are currently four types:
Community
Community, as the name implies, is an award exclusive to subreddits and varies from one to another;  it's the reason some have them while others don't. For example, r/CryptoCurrency currently has five available community awards, while r/avatartrading has none.

Additionally, the platform takes a percentage of Reddit Coins from community award purchases and allocate them to the Community Bank. Moderators can use them to create exclusive recognitions that's reflective of their group's culture.
Reactions 
Reactions awards are recognitions to posts that make you feel certain emotions, such as laughter, awe, disappointment; you name it.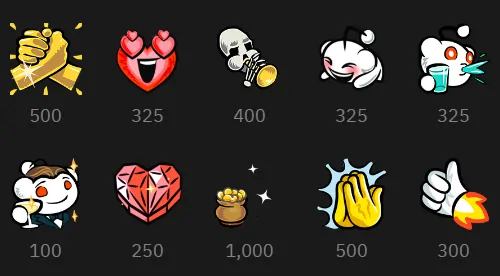 But wait; you might want to take a moment to decide which reaction award to grant, as some give back Reddit coins to authors and communities. 
For instance, if I awarded a Timeless Beauty reaction to a post shared on a particular subreddit, the author and the community will receive 100 Reddit coins each.
Medals 
Medals are more expensive than other awards, as you'll mainly use them for exceptional contents. There are currently five types of medals: silver, gold, platinum, argentium, and ternion all powerful. 

See Perks of Reddit Awards section to find out their different perks.
Premium
Premium awards are exclusive to members who availed the subscription offer. Through this, they can enjoy a few animated awards, giving posts and comments some extra style; there are also other benefits too.

Additionally, this award type tends to be more sparkly than others, but it doesn't reflect on their Reddit coin price.
Fun Tip: Reddit provides a free award to Redditors, but they pop up randomly under your Coins section. Check them out, and don't forget to claim them when you see one.
Perks of Reddit Awards
The Reddit team created each award differently; while most are mainly for appreciation and engagements, some provide benefits to recipients. Let's take medals as an example.
Silver is the simplest award of all the available medals, as content creators can only use them as a display badge. However, it gets more exciting with gold; receivers enjoy 100 Reddit Coins, free access to r/lounge (a gated community) for a week, and no ads when browsing.
Platinum returns 700 Reddit Coins to recipients with month-free access to r/lounge and no ads. The rewards only get better as you get a higher-tier medal. Argentium provides 2,500 Reddit Coins with access to r/lounge for three months while saying goodbye to ads.
The highest medal is Ternion All-Powerful, which gives 5,000 Reddit Coins, half a year of r/lounge access, and ad-free browsing. 
Regardless of what you receive as an award, they all build your post's or comment's reputation, which can attract more viewers to your writings. Who knows, it might open up a door of opportunity for you.
How to Get Reddit Coins?
There are multiple ways to get Reddit Coins. Don't worry; the steps are easy, and we'll explain each one at a time:
Direct Purchase on the Website
You can directly buy Reddit Coins on the platform to spread good vibes instantly. But first, you must have a funded Paypal or bank account to pay for your chosen bundle. 
Once ready, click on the bundle you want to purchase and input the necessary details. Press Complete Purchase to finish the transaction.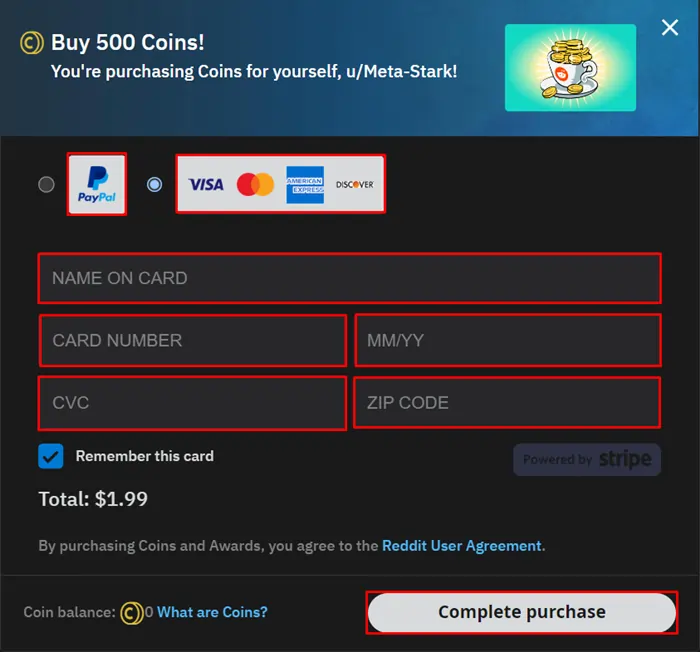 After a while, you'll see your Reddit Coins balance below your username. Feel free to buy awards and give them to your favorite content creators and commenters.
Note that you can't transfer Reddit Coins to other users. Therefore, it's best to purchase them using your account.
Reddit Premium Subscription
The premium subscription is an upgraded version of buying Reddit Coins, as it comes with extra advantages: gain 700 monthly coins, receive exclusive awards, access CryptoSnoos outfits, and more. 
You can avail of this offer on the premium section under your Reddit profile or click the link to visit instantly. Don't forget to set up a funded Paypal or bank account to cover the costs. 
Once ready, choose a subscription offer: monthly or yearly. Pay the price, and then you're good to go. You can instantly enjoy the upgraded experience and keep them as much as you want.
Award-Worthy Content
You can get Reddit Coins without spending any amount, but you have to write exceptional posts or witty comments. There are tons of generous Redditors out there but putting more effort into your content can help attract awards with rewards.
How Much Do Reddit Coins Cost?
Every Reddit Coins bundle has varied prices, ranging from $1.99 to $199.99; it depends on the amount needed. Let's check them out:
500 coins ($1.99);
1,100 coins ($3.99);
1,800 coins ($5.99);
3,100 coins ($9.99);
7,200 coins ($19.99);
40,000 coins ($99.99); and 
82,000 coins ($199.99);
Alternatively, you can avail of Reddit Premium for $5.99 (monthly) or 49.99 (yearly). 
First-time buyers are also eligible for a special offer: get 1,800 coins at the same price and receive an additional 450 for free.
Reddit Coins: Empowering Community Engagement
Reddit is a social platform having a solid community that continuously powers its strength to build over the years. Its culture even reflects concepts that empower engagements, one of which is through Reddit Coins.
Reddit Coins can only buy awards, but looking past that, it helps connections grow; even a simple silver medal can go a mile. The next thing you'll know, your post received much support with overflowing comments that can still be relevant today. Like this.
Although there are mixed reactions to the use case of Reddit Coins and awards, they undoubtedly contribute to building a positive space where Redditors can coexist despite diversity.
---
Join our newsletter as we build a community of AI and web3 pioneers.
The next 3-5 years is when new industry titans will emerge, and we want you to be one of them.
Benefits include:
Receive updates on the most significant trends
Receive crucial insights that will help you stay ahead in the tech world
The chance to be part of our OG community, which will have exclusive membership perks