OpenAI has finally rolled out ChatGPT Plus, the paid subscription plan for ChatGPT, a conversational AI platform that can answer any queries on a wide range of topics. But since the AI system is free to all, some users are wondering what perks ChatGPT Plus provides.
ChatGPT Plus is a paid subscription plan geared toward users who want special perks and priority access when using ChatGPT. Unlike normal users, Plus subscribers get to use the platform even during peak hours and are first in line to test out new features as they roll out.
Cost
A ChatGPT Plus subscription costs $20 per month plus any applicable VAT (value-added tax) based on your location. Expect to pay between $20-$25 monthly in total. Furthermore, OpenAI only accepts payments via credit/debit cards at this time.
ChatGPT Plus has been made available in several countries. Before February, this same plan was initially given to selected users in the US at a starting price of $42 per month. For a list of supported countries, click here.
Benefits of ChatGPT Plus
ChatGPT Plus comes with some obvious perks, as well as not-so-obvious ones (OpenAI doesn't advertise good features well). If you're considering becoming a ChatGPT Plus subscriber, you can expect to enjoy an enhanced and more convenient user experience thanks to the following advantages:
Multiple Models — You'll get to choose from three different ChatGPT models, including the all-powerful GPT-4.
Availability even during peak hours — ChatGPT Plus users have priority access, hence, you'll be able to access the system even in busy periods while free users may have to wait in line. This is the best feature overall.
Sessions don't drop — Perhaps the most overlooked feature of premium ChatGPT is the fact that your login sessions don't drop, meaning you don't have to refresh your browser and/or re-login every time you want to use it. People who often keep at least one ChatGPT tab open will understand how convenient this is.
Faster response generation — Another major advantage of ChatGPT Plus is its Default mode, allowing the platform to generate text at a much faster rate. You can intuitively feel the difference when using both free and paid models, but it's not drastically that much, to be honest (roughly 40-100% faster generation).
Priority access to new features and upgrades — ChatGPT is constantly evolving and adding new features to improve its results and user experience. A paid subscription gives you first access to these updates, such as the multimodal model (supports images and text) that is to come soon.
Higher daily limits — Obviously, Plus users get to send more requests than free users. Initially, OpenAI promised 2x the regular limit for paid subscribers, but that may no longer be the case anymore.
ChatGPT Plus Modes
Paying subscribers can access three models of ChatGPT: Default, Legacy, and GPT-4.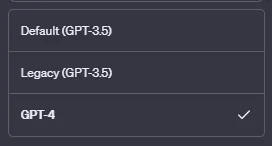 The Default model, also known as Turbo Mode, is optimized for speed and can generate responses nearly twice as fast. However, the results are slightly inferior.
The Legacy model, on the other hand, is the same as the free version that is available to all users. Many Plus subscribers have testified on social media that this mode provides better results, despite shortcomings in speed.
The GPT-4 model is the most advanced version to date, providing an even greater ability to understand nuance, generate more accurate results, and even express creativity than its predecessors. Not to mention it has an increased memory limit.
Learn more about GPT-4 vs GPT-3.5.
Limitations
While ChatGPT Plus offers a range of benefits unavailable to free users, this doesn't mean you get treated as a VIP. There are some limitations of ChatGPT Plus that you need to be aware of:
Usage Limit: Even as a ChatGPT Plus subscriber, you may still encounter an hourly/daily limit for conversations. If you reach this limit, you may need to wait for a period of time, ranging from a few minutes up to a day, to continue using the service. GPT-4, in particular, has a cap of 25 messages every 3 hours.
Response Quality: Interestingly, the response quality of GPT-4 is far more eloquent, cohesive, and balanced than the models available to free users. The Default (turbo mode) may offer faster response times but you're basically sacrificing output in place of speed.
Word Count: The word count in ChatGPT Plus remains largely the same as in the free version, although it may be slightly 3-8% higher on average.
Refunds: If your account is terminated for violating the Terms of Use of the platform, you will not be eligible for a refund for any remaining credits or prepaid service. As a paying user, you're kind of forced to be more thoughtful about the prompts you make.
Despite these limitations, ChatGPT Plus can still be a valuable tool compared to the free version.
Should You Upgrade to ChatGPT Plus?
Whether or not a ChatGPT Plus subscription is worth the investment depends on how often you use it and for what purpose. But for most people, paying $20 for the upgrade isn't worth it when a free version is available. That is, unless you want to use the GPT-4 model, then you have no choice.
Sure, if you're someone who requires reliable access, that is, being able to use ChatGPT every time you need it with less interruption of service, then the $20 monthly is well worth the price. Business owners or freelancers who use it to make work more efficient usually get more than they've bargained for. But if you don't make money with it or it doesn't make any money-making endeavor faster for you, then you can probably live with the free version, which works well enough.
Another thing to consider is the time zone you're in. If you can manage to use it only during its most vacant hours (most likely when Americans are sleeping!), the free version might suffice.
I am personally a Plus subscriber and use ChatGPT every day because it makes content creation faster and yields better articles for my media site. And so do other writers of Metaroids. But those are my views.
I also compiled the opinions of other Plus users from various social platforms:
"I experienced a lot of unavailability issues in the first day. And less afterwards. Speed was not optimal during the first day, but it improved afterwards. So far, a good investment. Hope it stays at least like it is now." — Cristi
"If you use it for business, it will soon be worth much more. If you save even 1 hour in time, it is justifiable for business purposes. I would also subscribe to it for € 100." — Michiel de LeeuwvanWeenen
"It would be worth it, if they removed this Too many requests in 1 hour. Try again later." — Maribusa
"After the first hour I used ChatGPT I thought it will be at least 1000 – 1500 USD / month. It would worth far more. No doubt. This weekend It wrote for me a PHP code for a parcel API. I stucked with it month ago. Now I can move forward. I think ChatGPT [PLUS] is priceless." — Schilling Peter
How to Subscribe
If your country is eligible, you should be able to see an "Upgrade to Plus" option on the left side of your ChatGPT interface. Click it and then click "Upgrade plan".
The Takeaway
ChatGPT Plus may seem too expensive for some, but you need to note that it's important for startups to monetize their services in order to give better features. Moreover, there is a small segment of users who are willing to pay several multiples of its current pricing because they've figured out a use case that's making them money.
Many of the complaints surrounding ChatGPT Plus are due to the daily and hourly conversation limits. OpenAI initially promised only twice the daily limit, which just isn't worth $20 for many users. It is also debatable whether the daily limit is indeed still 2x (as new documentation no longer specifies this).
A lesser portion of complaints come from users who expect more added features for the price. While we know that OpenAI will roll out more features over time, as of today, I think ChatGPT Plus is better suited to professionals that are able to monetize ChatGPT.
---
Join our newsletter as we build a community of AI and web3 pioneers.
The next 3-5 years is when new industry titans will emerge, and we want you to be one of them.
Benefits include:
Receive updates on the most significant trends
Receive crucial insights that will help you stay ahead in the tech world
The chance to be part of our OG community, which will have exclusive membership perks