The world of comics has always been a vibrant playground of creativity, where artists with vivid imaginations breathe life into captivating stories. 
With the meddling of cutting-edge AI technology in the creative space, artists and creators are now exploring new avenues to push the boundaries of their craft. This begs the question of whether AI-generated images can truly find a place within the orthodox world of comics. 
AI-generated images can be used for comics, but according to the U.S. Copyright Office, art created purely with the use of AI is not eligible for copyright. Although artists can lay a copyright claim for editing or modifying content produced by AI. 
The use of AI-generated art in comics holds great potential for expanding the creative possibilities of comic artists. But this has sparked both curiosity and controversy among comic enthusiasts.  
Sit tight and join us as we dig into the potential of AI-generated images as a tool for artists and explore the opportunities and challenges they present in the world of visual storytelling.
The Transformative Role of AI in the Comics Industry
Let's start with the most exciting part, character creation, which previously involved the painstaking process of designing a superhero or villain, and spending hours perfecting every muscle and wrinkle. Now with AI-powered tools, artists can generate unique characters effortlessly and bring their creations to life within minutes. 
These programs present the option of automated processes, thereby reducing production time and streamlining the workflow. For instance, software such as Vizcom and Autodraw utilizes AI algorithms to create and colorize black-and-white illustrations, freeing up artists' time to focus on other creative aspects.
AI has also found application in enhancing the storytelling experience within comics. Machine learning algorithms can be trained to analyze vast amounts of comic book data, allowing it to identify narrative patterns and learn storytelling techniques. AI text-generating tools like ChatGPT can now help just about anyone come up with engaging storylines filled with plots and twists.
Furthermore, AI has influenced the way comics are consumed and distributed. With the rise of digital platforms and AI-based recommendation systems, readers can discover and explore a wide range of comics tailored to their preferences. Platforms like ComiXology employ AI algorithms to analyze readers' preferences and provide personalized recommendations to readers. 
Copyright Implications of Using AI-Generated Images For Comics
When it comes to incorporating AI-generated images into comic works, we're entering the realm of copyright confusion leading to constant debates. While artificial intelligence has revolutionized creativity, we must navigate the choppy waters of ownership and intellectual property rights.
Who owns the AI-generated content? It's the million-dollar question, or in this case, a million-lines-of-code question. Copyright law typically grants creators exclusive rights to their original works, but when AI gets involved, things get a little fuzzy. 
In most jurisdictions, the legal authorship of AI-generated comic images rests with the creator of the AI algorithm or the person who owns the AI system. So, does that mean that the AI itself, rather than the human user, may hold the copyright to the resulting images?
Intellectual property laws allow creators the right to reproduce, distribute, and publicly display their creations. However, fair use provisions allow for the limited use of copyrighted materials without permission under specific circumstances, such as criticism, commentary, or parody. 
When incorporating AI-generated images into comics, it is essential to consider whether the use falls under fair use or requires explicit permission from the copyright holder. Essentially, to protect the originality of your AI-generated images, you'll need to channel your inner creativity. 
Transform those AI creations into something that's significantly original that you can call your own. Remember, imitation may be the sincerest form of flattery, but it won't do you any favors in the copyright department.
Krish Kashtanova vs. The US Copyright Office
In the muddy waters of copyright and AI-generated art, one case that captured attention involved Krish Kashtanova's attempt to secure copyright registration for images created using the AI-powered Midjourney image generator. 
Specifically, these images were intended for the comic book titled "Zarya of the Dawn." However, the US Copyright Office took a firm stance and declared that these images should not have been granted copyright protection in the first place. As a result, the previously granted copyright protection for the images was revoked.
This case highlights the complexity of copyright law in relation to AI-generated content. While AI technology has the ability to create stunning and captivating visuals, it also challenges traditional notions of authorship and originality.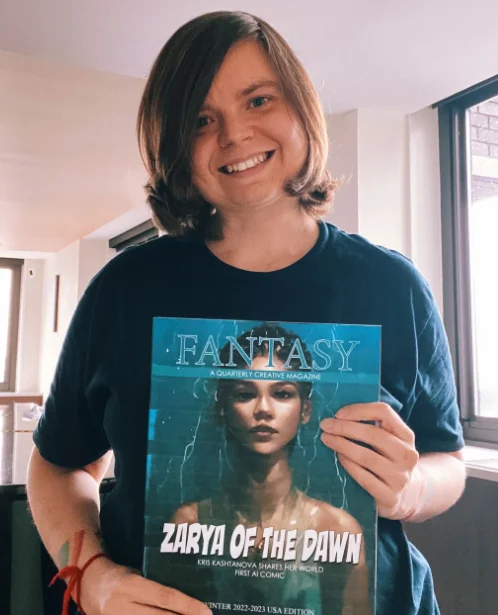 The decision in the Krish Kashtanova case aligns with the stance taken by the US Copyright Office guidelines. The guidelines hold that art created solely by AI, without substantial human intervention, does not meet the threshold for copyright protection. The emphasis is on the human artist's contribution to the creative process, again recognizing the importance of human originality.
This ruling serves as a reminder to comic artists and creators to consider maintaining creativity in their work despite the availability of sophisticated AI programs. No doubt, AI technology can be a valuable tool in the creative process, but it is crucial to ensure that artists actively contribute and infuse their unique artistic vision into the final product.
This balance not only safeguards the integrity of copyright law but also ensures the recognition of genuine artistic expression.
Case Studies: Examining Successful Examples of AI Integration in Comics
Copyright approval or not, indie creators have embraced the use of AI-generated art as a means of exploring new frontiers in storytelling. So, let's examine two successful case studies that demonstrate the seamless integration of AI in comics while also offering commentary on the very technology that powers them.
Case Study 1: "Entering the Data Core" by Christen Bach
"Entering the Data Core" by Christen Bach takes us on a wild, semi-dystopian ride through the tangled wires of AI. In this comic, AI isn't just a buzzword, it's the star of the show! Bach's witty and thought-provoking storytelling pairs harmoniously with AI-generated art, creating a visual feast for comic enthusiasts and tech nerds alike.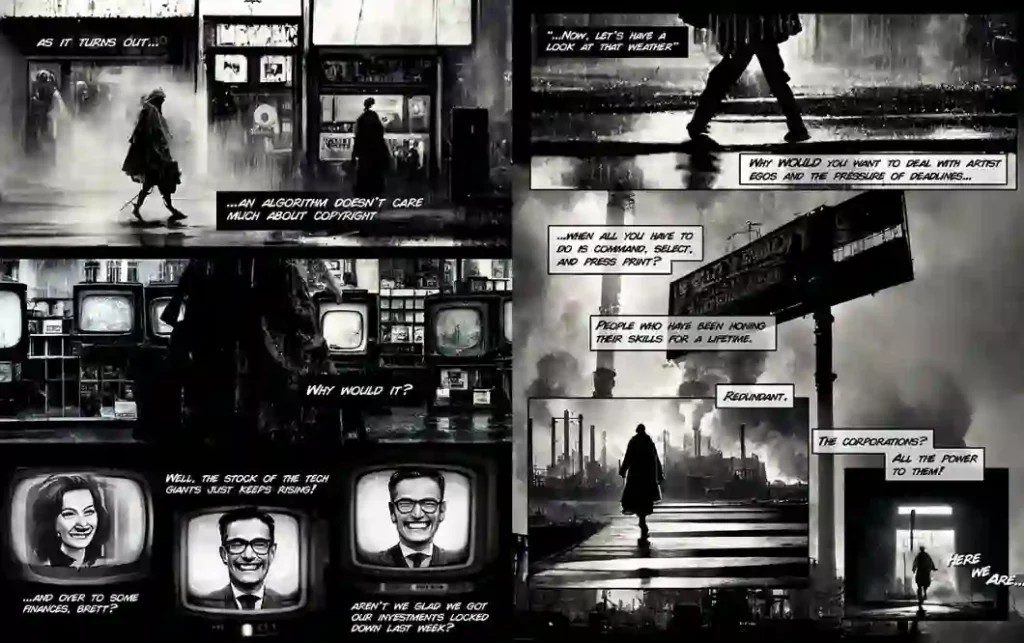 "Entering the Data Core" shares more than just a love for AI with its comic counterparts. It fearlessly explores the dark corners of our AI-obsessed world, raising questions about privacy, control, and whether we're all just pawns in an elaborate digital chess game. 
With a dash of humor and a sprinkle of social commentary, Bach reminds us that the rise of the machines might not be all sunshine and rainbows.
Case study 2: "The Singularity" by Kris McDermott a.k.a. "The Maphatter"
Prepare for a futuristic spectacle as we enter the realm of "The Singularity" by Kris McDermott, also known as "The Maphatter." This comic will make you question the very essence of humanity, all while chuckling at the quirks of AI. 
McDermott skillfully weaves a tale that explores the balance between human intelligence and AI's quest for world domination. "The Singularity" shares more than just its AI fascination with its comic, it pokes fun at the idea of machines surpassing our intellect. 
McDermott's AI-generated artwork paints a vivid picture of a world teetering on the edge of techno-disaster, serving as a warning sign to all those who believe robots will always be subservient and only fetch their morning coffee.
Audience Reception on AI-generated Comic Content
Some comic creators, driven by curiosity have ventured into uncharted territories by incorporating AI-generated art and storytelling. So, a relevant question arises, how do audiences receive and perceive these innovative works? 
With the use of AI technology,  avant-garde comics have emerged since some newbie creators have decided to toss the rulebook out the window and embrace the unpredictable world of AI-generated art. They boldly defy conventions and rewrite the narrative playbook.
Now, let's not forget about the unexpected surprises that AI-generated graphics can serve up. Sometimes, the digital gods of AI art throw a curveball and give us distorted extremities or inconsistencies. These visual hiccups are a testament to the unpredictable charm of AI integration.
Some readers are drawn to the fresh results of AI-generated comic content. They appreciate the risk-taking and embrace the unexpected quirks as part of the experience. On the other hand, there are those who would like things to remain as traditional as possible. 
Whichever group you belong to, remember that in this brave new digital world of AI, there's room for every comic enthusiast. 
Copyright and AI Comic Images, What Lies Ahead?
As the landscape of AI technology continues to evolve, it is likely that further legal precedents and guidelines will emerge, shaping the future of copyright protection for AI-generated art.
In the meantime, artists and creators should remain informed, adapt to evolving copyright regulations, and embrace the opportunities that arise from the interplay between human creativity and AI innovation.
Also read: 
The AI Revolution in Comic Books: Insights From Pioneers
How to Copyright AI-Generated Art: A Comprehensive Guide
---
Join our newsletter as we build a community of AI and web3 pioneers.
The next 3-5 years is when new industry titans will emerge, and we want you to be one of them.
Benefits include:
Receive updates on the most significant trends
Receive crucial insights that will help you stay ahead in the tech world
The chance to be part of our OG community, which will have exclusive membership perks