Cryptocurrency exchanges typically support multinational payment card services such as Visa and Mastercard to allow crypto purchases using debit or credit cards. Customers simply need to specify their desired cryptocurrency amount, input their wallet address, and select a payment option compatible with major card issuers. 
Crypto exchanges differ in handling customers' card-based purchases, including the digital currency they support and the fees they charge, among other factors.
However, they also share similarities that make it convenient for customers to purchase digital assets, regardless of what platform they're using. And these common steps and requirements are exactly what we'll be discussing in this article.
How To Purchase Crypto With Your Debit/Credit Card
Nowadays, there are tons of cryptocurrency exchanges to pick from, each offering its own unique features to stand out from the competition. But users don't have to be confused with each platform as they share key processes and requirements in approving card-based purchases. 
Look for the Credit Card Company Logo 
To locate where to input your card information, simply look for the logos of financial services such as Visa or Mastercard on the crypto platform's homepage. These logos may not be immediately visible on other platforms, as they could be inside a dropdown box or may require you to click another button.
Note that in addition to your card info, they would also request other details, including your country of residence and legal name.
Select Your Country 
Next, choose your current residence. For a dropdown box like this one, you may simply input your country's name instead of scrolling all the way down.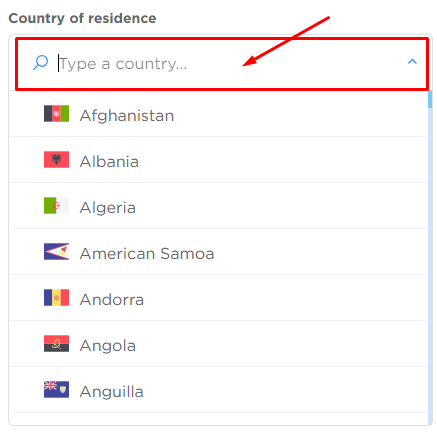 Choose Your Currency 
Select your preferred currency and specify the amount you wish to spend. Just like with the country selection, you may simply enter your currency's name or its code (e.g USD) to select it right away.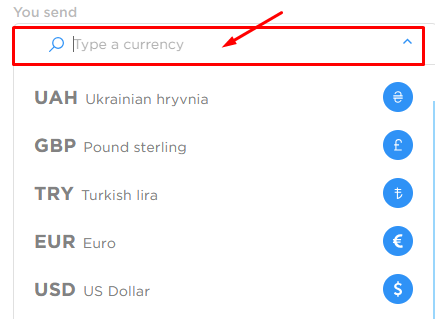 Pick Your Crypto
Choose your favorite cryptocurrency. Keep in mind that exchanges differ in the range of digital assets they support; some have an extensive selection, while others offer a more limited choice.
But despite these differences, secure systems are already in place, especially for reputable platforms, that make it safe and easy for customers to purchase these digital assets. For example, you can easily buy TRX with a debit card without worrying about cumbersome processes, as most platforms offer hassle-free yet safe transactions for buyers. 
Tip: You may want to review the website's entire list of cryptocurrencies first before entering your information to save time in case your desired virtual asset is not available.
Input Your Wallet Address
Copy your crypto wallet address from your wallet and paste it into the designated address box.

Hit the 'Buy' Button 
Verify all the information you've entered and then click the "Buy" button.
Note: Make sure that your wallet is compatible with the cryptocurrency you've selected on the crypto exchange. Otherwise, the platform will regard your wallet address as invalid.

To learn more about web3 wallets, you may want to check out our in-depth guides about Phantom and other decentralized wallets. 
Enter Your Email Address and Code
Next, input the email address you want to use for this transaction. Note that some crypto exchanges are stricter, as they require IDs and a selfie just to verify a user's identity before allowing them to buy digital assets. 
Enter the authentication code sent to your email inbox. The message in your inbox may be similar to this one. 
Note: Be mindful of the time limit for entering the code. When the time expires, the code assigned to it will automatically become invalid. However, you can always request a new one. 
Enter Your Card Details 
Input your card number, validity date, CVC, or card verification code, which can be found on the back of your card, and your cardholder name. Once done, click 'Pay'
Contact Chat Support (Optional) 
If you require further assistance or encounter unexpected technical issues during your cryptocurrency purchase, most platforms offer 24/7 chat support for their customers.
Let's say you're planning to buy USDT with debit card, and have some key questions that weren't on the website's FAQs, a round-the-clock customer service is certainly handy. They usually respond in real time or within a few minutes, ensuring that your issues are resolved as swiftly as possible.
Why Use Debit/Credit Cards When Buying Cryptos? 
Using debit or credit cards is arguably the most convenient and secure way of purchasing cryptocurrencies. But if you're still in doubt, here are the three major advantages of using plastic cards when buying these hot digital assets. 
Access to Immediate Funds 
Whether you're low on cash or have no funds to spare, you can still benefit from a cryptocurrency's potential to increase in value by using a credit card to purchase it. This strategy could prove to be a lucrative decision, as it ensures that you don't miss out on the chance to potentially double or even triple your investment when your chosen crypto reaches its highest value.
Quick and Convenient 
Debit and credit cards are now widely accepted by crypto exchanges to offer quick and easy transactions for customers. Moreover, the entire process is instantaneous, allowing buyers to trade their cryptos right after buying them. This almost real-time payment process is a huge advantage since traders can trade immediately and keep up with the crypto's fluctuating prices.
Bank-Level Security 
When you use debit or credit cards, your payment is safeguarded by bank-level security. This includes features like transaction alerts, fraud monitoring, and cardholder verification methods. 
Furthermore, most card providers offer 'zero-liability protection,' ensuring cardholders are not held responsible for unauthorized transactions. This gives a much-needed peace of mind, especially if they worry about hackers or fraudsters using their card to buy cryptocurrencies without permission.
Potential Risks
While there are advantages to using cards for crypto purchases, buyers should also be mindful of its potential risks. Here are key considerations to keep in mind before sharing your card information with your selected cryptocurrency exchange.
Fees
Be sure to carefully review a platform's fee policies, as they may become a drawback when your transaction volume and value increase. Fees on crypto exchanges differ, so take the time to compare them and select the one that aligns best with your trading objectives.
Undisciplined Spending 
Whether you're using borrowed funds or your own savings, it's crucial to exercise caution and sound judgment, especially when investing in cryptocurrencies. It's easy to be drawn into the hype surrounding cryptos, but it's important to remember that many individuals have already suffered substantial losses due to fraudulent schemes.
And to save yourself from these risks, your crypto spending decision must always be backed by factual information, cross-references, common sense, and yes, a little dose of intuition.