'Dungeons and Dragons' (DnD) is arguably the most popular tabletop roleplaying game in the world, with millions of active players across all ages. 
Through this phenomenal game, players finally found a haven where they could unleash their imagination, wield magical powers, and exhibit their tactical skills, all while having fun with their friends. 
In this extraordinary era of artificial intelligence (AI), fans are now presented with an unprecedented opportunity to breathe life into their beloved DnD characters through AI-powered art platforms.
As a result, it opened a new battleground beyond the bounds of their tabletops and raised an inevitable question: 'Which art generator is best for Dungeons and Dragons characters?' 
In this article, we will attempt to bring an end to this simmering war by presenting a list of the best artificial intelligence tools for creating these iconic DnD heroes. So, get ready for an enthralling adventure as we embark on a quest to make this world-renowned tabletop game more exciting than ever before! 
Dungeons and Dragons: A Quick Overview
Note: In case you already know how to play Dungeons and Dragons, you may skip this section and proceed to our top five list. 
We created this section to serve as a brief introduction for readers unfamiliar with DnD and aims to provide them with an overview of the game and its characters.
This tabletop RPG game is composed of one 'Dungeon Master' (DM) and multiple players. The task of DM is to oversee the development of the entire game, enforce rules, and decide on critical decisions; therefore, this role should only be taken by someone who is well-versed in the game. 
As for the players, each of them will assume the role of a single fictional character and select their race (Elf, Dwarf, or Human) and Class, which represents their unique abilities or occupation (Fighter, Wizard, or Rogue).
The survival of these figures is influenced by four key factors: the choices made by the players, predetermined conditions set by the Dungeon Master, their inherent abilities, and the element of chance through the roll of the dice.
Each of their abilities is clearly stated in their 'Character Sheet,' which shows their skills, equipment, features and traits, level of wisdom, intelligence, and other critical aspects. These abilities will determine a character's capacity to overcome obstacles, dilemmas, and other challenging situations throughout the game.
Now that the basics have been taken care of, let's jump into the best AI-powered art generators for creating Dungeons and Dragons characters. 
1. Midjourney V5.1 and V5.2: Kings of AI-Powered Fantasy Images 
Midjourney (MJ) remains to be one of the best (if not the best) AI-powered image generators for creating a wide range of visual styles, including anime characters and scenes.  And considering its remarkable prowess in digital arts, it is easy to expect its ability to excel in creating exceptional fantasy-themed figures as well.
For this quick experiment, we selected DnD's 'Dungeon Master' as the first subject to try on. We've also used MJ's V5.1 and V5.2 (both with stylized levels set at medium) to see how good they are at producing the same prompt. 
We also used a ChatGPT Plus PlugIn called 'Photorealistic' to create intricate instructions for us. We simply entered the prompt 'Dungeon Master (DnD) costume' and let it expand the command with impressive details. 
Here's what the PlugIn created for us:
"Envision a full-body shot of a Dungeon Master in full costume. The costume is elaborate, featuring a richly embroidered cloak, a wide-brimmed hat adorned with mystical symbols, and an ornate staff. The style should be hyper-realistic, capturing the intricate details of the embroidery and the texture of the fabric. The color palette should be dark and moody, with deep purples, blacks, and silvers. The composition should be a full-body shot, taken with a wide-angle lens to capture the full grandeur of the costume. The camera should be a high-resolution 16k camera, with a 16:9 aspect ratio, and the shot should be taken with a 50mm lens, with a shutter speed of 1/125, an aperture of f/8, and an ISO of 100."
Now, let's look at the result. From top to bottom, Midjourney included mesmerizing details on the Dungeon Master's costume below, complete with metallic gloves. In fact, it gave the outfit an eerie warlock look, giving it an aura of mystery and power. Moreover, you can also see a glimpse of the Master's face beneath the shadow cast by the hat.
But if there is one costume I would really love to wear (for real!), it would be the one generated by MJ's Version 5.2. For this version, it leaned on a cooler metallic armor, giving the Dungeon Master a more samurai look, whose ready to intimidate anyone anytime. We also love his bloody red cloak and big, golden staff, which could be the source of his ancient knowledge and skills.
With the right prompting, Midjourney's V5.1 and V5.2 would never fail to spoil you with extraordinary details that you could literally stare at for hours and end.
See also: How ChatGPT Can Create Stunning Prompts for Midjourney 
2. Holara.AI: Ideal for Fantasy-Themed Photos
Holara.AI is one of the most versatile (yet underpraised) AI image generators that can produce exceptional visuals. In fact, it trumps those photos created by more mainstream platforms like DALL-E and Bing Image Creator. 
For this test, we selected the Dwarf (a DnD race) as our next subject. What's neat about this platform is that it auto-suggests a list of tags related to your prompts which you can use to enhance your photos. 
Holora.AI did a great job of infusing action-packed elements into this image, even the ones we didn't ask for. We also mentioned in our previous article that this platform seems to have a pretty smart algorithm that can add other visual elements, and even body positions, based on a text prompt's context.
For this one, we only entered a short instruction: 'A powerful-looking dwarf,' and voila, the platform automatically added elements of power, such as fire and a fighting position to bring the image closer to our intended theme.
3. Live 3D: Excels in Generating Eye-Candy Fantasy Characters
Live 3D Anime AI Art Generator is an AI-powered art tool that utilizes multiple training models to provide the best possible results for users. Like Holara.AI, it is also one of the unsung heroes of the AI art realm, with rare mentions from top lists, and hardly recognized by the creative community. 
But we do know that it deserves a special place in our platform with its ability to create exceptional images. 
To test its capability, we picked the 'Wizard' (a DnD class) as our subject. Yes, this service may be intended for anime characters, but it turns out it could also produce versatile fantasy photos as well. 
Its result may not be as detailed as Midjourney's output, but it remains an aesthetically appealing photo with its solid colors and gorgeous-looking character. We also love that Live3D applies lighting and shadows to its generated visuals, increasing the overall visual quality of its results. 
4. Bing Image Creator: Generates Decent-Looking Fantasy Figures 
Bing Image Creator is an AI-powered art generation service from Microsoft's Bing search engine. 

For this test, we selected one of DnD's races called 'Elf' and entered the prompt 'A magical and friendly dwarf with a white beard.'
Fortunately, it created a decent depiction of a Gandalf-like elf, and we're genuinely satisfied with the quality of its output. But one of the most important things to highlight here is the short and simple instructions we used for this photo.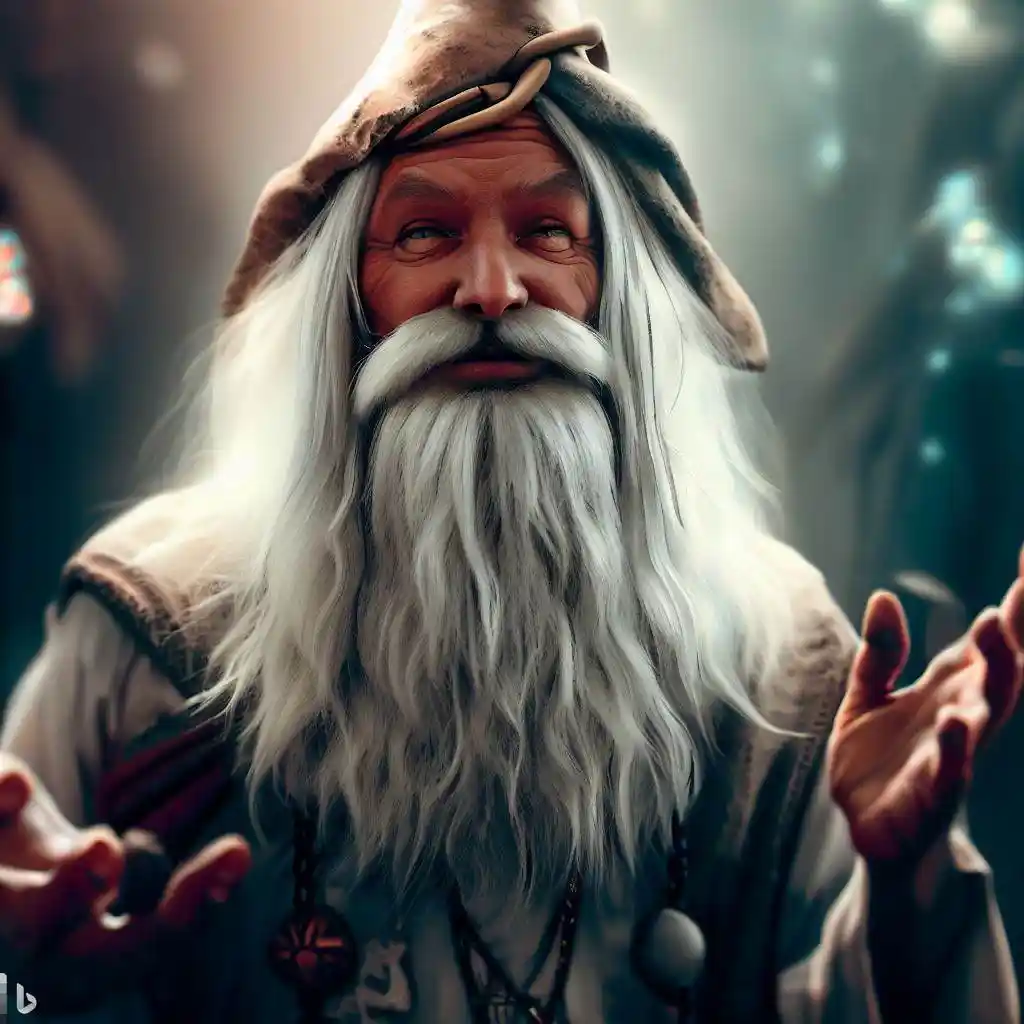 If Bing Image Creator can create a wallpaper-worthy fantasy depiction like the one featured above, how much more if it could process more visual instructions from users? 
But creating a more detailed text prompt shouldn't be intimidating. If you want to sharpen this particular skill, you may check out our free 200 prompt keywords guide, featuring a massive collection of powerful words to use for creating various art styles.
While it's intended for Midjourney, you can certainly use these keywords on other image generators to dramatically improve the quality of your output.
You may also want to check out: How to Use Bing AI-Powered Generator
5. Artflow AI: Equipped With a Dedicated Fantasy Filter 
Artflow AI is an AI-powered visual storyteller that creates videos and images from users' text prompts. 
You can create your beloved Dungeons and Dragons photos in its Image Studio by simply entering your instructions and selecting its 'Fantasy filter' to bring your DnD figure to life. But of course, you can always choose from all the available filters on its platform. 
For this test, we picked another Class type from DnD called 'Fighter,' but we slightly modified this term and changed it into 'Warrior' when we entered our command. We used the text prompt: 'A fierce-looking warrior in full battle gear' and crossed our fingers on what it could possibly generate. And fortunately, it didn't disappoint. 
While the photos generated by its Fantasy filter may not boast intricate details, what makes them truly captivating is their mesmerizing balance between simplicity and creativity.
In fact, its results gave our eyes a much-needed break from the endless stream of hyperrealistic images popping on our screens every day. Moreover, these results are more 'relaxed,' much like a set of lovely paintings hanging on the wall. 
And for someone who sees countless AI-generated visuals every single day, we can say that there are clear elements of creativity in Airflow AI's output. After all, the ability to infuse complex details in images is not the only sign of creativity in these powerful tools. 
---
Join our newsletter as we build a community of AI and web3 pioneers.
The next 3-5 years is when new industry titans will emerge, and we want you to be one of them.
Benefits include:
Receive updates on the most significant trends
Receive crucial insights that will help you stay ahead in the tech world
The chance to be part of our OG community, which will have exclusive membership perks