Google has been dominating the search engine market for over two decades, establishing itself as the go-to source for information and answers on the Internet. Its vast database and sophisticated algorithms have set the bar too high for other search engines to compete.
But now, the tides are starting to shift with the rise of up-and-coming advanced search platforms with their own killer features. You Search is one such newcomer, poised to disrupt the market with its wide array of AI-powered features.
You.com is a search engine that leverages artificial intelligence for a new and improved user experience, giving users control based on their preferences, and prioritizing privacy. You is also known as a do-engine, enabling users to do more while searching less thanks to its innovative toolset.
The You search engine claims to be entirely private when searching in the said mode as it only utilizes first-party cookies to understand the users' search profiles and not to track their web activities. As an ad-free platform, it doesn't store or sell user data. However, you.com collects minimal data when users search in personal mode.
Let's explore its tools one by one.
YouChat
YouChat is the AI chatbot of You.com, which has the ability to scan and analyze massive amounts of data across the internet. At first glance, YouChat might seem similar to its revolutionary predecessor, ChatGPT.
One of them is to provide human-like responses to your search queries, functioning similarly to a personal assistant at your fingertips. Moreover, YouChat also provides visual outputs about current trends and updated data, such as weather details.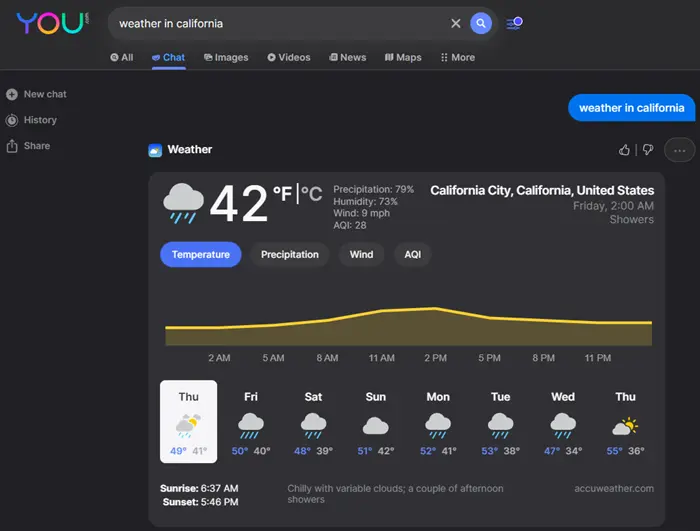 Of course, as with any beta product, there's always the possibility of a few hiccups along the way. Thus, it's vital to double-check its answers to your prompts.
YouCode
Developers search the web and find results tailored to their specific needs by using the YouCode mode, which is programmed to improve a searcher's coding experience by giving snippets that can save time from opening multiple links, copy programming commands quickly, and automatically generate codes based on your description.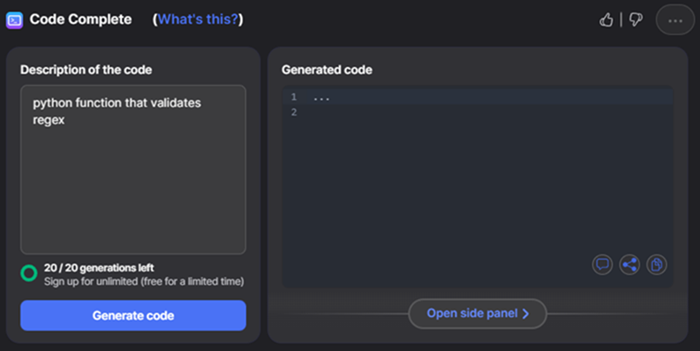 YouWrite
YouWrite is another AI tool for searching on You.com, which can be handy for various writing purposes, including creating a job application letter. 
I tried it out by typing a query on the search engine and using the tips to generate a job application letter. You can even give it more specific instructions to improve its response. But it's just the tip of the iceberg. More use cases exist for you to explore.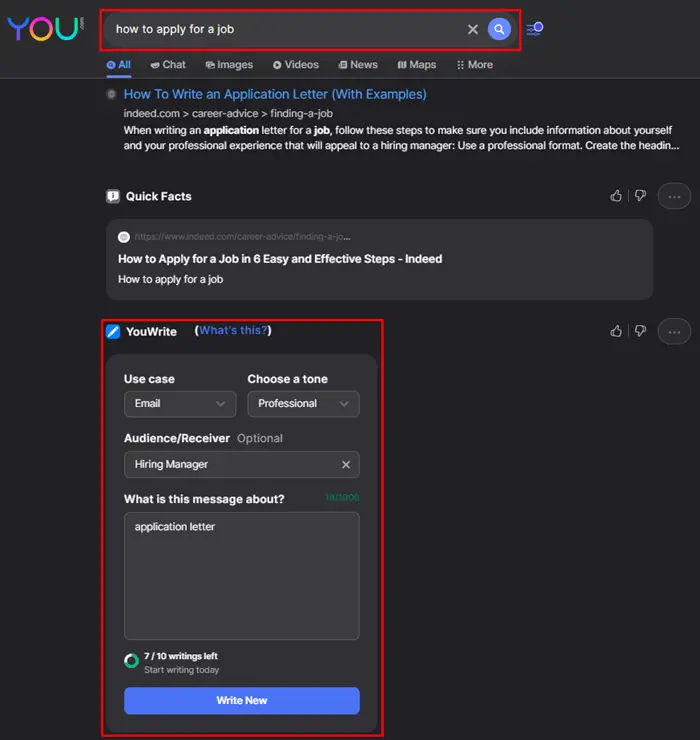 However, if you want to get extra creative, YouChat can do more things than YouWrite. 
YouImagine
AI art is one of the hottest trends in the AI and art worlds today, and there are many generators to choose from, including You.com. However, as the competition gets more challenging, it has to offer something new—YouImagine. 
The feature lets you unleash your creativity in seconds by enabling the generation of AI images using Stable Diffusion, find AI art related to your query via Lexica, and even enhancing the generated images.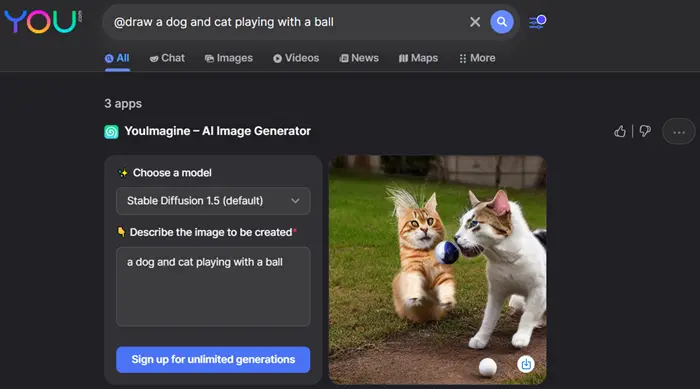 I tried the tool using the prompt "a dog and cat playing with a ball." Although it could portray the activity, it fell short of the subjects. But it doesn't mean it'll always produce wrong outputs, as it may vary with your descriptions. 
Google vs You.com
Google is a major player in the search industry with strong branding, the most advanced algorithms for providing relevant info, and different tools that position it at a strong advantage. On the other hand, You.com is a budding contender that brings cutting-edge innovations, offering an improved user experience with more functionality compared to traditional search engines.
Google and You.com have different strategies to respond to users' search needs. Let's look at how these two advance their game in three aspects: user interface, search result relevance, and toolset.
Let's look at how these two advance their search game in three aspects: user interface, the relevance of results to queries, and the available tools.
User Interface
Google's layout is simple and commonly greets you with multiple pages of blue links every time it returns a result, giving various sources. But aside from texts, you can also search using images or voice, making it easier to find or explain what you're looking for.
On the contrary, the You search engine page results look similar to Google with a slight twist. It has side panels allowing you to glimpse a web page without opening the link. It also performs better in providing answers to coding-related queries, as it's more visual with samples you can instantly copy. 
Each has its strengths for different purposes. If you have time to dive deeper into topics, Google can be your go-to search engine. But if you prefer searching efficiently, then You.com is a better fit.
Search Result Relevance
Google's algorithm ranks websites based on different factors, including content quality and helpfulness to readers. But if you're a business that paid for its ads service, your website will appear on the top page. It also provides snippets, a short but specific answer to a query, that can help save time understanding a topic while ensuring relevance.
You.com aims to change traditional search by allowing you to customize the results you get to your queries by liking or disliking the apps or websites that present them. Your upvoted apps/sites will appear on top of the page result, while the downvoted ones will be at the bottom.
As you'll notice, the two presented different approaches. Google pushes websites to continuously improve their content for the benefit of the readers, while the You search engine gives you the power to decide what sources are handy to you.
Toolset
The tech giant has many products that work with its search engine to improve user experience, most of which are free. Some of its famous examples are Google Maps for directions, Translate for understanding diverse languages, and Lens for searching info via images.
Google is also reportedly going to release an improved version of this AI suite with Bard—its very own chatbot. So, expect to see some tools shift from traditional to modernized. 
You.com also has multiple subproducts as mentioned earlier: YouChat, YouCode, YouWrite, and YouImagine. Additionally, it integrates apps, instantly giving you tools as you search.      
Google has an advantage with its current tools, from personal to business. But the You search engine has the potential to change the game, too, especially with its YouCode. Time can only tell if we'll see more developments as competition heats up.
Conclusion
The search industry is in a shifting landscape, and You.com is one of the rising competitors of the highly-experienced Google. It mainly offers possibilities different from the accepted norm—control, and privacy.
However, each has different strengths and weaknesses. It's up to the users alone to decide which search engine fits their needs best. After all, the goal of the two is to build and develop a tech that can benefit their target audience. 
You might also like: The AI Showdown: Can ChatGPT Dethrone Google Search?
---
Join our newsletter as we build a community of AI and web3 pioneers.
The next 3-5 years is when new industry titans will emerge, and we want you to be one of them.
Benefits include:
Receive updates on the most significant trends
Receive crucial insights that will help you stay ahead in the tech world
The chance to be part of our OG community, which will have exclusive membership perks