Petra Wallet is a crypto wallet that serves as a gateway to the Aptos blockchain, enabling users to store digital assets, send and receive cryptocurrencies, view NFTs, and connect to various decentralized applications (dApps).
It stands as the official wallet for Aptos since it was created by Aptos Labs, the engineering arm of the Aptos Foundation. Petra was designed with a simple interface yet it has full functionalities to encourage mainstream crypto adoption. Users can also switch to testnet and devnet to try what the wallet can offer without risking real funds.
Although Petra is a new wallet, it's been growing since its launch. In fact, it boasts more than 300K users, garnering the support of different NFT marketplaces. 
How to Use Petra Wallet
Petra is a wallet developed to access the Aptos blockchain, but users must first satisfy two requirements in order to use it: install the app and create a wallet. 
Here's how:
Install Petra
The quickest way to install your Petra wallet is by visiting the website, where you can download the browser app. For now, it only supports Chrome but other browsers should follow very soon.
After downloading Petra, you'll find it hiding under your extensions' drop-down menu, but you can pin it for easier access. Now let's create your account.
How to Create a Petra Wallet
Creating a Petra wallet is easy as it only requires you to complete four steps. Don't worry; even non-experienced users can follow without any difficulty.
Here's our step-by-step guide:
Run Petra
You can launch Petra by clicking its icon on the top right of your screen once pinned. Alternatively, you can find it under your browser extension's drop-down menu.

Once initialized, Petra welcomes you to your web3 journey. There are two options to begin: Create New Wallet and Import Wallet. We'll choose the Create New Wallet this time, as we're just starting.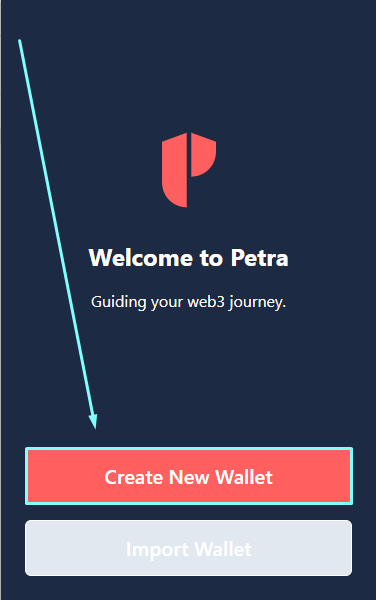 Create a Password
A password is an important part of any digital wallet as it helps prevent family members from accessing it on your computer/device without your permission.
Note: a password is not the same as a recovery phrase, which allows anyone to access your wallet on ANY device.
Secure your wallet by typing a password on the empty bar, but make sure that nobody else knows it. Input the same characters in the second box to confirm.  
Click on Petra's Terms of Service to know more about the wallet, and tick the box once finished. Tap the Continue button to proceed to the next step.
Secure Your Recovery Phrase
Recovery phrase, as the term implies, is a group of words that function as your key to accessing the digital assets in your Petra wallet. It also becomes handy when you forget your password, can't access your device anymore, or have deleted your account by accident. 
Petra will give you a 12-word recovery phrase, which you can copy and save on your device. However, we recommend memorizing the words as it's much safer.
After securing your recovery phrase, tap Continue and move to the next step.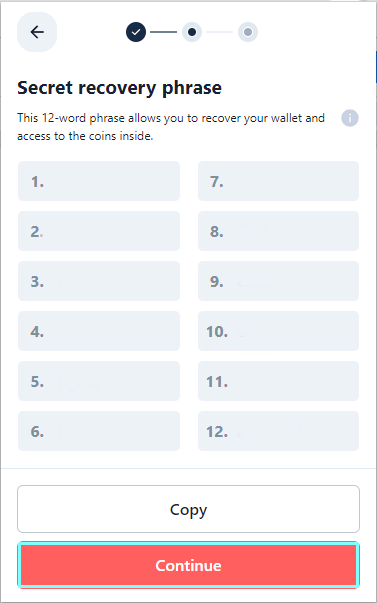 Note that you should treat your recovery phrase like a secret only you should know. It is far more important than your password. Other people can easily steal your assets if they know it.
Confirm Your Recovery Phrase
Petra wants to ensure you've saved or remembered your recovery phrase well. You must type all 12 words in their exact order and spelling, nothing less and nothing more.
Once done, click Continue. 
Congrats! You've successfully created your Petra wallet. You can now store your assets or transfer cryptocurrencies to other accounts.
How to Add a Petra Account
Your Petra account is automatically created together with your wallet. But did you know that you can always add more? It can be handy for managing multiple accounts for different cases (e.g., main account, account for NFTs, burner wallet, etc.).
You can add a Petra account by accessing your wallet. Click on your profile picture at the homepage's top-right corner to move to the Accounts page.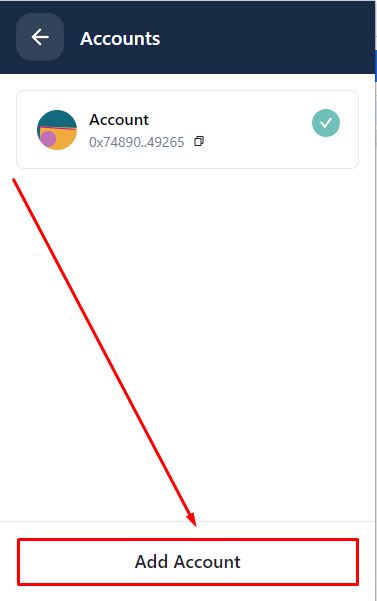 Tap on the Add Account button at the bottom of your wallet, and wait for the three options to pop up: Create New Account, Import Private Key, and Import Mnemonic.
Click Create New Account since we don't have an existing one from other Aptos wallets. Alternatively, you can access other accounts on Petra via Import Private Key or Import Mnemonic.
Lastly, your new recovery phrase will appear on the screen, which you must secure to access your cryptos and NFTs.
Success! You can now allocate your digital assets to different accounts.
How to Send a Transaction with Petra
You can send payments across the Aptos network through Petra as long as you have enough $APT (Aptos coin) to pay for fees (quite low). You'll also need and the recipient's wallet address (or .apt name).
Note: For now, the wallet only supports $APT, but all Aptos-based tokens should follow suit.
Once you have the two primary requirements, open your Petra Aptos wallet. Click the Send button on the homepage.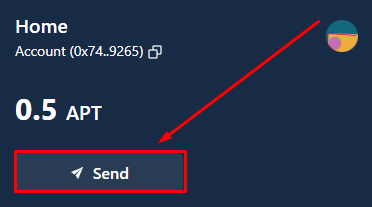 Your Petra wallet will transfer you to the next page, where you must input the necessary details, such as the receiver's public address and the amount of APT you'll be sending.
Note that you can also see the corresponding processing fee for the transaction, which is independent of the amount being transferred.  
You can't also proceed with the transaction if the amount you're sending exceeds the available balance in your Petra wallet. So always check it out. Tap Next to proceed.
The last step shows your transaction summary, which you must review before completing the process. Once done, click Send to finish.
Your Petra wallet will immediately deduct the funds sent from the available balance. You can always view the transaction in your wallet or through Aptos Explorer.
Final Words
Now that you have a Petra wallet, it's time to explore the Aptos blockchain by connecting to various dapps. Topaz appears like a good place to start since it is the first fully-functional NFT marketplace on the network.
---
Join our newsletter as we build a community of AI and web3 pioneers.
The next 3-5 years is when new industry titans will emerge, and we want you to be one of them.
Benefits include:
Receive updates on the most significant trends
Receive crucial insights that will help you stay ahead in the tech world
The chance to be part of our OG community, which will have exclusive membership perks