The NEAR Wallet genuinely stands out as the official wallet of the NEAR Protocol, making it the go-to app for supporters of the network. Not only is it safe, secure, and easy to use, but it also provides a unique signup process, allowing you to transfer tokens and stake NEAR to earn income.
This guide is designed to be your one-stop shop on how to create a NEAR wallet, how to fund it, how to use it with dApps, and how to stake your NEAR in it. This article will serve as your step-by-step resource for making the most out of this wallet.
What is NEAR Wallet?
The NEAR Wallet is the official wallet of the NEAR blockchain built to store NEAR-based tokens, as well as run decentralized applications (dApps) and non-fungible tokens (NFTs) of the network. The wallet allows users to buy, send, and receive tokens, along with the ability to stake them in order to earn more tokens while contributing to network consensus, which is just a fancy phrase for validating transactions, but in a decentralized way. 
The web-based wallet is non-custodial, meaning it is controlled by the user alone. It serves as a NEAR blockchain account, allowing you to gain full control over your funds while earning passive income through staking.
You can use the wallet to connect to blockchain-based dApps on the NEAR blockchain like lending platforms, decentralized exchanges (DEXs), and more.
Let's learn more about what the wallet offers.
Native Staking Support
The web3 wallets lets users put their NEAR coins to good use by staking them on different validator nodes in order to accrue interest.
Hardware Wallet Support
The NEAR Wallet can be connected to your Ledger Nano S or X to ensure that your precious private keys never leave your device.
Email Recovery Support
Although this is considered the least secure option, it remains the most convenient. When linking your email to your wallet, you'll get a one-time verification code with a recovery link to help recover the account.
24/7 Live Chat Support
The NEAR protocol can be contacted via email or by joining the community through Discord.
How to Create a NEAR Wallet
Creating a NEAR Wallet is a simple and straightforward process that requires simple steps that can be done with ease. Here's a thorough guide on how to create your own customized wallet.
Choose a Wallet Name
The first step to creating your wallet is to create a custom account name. Unlike other wallets, you'll get to create a signature wallet name like "satoshi.near" or "metaroids.near", which is a lot easier to remember.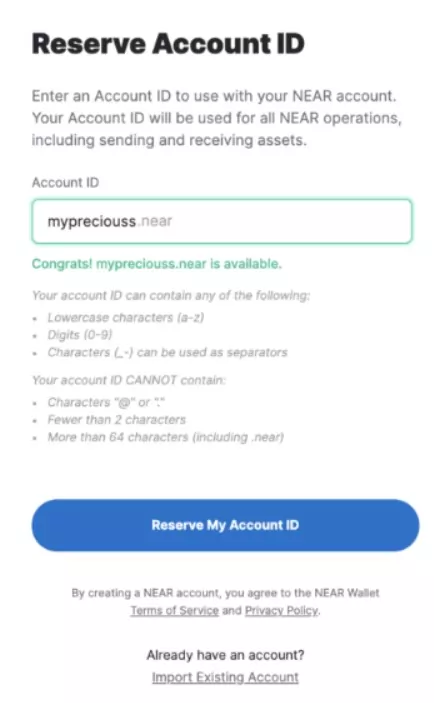 Choose a Recovery Method
The next step is to choose a recovery method. Since the wallet is completely non-custodial, access to the wallet is completely your responsibility. There are three options for you to choose from, but we highly recommend you go with the Seed Phrase method as it is the most secure (but requires more responsibility on your part). Your call though.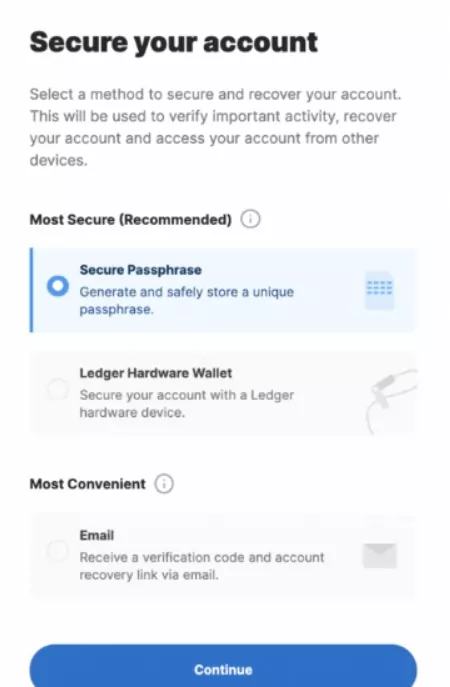 Recovery (Seed) Phrase
You'll be given a twelve-word seed recovery phrase to write down. Make sure to list it down on a piece of paper or in digital format, but make sure no one else can access it.
Email
Using email is only recommended for smaller accounts or burner wallets. When inputting your email as a recovery method, you'll be given a one-time verification code and recovery link. Just like with the seed phrase, make sure to save a copy of the link in a safe place and delete the email once you've secured it.
How to Put Funds in NEAR Wallet
After choosing a recovery method, you can proceed to deposit $NEAR. There are two convenient ways to buy NEAR to fund your wallet: through MoonPay or Crypto Exchanges.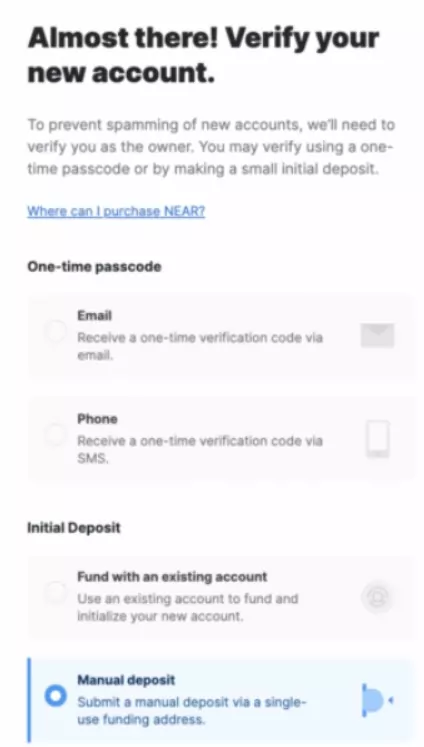 Buy with Conventional Currencies (MoonPay)
Funding your NEAR Wallet through MoonPay is a convenient way to instantly put funds in your account using fiat currency (USD, GBP, AUD). There are four simple steps you need to follow in order for the funds to reflect on your Wallet:
Enter the amount of NEAR you want to buy or the amount of fiat currency you want to spend.
Input your address
Verify your email and basic information
Pay for your NEAR through your chosen payment method
Buy with Crypto (from Exchanges)
Funding your NEAR Wallet can also be done by buying crypto from exchanges and sending them to your wallet. Let's assume you don't have an account on any exchange. Here's what you need to do.
View the different markets that offer NEAR trading pairs on CoinMarketCap
Choose which exchange you one to create an account on. Binance appears to be the most popular one, while Coinbase is probably the preferred exchange for US-based users. There is one for anybody, so choose accordingly.
Make an account with your chosen Crypto exchange.
Buy NEAR coins.
Note that if you already have $NEAR in your account, you can skip step three.
View your exchange wallet and click on Withdraw, then choose NEAR.
Input the amount you want to withdraw, then paste the address of your NEAR Wallet.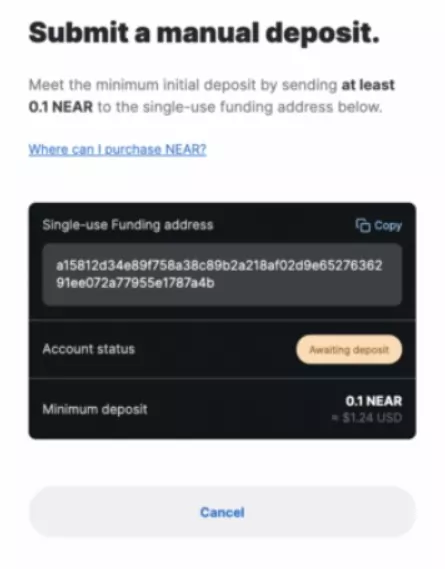 Claim your account.
Since the NEAR protocol states that it's capable of handling 100,000 transactions per second, you won't have to wait long to see the coin reflect on your wallet. You can now connect to different decentralized apps and do stuff.
Try visiting the Paras NFT marketplace or the DeFi platform Ref Finance and log in using your wallet. The log-in button can usually be found in the top-right section of dapp pages.
How to Find Your NEAR Wallet Address
The neat thing about NEAR wallet addresses is that they are easy to remember because, well, you decide what they look like, unlike with other crypto wallets. However, if by any chance, you forgot what it was, you can easily check.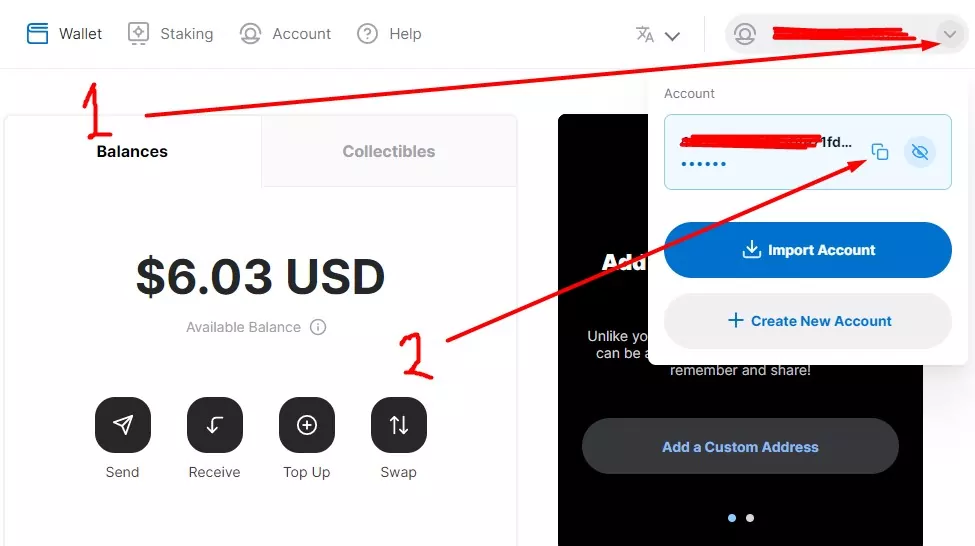 Head over to wallet.near.org
Click the top-right button of the page.
Click on the copy icon.
Your wallet address should be saved automatically to your clipboard.
How to Log Out of NEAR Wallet
The tricky part about the NEAR Wallet is that although there isn't a built-in log-out function available. However, you can still log out by clearing your browser cookies. Alternatively, you may also individually log out of the respective dapps or websites you are connected to.
NEAR Wallet Staking
NEAR Wallet allows users to easily stake their NEAR to earn passive interest. Since the NEAR protocol functions on a proof-of-stake (PoS) consensus mechanism, it rewards participating validators that stake their NEAR coins.
Although becoming a full validator is expensive, NEAR holders can participate in existing validators to earn a fee. There are a few simple steps to follow in order to activate your NEAR staking and start earning passive interest:
Log in to your Account
Visit wallet.near.org and log in by clicking the top-right section of the site. If you're already logged in, proceed to the next step.
Staking Section
Click on the Staking tab, then click the Stake My Tokens and you'll be directed to the staking page.
Choose a Validator
You will see a list of existing validators to choose where to delegate your NEAR coins to. We recommend you do some minor research to select a reputable validator with a reasonable fee. This article provides great information to help you do just that.
You may also browse the list of existing and active validators, which includes wallet addresses so if you want to go a step further, you can search them to see the percentage of NEAR they hold and how they are distributed.
Once you've found your preferred validator, click Select.
Stake
Click Stake with Validator, then input the amount you want to stake. In this case, I'll only use 1.5 since I barely have any NEAR in this burner wallet.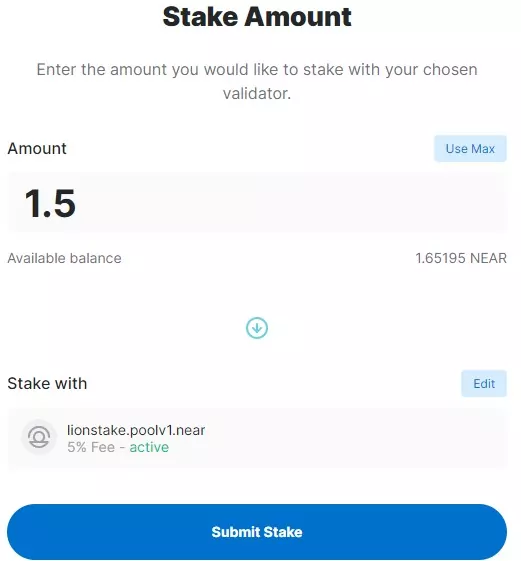 Check every detail to ensure everything is correct, then click Submit Stake, and then Confirm. You should receive a success message right after.
Connecting NEAR Wallet to Ledger
Open Ledger Live
Update the firmware
Click on "Manager"
Connect and unlock your Ledger.
Look for NEAR in the app catalog
Click "Install"
After this, the device will show "Processing…" until the app is installed. But that's only the first half. Next, you need to head over NEAR's official Ledger user guide to finish the process.
Is NEAR WAllet Safe?
NEAR Wallet is created by the same people behind NEAR Protocol itself, which leads us to believe that it is the safest option among wallets that support NEAR-powered tokens. However, being a non-custodial wallet also means that part of the responsibility of security is carried on to you, the user.
Therefore, it is paramount that you follow security best practices such as:
Opt for the most secure recovery method (Passphrase).
Physically record your recovery phrase and store them somewhere safe.
Enable Two-Factor Authentication in your wallet.
Never share your private keys with anyone (and I mean anyone!)
Avoid clicking links or opening files from shady sources, whether on email or social media (a very common occurrence).
Spread funds across multiple wallets, especially if you have large holdings.
Use a burner wallet first when connecting with applications or web pages for the first time.
Integrate your NEAR Wallet with a hardware wallet if you have the budget to buy one.
---
Join our newsletter as we build a community of AI and web3 pioneers.
The next 3-5 years is when new industry titans will emerge, and we want you to be one of them.
Benefits include:
Receive updates on the most significant trends
Receive crucial insights that will help you stay ahead in the tech world
The chance to be part of our OG community, which will have exclusive membership perks