A significant chunk of the web3 and blockchain industries are fueled by memes, from memecoins to meme-powered NFT projects, and now, the Memetaverse. Goblin Town makes an excellent example, having raked more than $30M (and counting) in secondary sales despite being a free mint, having no utility at launch, no marketing budget, and no roadmap nor promise made to holders. Why did it see such tremendous success in such a short time? Its community, many of which were speculators, kept spreading memes of the goblins pissing all across Twitter, until it came to a point where the cheapest goblin NFT was trading north of $15K.
Amazing isn't it? To some, it might be appalling, too. But the fact remains that memes have power and influence in this digital age.
When the Internet's supreme platform for memes gets into NFTs, what do you expect would happen? Memeland, which was brought to us by the one and only 9GAG, entered the web3 space with a noble mission.
What is Memeland?
Memeland is the web3 ecosystem of 9GAG, which it also calls the Memetaverse. The project has one mission in mind: to empower creators by bridging web2 and web3 communities.
At present, Memeland appears in the form of a pixelated virtual world that is mostly covered by the Broken Sea, waiting for the community to explore the treasures that await them (whatever that means). See the Memeland map on the featured image above. However, the project has no roadmap and only leaves a statement: to under-promise and over-deliver.
The project team has since launched three distinct NFTs: YOU THE REAL MVP, Memeland Captains, and The Potatoz, which are in line with its future vision.
9GAG is basically a household name by now; the apex platform for Internet memes. It has 14 years of experience in community building with a large and loyal community on its back, which gives it an advantage over most NFT projects. It currently has a diverse audience that grew to more than 200 million, some of which have become web3 enthusiasts. It has also earned the support of large firms in the industry such as Y Combinator, First Round Capital, Greycroft Partners, and True Ventures.
$MEME Token
We all know how the 9gag community obsesses over memes. It comes as no surprise that $MEME was chosen as the ticker symbol for the token of Memeland's digital economy.
Memes are both love and life in Memeland. For this reason, $MEME serves as a suitable token for the project. It is created for two functions:
To support the creator economy
To function as a governance token
This means that users who hold $MEME tokens can have a say in every major decisions to be made with regards to Memeland and its future, sort of like a shareholder. It will also be distributed as reward to meme creators within the community.
Note that $MEME is an ERC-20 token, which runs on the Ethereum blockchain.
There are different ways to earn the $MEME, one of which is by owning a Memeland Captain NFT, which yields a certain token amount daily for an undisclosed number of years.
What is "YOU THE REAL MVP" NFT?
YOU THE REAL MVP is both an NFT collection and an exclusive group for elite members of the Memeland ecosystem. Its design resembles sparkling gold trophies, representing the highest-tier group in the Memeland community. The NFTs are composed of different figures: kraken, treasure, shark, parrot, skull, pirate, ship, mermaid, and Poseidon.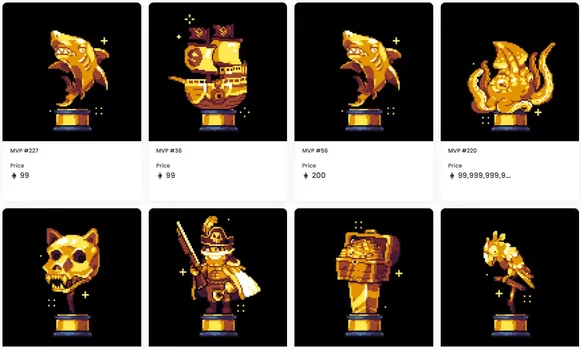 The project team uses the digital assets to reward holders who believed in what it's building. Every MVP can enjoy these benefits:
Allowlist for future projects;

MVP role and access to lounge in the Memeland Discord channel;
Multiplier of staking rewards (see growing section)
Other potential perks.
Note that the MVP holders were once awarded two Memeland Captains during mint. 
What is Memeland Captains NFT?
9GAG's primary NFT collection is called Memeland Captains, which features utility-enabled PFPs. Every holder of the Memeland Captain NFT will receive different rewards that enable them to experience a whole new memetaverse.
Captains are capable of unlocking $MEME, allowing the community to earn a particular token amount in various ways: by holding, staking, playing, or creating content. There are also other prepared benefits for the holders to enjoy such as the following:
Private club membership;
Exclusive access to creator NFT marketplace;
Real-world events;
9GAG drops; and
Access to future projects. 
The Memeland Captains NFT concept revolves around the Captains and their pirate crews going on adventures in the Broken Sea to reach the Memeland, giving its owners a chance to find treasures.
For now, collectors will see all the Memeland Captains as a poop emoji GIF being watered, but it is slated to evolve into something more in the future.
What are The Potatoz NFTs?
The Potatoz NFTs is another 9,999 utility-enabled PFP collection within the Memetaverse and a prequel to the Memeland Captains. Each of them is treated as an entry ticket to experience the project's ecosystem, and 9GAG even teased the community about its potential role:
"They make for a great side dish, but some may feel a calling to become the main course. Rumour has it they are secretly related to the Memelist, $MEME, MVP, and more!"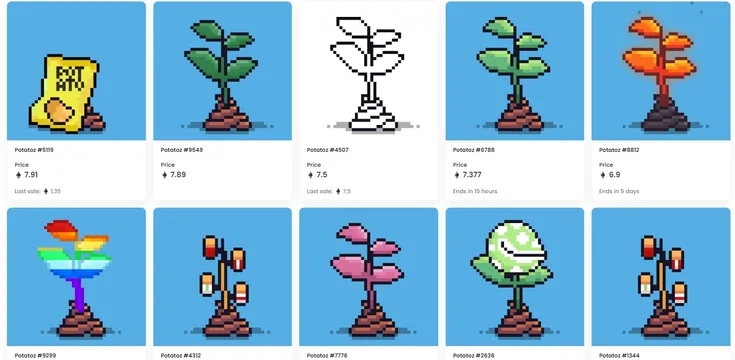 The collection evolves into different colored potato sprouts with varied traits to be revealed as they grow. Note that growing is the term used for staking Potatoz. Furthermore, the team gives full commercial art rights to holders for every NFT they own. 
9GAG introduced Memeland, a former deserted place that cannot sustain life, as the origin of The Potatoz. With their existence, everything is set to change (at least, according to the lore).  
Growing Potatoz (Grow-to-Win Staking)
Memeland offers an amplified staking protocol that enables Potatoz owners to stake their NFTs in their wallets (non-custodial) while periodically earning tickets that can be used for its weekly prize draw. Growing, as it calls it, will allow your Potatoz to 'evolve' on-chain from Stage 0-5.
Basically, the higher the stage, the higher the ticket rewards you receive. Furthermore, the artworks and traits of your Potatoz will also change in every stage.
The time it takes for Potatoz to grow to the next stage, however, hasn't been disclosed. Memeland did hint at a possible connection between Growing and the $MEME token, airdrops, and access to IRL events, thus, there are bound to be more rewards for staking.
So what do you need to do to Grow (stake) your Potatoz?
You need to buy Potatoz on NFT marketplaces like OpenSea. Then head over to the Potatoz Growth portal and click on Connect Wallet at the top-right section of the page. By the way, you need a web3 wallet like MetaMask to participate.
Once in, all you have to do is click some buttons; and you're staked.
Importantly, if you want a 2x multiplier that doubles your ticket rewards, all you need to do is possess at least 1 YOU THE REAL MVP token.
---
Join our newsletter as we build a community of AI and web3 pioneers.
The next 3-5 years is when new industry titans will emerge, and we want you to be one of them.
Benefits include:
Receive updates on the most significant trends
Receive crucial insights that will help you stay ahead in the tech world
The chance to be part of our OG community, which will have exclusive membership perks