Yield farming can get tedious and boring very quickly due to the numbers and complexities involved. While most platforms are designed that way, MOBOX takes a more exciting approach by gamifying yield farming and other decentralized finance (DeFi) activities.
Ever since non-fungible tokens (NFTs), DeFi, and play-to-earn (P2E) games became a thing, people started looking for more gaming projects to feed their thirst for these innovative technologies, especially those that blend multiple crypto subsectors. This is how the concept of GameFi came about.
MOBOX fits right in this circle by crunching out an innovative way to yield farm through gaming. Why go all-in on DeFi swaps when you can look for a platform that provides a more fun way of doing it, right?
What is MOBOX?
MOBOX is a GameFi platform that blends NFT farming and yield farming to create an ecosystem of P2E games that exist on the BNB Chain, enabling players to mine NFTs by staking cryptocurrencies. The mined NFTs can be used to play multiple games within the platform, rewarding them with the project's deflationary governance token, MBOX.
If yield farming and P2E had a baby, MOBOX would probably be the firstborn. Moreover, it is free to play.
MOBOX lets people yield farm in the form of gaming with the help of NFTs.
The platform lets players stake PancakeSwap LPs in order to obtain MOMO keys that entitle them to rewards in accordance with their weightage in each pool. MOBOX maximizes the returns through auto compounding.
In order to stabilize the prices of MOBOX, 80% of transaction fees go into a unique buyback and burn pool, which automatically purchases MOBOX from decentralized exchanges (DEXs). Whenever the price of MBOX goes below the last 72-hour average and players upgrade their NFTs, both the NFTs and MBOX used will be burned, creating deflationary pressure on supply.
What are MOBOX Games?
MOBOX games are designed to reward players based on their engagement and involvement in the game. Most games follow a tiered system where players with higher ranking (Epic or Legendary) NFTs are able to earn more compared to lower-ranking NFTs.
The MOBOX website includes four games, Token Master, Block Brawler, MOland Defense, and ChainZ Arena, with the addition of the MOMOverse, the project's own metaverse. The games reward players based on their activity since most plays revolve around timers, requiring gamers to wait a couple of hours before they can spin the wheel, battle, or do other in-game activities.
MOBOX NFTs
The NFT creatures on the MOBOX platform are given a cute name, MOMOs, which can be bought from the MOBOX marketplace or earned through staking. Players will need to buy Keys from the Market or stake crypto to earn them from crates; 1 Key = 1 MOMO.
And if you're lucky enough to get a Rare or Epic MOMO, you can upgrade them by sacrificing other MOMOs via burning.
6 Ways to Earn MBOX
There are six ways to earn $MBOX tokens within the MOBOX platform. Most of them can be accessed on the website.
Playing Games
While there are different ways to earn on MOBOX, the most entertaining way would be to actually play the games. There are currently four games launched and more in the pipeline. Details on how to play are in the next sections of this article.
MOMO Farmer: Yield Farming
If you've tried out farming on DeFi platforms before, you're probably already familiar with the process. To earn from MOMO Farmer, follow the steps:
Go to the MOMO Farmer section located on the upper left side of the website.
Choose your preferred OPEN liquidity pool.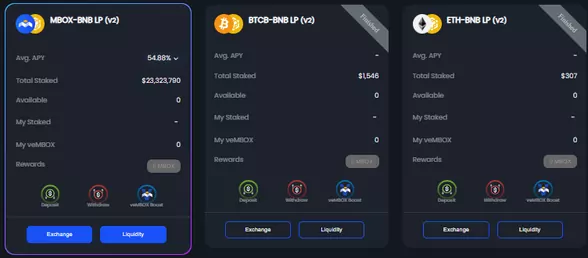 Click on Deposit and either add the amount of LP tokens or click a percentage of the tokens you want to add.
After depositing, you'll have to choose how many days you want to stake your tokens.
Once you're done, you'll have successfully staked tokens on the MOBOX platform.
Boost Earnings with MBOX
MOBOX has an interesting way for users to maximize rewards by multiplying them and this is by clicking on the veMBOX Boost.
Go to the pool you've staked in
Click on veMBOX Boost
Input the amount of MBOX you want to stake and for how long
The multiplier will depend on the amount and length of your staking.
Selling Key Tokens
When you've staked tokens in the pool, you'll be rewarded Keys accordingly.
You can easily sell the Key tokens in order to make a quick buck or use them to open chests for potentially higher rewards.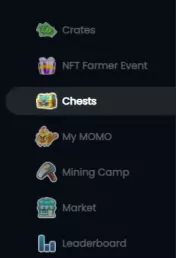 Open Chests
This is where the burning and fun start.
Go to the Chests section on the left side of the screen.
Use the free key tokens you've earned from staking to open the chest.
Once you open the chest, you'll be rewarded with MOMO NFTs.
Sell the MOMO NFTs or use them to play MOBOX games.
Building Sets
Once you've accumulated a number of MOMO NFTs, you'll be able to merge them together to build sets that can be sold at higher prices or used for mining to earn more MBOX tokens daily.
Go to the MY MOMO section of the site.
Click on Collections at the top center of the screen.
Start combining MOMOs together (if you have them).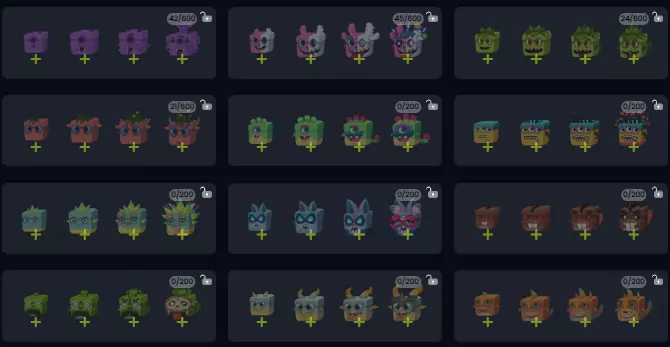 Getting Started with MOBOX
Here are the steps you need to take in order to interact with the MOBOX platform.
Step 1: Downloading the MOBOX app
First, you need to download the MOBOX app on your preferred device. The app is available on iOS, Android, and Chrome Browser.
Step 2: Register an Account
Head over to the website and click Register. Input all the information required, then submit. Note that you could also register on the mobile app.
Step 3: Download a Game
Once you've made an account, it's time to choose which game you want to play. As of this writing, there are four available games:
Token Master
Block Brawler
MOland Defense
ChainZ Arena
If you're using mobile, you can download each game respectively in the MOBOX app. On the Chrome browser, you can access the games via the website but you won't need to download them.
Step 4: Start Playing
Once your game is downloaded, you can start playing and earning MBOX. Note that while the games are free to play, you'd need to eventually purchase NFTs in order to advance faster and further in a more meaningful way.
Head over to the next section to figure out how to buy MOMOs.
How to Buy MOBOX NFTs (MOMOs)
In order to make the most out of the MOBOX platform, you'll need to buy some NFTs.
1) Head over to the MOBOX homepage.
2) Connect your crypto wallet by logging in.
3) Click on NFT Marketplace.
4) Choose what type of NFT you want to buy.
We recommend you buy MOMOs first as they'll be necessary for playing some games.
5) Once you've found an NFT you want to buy, click on Purchase.
6) Confirm your purchase.
How to Play MOBOX Games
Different MOBOX games have different mechanics. You can choose to play just one or all of them.
Token Master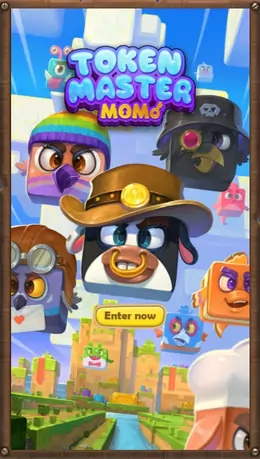 Token Master is a game where players accumulate as many Gold Coins as they can by battling other users and stealing theirs, or by playing the Monopoly wheel. Each MOMO NFT can be equipped with one Active Skill and three Passive Skills. There are a total of 80 Active skills and 100 Passive skills to choose from.
Each MOMO will have four skills once they enter the season, with Rare and above having the option to upgrade their skills.
MOMO Gold Mine : Depending on your total hash rate, MOMOs will accumulate Gold Coins that can be used in the game
MOMO Battler: Every MOBOXer gets a set number of attempts daily to steal Gold Coins from other players. MOMOs are assembled as teams where they battle 3v3.
MOMOpoly: Bringing back a great hit, gamers can use their Gold Coins to test their luck on the wheel and accumulate even more Gold Coins!
Momo Farming
If you're not really playing the game to have fun, the Momo section allows you to farm, enabling your MOMOs to do the work for you. All you need to do is click on Claim to get the rewards. The more MOMOs with higher rank, the more rewards you'll be able to claim.
Block Brawler
If the cute Axie Infinity-like MOMOs aren't really your style, there's always Block Brawler that lets players take a more serious approach. To start your journey, you'll have to first select a Hero.
Just like with Token Master, you'll be able to mine rewards with your MOMOs.
And if that is still boring you, try going on a Match to battle others and earn rewards. If you want to be good at Block Brawler, you'll need to possess the necessary skill for combat.
To do this, you'll need to use books, which can be acquired by completing certain tasks.
Once you're more confident in your Hero, you'll be able to go to Dungeons and battle monsters of different sorts.
The game employs a ranking system based on the battles you've won. The higher your ranking, the more rewards you'll be able to claim.
MOland Defense
MOland Defense is a tower defense type game where warriors are stationed throughout the map and the objective is to stop the enemies from reaching your base.
The game starts out with a tutorial to help players better understand the game, which will walk them through recruiting a warrior and facing their first challenge.
Players can utilize special powers in order to deal higher damage to enemies, as well as upgrade their Heros to effectively deal with enemy waves.
By combining powers, players will be able to inflict higher damages.
Earning from the game, however, won't be easy since players will have to battle it out and usually only high-ranking players get the best rewards.
Gamers can also earn by battling with others; but in order to do this, they'll have to have more Heros or level-up existing ones.
ChainZ Arena
ChainZ Arena might be one of the more complex MOBOX games since, in order for players to earn while playing this MOBOX game, they'll have to plan out strategies, choose which characters to use, and evenly balance out their team.
Players have to create a formation that protects their main DPS while putting the tanks in the front.
The cool thing about it is that players can still earn while being AFK, which means that they won't need to be active all the time to earn.
Players are also given the option to buy a Mining Hammer to make the most out of their AFK rewards.
Once players are feeling more confident, they can battle with other players in the Arena.
What is the MOMOverse?
MOMOverse is a 2D isometric cross-platform metaverse of MOBOX that runs on the BNB Chain, which can be accessed by anyone on all types of devices. Players can either start out with the tutorial or choose to skip it and immediately start exploring MOMOverse.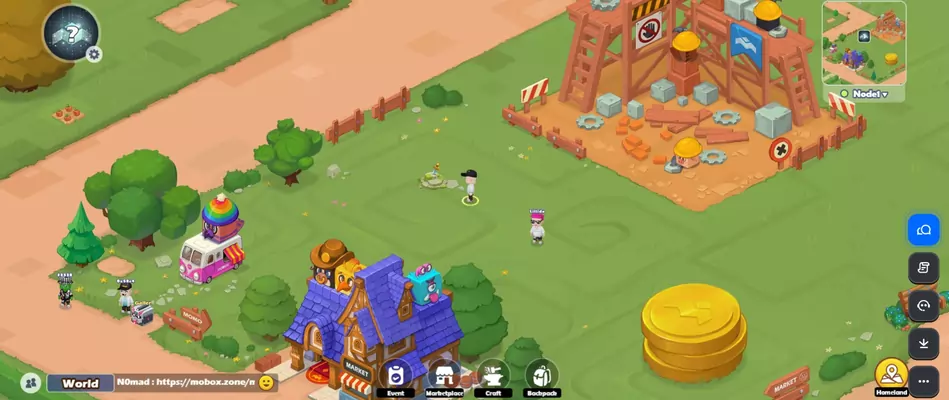 The metaverse is still in its early stages, so don't expect too much right now. Over time, it could become far more immersive and interactive. It has similar graphics to Axie Infinity's Lunacia.
Since the MOMOverse is gamified, players will still need to do a bit of work in order to craft items that allow them to change their appearance so they can stand out. They will also have to collect materials in order to get on the leaderboard and claim rewards.
If you're in it for the flex and don't want to grind, there are MOMOverse Mystery Boxes being sold on the Binance NFT market. These boxes give players random skins, avatars, or other items within the MOMOverse.
Users can also purchase different MOMOverse accessories on the MOBOX NFT Marketplace, which can be accessed on the website.
How to Sell MOBOX NFTs
1) Go to NFT Marketplace on the website and click on Sell.
2) Choose how you want to sell.
Players can choose to sell by Block, Bulk, or Bundle
3) Set the price and post them.
When an NFT is bought, players will see a change in their transaction logs to see when the transaction went through.
---
Join our newsletter as we build a community of AI and web3 pioneers.
The next 3-5 years is when new industry titans will emerge, and we want you to be one of them.
Benefits include:
Receive updates on the most significant trends
Receive crucial insights that will help you stay ahead in the tech world
The chance to be part of our OG community, which will have exclusive membership perks