Do you like anime?
Yes? If so, would you be willing to spend $20,000 or more to be part of a decentralized community of anime fans with exclusive perks?
Probably not.
But many people have and continue to do so. In fact, there was a point when buyers were paying over $100K on average for one single Azuki. So what is it? And why would people pay ridiculous amounts for it?
Well, Azuki is a non-fungible token (NFT), just like CryptoPunks and Bored Apes. Its perceived valuation comes from a lot of interesting things. Some see it as their future avatars of the metaverse, others as a way to connect with the biggest fans of the genre, while a few just want to buy it hoping it'll continue to rise in value.
Truth be told, it could be so much more.
Let's dig a little deeper.
What is Azuki?
Azuki is an anime-inspired, community-driven NFT brand for the metaverse that gives members access to The Garden, exclusive streetwear, NFT drops, and many more. Each Azuki NFT can serve as an identity in the metaverse, which the community plans to build collectively.
The team emphasizes that it is not a project, per se, but a brand built around culture, the love for art and lore, and the quest to give each piece its own unique story. Azuki wants to build the largest metaverse brand for the community, by the community.
Holders will be able to benefit through the shared IP, allowing them to build a brand around their Azuki NFT.
The Azuki Collection
The Azuki collection is comprised of 10,000 diverse anime-themed characters built on the Ethereum blockchain, powered by NFT technology. The aesthetic of the artworks can be described as a living combination of Cowboy Bebop and Samurai Champloo-style that aims to break away from the cute PFP meta projects, with deep lore built into it, as these characters come with their own backstory.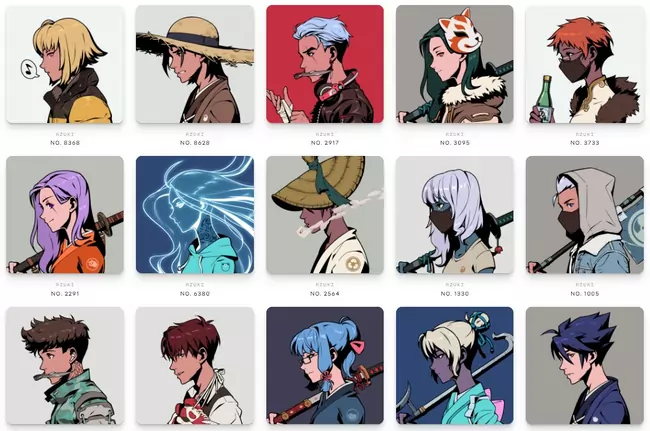 Each Azuki has a unique assembly of traits and accessories, including hair, clothing, face, headgear, mouth, offhand, etc. Some hold swords, others carry a boombox, a few are smoking, while there are some that appear to have special powers that allow them to conjure a fireball or manipulate water.
You may find that some of the artworks are reminiscent of your favorite anime characters. That might be intentional. Each design follows a thick-outlined anime style like Samurai Champloo but comes with its own unique and daunting personality like Cowboy Bebop. Each character is unique in its own way and is intended to tell a story.
The Garden
The Garden is the dwelling place of the Azuki community; a section on the Internet where art, community, and culture converge, blurring the lines between physical and digital realities, effectively rewriting preconceived rules of society.
Think of it as the future Azuki metaverse. That is the goal, at least.
In its current form, the Garden appears to be a glorified Discord group, namely, the holder's chat of the Azuki Discord server since that's where the members currently hang out. But when the metaverse goes mainstream, the possibilities of the Garden are endless.
The BEANZ Collection
The Beanz is a collection of 19,944 NFTs that literally look like Azuki Beans, serving as a brand icon of Azuki and giving holders exclusive access to a Discord channel, merchandise, collectible drops, and many other perks. In the lore, BEANZ is a small species that rose from the dirt in the Garden. They make for a great sidekick to an Azuki's journey, but some prefer to go solo.
While all BEANZ love to help, some of them have different definitions of the word. They come in all shapes and colors, with personalities as diverse as any human civilization. Moreover, the Beanz communicate with others through strange noises and gestures; sometimes even via graffiti.

Azuki rejects the notion of leaving NFTs alone in their wallets, doing nothing. Instead, the brand decided to give holders an option to pair their characters with a trusty sidekick or create separate stories for each. Like the Azuki characters themselves, each Beanz has its own story, contribution, personality, and vibe.
What is Bobu?
Bobu is an experimental project of the Azuki community that seeks to revolutionize the way traditional intellectual property (IP) is built by creating a governance utility from the beginning.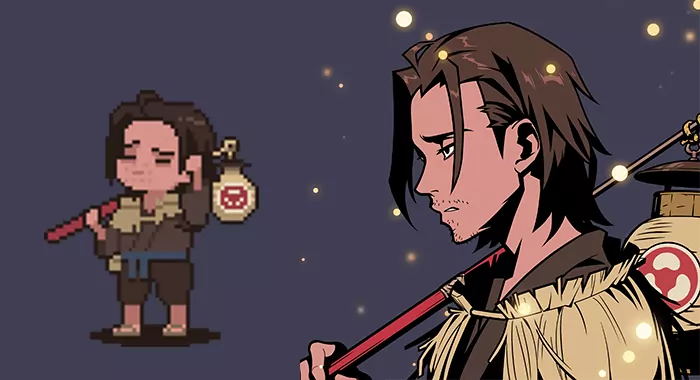 One special character, #40 (Bobu), will be fractionalized through fractional.art into ERC-1155 tokens called Bobu tokens. Ownership of the tokens will be used for the governance of the Bobu NFT. This is in line with Azuki's experimentation with decentralized IP governance in a way that hasn't been done before.
Besides voting on matters relating to Bobu, Bobu tokens can be used to access exclusive channels on the Azuki Discord.
While the whole point of NFTs is to be non-fungible or be one-of-one, Azuki plans to push the boundaries of this concept by fractionalizing one NFT in order to create several fungible tokens out of it. Makes sense?
To make this work, Azuki #40 was placed in a Vault that locks the NFT, ensuring that no single person or entity can sell it. The decision power has been distributed into Fractions, which can be purchased by anyone who wants to be part of the governing body of Bobu.
Fractions are not ownership in the underlying NFT. Fractions are tokens used for governance over the NFT.
The Gallery
The Azuki Gallery is a collection of Azuki and Beanz where you are welcome to bask in the unique design of each NFT. The Gallery is also a way for holders to access their collection to pair each Azuki with Beanz, so they will never get lonely again.
Merch and Events
Azuki plans to break the limitations of web3 by releasing exclusive drops to members of The Garden. Its Mindmap (roadmap) also details its plans to bring a wide array of different IRL events that gather its community together and expand its reach beyond a digital experience such as:
Meet-ups
Exhibits
Music Festivals
One example of an event is the Enter the Alley Exhibit happening on June 22, 2022 in New York City, which aims to showcase the collection, spread the word, and bring holders together.
The anime project also provides its community with exclusive merch drops featuring branded streetwear in perpetuity.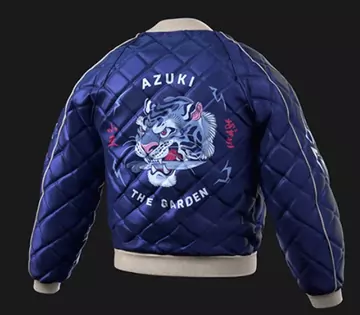 What Makes Azuki Great?
Azuki has popularized anime art in the web3 space the same way Bored Apes popularized apes, spawning countless anime-themed projects and Azuki derivatives. But it will always be the first majorly successful NFT project of its kind.
The team and community are also not afraid to experiment, which is a good sign. In fact, the project is one giant experiment of IP. Owners will be able to use their NFT as their personal brand and build a business or other commercial use case around it, creating opportunities for independent revenue streams. For more details, check out the Azuki License guide.
Like Cowboy Bebop, Azuki aims to create a timeless presence through an art style that has proven its worth over decades. While different animes come and go, many of the classics like Dragonballs and Naruto are still widely celebrated today.
Banking on its branding, this anime community aims to replicate that timeless success while experimenting with stretching the limits of NFTs through its Bobu project, which is the first of many.
Breaking down barriers. Building open communities...

Azuki Manifesto
How to Buy Azuki NFTs
If you want to get your hands on an Azuki, all you need to do is download a web3 wallet that supports the Ethereum blockchain. MetaMask is the default one used by many, but you can use others too.
Make sure that your wallet has enough ETH in it to buy the NFT and pay for gas fees. Then head over to the Azuki OpenSea page. Choose from the available listings. If you find one that fits your preference and budget, click on it and buy. Your MetaMask should prompt you to confirm, click that. Then you're done.
You may also check out the BEANZ page if you want a companion to go with your character.
Who is Behind Azuki? The Azuki Team
Azuki was created by Chiru Labs, a team based in Los Angeles, which aims to provide a stronger branding within the metaverse and change the playing field from cute/pixelated PFPs to artwork with rich characteristics and strong lore. The team is a combination of individuals "working to build a decentralized brand of the future" with experience in crypto, tech, and gaming.
ZAGABOND (human bean/Head) – a crypto/decentralization enthusiast who's bullish on web3 and the metaverse.
STEAMBOY (artist) – worked as a character art director for Blizzard's overwatch.
NJOO (artist) – artist on Street Fighter Comic
LOCATION … (engineer) – ex-Facebook software engineer who's now racing Zuck to the metaverse.
Conclusion
Azuki is definitely an interesting experiment in IP. We haven't heard much about any holder successfully taking advantage of their IP rights yet, but over time, we can expect to see them use the brand to build their own products and services.
There is no doubt that anime will be a part of the metaverse. Right now, Azuki is in a good position to be a leader in this genre for web3. But whether it can retain its place depends on how well it executes in the next two years or so.
---
Join our newsletter as we build a community of AI and web3 pioneers.
The next 3-5 years is when new industry titans will emerge, and we want you to be one of them.
Benefits include:
Receive updates on the most significant trends
Receive crucial insights that will help you stay ahead in the tech world
The chance to be part of our OG community, which will have exclusive membership perks