Today's web3 infrastructure is a chaotic mess, for better or worse, building its marketing engine on the back of separate platforms like Discords, Google Spreadsheets, metaverses, etc. One project believes that this is not sustainable as communities grow, and it intends to be "that platform" that solves this problem.
This article serves as an objective piece that illustrates the solutions set forth by Communi3, which is an early-stage project that has caught the attention of several top influencers and decentralized autonomous organizations (DAOs) in the Solana non-fungible token (NFT) space, as well as other sectors of crypto. I also included my personal opinion at the end, if you're interested.
What is Communi3?
Communi3 is a technology platform that aims to revolutionize the way businesses and organizations manage their communities online in places like Discord, Twitter, YouTube, metaverses, podcasts, etc. through various innovations. The project is run by Opera Event, an award-winning tech company that has worked with the likes of The Sandbox, Yield Guild Games, Zynga, Tencent, and other large-scale businesses.
The platform implements gamification mechanisms via questlines, rewards, badges, ranks, tiers, and digital storefronts to enable customers to keep their communities engaged while deploying tools to manage them through workflows. This includes features like self-onboarding, payments, verification, marketplaces, and many more that are handled seamlessly with Communi3.
Note that all social media will be integrated into the platform, enabling fans to spread the word about their favorite brands, influencers, communities, etc.
Lastly, Communi3 also implements what it refers to as "boring stuff", particularly, compliance reporting tools, which are nonetheless quite significant as regulation will likely be part of the future of web3.
What Makes Communi3 Important?
The team argues that early web3 communities are "disjointed" and become incredibly difficult to manage the more they scale, which is counterintuitive considering that communities largely contribute to the success of any project. Therefore, Communi3 has set out to build a platform that streamlines the management of web3 communities, allowing companies and organizations to scale without losing that precious "grassroots" feel that they had in the beginning.
What are the Communi3 NFTs?
As a web3 platform, Communi3 operates using a hybrid model, utilizing NFTs and crypto tokens to fund its development, as well as provide services to customers. Note that all of its NFTs have specific utilities, and are tradable on marketplaces.
Mad Scientists NFT

Mad Scientists is a collection of 5,001 hand-drawn artworks consisting of cartoonish scientists in a 2D isometrically-displayed workroom, functioning as a business-to-consumer (B2C) NFT for Communi3. Holders of the NFT will get to enjoy exclusive perks, including:
The ability to earn $SCI, the platform's native token, when staked.
Access to future Communi3 software features that target B2C users
Whitelist priority on WL partner projects
Additional staking rewards as released
Laboratories NFT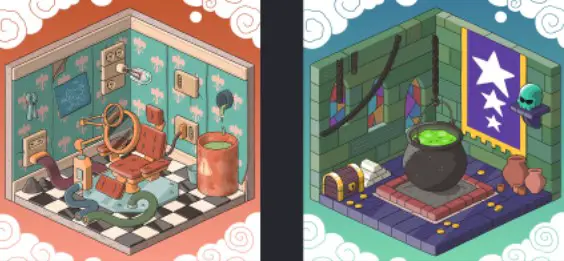 The Laboratories collection consists of only 50 one-of-one hand-drawn NFTs (10 Gen 0 + 40 Gen 1) that display unique 2D isometric laboratories that will enable the management of communities. Each Laboratory NFT will be linked to a customer of Communi3, which means that there will never be more Laboratories than customers that can support them.
As of April 2022, Communi3 services cost between $5K-$15K per month. Each Laboratory represents $5k worth of services. Therefore, if you own 3 Laboratory NFTs, it will pay for your $15K per month instance. Instead of paying monthly fees for Communi3 products, you'll only need to stake your Laboratories and burn a small portion of $SCI tokens during your launch and at the end of every year.
You can also stake and rent out the NFTs to other companies and keep the monthly SaaS fees associated as a means of passive income.
Furthermore, the NFT gives you access to the Laboratory-DAO.
What is $SCI Token?
$SCI is an upcoming deflationary utility token to be used for:
New customer onboarding
Using future features of the Communi3 tool
Other Communi3 services like animation, whitelist software, dashboard access, etc.
$SCI is burned and removed from circulation for every use, which will create a deflationary pressure that counteracts its constant generation (staking Mad Scientists generates $SCI). The token is planned to launch an IDO in Q1 of 2023. The total supply is 1B.
What is $CPOT Token?
Communi3 Potion or $CPOT is a token that will power The Laboratories, which will be distributed to Mad Scientist holders. This is intended to create demand for the token and move the project's revenue model fully into a blockchain.
Who is the Team Behind Communi3?
As stated earlier, the project is run by Opera Event, led by CEO Brandon Byrne, who claims to be a veteran of gaming media and a management executive with 20 years of experience. He was also the CFO of Team Liquid, a world-leading eSports organization.
Other notable executives include President Andrew Ringlein, who has been with Opera Event for six years, Erik Bryant, and Eddie Tsiao, the CTO with several years of experience being a VP of Engineer for various tech companies.
My Takeaway
I believe Communi3 has a lot of potential considering that it already has a working product and has served high-profile clients; that's proof of concept, which, unfortunately, the vast majorities of NFT projects lack. It is also a very ambitious project, which makes me bullish but also slightly concerned because although I intuitively understand what the platform is trying to build, I'm not entirely sure what it will look like once it matures.
If Communi3 does successfully build such a platform that streamlines all the processes involved in managing web3 communities, then it will be a game-changer.
I also love the artwork of Mad Scientists due to their unique 2D isometric view, which is something I haven't seen much of in the NFT space.
---
Join our newsletter as we build a community of AI and web3 pioneers.
The next 3-5 years is when new industry titans will emerge, and we want you to be one of them.
Benefits include:
Receive updates on the most significant trends
Receive crucial insights that will help you stay ahead in the tech world
The chance to be part of our OG community, which will have exclusive membership perks