Youtube powerhouses MrBeast and PewDiePie appeared yesterday on AtheneLIVE's stream to answer their subscribers' most wanted questions as they battle for supremacy, but there's a catch. 
AtheneLIVE recently started The Athene AI Show, a program that centers around deepfake technology for next-level entertainment on Twitch. He uses synthetic content creators, like Asmongold and Amouranth, that allow viewers to ask them about any topic.
The biggest names in the industry couldn't also dodge Athene's new-found strategy. AI-powered MrBeast and PewDiePie are locked in fierce competition for subscribers, each using their witty answers to steal the show.
AI MrBeast vs. AI PewDiePie
AtheneLIVE's stream began with overflowing comments as viewers were excited to welcome yesterday's guests MrBeast and PewDiePie. And, like in his usual setup, the two took turns in introducing themselves. 
MrBeast started with a greeting and excitedly explained his love for doing positive things. As most people know, his content was mainly about hosting challenges and rewarding people with rewards he thought they deserved.
Although the deepfake tech captured the real MrBeast's persona, some parts of the stream hint it's an AI. One of the sample cases includes the content creator's unusual mumble, flying mouth, etc. However, it can undoubtedly trick viewers at first glance due to its uncanny similarity to MrBeast's facial features and hand gestures.
The same applies to AI PewDiePie, but his confidence had the audience laughing. 
"Hmmm, introduce myself? Well, I'm PewDiePie, the best gamer in the universe and the leader of the 19-year-old army. My core value? I'm Swedish; that's why I'm so goddamn attractive. But enough about me, let's get to the show."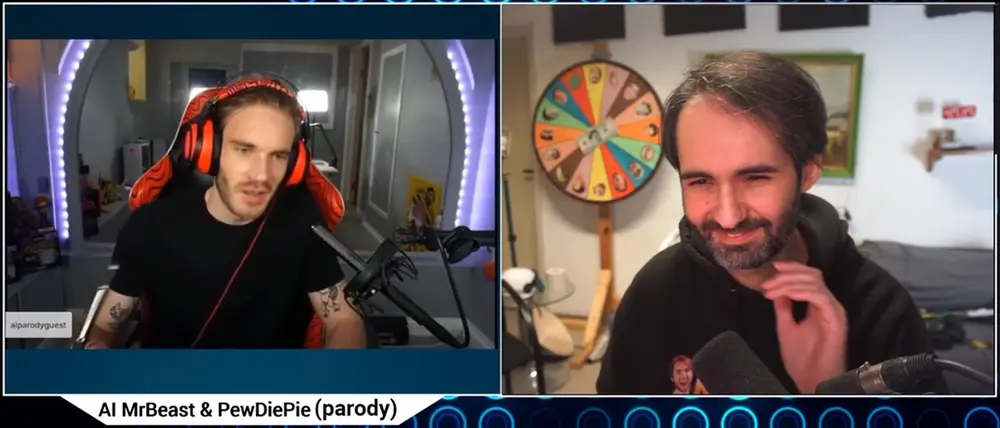 Their introduction was immediately followed by questions, a chance for the AIs to show their wits. One viewer asked AI MrBeast about who has more money between him and PewDiePie, to which he responded:
"Well, guys, I don't really like to talk about money and success, but I'm not gonna lie. I've honestly had the chance to do some crazy things over the years. But enough about me, I have an even crazier idea…."

AI MrBeast
He continued his answer, bringing up a made-up thought of starting a competition for his subscribers with a prize of a million dollars. However, it wouldn't be easy as they have to cross a digital minefield which he described as made up of whacky and other challenging obstacles. It seems like AI MrBeast has a habit of attracting viewers with tons of money. The thing is, he's not real. 
You might want to check out: How Does Deepfake Work?
PewDiePie also answered the same question, and he wouldn't let MrBeast take over him. "What's up with that? MrBeast thinks he's so crazy; well, I'm the craziest," replied PewDiePie. He also suggested that we forget the money talk and move on to more important things—memes.
The show became more interesting as other AI-powered guests joined, including Andrew Tate, Asmongold, Amouranth, and more. Each made the stream more realistic, especially when they were responding to each other as if they could understand one another. 
In the end, each AI got its spotlight, highlighting the personas of the real content creators they're supposed to imitate. However, as per Athene's disclaimer, others shouldn't use it for other purposes besides getting a good laugh. 
The Real PewDiePie Jumps Into the Hype 
PewDiePie's latest content wasn't anything about playing games or adventures but AI. He even jokingly said that the video's introduction was AI-generated. But he immediately took his claim back, showing why it didn't push through—getting an error result from ChatGPT.
He continued the video by testing multiple AI tools, including Dall-E, where he tried its outpainting feature. One of his samples was a picture of him and Marzia, his beloved wife.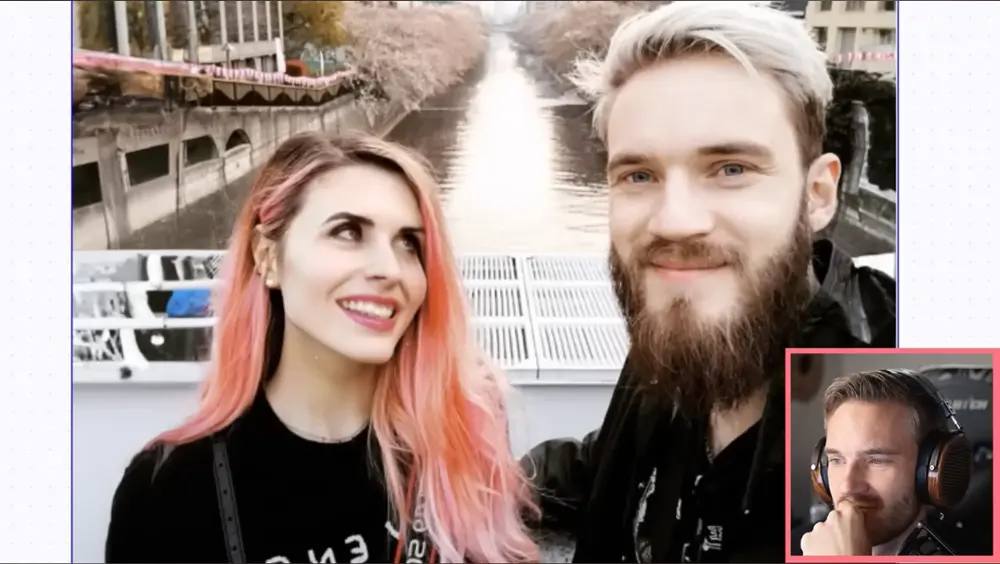 Once he got tired of editing images, he moved on to the revolutionary chatbot, asking it to give him a YouTube script. But the main highlight of his content was showing how text-to-speech works. He even ran the voice of his fellow YouTubers on the platform, including JackSepticEye, Markiplier, Moistcr1tikal, xQcOW, and even himself.
PewDiePie's content is only one of the many samples where people use AIs. Although he showed that some apps need more improvements, other deepfakes are almost catching up. It can open opportunities in the entertainment industry, but one can't still rule out the possibility of the tech getting into the wrong hands. 
Regardless of the potential benefits or dangers of deepfakes, it is clear that they will continue to play a significant role in shaping the way we interact with digital media and how we understand the truth in this era.
Related News: David Guetta Just Synthesized Eminem's Voice w/ AI and Everybody Went Nuts
---
Join our newsletter as we build a community of AI and web3 pioneers.
The next 3-5 years is when new industry titans will emerge, and we want you to be one of them.
Benefits include:
Receive updates on the most significant trends
Receive crucial insights that will help you stay ahead in the tech world
The chance to be part of our OG community, which will have exclusive membership perks